Chopped Roasted Beet Salad with Feta and Lemon Zest Vinaigrette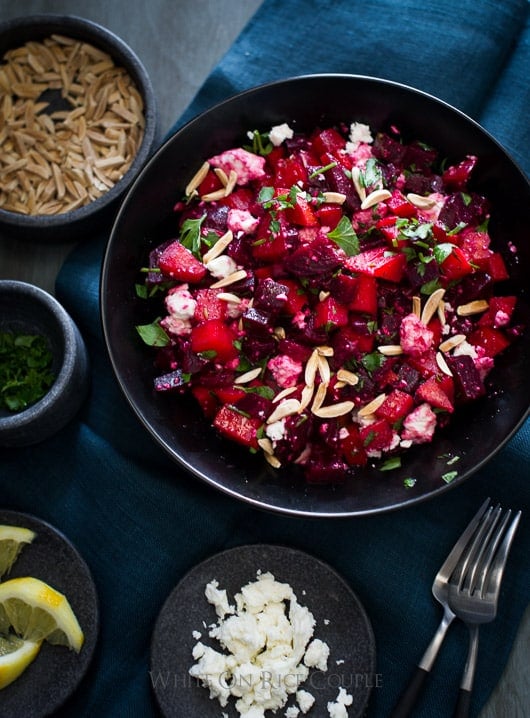 Chopped Beet Salad
The rain has been such a welcome treat over the last few weeks. Our garden suffered the consequences of drought over the last few years but today, all the fruit trees are soaking up every drop of welcome rain. The citrus are glistening with a fantastic wash of water from the sky, the seedlings are ready for another growth spurt. All this rain is ok with us because it means we're getting a bounty of veggies this spring!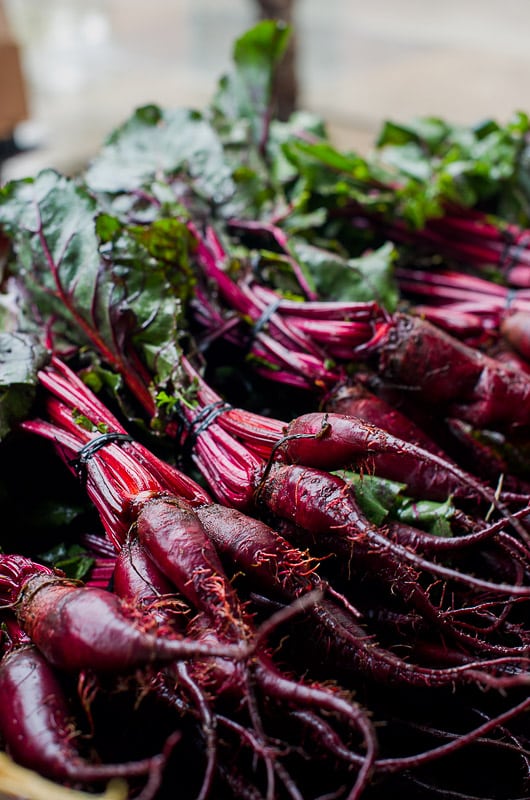 So many colors of beets. Are you a beet lover or hater?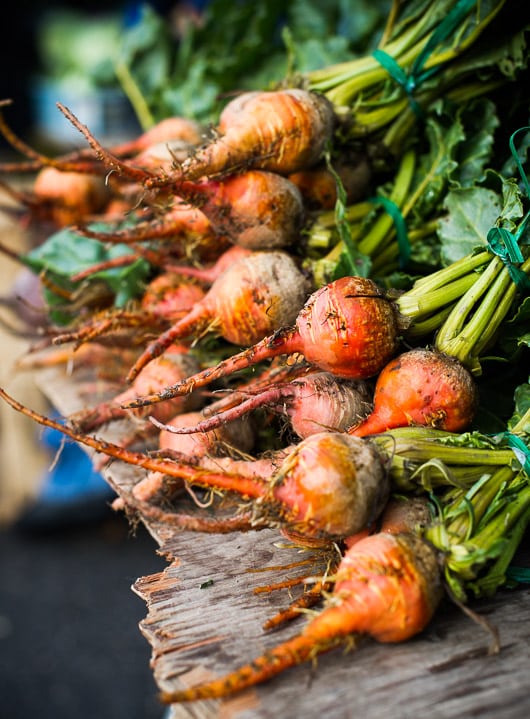 Video: Making the Roasted Beet Salad with Feta
Fresh Healthy Beets
All our beets are hearty and they're the one vegetable that we can grow year round with plenty of harvest from. In early spring we have tender beet greens for terrific green salads and as the roots grow, we'll pluck them from the ground and after a quick scrub, roast them for dinner. Farmers markets in our area are starting to filll their stalls with so many varieties of beet root. A few years ago we asked you all about your love or hate for beets. What a fun read it was to see the split of opinions: those of you who loved beets really LOVED it. And those who disliked them still haven't found a recipe to change your mind.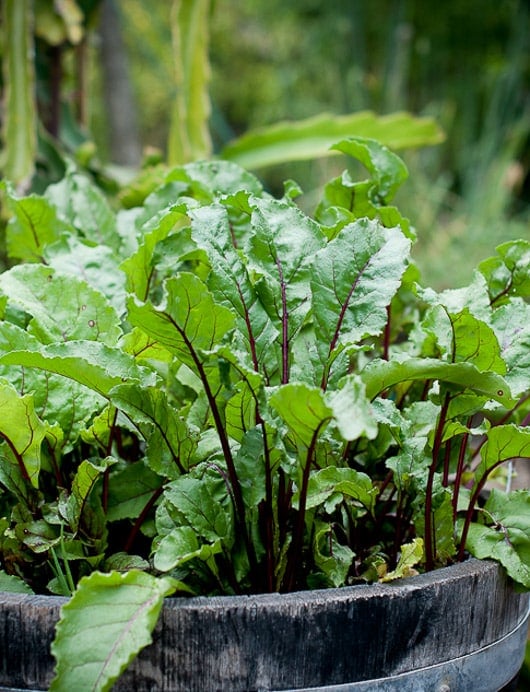 Well, hopefully for all you beet "haters" this could be the one to help turn you to the beet-loving team. This chopped beet salad has such great texture, brightness from the lemon zest vinaigrette and salty bite from feta cheese and nuts. And we're still hoping we get plenty of rain over the next few weeks because the garden is craving it so much. As for the pups beach-romps? We'll just have to make it up to them this Spring.
Enjoy,
diane and todd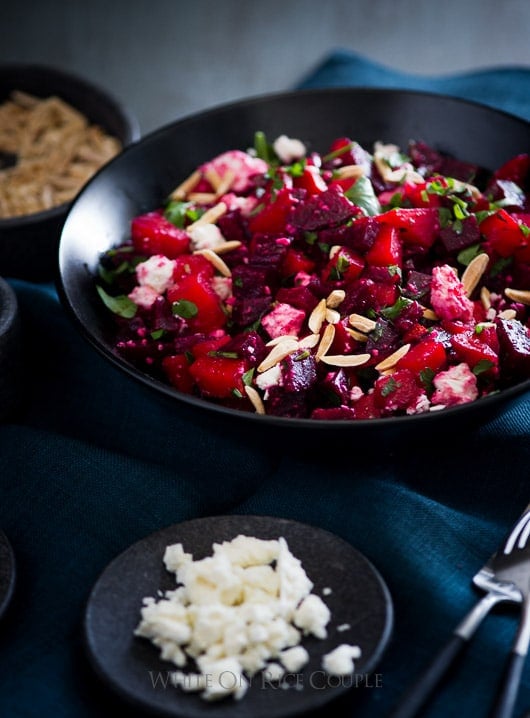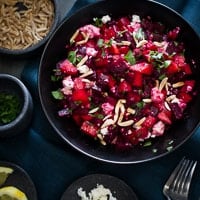 Chopped Roasted Beet Salad
This beet salad is great chilled or at room temperature. If you normally like your salad with lots of vinaigrette, then feel free to double the lemon zest vinaigrette recipe. The beets can be roasted a day or so ahead of time if it is easier for your schedule.
Ingredients
for the beet salad:
2 pounds (910g) fresh beets
4 ounces (113g) crumbled feta
1/4 cup (60ml) minced parsley
1/4 cup (60ml) slivered or sliced almonds
for the Lemon Zest Vinaigrette:
1-2 cloves garlic , minced or crushed
2 Tablespoons (30ml) olive oil
1 Tablespoon (15ml) balsamic vinegar
finely grated zest of 1 medium lemon
2 teaspoons (10ml) fresh lemon juice
1 teaspoon (5ml) brown sugar
1/2 teaspoon sea salt or kosher salt , or to taste
fresh cracked black pepper to taste
Instructions
Roast beets. Pre-heat oven to 400°F.

Cut off beet leaves. Clean and scrub the beets free of dirt. Place the beets in an oven safe dish and cover with aluminum foil.

Bake for about 1 hour or until beets are tender when easily pierced through with a fork or toothpick. Remove beets from oven and allow to cool for about 30 minutes or until cool enough to comfortably handle.

Using paper towels or wearing plastic gloves (unless you want to scrub your hands thoroughly after to get the beet stains out) rub off the beet skins and slice the beet top stub off of the beets. If the skin does not rub off easy, then use a vegetable peeler to carefully peel the skin. Cut beets into bite-sized pieces. Set aside.

Make the Lemon Zest Vinaigrette Dressing: In medium bowl, combine all dressing ingredients (garlic, olive oil, balsamic vinegar, lemon zest, lemon juice, brown sugar, salt, and pepper).

When ready to serve, toss together chopped beets, vinaigrette, feta, parsley, and almonds until everything is combined. Season with salt and pepper to taste. For a prettier presentation, reserve a handful of the almonds & feta cheese and sprinkle on top before serving. Serve at room temperature or slighly warmed.
Nutrition Information
Calories: 220kcal, Carbohydrates: 19g, Protein: 7g, Fat: 14g, Saturated Fat: 4g, Trans Fat: 1g, Cholesterol: 17mg, Sodium: 525mg, Potassium: 594mg, Fiber: 6g, Sugar: 12g, Vitamin A: 340IU, Vitamin C: 12mg, Calcium: 149mg, Iron: 2mg
More Easy Recipes:
This recipe was originally published in 2015 and re-published in 2021 with new video! Here's more great beet recipes for you to enjoy.
We are a participant in the Amazon Services LLC Associates Program, an affiliate advertising program designed to provide a means for us to earn fees by linking to Amazon.com and affiliated sites.