Doggie Vacation Up The California Coast: A guide for Pups and their Parents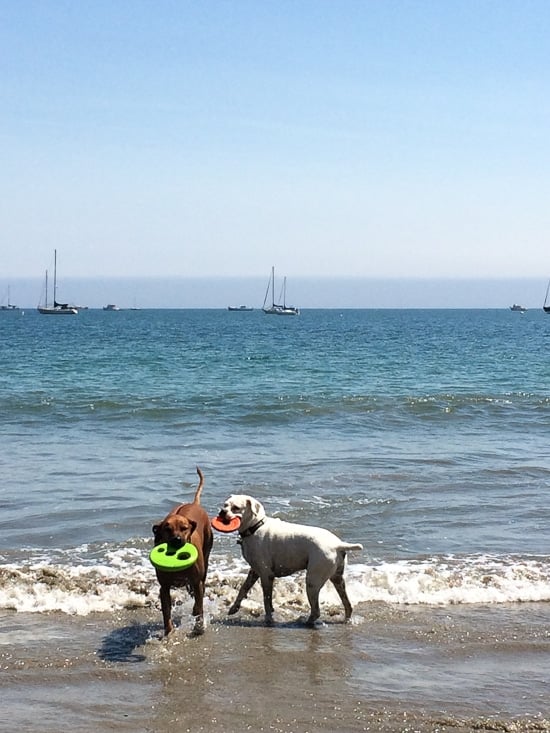 Instagram photo: Olde Port Beach
2016 Update: Lots of new adventures and journeys have happened since we last shared this list in 2013. We updated it with our latest discoveries over the past few years and all of them are pup approved. Lexi and Sierra give the a 4-paw review. The video shows just how much they enjoyed their Summer vacation, thus far.
We needed fresh vacation air, lots of beach time and a chance to let Sierra and Lexi play in the crashing ocean waves. Well, at least we "hoped" to have them play in the water. It's already an accomplishment that they're not scared of the water anymore. Just a few months ago they'd jump and scamper to keep the edge of the incoming waves from even touching their paws. And the pups needed this vacation too, especially Lexi because all this pup wants to do is run and run fast.
This is was our very anticipated road trip vacation for a number of reasons. First, we needed get away after three straight months of shooting. July was going to be our month off where we don't pick up the camera for work, only for pleasure. Second, it was our chance to explore our beautiful California coast with Sierra and Lexi. It would be Lexi's first vacation, first road trip and our family time to visit as many dog friendly vacation spots as we could in six days.
Video of our 2016 Summer Beach Romp up the California Coast:
Instagram photos from 2013. Clockwise from top left; Arroyo Burro Beach, Sierra at Carmel City Beach, PCH central CA coast, and Lexi at Carmel City Beach. They love the soft sand and open-ness of Carmel City Beach.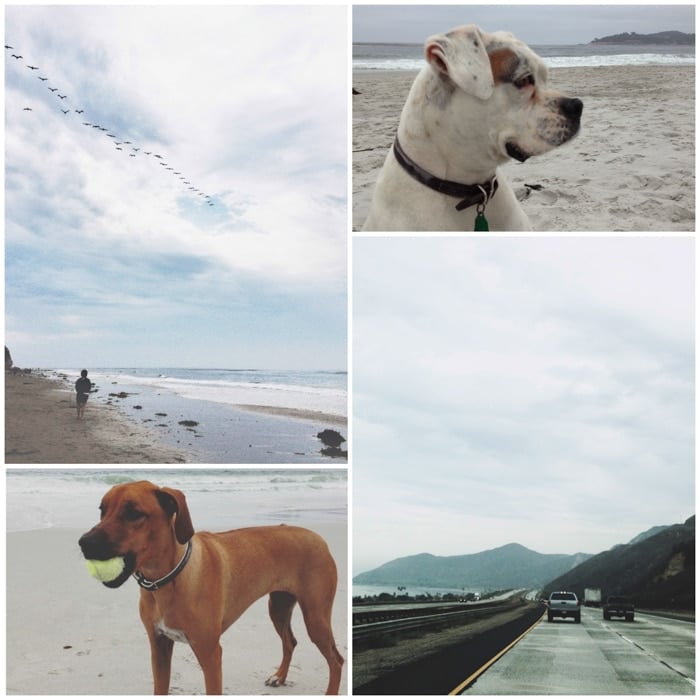 Happy Sierra after a long day of beach-romping.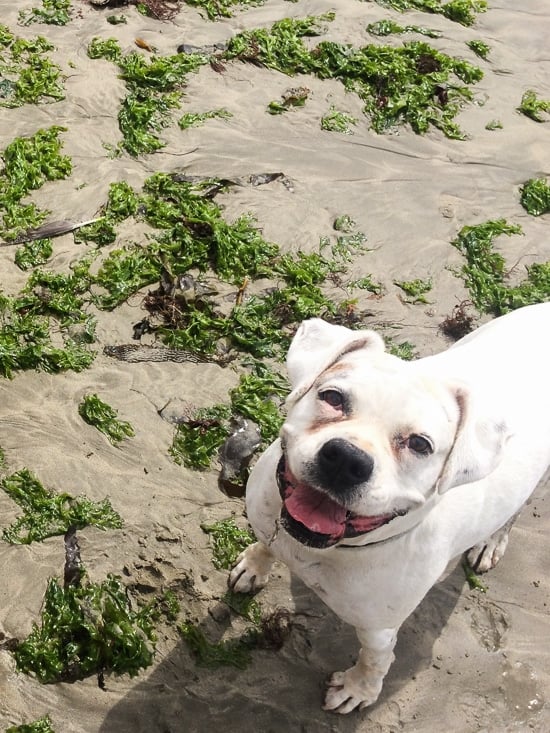 At the top of our itinerary was to visit as many leash free dog beaches along the California Coast from Orange County to Point Reyes, CA . All we wanted to do was to let the pups play, leash free, in the Pacific ocean and free our minds from all the daily decision making of work. After six days of sandy paws, wet fur, a packed car of dog gear, we clocked in about two thousand miles and dozens of doggie romps on the ocean's cusp. We'd do it again in a heartbeat and are already planning our next trip up the coast again.
Book references.
Instagram photos. Clockwise from top left; Dillon Beach, central CA coast, and Bolinas Beach (bottom photo).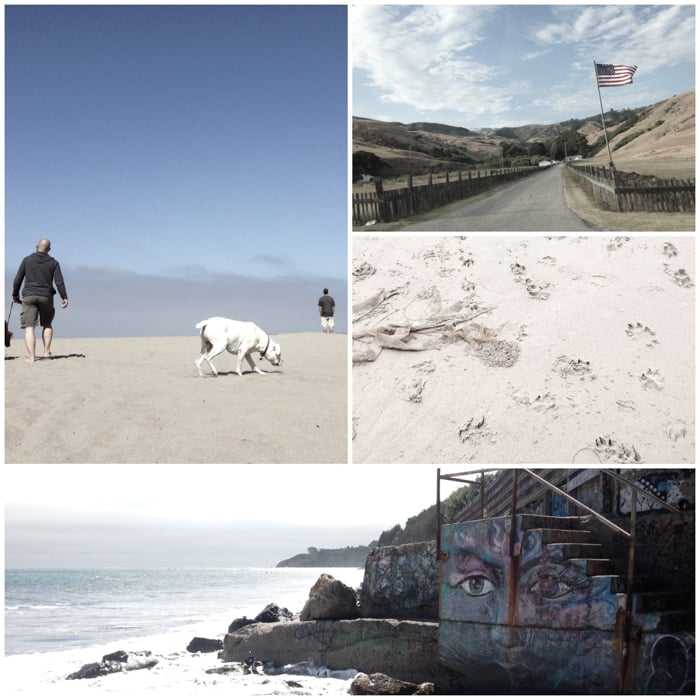 Here's some highlights of our trip and if you're planning to do a dog friendly and mostly leash-free up the coast too, then all our destinations are four paw (highest) rated!
Orange County
Huntington Dog Beach (Leash Free)– This wasn't on our trip, but it's worth mentioning if you're looking for a great dog beach. Huntington Dog Beach is our regular stomping grounds and where most all of Lexi and Sierra's friends hang out. It's a great couple mile strip of beach where many dogs romp leash free (it isn't technically leash free, but that is the standard practice. Well mannered off leash pups will be given a smile by passing lifeguards). So put it on your list if you're heading through Orange County.
Newport Beach Santa Ana River Jetty: This small but fun stop isn't easy to find. We might get you lost, so here's an article link with photos and location to this leash-free spot.
Santa Barbara County
Arroyo Burro Beach (Hendry's Beach) : Half of this beach is leash free. Make sure you follow the signs. We started our descent up the coast at 5am, wanting to make it to Arroyo Burro beach for breakfast then playtime. The pups loved stretching out their legs after the long drive through Los Angeles and Lexi especially loved making new friends outside of her Huntington beach posse. There's also a restaurant there that's right on the beach for a quick burger and salad stop. Another highlight is at the end of the parking lot, there's a little dog wash station to hose them off. You've gotta pay for the wash, but it's worth it.
San Luis Obispo County
Fiscalini Ranch Preserve– One half had gently rolling hills and the other half was the gorgeous cliff side hike that overlooked the ocean. There was no sandy beach romp, but the pups loved running leash free up the hills through the tall grasses.
Avila Beach: There's a special, small but beautiful leash-free section away from the main beach called Olde Port Beach. This is an amazing find! Don't miss the Avila Beach exit off the 101 freeway. You'll first come across Avila Family Barn, which has great fresh produce, baked goods and a slightly touristy animal-petting and hay-ride features. It's still a great stop for some fruit, fudge and ice cream. The town of Avila is awesome as you drive further down the road towards the beach.
Pismo Beach: This popular spot didn't have any leash free dog areas, but if you're hungry for clam chowder and a big cinnamon roll, it's definitely worth the stop. Here's a link to all the popular Pismo beach adventures.
Arroyo Grande: Cute little downtown with some fantastic restaurants. There's some really great history there too. We were only able to stop by for drinks one evening at Mason Bar, but it's totally worth the visit. Next on our list is eating at Embers, highly recommended by our readers. Can't wait to eat there on our next visit!
Quickie Car "Pet" Wash, San Luis Obispo. Sounds random, but they have a self serve dog wash area in the back.
Instagram photos. Clockwise from top left; Penny Ice Cream, Bolinas Beach, wild plums, and view from Mom's dock in Marin county. We love Marin county and Point Reyes is definitely one of our favorite stops!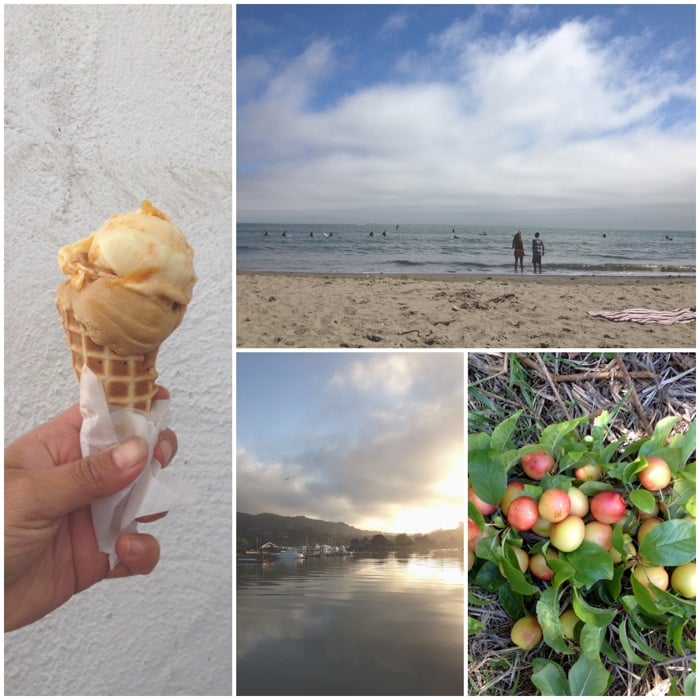 Monterey County
Our Instagram in 2013: Video of Lexi's first swim. Ever.
Wet, dirty and happy pups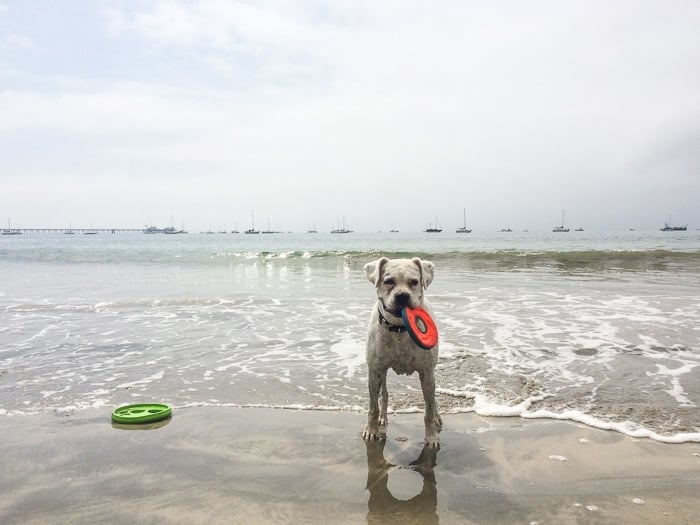 Santa Cruz
The Penny Ice Creamery– Not for the pups, but definitely for the parents! Please promise us to put this wonderful ice cream shop on your list. Make sure you stop by this gem for some of the best ice cream, ever! They have a shop and also a little stand. But make sure to go to the shop where you have a larger selection of flavors. The creamy, soft texture and season flavors of their ice cream is some of the best we ever had. The kind folks here had a water bowl for the pups outside. Nice!
Our Instagram Video at Dillon Beach in 2013
Instagram photos. Clockwise from top left; Dillon Beach, Arroyo Burro Beach, Fiscalini Ranch Preserve, and the tongue/butt pillow.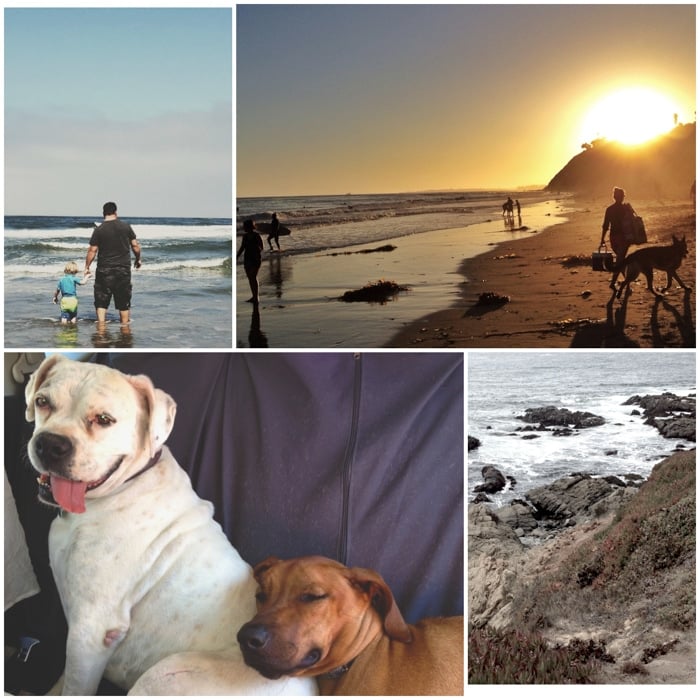 Marin County
Just north of the Golden Gate Bridge, Rodeo Beach– Though windy and cold, even in July, this is spectacular stretch of beach with a view of the bay. And it's nestled between some rocky cliffs which make it photography worthy too. So have your mobile phones ready!
Bolinas Beach–– On a Sunday, there were so many surfers here, it was such fun to watch everyone in the water. At one point all the black body suits of the surfers looked like it could have been a pack of dolphins playing in the water. And oh, we heard there were skinny dippers too? We didn't see any. Maybe they come on Tuesday? Or too chilly? They were mostly guys after all. 😉
Muir Beach— Would have been an awesome puppy stop (human stop too!), but the parking lot was in the process of reconstruction so they had it closed off and there is no other public parking place. Maybe next time!
Tomales Bay – Dillon Beach– This is a huge stretch of beach with plenty of sand space for the pups to romp. Lexi probably ran 5 miles just from going back and forth along the long beach. Though there weren't too many dogs for her to play with, there were plenty of clam diggers there for her to sniff.
We're hoping to take another dog road trip up the CA coast before Summer ends, so if you have any new rec's for dog play stops or food, please let us know!
hugs,
diane, todd, sierra and lexi
We are a participant in the Amazon Services LLC Associates Program, an affiliate advertising program designed to provide a means for us to earn fees by linking to Amazon.com and affiliated sites.