Grilled Bruschetta
Grilled Bruschetta Recipe
We were craving grilled bruschetta for dinner because it's not only simple to make, it's also satisfying and pairs well with a great bottle of our favorite wine. The weather was fantastic outside and we really wanted to grill something but didn't have anything to cook, we realized that bread was the only thing that would work. We love the flavor of grilled bread and if we added the cheese and tomatoes on top, it would take the classic bruschetta to a higher level. And it certainly did!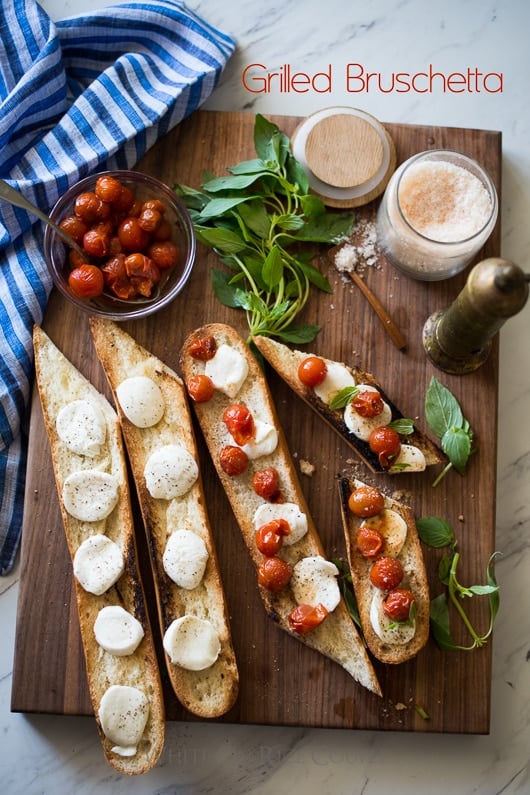 Watch our Grilled Bruschetta Recipe Video: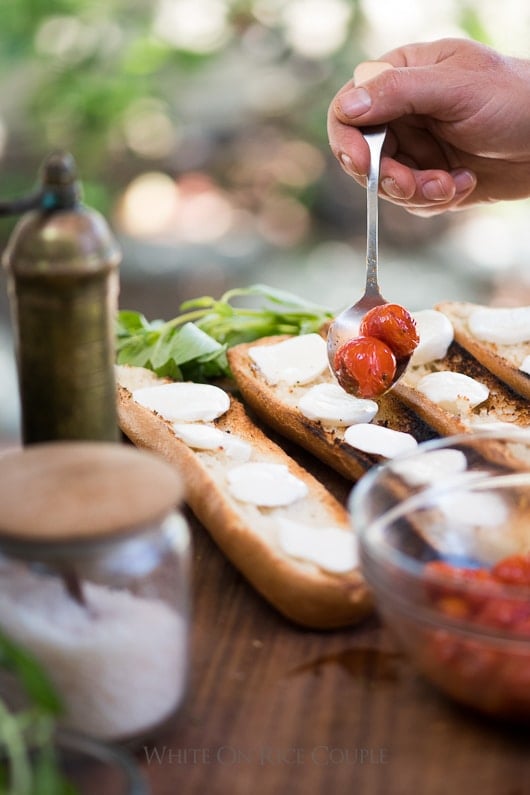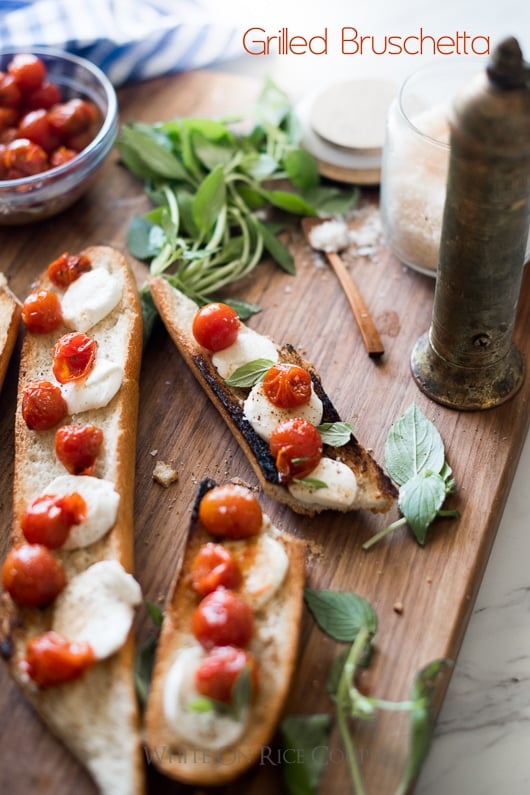 Grilled bruschetta is crazy simple to make and when the weather is great outside, there's no reason to NOT make this. The smoky and crust flavor of the bread, with the fresh mozzarella cheese, fresh basil and Summer ripe tomatoes are screaming to be served at an outdoor dinner party. Everything about these ingredients are perfect for the season. Call a few friends and family, grab a couple bottles of your favorite wine and enjoy this grilled bruschetta as the perfect appetizer. In fact, you can make it dinner by make extra platters of it. That's exactly what we did and everyone enjoyed each bite down to the last tomato.
Enjoy,
diane and todd
Here's our watermelon arugula salad that a hit for Summer.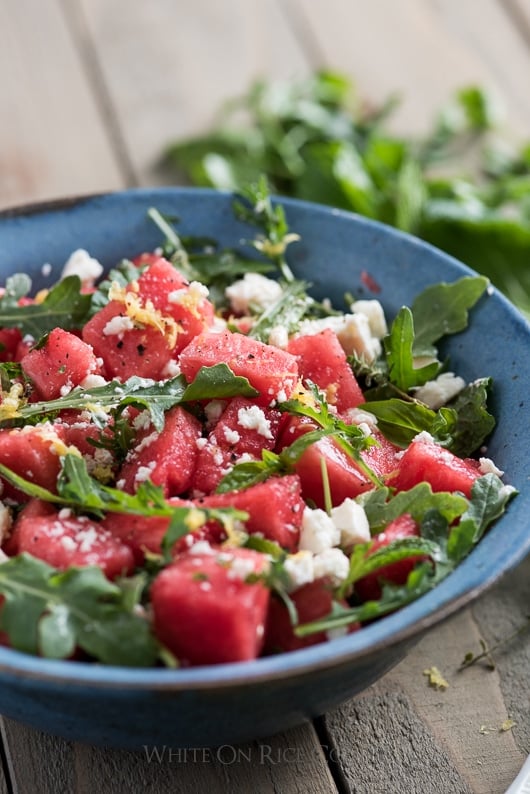 Enjoy or Mexican street corn (elites) salad. It's divine!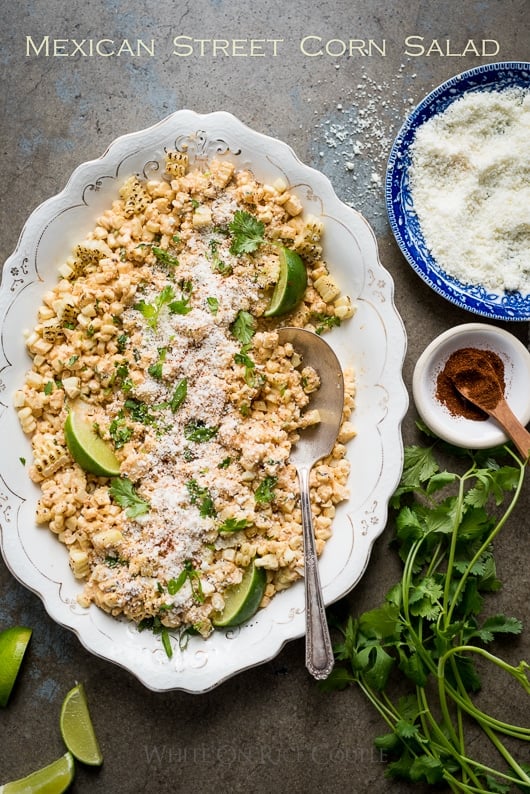 Our refreshing strawberry mojitos are a warm weather hit!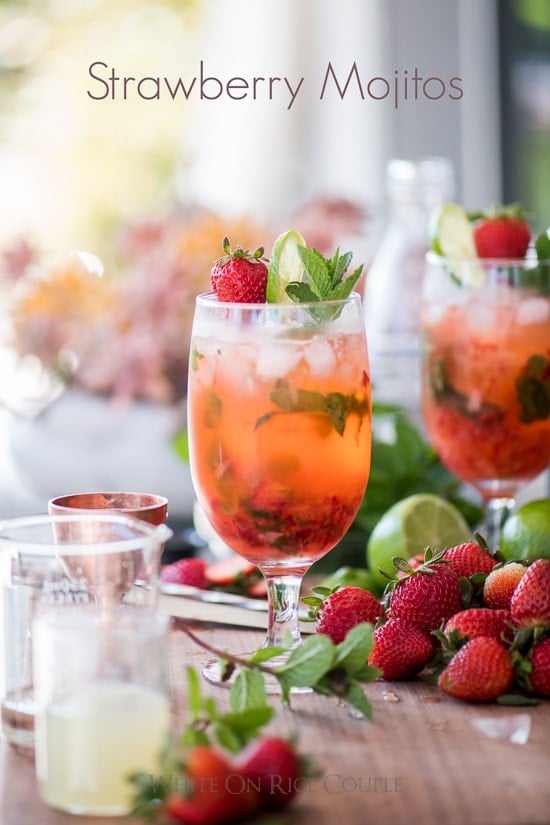 Here's some more great Summer recipes for you to enjoy.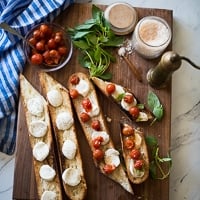 Grilled Bruschetta
Few things are as delectable as grilled brushcetta with fresh summer cherry tomatoes. Even if the tomatoes aren't at their peak, charring them on a skillet helps concentrate their flavor even more. You can always char the tomatoes ahead of time so when it comes to grilling & serving, it is super quick and easy.
Ingredients
Instructions
Pre-heat grill on medium-high. Scrape the grill grates to make sure they're smooth.

Preheat a skillet over medium-high heat (the skillet can be heated and cooked straight on the grill if you have a heat-proof handles). Add a drizzle of olive oil and when pan is hot, add cherry tomatoes. Sear cherry tomatoes until they're blistered and charred, about 5 minutes. Season tomatoes with salt and pepper. Set aside.

Brush oil on cut sides of bread. Sprinkle garlic salt on bread. Grill bread until toasted, about 2-3 minutes on each side.

Layer cheese, tomatoes and fresh herbs on bread. Cut into smaller pieces that are easy to grab and eat. Enjoy!
Nutrition Information
Calories: 192kcal, Carbohydrates: 18g, Protein: 9g, Fat: 9g, Saturated Fat: 4g, Cholesterol: 22mg, Sodium: 955mg, Potassium: 137mg, Fiber: 1g, Sugar: 1g, Vitamin A: 374IU, Vitamin C: 8mg, Calcium: 172mg, Iron: 1mg
We are a participant in the Amazon Services LLC Associates Program, an affiliate advertising program designed to provide a means for us to earn fees by linking to Amazon.com and affiliated sites.