Baked Cherry Tomato, Goat Cheese & Ricotta Dip
This baked tomato goat cheese dip will be a hit at your next outdoor party. It's loaded with cherry tomatoes on top and warm, melted goat cheese and ricotta.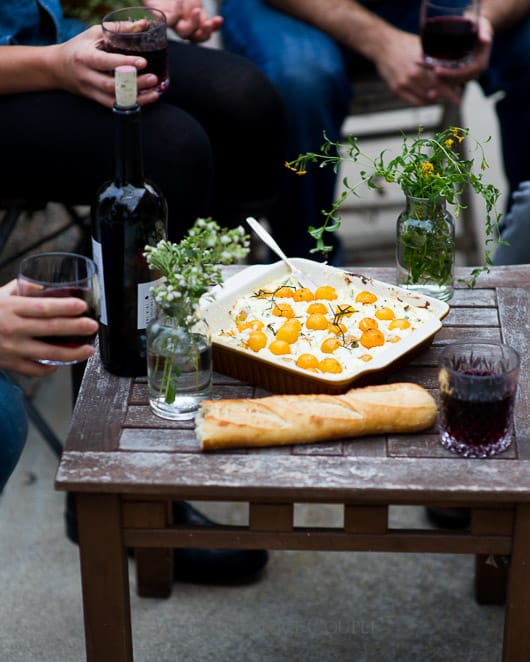 Everyone who comes to our house for dinner or shows up on-set to one of our studio shoot knows that we aren't kidding when we say "come hungry". Last week we had clients come to one of our shoots and as always, we give them basic directions, map, call-time info. In that email also said, "come hungry". Even our neighbors who come over for dinner ask what they can bring. We tell them to "bring an appetite". Yes, we're slightly obsessed with cooking and feeding and we're even more guilty of having way too many courses. We just can't help it. We love to feed and it's our way of showing we that we care. The way we see it is that everyone can bring the leftovers home and they don't have to cook for a day, or two, or three depending on how ambitious we were in the kitchen. We're bad, we know and again, we just can't help it.
Video of this Cheesy delicious tomato goat cheese dip: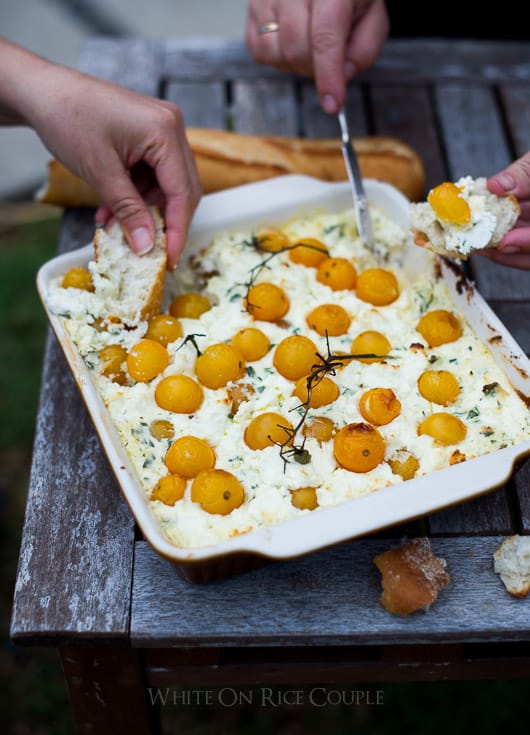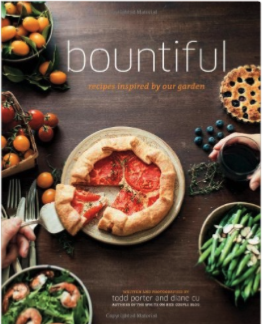 When we were working on our cookbook, Bountiful, a few summers ago, there were days of photographing in the backyard with friends and family. It was hard to figure out what recipes to actually cook for the interior photos of the book but one recipe that stood out was this wonderful baked cherry tomato, goat cheese and ricotta dip.
This baked hot tomato goat cheese dip is one of those recipes that everyone loves over and over again. Add a glass of wine (or two) with this dip and it can be a complete dinner for anyone who loves cheese.
As always, we told everyone to come hungry because we made a triple batch of this dip to feed the masses. There we go again, making triple batches of food. In this case, there weren't any leftovers of this tomato goat cheese dip because it was THAT good.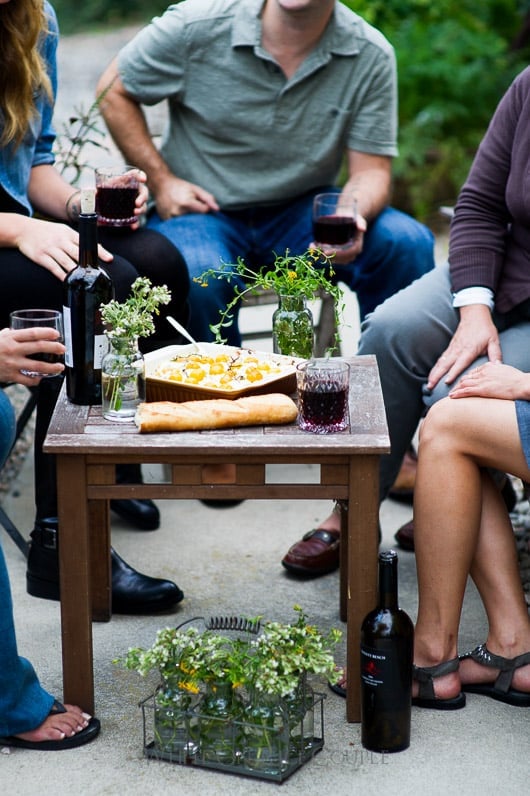 Friends have learned to take us seriously when we tell them to come hungry and if they don't, there's always plan B: take home the leftovers. When making this hot tomato goat cheese dip, it's going to be very temping to immediately dive into the cheesy goodness you see bubbling before you. But beware! The tomatoes are piping hot-bombs-of-juicy-steam. So unless you want a big blister in your mouth, we caution you to be patient and wait about an hour to let everything cool down to a reasonable eating temperature. After that, eat your hear out!
Happy Summer, while it's still beautiful outside!
-diane and todd
This recipe story was originally published in 2015 and re-published in 2018 with new photos.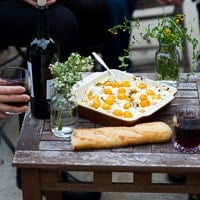 Baked Cherry Tomato, Goat Cheese and Ricotta Dip
This is a popular dip from our cookbook, Bountiful and after making it once, you might want to double the batch for your next party, like we did on our images and video. A double batch fits perfectly in a 2-quart baking dish. Just bake for an extra 10 minutes or so. Be prepared for everyone to gobble it up quicker than you realize. Though it looks amazing and bubbly hot out of the oven, make sure to let it cool for at least 30 minutes before eating. The cherry tomatoes are piping hot-bombs-of-juicy-steam!
Ingredients
3 Tablespoons (45 ml) olive oil , divided
1/2 pound (227 g) cherry tomatoes
1 cup (246 g) ricotta (preferably whole-milk ricotta)
1 clove (1 clove) garlic , minced
1/4 cup (60 ml) chopped fresh flat-leaf parsley
1/4 teaspoon (1.25 ml) sea salt
Zest of 1 medium lemon
1/2 teaspoon (2.5 ml) fresh lemon juice
8 ounces (227 g) goat cheese , pinched into large chunks (or feta cheese)
bread or crackers , for serving
Instructions
Preheat the oven to 350°F (175°C). Lightly oil a 5-6 inch (12-15cm) square baking dish.

In a small bowl, combine 1 tablespoon of the olive oil with the tomatoes. Set aside.

In a medium bowl, mix together the ricotta, garlic, remaining 2 tablespoons oil, parsley, salt, lemon zest and lemon juice.Fold the goat cheese into the ricotta mixture.

In the baking dish, layer half the cheese mixture, then add half of the tomatoes. Layer the remaining cheese mixture, then top with the remaining tomatoes. Gently press the top layer of tomatoes into the cheese mixture.

Bake, uncovered, until the cheese is melted and the tomatoes are evenly baked, 25 to 40 minutes. (Cooking time will depend on the thickness of the tomato skins and the depth of the baking dish).Serve with warm bread or crackers.
Nutrition Information per Serving
Calories: 241kcal, Carbohydrates: 3g, Protein: 12g, Fat: 20g, Saturated Fat: 9g, Cholesterol: 38mg, Sodium: 276mg, Potassium: 149mg, Sugar: 1g, Vitamin A: 970IU, Vitamin C: 12.3mg, Calcium: 145mg, Iron: 1.3mg
We are a participant in the Amazon Services LLC Associates Program, an affiliate advertising program designed to provide a means for us to earn fees by linking to Amazon.com and affiliated sites.