Grape, Brie and Arugula Bruschetta to Welcome Fall
It's time for our grape brie arugula bruschetta. The change is in the air, we can feel it. Even with our recent heat wave and surprise dumps of much needed rain showers, the anticipation of Fall is approaching. The garden is slowly starting it's transition to Fall.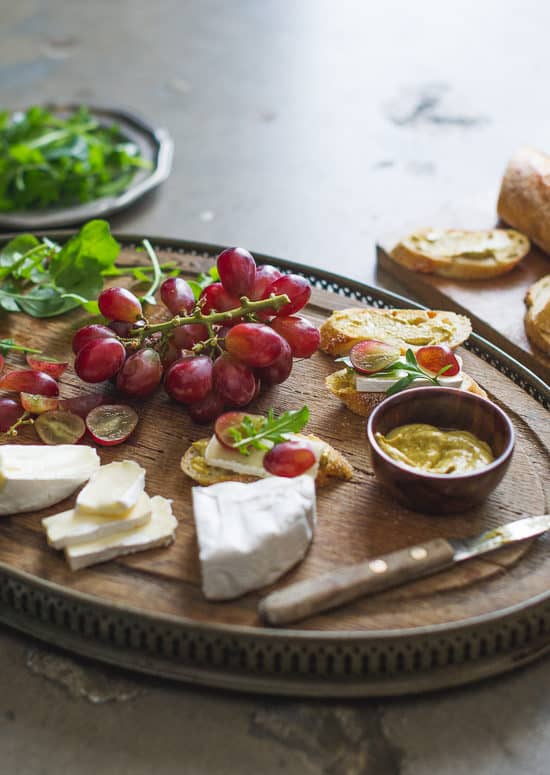 Grape Brie Bruschetta Recipe
This is one of our most favorite times of the year and with that, comes a new smells in the kitchen that focus on Autumn comforts and Fall favorites. This seasonal transition is much needed because Summer was a fulfilling in so many ways. Work travel, fishing vacations and great shoots on some fantastic new projects have us satisfied with what Summer had to bring. Now we're ready for some cooler weather, crisp mornings and the chill of sunset. While we wait for the weather to make the change, we're eating Fall like there's no tomorrow.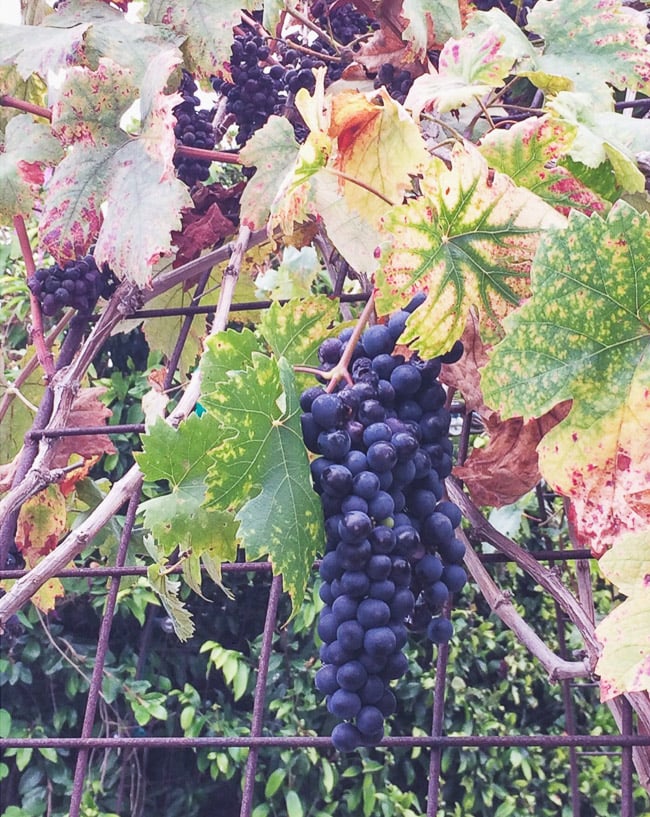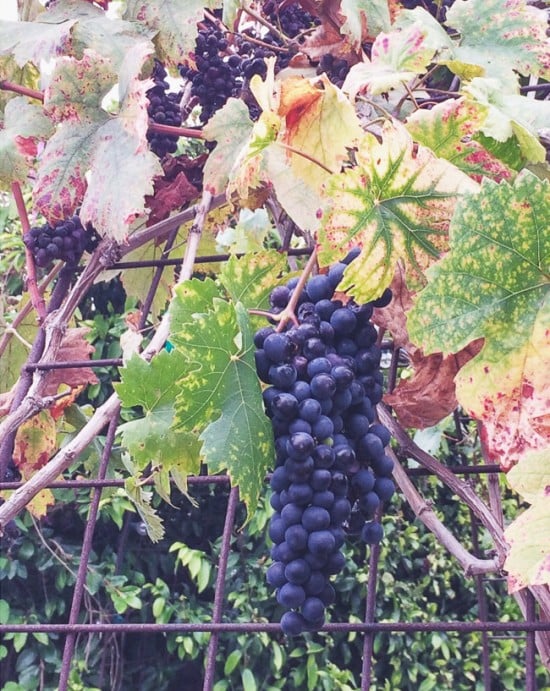 Grape Season is Here
What makes us immediately feel the switch of seasons is when we look at our Zinfandel grape vines. They're gorgeous with big leaves that show their kaleidoscope of Fall hues: reds, yellows, oranges and faded greens. Grapes are superb this time of year: sweet, crisp and abundant at the markets. There's so many grape varieties to choose from that's it's so exciting to pop one in our mouths and taste test everything we see. Aromatic Muscat grapes are a favorite, along with deep, rich purple Concords. Can you tell? Grapes make us happy. This grape brie arugula bruschetta is the perfect transition appetizer where guests can assemble it all on their own. Add a glass of wine or two and it can be a wonderful light dinner. Because each bite has the pop of fresh grapes, the contrast of peppery arugula and the creamy texture of brie cheese this dish is definitely one of our favorites. And beyond all the awesome flavor profiles, this recipe is super simple. So easy that it's almost like cheating when eating these.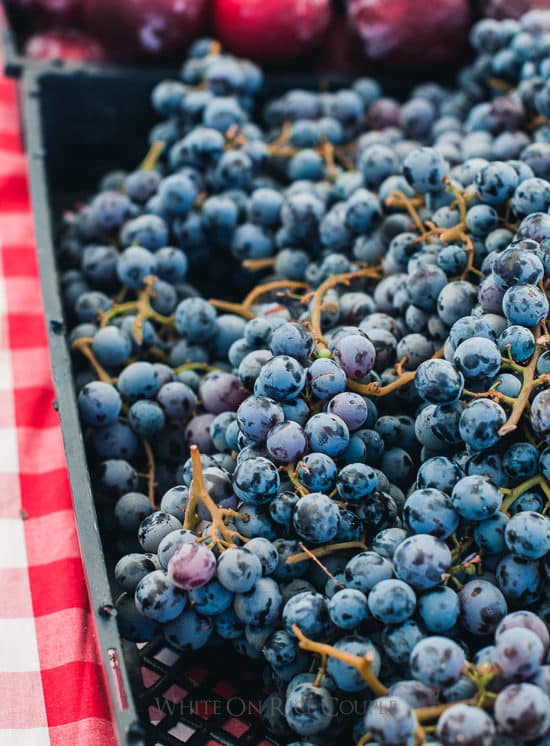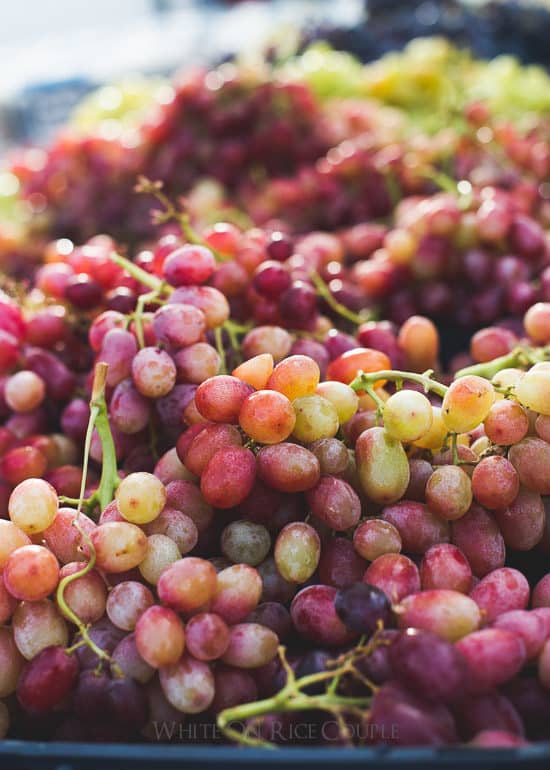 bountiful grapes at the market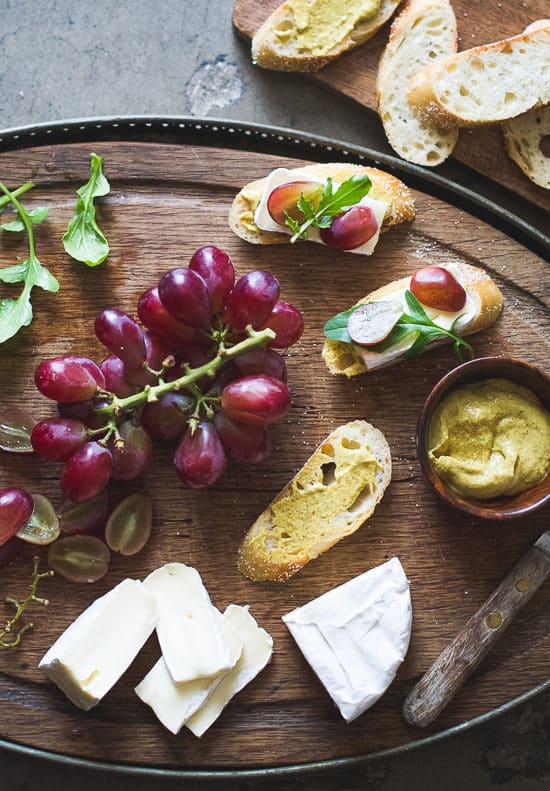 All it takes are a few plates with each of the prepped ingredients, some wonderful crusty bread and a bottle of wine. Invite some great family/friends to share it all with and everyone is merry and satisfied. Really, it doesn't get any better than this dish and best of all, it leaves you with plenty of time to catch up with what everyone did for their Summer and chat up on what everyones looking forward to for Fall.
We're totally ready for this amazing season. Bring it on.
Hugs,
diane and todd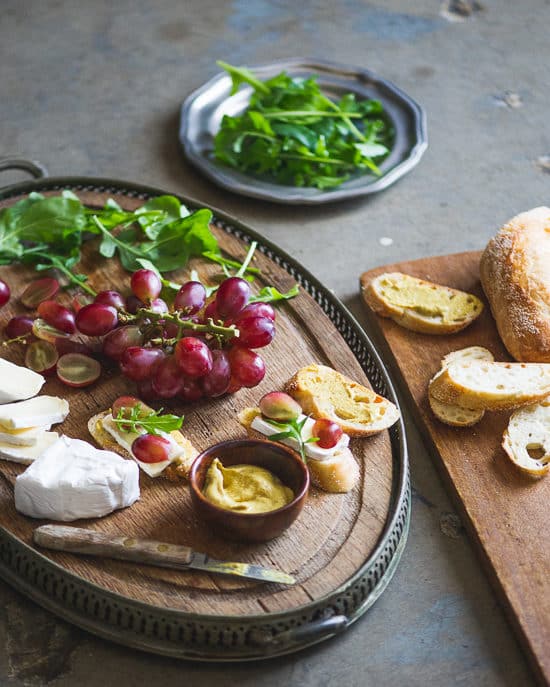 Grape Arugula and Brie Bruschetta
This is a great party starter that allows everyone to be hans-on to make their own bruschetta. Arrange the ingredients on a few platters and leave it to the guests to add their own cheese, arugula and grapes. The fresh seedless grapes are the heroes in every bite, especially when paired with the brie.
Ingredients
1 1/2 pounds (680g) wedge of brie , room temperature
1 baguette , sliced
Olive oil , for brushing
Dijon Mustard
1 cup (240ml) fresh arugula
1/4 pound (113g) fresh grapes , halved
Instructions
About 30 minutes prior to serving, cut the brie into slices about 1/4 inch thick. Set aside and allow the cheese to come to room temperature for best flavor and texture.

Brush the baguette slices with oil and lightly toast - either on a sheet pan in a 350° F oven or in a sauté pan on the stovetop.

On a large platter, arrange the baguette slices and spread them with Dijon mustard. Then top each with a slice of brie, some arugula and a few grape halves. Or for a DIY party appetizer, arrange each ingredient on a separate platter, with the mustard on the side, and allow guests to assemble their own bruschetta.
Nutrition Information per Serving
Calories: 303kcal, Carbohydrates: 15g, Protein: 16g, Fat: 20g, Saturated Fat: 12g, Cholesterol: 68mg, Sodium: 582mg, Potassium: 160mg, Fiber: 1g, Sugar: 2g, Vitamin A: 458IU, Vitamin C: 1mg, Calcium: 149mg, Iron: 1mg
Here's some more great recipes with grapes.
We are a participant in the Amazon Services LLC Associates Program, an affiliate advertising program designed to provide a means for us to earn fees by linking to Amazon.com and affiliated sites.