Snickerdoodle – Cinnamon Sugar Cookie goodness
Our popular snickerdoodle cookies recipe from 2009 has a new video and photo update. It's soft, chewy and slightly crispy on the edges. You might just eat 2-3 cookies in one helping. Enjoy.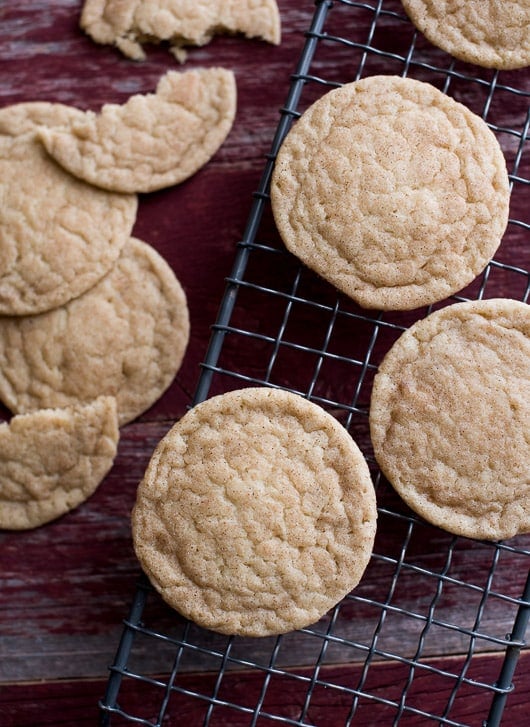 Watch our Yummy Snickerdoodle Cookie Video
It was for another addition to our deep-dish-a-la-mode-cookie repertoire, aka pizookies. Aka I-can't-stop-eating-these-cookies. However, there was one minor problem. I had no snickerdoodle cookie recipe for the dough that I wanted to use. There were no snickerdoodle recipes in any of my go-to dessert cookbooks, no family recipes, no nada.
So I embarked on a little snickerdoodle cookie cyber research quest to discover the beauty behind these tasty cinnamon sugar cookies. I knew very well of how snickerdoodle cookies should taste, but there was a particular element to snickerdoodle cookies that I couldn't place my tongue on. It wasn't long before I started seeing a trend in the different recipes to see what that element was, cream of tartar. You know, that little white powder so many of us have in our spice drawers and always wonder what the hell it is used for.
Turns out cream of tartar is a cast off from wine making and also primary element in many brands of baking powder. It is actually an acid salt that can help stabilize eggs and impart a slight acidic taste when used in cooking such as in snickerdoodle cookies. It's that little extra element that contributes to the texture and lends a particularly unique flavor element to the cookies. Fascinating, really, but I still didn't have any damn snickerdoodle recipe. Many of the snickerdoodle cookies recipe I found online were very good, like Shuna's snickerdoodle recipe that she contributed Simply Recipes, but I was already in serious "Snickerdoodle" recipe mode and wanted to play with my own creation.
So, I decided to embark upon something I've never done before, create a snickerdoodle cookie recipe from scratch.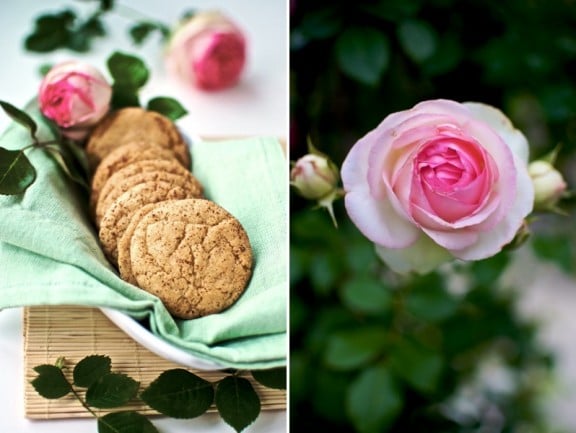 I've always relied upon others' recipes for a start point and then have tweaked if needed to make the recipe to my personal preference. However I was feeling inspired. Part because my cookie mojo has been flowing lately, hence all the cookie related posts, and part by Michael Ruhlman's new book Ratio. I haven't had the chance to read his book yet, but the principal is brilliant. By understanding the basic ratio of a recipe, you will gain the freedom of cooking and creating using your own knowledge and taste, rather than a specific recipe.
I'm such a cookie freak that I have many of my cookie recipes memorized. Now instead of thinking about the recipes' ingredients as individual numbers, I analyzed their ratios. Patterns developed and before long I was crafting a recipe from scratch. A good snickerdoodle should be soft with a touch of crispness on the edges, so I combined a bit of lard to accompany the butter for the fats in the recipe. Lard gives a great soft texture, but the butter gives the best flavor and a better crispness. I mixed brown and white sugars to give a little more dimension to the flavor and took advantage of our well stocked pantry by bringing out the Vietnamese cinnamon that we brought home from our visit to north and central Viet-Nam last fall.
How did the snickerdoodle cookie recipe turn out? I have to be honest, it was damn perfect! The best snickerdoodle cookies I've ever tasted. The texture, even when cooled was perfect, the flavor great, and the Vietnamese cinnamon is a divine finishing touch. The snickerdoodle cookies will still be great even with regular cinnamon, but I can't stop making it with our little cinnamon spice luxury. Even the "freezing the dough test" was a success so we now have another snickerdoodle cookie dough we can grab out of the freezer whenever we are feeling cookie-ish. And the pizookie idea… as brilliant as I had hoped it would be.
"What!?! What is the pizookie idea?" you may be asking. Ha ha ha ha! I'm too bratty to reveal all the tricks in one post.
You'll have to tune-in later in the week to find out the next episode of the "Pizookie Files." Although if you were one of our Twitter followers then you were already given the inside scoop by Diane last week. Lucky devils.
-Todd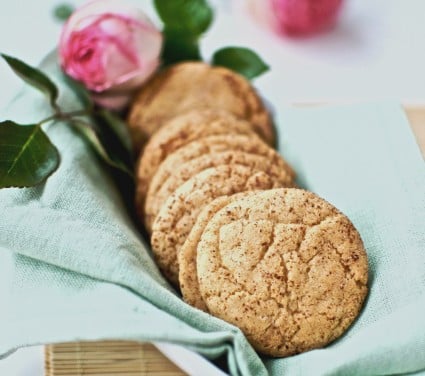 Hope everyone enjoys these as much as we do. I had to make a third batch just for the final shots. We ate all of the first 2 batches before we could shoot it!
Update for this snickerdoodle cookies recipe – we baked and photographed this recipe to different stages of doneness to show how the look of the cookie can vary. In some of the photographs above, you'll see the cookies a little less thick and less "crackly". Those were baked a bit less and were deliciously soft. The other photographs were cookies that were baked a bit longer and have a slightly crisper edge, yet were soft in the middle. They will come out a bit thicker and more "crackly". We love both variations so bake to which ever way you like best.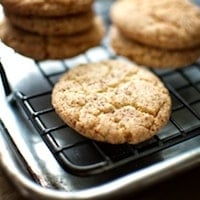 Snickerdoodle Cookie Recipe
These are one of our favorite cookies. Soft with a tinge of crispness on the edges. If you want to go crazy, grate a Vietnamese cinnamon stick for the cinnamon-sugar mixture you roll the dough balls in. So good!
Ingredients
3/4 cup (150g) granulated Sugar
2/3 cup (150g) packed Brown Sugar
1/2 cup (113g) unsalted Butter , softened to room temperature
1/4 cup (50g) Vegetable Shortening or Lard , softened to room temperature
2 large Eggs
2 teaspoons (10ml) Vanilla Extract
1/4 teaspoon Kosher or Sea Salt
2 1/3 cups (300g) unbleached, all-purpose Flour
2 teaspoons (10g) Cream of Tartar
1 teaspoon (5g) Baking Soda
1 Tablespoon (15g) Cornstarch
1/2 cup (100g) Cinnamon Sugar mix (1 part cinnamon, 3 parts sugar ratio)
Instructions
Combine sugar, brown sugar, butter and lard in a mixing bowl. Beat until creamed and light and fluffy, about 3 minutes. Add eggs, vanilla extract, and salt and mix until fully incorporated.

Sift flour, cream of tartar, baking soda, and cornstarch together. Gently mix the flour mixture into butter mixture. Cover the bowl with plastic wrap and chill for 30 minutes-1 hour, or until the dough is chilled enough to easily handle and will hold a ball shape when formed.

Freezing Option: roll dough into a log and wrap in plastic wrap. Freeze. When ready to use, thaw for about 30 minutes, then continue with recipe.

Pre-heat oven to 350° F (325° F convection bake). Line a couple baking sheet pans with a silpat or parchment paper.

Put cinnamon sugar mix into a bowl. Gently form dough into a small ball (about the size of a walnut) then roll in cinnamon sugar mix. Place balls on the lined sheet pans. Make sure to give plenty of room between cookies since they spread a bit.

Bake each sheet tray for 11-14 minutes. They should be light golden on the edges. It is better to slightly under-bake than to over-bake these cookies.

Cookies will be puffy coming out of the oven and after about 15 minutes of cooling they will settle and crinkle.
Nutrition Information
Calories: 107kcal, Carbohydrates: 16g, Protein: 1g, Fat: 4g, Saturated Fat: 2g, Trans Fat: 1g, Cholesterol: 16mg, Sodium: 52mg, Potassium: 46mg, Fiber: 1g, Sugar: 10g, Vitamin A: 92IU, Calcium: 7mg, Iron: 1mg
We are a participant in the Amazon Services LLC Associates Program, an affiliate advertising program designed to provide a means for us to earn fees by linking to Amazon.com and affiliated sites.