Killer Maple Bacon Apple Muffins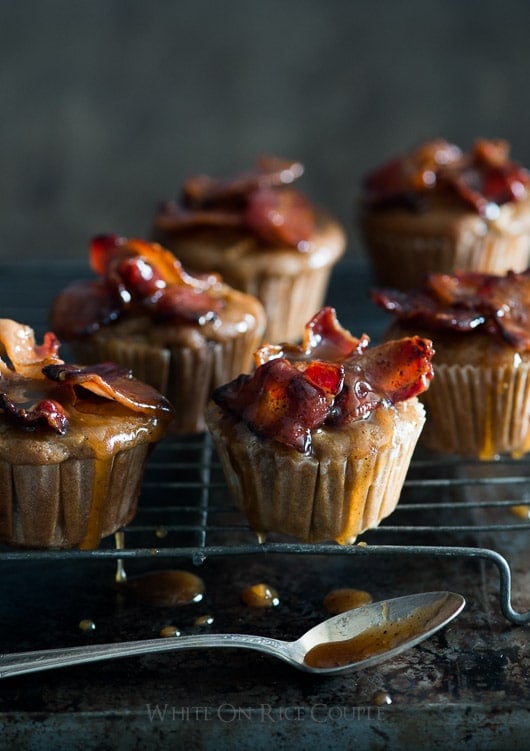 Maple Bacon Apple Muffins
Maple bacon anything is an easy "Yes". Add the apple and it is an even quicker yes. Offer it for breakfast to have with the morning coffee and suddenly the day just started out in as good of a way as possible.
It's like the heavens opened up and looked down on you. You, who took that extra couple minutes to make your bed. Who replaced the roll of paper towels after using the last sheet. You who held the door for the next person coming after you. And the heavens said, "You deserve something extra special."
In creating this morning bite of deliciousness, we wanted a really good muffin base. Moist and flavorful. Not one that needed to be masked under the flavors of the maple bacon, but one that you'd want to eat straight up. And only after reaching that point would the muffin we worthy of a generous maple bacon topping.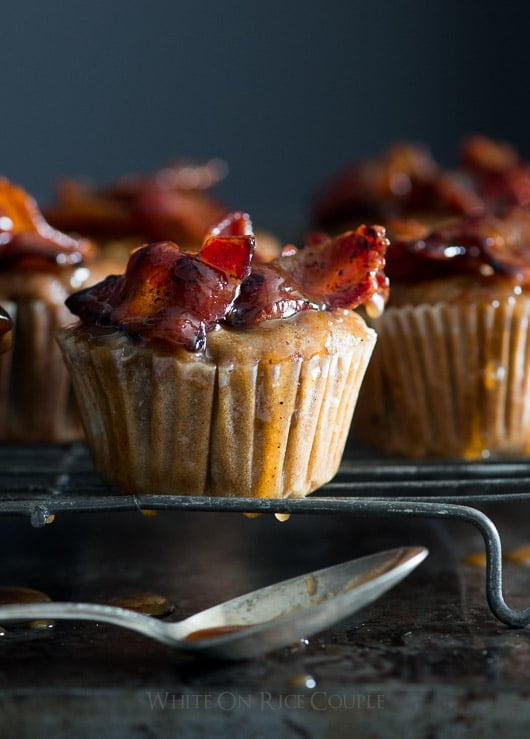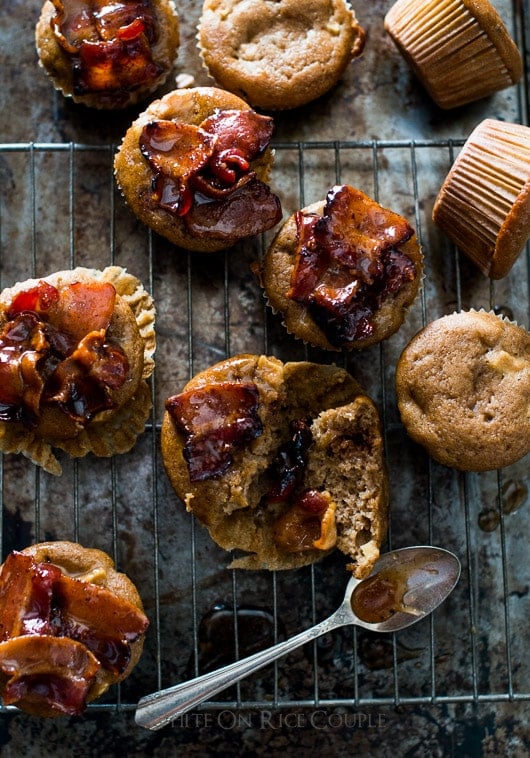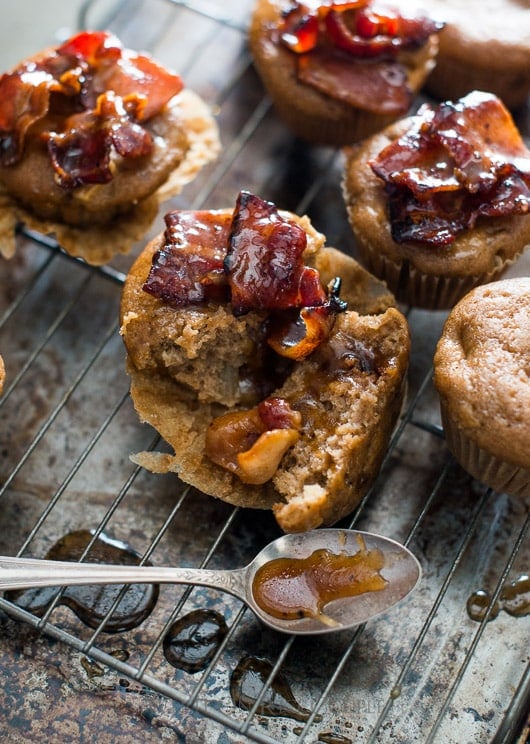 We love the apple muffin recipe from the Food Network's Ellie Krieger. It is a made with applesauce and buttermilk, ensuring a great moist muffin. We changed up the muffin to accommodate the ingredients we nearly always have on hand in the pantry and pumped up the spices a bit. We love this muffin.
The size of the bacon pieces is a key point for us. I can't stand it when tiny little bacon crumbles are passed off as acceptable toppings. This is bacon. It is important to not diss the bacon. Yet since we want to eat muffins without a knife and fork, we didn't want the bacon too big. An inch and a half sized pieces seem just about perfect. If you are going to be using a knife and fork, make it bigger.
Enjoy, you deserve these maple bacon apple muffins.
Todd & Diane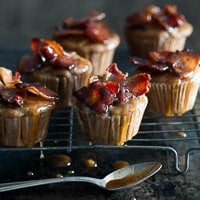 Maple Bacon Apple Muffins
This apple muffin makes a tender moist muffin with the combination of applesauce and buttermilk. As with most all muffin recipes, don't over mix the batter or else the muffins may become tougher.
The batter makes a bit more than 12 muffins worth but it is better to have a bit extra batter to accommodate for different people's scooping methods. Our favorite way to scoop batter into muffin cups is to use a large cookie scoop.
Ingredients
Apple Muffin ingredients
2 cups (250g) all-purpose flour
2 teaspoons ground cinnamon
1 teaspoon baking powder
1/2 teaspoon kosher salt
1/4 cup (60ml) canola oil or vegetable oil
3/4 cup (165g) packed brown sugar
2 large eggs
1 cup (245g) unsweetened applesauce
1 teaspoon vanilla extract
3/4 cup (180ml) buttermilk
1/2 pound (about 1 large - 225g) baking apple *see Note 1, peeled cored, and cut into small pieces
Maple Bacon Glaze Ingredients
1/2 pound (225g) bacon , cut into 1 1/2-inch pieces
1/4 cup (1/2 stick or 60g) unsalted butter
1/4 cup (60ml) maple syrup
1/4 cup (55g) packed brown sugar
Instructions
Preheat oven to 375°F. Lightly oil a 12-capacity muffin tray or line with baking cups.

Whisk together the flour, cinnamon, baking powder, and salt. Set aside.

In a large bowl, whisk together the oil and brown sugar. Whisk in the eggs one at a time. Whisk in the applesauce and vanilla extract.Fold in half of the flour mixture. Stir in the buttermilk. Fold in the remaining flour mixture until just combined. Gently stir in the apple pieces.

Scoop the batter into the prepared muffin pan and tap the pan on the counter a few times to release any air bubbles.

Bake for 25-30 minutes or until a toothpick comes out clean when inserted into the middle of the muffins. Let cool for about 15 minutes and then remove the muffins from the pan and place on a cooling rack.

Make the maple bacon glaze. In a large skillet cook the bacon pieces until nearly crisp, or to your preferred crispness. Remove the bacon from the skillet and drain off the majority of the rendered bacon fat.

Over medium-low heat, melt the butter in the skillet which the bacon was cooked in. Stir in the maple syrup and brown sugar, mixing until the sugar is dissolved. Add the bacon to the maple/butter sauce.

Place a few pieces of bacon on each muffin and drizzle the maple sauce over the muffin. Allow to cool slightly and serve.
Notes
Note 1:
Some of our favorite baking apples are the Honeycrisp, Crispin (aka Mutsu), Pink Lady, Fuji, and Granny Smiths.
Nutrition Information per Serving
Calories: 449kcal, Carbohydrates: 45g, Protein: 4g, Fat: 29g, Saturated Fat: 11g, Trans Fat: 1g, Cholesterol: 57mg, Sodium: 159mg, Potassium: 164mg, Fiber: 1g, Sugar: 27g, Vitamin A: 200IU, Vitamin C: 1mg, Calcium: 68mg, Iron: 1mg
More awesome muffin recipes here for you.
We are a participant in the Amazon Services LLC Associates Program, an affiliate advertising program designed to provide a means for us to earn fees by linking to Amazon.com and affiliated sites.