Garlic Knots – Tying together the Past & the Present
For 10 years my working life was swallowed up by a cafe/market where we made some of the most badass garlic knots around. Those combined with an espresso were my regular sustenance on countless non-stop, never pause for a breath days.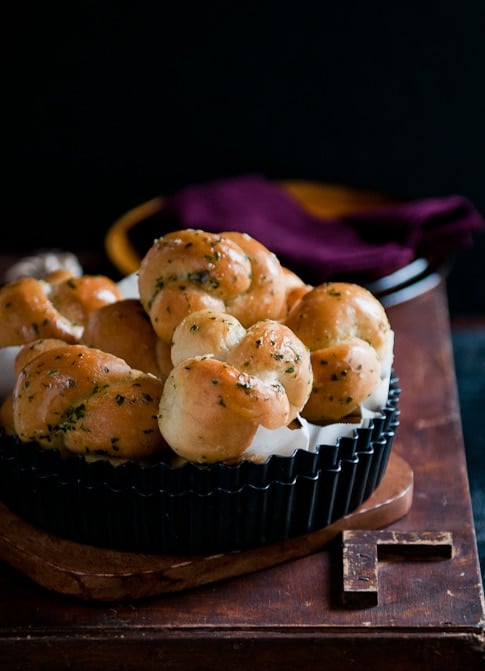 Garlic Knots Recipe
Screw the labor laws with required break-times, as a GM there is too much to be done in too short of a time. The garlic knots were the perfect grab-&-go nosh. I never got tired of them, never even tired of their beautiful aroma coming out of the kitchen like clock work, every day at 9:00 a.m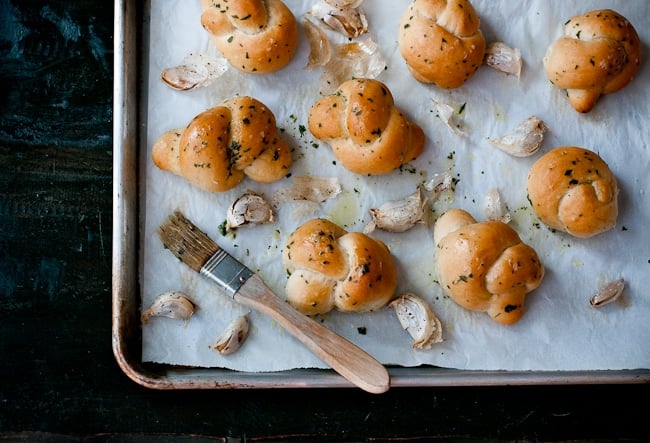 During this same time, I became obsessed with making breads. When we remodeled our first townhouse's kitchen, we put in a section of countertop which was lower just so it would be easier to knead bread. However, despite these two loves flying together in my life at the same moment, I never once made garlic knots at home.
Past to Present
Fast forward to recent history; the years in the restaurant business are quietly tucked under years of photography work, my bread making passion had calmed giving way for other culinary explorations. However in the last couple years, due to blogging and certain clients of ours, the bread making mojo has been roused. There is rarely a moment when we don't have some par-baked pizza crusts ready in the freezer and a batch of basic dough sleeping in the second fridge.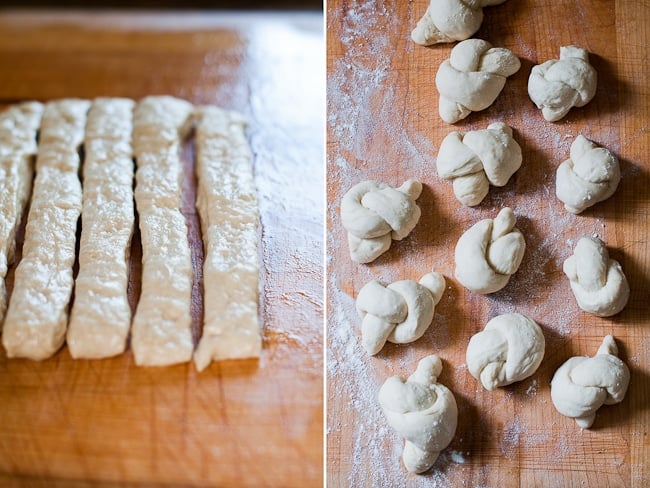 Through experimenting with techniques and observing our favorite bakeries production, I started letting go of the need to knead the dough into submission. It is necessary for some types of bread textures, but not for the softer, lighter textures we often seek. This mindset was further validated by chefs we met who had fantastic bread, as well of course by our community favorite, Artisan Bread in 5 Minutes a Day. Bread making suddenly became simple, with quick prep times, and ever delicious results.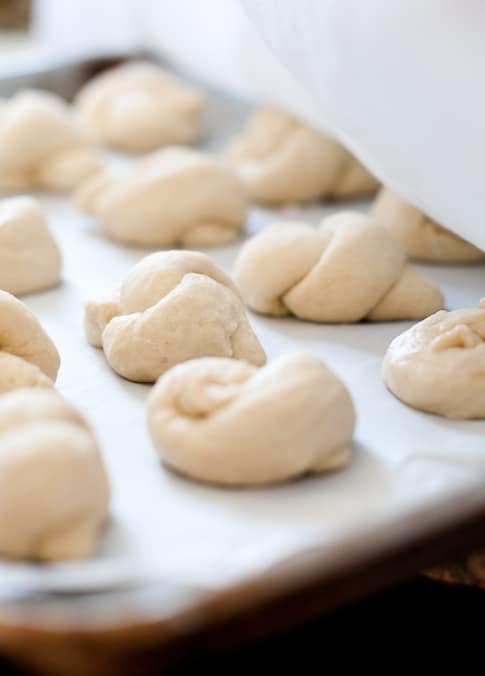 cheese cloth over knots during their rise
Diane said she was craving garlic knots. How could I not be after all the days those little bread beasts kept my stomach at bay and stirred by the fond memories of the ever-smiling Felix tossing the knots and bringing into them into the market still warm and room filling aromatic.
Making bread has a special life to it. Once the yeast activates, it becomes a living thing. I still can't help but think of Bourdain's recollection of an insanely talented but crazy baker who would call up in a stupor, "Feed the Bitch.. Feed her or she'll die!" I tend to have a less crass attitude towards my doughs (and women). They are beautiful, nourishing, and ever a part of my life.
-Todd
How to Make Garlic Knots
Here's some tips which I've found help make things easier when making these garlic knots.
1. Use a Scale. By using a scale you seriously cut down on clean up (just 1 bowl & 1 spoon needed to make dough!) and it is more accurate. It also makes it easier to substitute other flours, since the weight ratios usually don't change much but volume does.
2. Chilled dough (even 15-20 min.) will be easier to handle than a freshly risen one (it is ok to still use the fresh one though)
3. I love our flour sack towels for covering the dough when proofing.
4. Oil and flour both are invaluable to keep dough from sticking. Usually I'll use one or the other, but in the forming of the knots I liked using both in coordination. Oil the board, your hands, and rolling dowel to flatten dough into a rectangle. Slice into 3/4″ strips, then dust board and dough w/ flour to roll into a rope and knot. The oil is great on the outer surfaces of the knots giving a crisper crust when baking, but by using only oil when forming the knots, the dough slips and starts to stick to itself. The flour makes the rolling and knotting easier. If there is too much flour and it glides around when making the ropes, just dust of excess flour from the board.
…Everyone help settle a friendly dispute for us. Which technique do you prefer?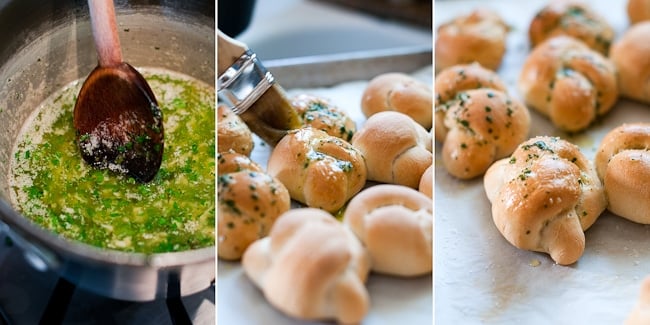 Above: Diane prefers to brush her garlic knots with the garlic butter. Below: Todd likes pouring the garlic butter onto the knots and tossing them inside the bowl.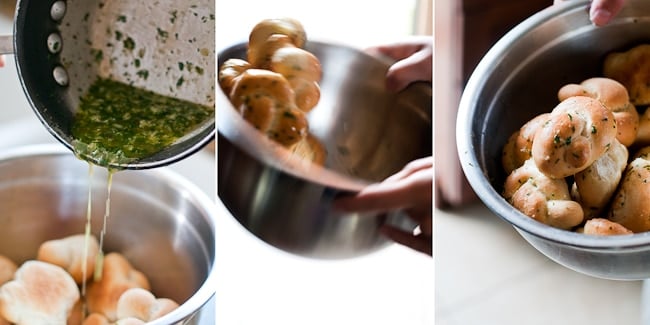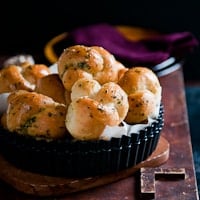 Garlic Knot Recipe
We have an alternative rolling and knotting method on our Spicy Sriracha Garlic knot recipe. We like both techniques but each individual will find they prefer one method or the other, depending on their cooking style.
Ingredients
Dough
1 3/4 cups (415ml) Warm Water (@115°F)
1/4 cup (60ml) Olive Oil
1 teaspoon (5g) Kosher Salt
1 Tablespoon (15g) Sugar
1 1/2 Tablespoons (17g) Active Dry Yeast (or 2 active dry yeast packages)
5 1/2 cup (700g) all-purpose, unbleached Flour , approx.
Garlic Coating
2 Tablespoons (30ml) Olive Oil
2 Tablespoons (30g) unsalted Butter
4 cloves Garlic , finely minced or crushed
1/4 cup (60ml) finely chopped fresh Italian Parsley
Kosher Salt to taste
plus extra Olive Oil and Flour for making the knots
Instructions
Combine water, 1/4 cup (55g) olive oil, salt, sugar, and active dry yeast in a large resealable container or bowl. Mix to dissolve yeast.

Add flour. Mix to incorporate flour, cover, and set in a warm spot to proof until doubled in volume (usually 1-3 hrs depending on initial water temp and warmth of proofing area). (A sunny table outside on a warm summer day is perfect for proofing!)

Chill the dough for a bit (will keep fine in fridge for several days if you want to make the dough ahead of time) to make it easier to handle (this can be skipped if you don't have the time) then set up your knotting station. Put out a large wooden cutting board and oil liberally. Grab a rolling dowel or pin and oil. Grab a pizza cutter or something similar to slice dough in strips. Put container of flour within easy reach. Line several sheet pans with parchment paper and place within easy reach.

Oil your hands to help keep dough from sticking to them. Divide the dough in two parts to make it easier to handle. Take the first half and roll out into an even rectangle approx. 5"x16" and about 1/2" thick. Slice the rectangle into 1/2" wide x 5" long strips.

Sprinkle dough strips and board with flour. Taking the strip nearest to you, roll it back and forth to create an even rope. Tie into a knot (loop the dough and then take one end over and through the loop) and place on lined sheet pan. Place knots about an 1 1/2" apart. At first it may seem awkward making the knots but with a little practice it will become easy. Flour is your friend to help keep the dough from sticking to itself while forming the knots.

Continue making the rest of the knots with the second half of the dough. After each sheet pan fills up, cover with a dry sack towel, and place in a warm, draft-free spot to rise.

Preheat oven to 400° F.

After knots have doubled in size, take off the towel and place knots in the oven. Bake for approx. 12-15 minutes or until golden.

While knots are baking, make garlic coating. Gently warm olive oil, butter, and garlic in a small saucepan (if you like your garlic with less of a bite, cook it for a few minutes in oil/butter mix until soft & slightly golden). Add chopped parsley and set aside.

After removing knots from oven, while still warm, either brush with garlic coating, or place knots in a large bowl and toss with garlic coating. Season with salt to taste. Best served warm, but still good when at room temp.
Nutrition Information per Serving
Calories: 88kcal, Carbohydrates: 14g, Protein: 2g, Fat: 3g, Saturated Fat: 1g, Trans Fat: 1g, Cholesterol: 2mg, Sodium: 59mg, Potassium: 23mg, Fiber: 1g, Sugar: 1g, Vitamin A: 49IU, Vitamin C: 1mg, Calcium: 4mg, Iron: 1mg
More Easy Recipes:
We are a participant in the Amazon Services LLC Associates Program, an affiliate advertising program designed to provide a means for us to earn fees by linking to Amazon.com and affiliated sites.