When Friends Meet, Learn & Eat at Food Blog Forum, Asheville, NC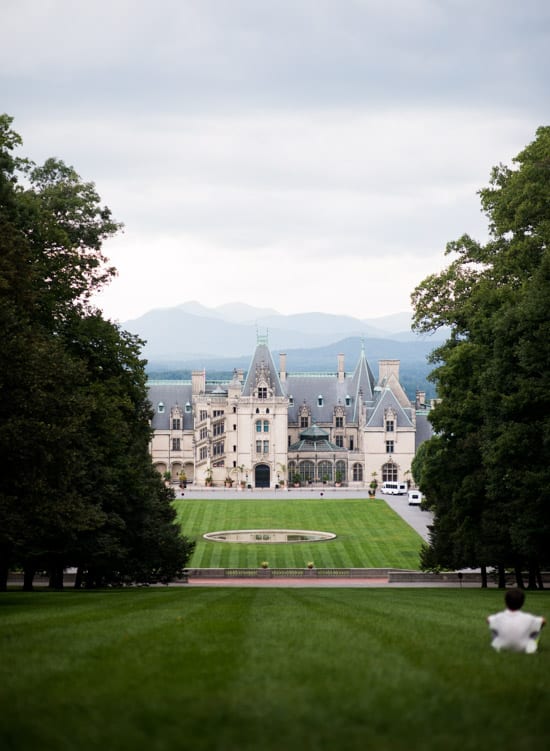 Once a year it's like a reunion of old friends and a gathering of new. We've come to realize it's more than just a gathering of food bloggers for a conference. Sure, Food Blog Forum is an annual conference where food bloggers gather from far and wide to learn, encourage and eat together. But its grown to so much more than just a typical conference. What really happens at a Food Blog Forum goes beyond a stale conference room filled with panels on food photography, monetizing and finding success. As co-founders of Food Blog Forum with Jaden and Scott, we're super proud to see our community evolve into something bigger and more inspiring than we have ever imagined.
What really happens at a Food Blog Forum "conference"? To start, let's call it a gathering. Or even a reunion of special folks who all share a common love of food, friendship and inspiration.
New friendships are forged and re-enforced and familiar faces are re-united at Food Blog Forum. And what about the food? Oy, there's tons delicious food that is surrounded by conversations of inspiration, humor, support and friendship. Every bite and sip is accompanied by stories of one another lives, struggles and aspirations.
Beyond the conference room, what also happens at Food Blog Forum are many moments of discovery, inspiriting meet-ups with incredible people and visits to new locations that just keep us smiling and well-fed.
This year we were fortunate to have incredible support from the community of Asheville, North Carolina. They reached out to us and wanted to be a part of our tribe and community of food publishers, writers, photographers and bloggers from around the country. We answered with an enthusiastic YES and after about a year and a half of communication and planning, it came down to three incredible days filled with mind-blowing culinary and local inspiration.
It's really hard to fully describe in words why we left Asheville so elated and stimulated.
Here's some images to help us narrate this incredible experience:
Doubletree Asheville-Biltmore hosted an amazing welcome party with the best theme ever: Moonshine Madness. Goodie-foodie bags were from Foodtopia Asheville and we were able to fill our own bags with fabulous local foods from local Asheville producers. How cool is that?
Troy and Sons, one of few woman-only owned distilleries in the US, served up their moonshine inspired cocktails.

A few rounds of Moonshine madness cocktails brings out some BIG smiles. But Rachel & Kelly were drinking water?

So many nice folks help make Food Blog Forum so awesome and running smoothly, including the team: Jaden and Scott, Julie and Curtis, Lindsay and Taylor and yours truly (Todd and Diane!)
Let's talk about the food in one word: Perfect! Doubletree Asheville-Biltmore went all out.
All the food paired so well with the Moonshine cocktails. The pink lemonade wasn't bad either. 😉

These are the Doubletree Asheville-Biltmore & Foodtopia folks that rocked the show, the food & local hospitality.

On conference day, Biltmore provided the most beautiful venue we've ever seen at Lionscrest. If you're in Asheville, a visit to Biltmore Estate is a must. The Biltmore House and Gardens are breathtaking and the history of the estate is incredibly fascinating. At the end of the conference, all 110 in attendance received a tour of Biltmore House and ended with a closing party on top of the hill overlooking the property. Chefs from the restaurants on the estate came and showcased their beautiful food and wine pairings. (Bummer we didn't have pictures of the closing party to share with you. We were too busy stuffing our faces with food and more food. Oink.)
On the last day of Food Blog Forum, Explore Asheville provided another superb food experience. Words can't describe this day long tasting and tour spanning the local food, farm, independent restaurant and brewing culture. Truly, the only two words that come to mind to describe this day was: freaking incredible.
Chefs Chad and Tanya from The Junction fed everyone with their crazy good duck-in-three-ways sliders.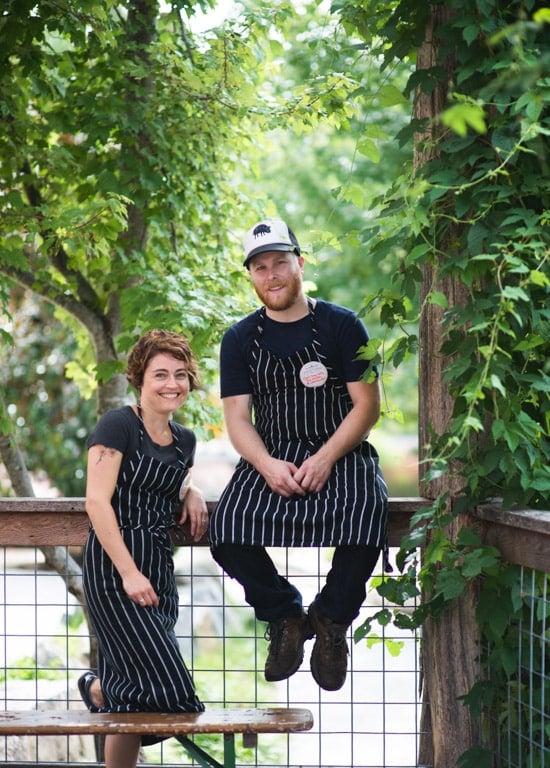 Highland Brewery was the venue for the the Taste and Sip event that showcased tastes from some of the city's best restaurants and local Asheville personalities.
Chef Steven Goff (of King James Public House) and his beautiful family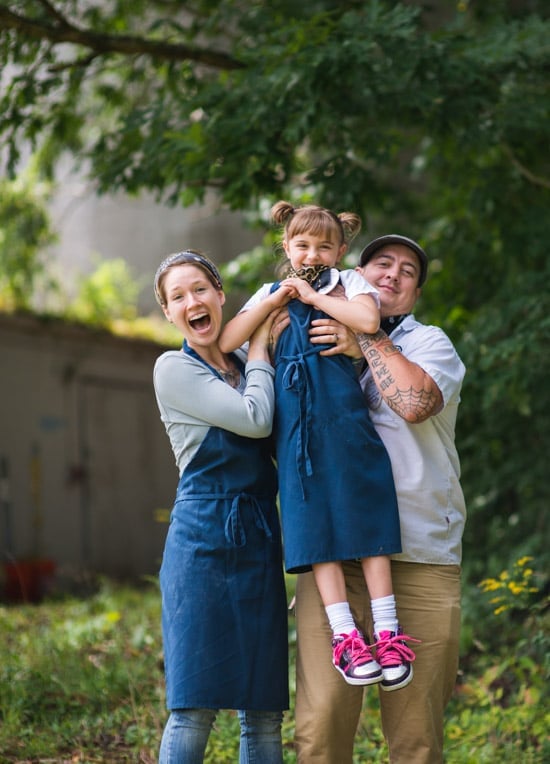 So much food at this tasting, so little stomach room. Seriously. Thanks goodness we were photographing to burn extra calories. It was great to see Jael again from French Broad Chocolates serving up more of her fabulous chocolate creations. A fun favorite were all the wonderful pickles, including pickled okra, from Green River Picklers.

The Beyond the Farm tours was next on the agenda. Love for food and Asheville food artisans kept on coming.
The Beyond the Farm tours included a visit to Looking Glass Creamery with vendors offering tastings from Farm & Sparrow, Blue Ridge Mountain Creamery, Sunburst Trout Farms and Blue Kudzu Sake Company. And best of all, we made friends with Vivian the goat.
It was such a beautiful day. It could not have been more perfect to explore this beautiful city.

Jaime Ager from Hickory Nut Gap Farm shared his family story and a little hiking tour of his family farm.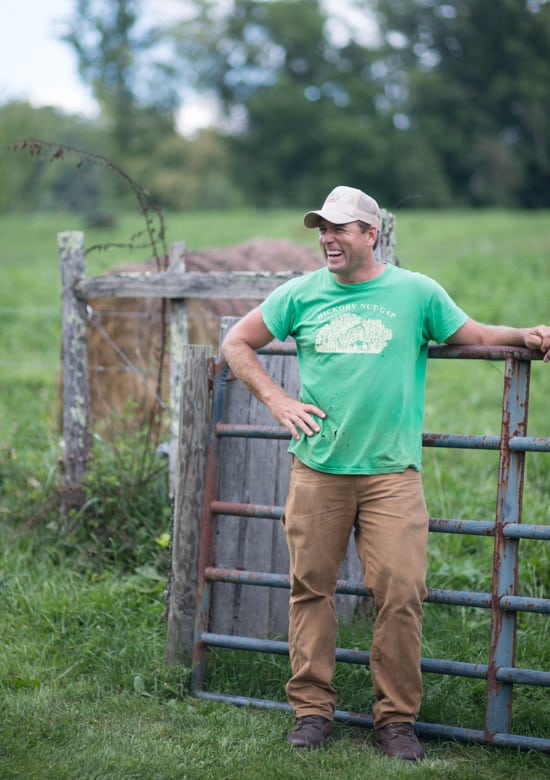 The farm tour ended so perfect for our half to the group: on top of a hill, overlooking the gorgeous hills of Asheville. The inspiring day ended with an evening "food crawl" tasting in downtown Asheville and visiting Asheville's indie restaurants. We all divided into a bunch of smaller groups and dived into the downtown indie restaurants. Our group stuffed our bellies with fabulous tastings at Chestnut, The Lobster Trap, Nightbell, Seven Sows, Rhubarb, and Zambra. These Chefs are not only talented, but they are also the most humble, kindest folks you'll ever meet. Their huge hearts inspire us and remind us to be kind and always do more of what we love.

Happy and Grateful, we are. Huge thank you to everyone involved in making this years Food Blog Forum a success. We couldn't have done it without the mind-blowing hospitality and hard work from all the folks (every single one of you!) at Explore Asheville, Biltmore Estate, Doubletree Asheville-Biltmore, our awesome sponsors KitchenAid and OXO and our wonderful panel of speakers. And of course, we love our Food Blog Forum team and appreciate every single one of you who trekked to Asheville to join us.
See you next year at Disney World, 2015!
Love,
diane and todd
We are a participant in the Amazon Services LLC Associates Program, an affiliate advertising program designed to provide a means for us to earn fees by linking to Amazon.com and affiliated sites.