Todd's Bacon and Shrimp Ramen Stir Fry : Ramen Hack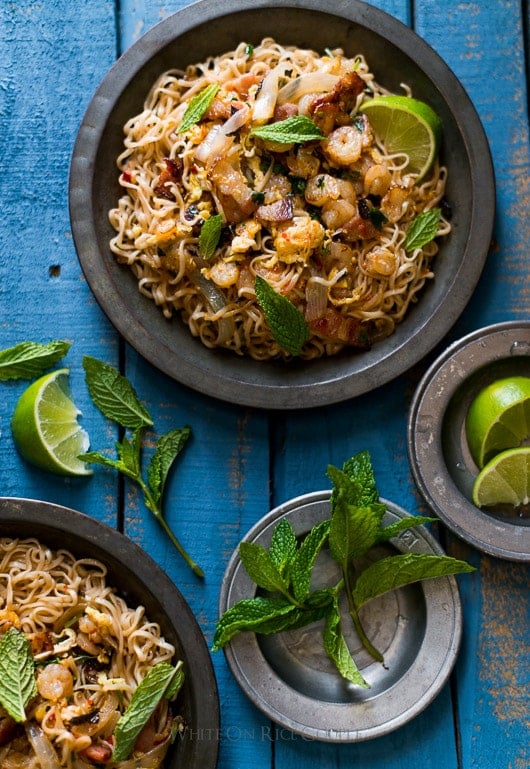 Ramen Noodle Stir Fry Recipe
The long lost teenage years. It seems like we are either hoping for them (before), trying to escape them (during), or wanting to relive them (after). As we pine and hope for our teenage years to come, with its greatness of driving, and dating, and other mysterious adult-like stuff, we have no choice but to wait. Not an easy thing to do when each day seems like a year. Then the mystical era arrives and everything begins changing around us so fast. Our likes and dislikes, what we want to do, where we want to go. Just as soon as we were starting to catch on to the game of life, someone re-shuffled the deck.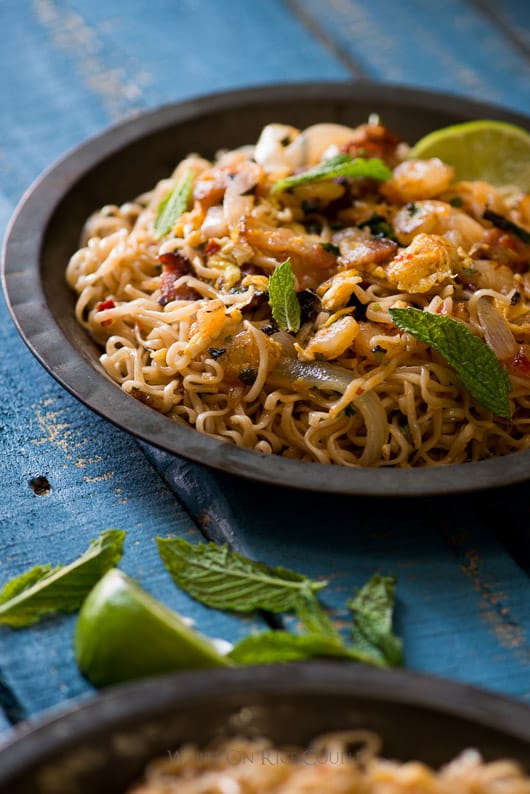 Eventually the tornado begins to subside and we start to figure out who we are. At least to a point. And before we know it our teenage years are gone, lost in a haze of mistakes and good paths, with one often being mistaken for another. Life moves on, and after a breath of clean air removed from the muskiness of youth, we begin to look back at the lost years. For me, one of the paths I began to take during those lost years was to cook for myself. Living on a ranch where everyone was going in 10 different directions between the work, school, chores, and sports, keeping a check on my bottomless teenage appetite seemed like a good skill to learn. Plus wasn't a bad thing to know for impressing a date.
I still don't know how I consumed some of those creations. The Monster Burger. Two 3/4 pound patties of beef, 2 hot dogs sliced in half, and handful of bacon strips all grilled up and sandwiched in a hamburger bun. There are countries that don't eat that much in a day.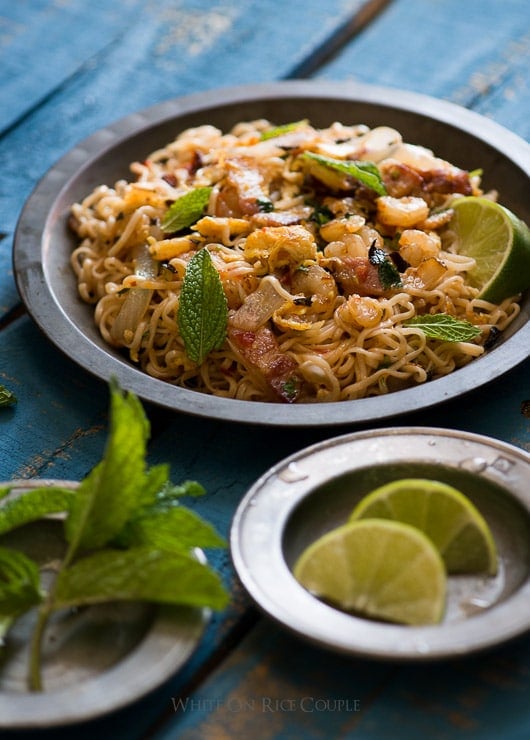 Childhood Memories
Some dishes were good, and others I'll never make again. At least not the way I made it back then. I was so proud of my first pizzas. Looking back, they really sucked. Oh the poor souls who braved that dense crust. For some unexplained reason, one of those primal cooking experiments recently came into my head. I loved it back then, but I wasn't sure how I'd feel about it now. With only one way to find out, I set out to relive one of those teenage moments. The dish is simple. Cook instant ramen noodles and drain them. Then cook up some sweet onions (we were only about an hour away from the legendary Walla Walla sweet onions), bacon, bay shrimp, a bit of egg to bind it all together and toss with the noodles. The flavors just bounced off of each other. The sweet shrimp and savory-sweet onions. The salty bacon. A nice little bite of starch from the noodles. So good.
Now having the experience and knowledge of other ingredients, I added a little of this, a little of that to give some more dimension to the flavor. But the core of this ramen noodle stir fry is the same and happily filling my appetite once again. Now just in smaller portions. Our teenage years may be gone, but they are not forgotten.
Todd
Here's another Ramen Hack: Korean Style with Pork and Kimchi Recipe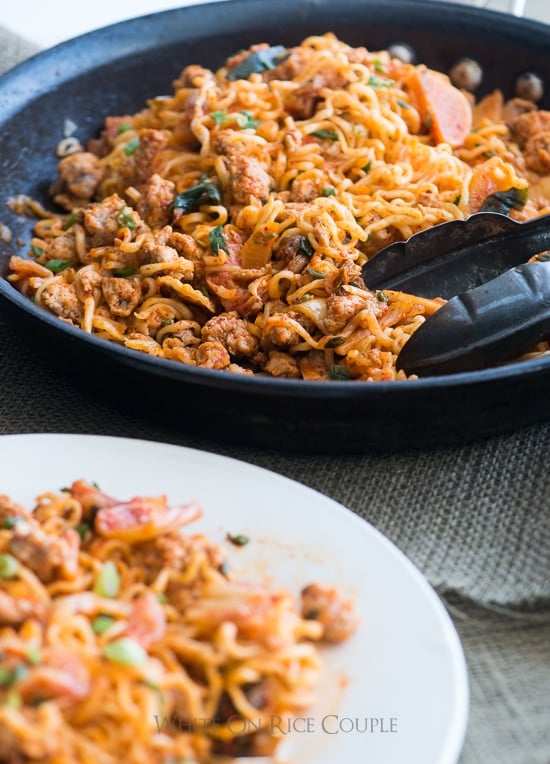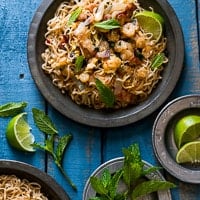 Shrimp and Bacon Ramen Stir Fry
This recipe is inspired by one of the first recipes I remember creating as a young teenager. It is quick and the flavor contrasts between the salty bacon and the sweet shrimp and sweet onions is still as perfect as I remembered growing up.
Ingredients
2 instant ramen packages , seasonings discarded
1 teaspoon sesame seed oil (5ml)
2 teaspoons fish sauce (10ml)
1 tablespoon chili garlic sauce (15ml) , or to taste
3 pieces bacon , cut into 1/2-inch pieces
1/2 medium onion , sliced
1/4 pound bay shrimp (113g)
1 egg
1/4 cup chopped fresh herbs (thai basil, mint, cilantro, etc...) (60ml)
Instructions
Cook the ramen noodles according to manufacturer instructions. Drain, rinse, and set aside.

In a bowl combine the sesame seed oil, fish sauce, and chili garlic sauce. Set aside.

Heat a large skillet over medium-high heat. Cook the bacon until nearly golden brown, 3-5 minutes. Stir in the onions and shrimp and cook until the shrimp is cooked through and the onions are softened, about 2 minutes. Stir in the egg and cook until the egg is fully cooked, about 1 minute.

Toss the drained ramen noodles with the bacon/shrimp mixture. Stir in the sesame seed-fish sauce-chili garlic sauce mixture until the noodles are coated and heated through.

Remove from heat, add the fresh herbs and serve warm.
Nutrition Information per Serving
Calories: 457kcal, Carbohydrates: 33g, Protein: 24g, Fat: 25g, Saturated Fat: 5g, Trans Fat: 1g, Cholesterol: 247mg, Sodium: 2475mg, Potassium: 240mg, Fiber: 2g, Sugar: 3g, Vitamin A: 764IU, Vitamin C: 14mg, Calcium: 115mg, Iron: 2mg
Here's another great beef and broccoli ramen hack.
We are a participant in the Amazon Services LLC Associates Program, an affiliate advertising program designed to provide a means for us to earn fees by linking to Amazon.com and affiliated sites.