Dragon Fruit Salad – Antioxidant High
Dragon Fruit Salad Recipe
Holy cow, we had a ton of dragon fruits this year! Which means more of this awesome dragon fruit salad. The beastly vines have finally matured and almost every node gave off an odd-ball looking fruit. What a spectacular sight they are and it's especially fun when friends come over and stumble upon the dragon fruit vines breathing fiery rows of red balls.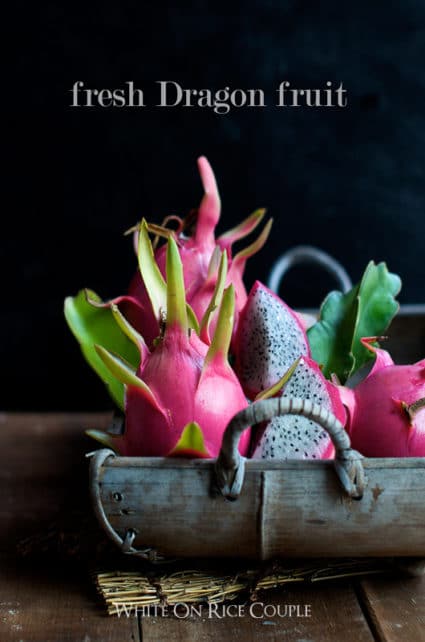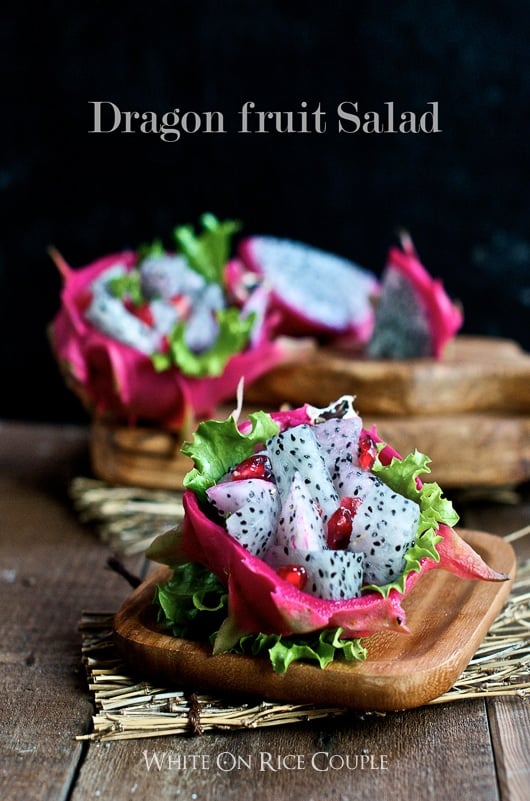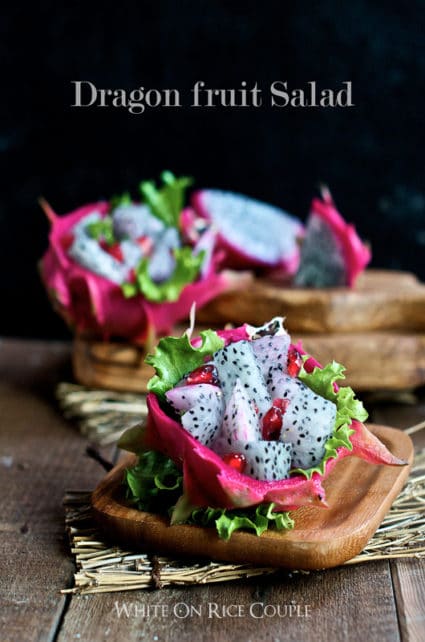 Watch How to Cut a Dragon Fruit
As spectacular looking as they are, the nutritional value of dragon fruit is equally impressive. Full of antioxidants, high in vitamin C and other minerals, dragon fruits are extremely healthy and nutritious. But, they can be light on flavor and a little on the mild side (depending on the variety). We grow 5 varieties and the most prolific one is the white centered variety, which is the lightest in flavor, but still very refreshing.
Eating dragon fruit is really simple because the red outer skin simply peels off the heart of the fruit. Better yet, just cut the fruit in half, gently scoop out the white fruit with a spoon and go to town from there! The red skin usually remains firm enough to be a bowl too, so definitely use the skin as a serving vessel. Chilling the dragon fruit in the fridge before serving also adds to the refreshing flavor and is additionally helpful at firming up the texture if your dragon fruit is particularly soft.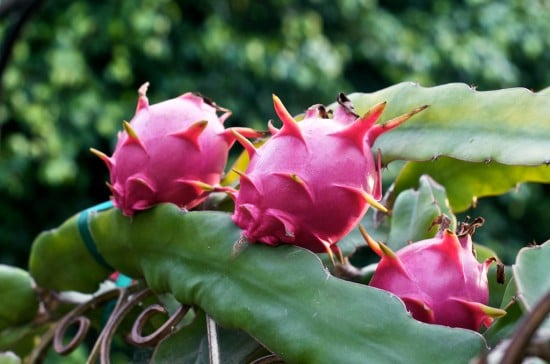 We simply love eating the dragon fruit by itself, or with a medley of other delicate flavored fruits. Even the addition of some lettuce to green up the salad is great too and the greens will add even more antioxidants. Call it the high antioxidant bowl and make it sound really healthy to make you feel good about eating good for the day.
More Articles on Dragon Fruit :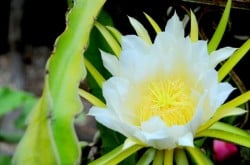 Summer of 2009 Dragon Fruit Flowers. The flowers were especially huge this year, thus producing some of the biggest dragon fruit we've ever had. With a late heat spell, the dragon fruit matured later, resulting in fruit all the way till December 2009! Enjoying summer fruit all the way into winter is why we live in Southern California.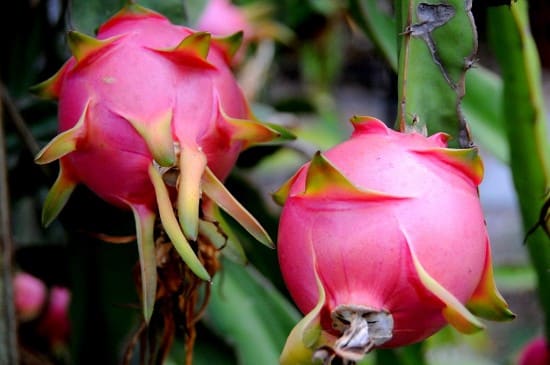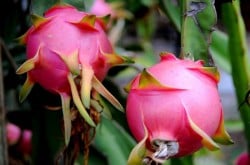 Photographs of the ripe and almost ready dragon fruit! Here is post from our Summer of 2008 crop. They were beautiful and sweet. When harvested right off the plants, the flavors are really fresh and refreshing. Most of the time, the store bought dragon fruits were picked rather pinkish, then allowed to ripen to red, so the flavors tend to be much more mild. Read the post here and get some dragon fruit recipes too.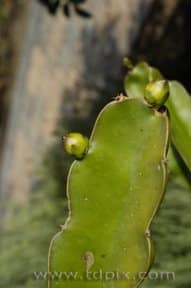 The Life Cycle of Dragon Fruit Flowers!
This was from the crop of Summer 2007 and we have pictures showing the whole blooming cycle. We shared it with everyone in January of 2008 (when we started blogging!) and it's so fun for everyone to see the cycle from beginning to end. You can read the post here- Life Cycle of Dragon Fruit
Previous Dragon Fruit Posts and Photographs: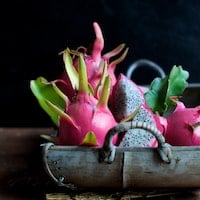 Dragon Fruit Salad Recipe
Full of antioxidants and super tasty.
Ingredients
1 dragon fruit , chilled
1 cup chopped fresh fruit of choice (apple, grape, stone fruit, etc.)
1 cup torn lettuce leaves (optional)
1 tablespoon fresh mint leaves , thinly sliced (optional)
1 tablespoon honey
Instructions
Cut dragon fruit in half. Gently scoop out the white center fruit. Cut the white fruit in chunks. Reserve the red dragon fruit peel as a serving bowl.

Add fruit in medium bowl with other fresh fruit and/or lettuce leaves and mint. Drizzle honey over fruit, gently toss together.

Optional - To serve, use the dragonfruit peel as the bowl.
Nutrition Information
Calories: 101kcal, Carbohydrates: 23g, Protein: 1g, Fat: 1g, Saturated Fat: 1g, Sodium: 35mg, Potassium: 118mg, Fiber: 3g, Sugar: 20g, Vitamin A: 321IU, Vitamin C: 5mg, Calcium: 13mg, Iron: 1mg
We are a participant in the Amazon Services LLC Associates Program, an affiliate advertising program designed to provide a means for us to earn fees by linking to Amazon.com and affiliated sites.