Pomegranate Gin (Or Vodka) Cocktail for Celebrating
Pomegranate Cocktail with Gin or Vodka
This pomegranate gin cocktail (or with vodka) is definitely a beverage for celebrations. When the first few days of 2013 passed, we knew it was going to be a big year and a year of many firsts. We love diving into "firsts" because the excitement of wondering what's going to happen is thrilling. Our first cookbook, Bountiful, was going to be released in October and back in January 2013, it felt like a long road away. Before we knew it, we were on the road visiting so many of you in some of our favorite cities. Can't believe that big moment of cookbook release and travel are over. That's a first we won't ever forget.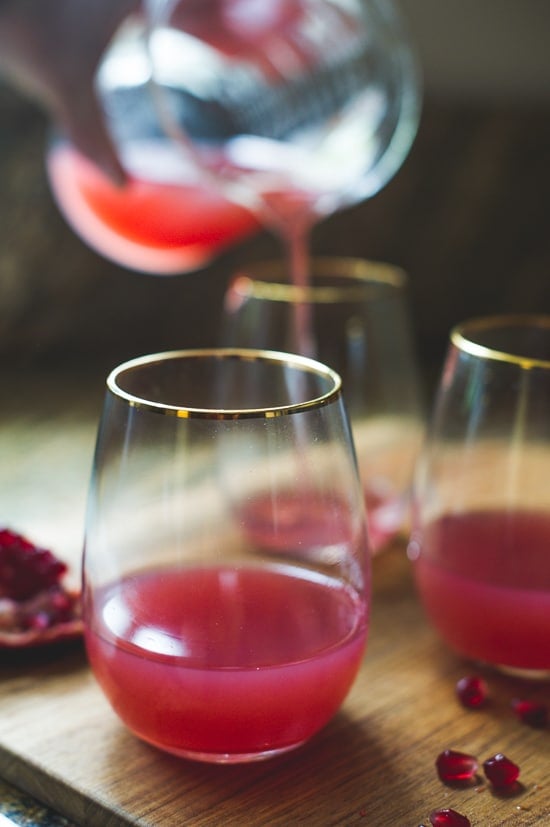 Another "first" was traveling to Australia and capturing some incredible stories of the people who make food by hand. Adding to travel adventure was experiencing fly-fishing for the very first time. We did it, finally! And though we didn't catch many fish, we were able to spend some quality time with family and friends. We can think of so many other reasons why 2013 was the start of many new beginnings for us. This was a year that ignited many new passions that we look forward to pursuing and hopefully we can continue them before 2014 is over.
Watch the video making the Pomegranate Gin Cocktail with Grapefruit: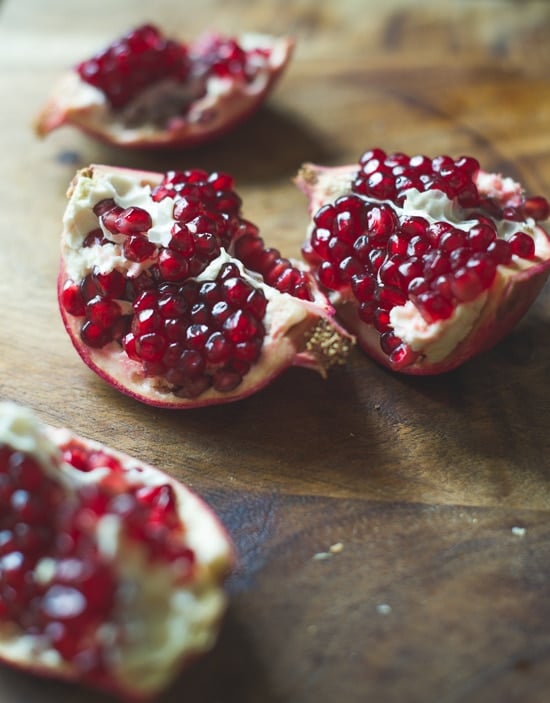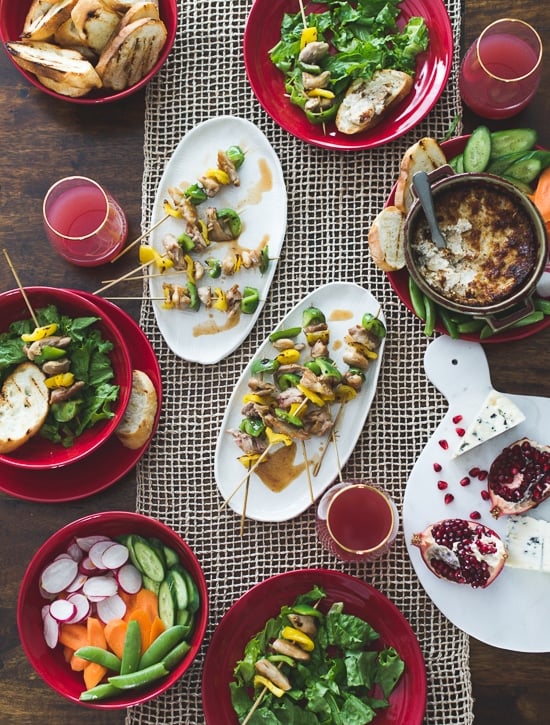 Most importantly, 2013 was a year of celebrating meals with friends, family and new colleagues. This was the year that we made extra time to gather with people we care about and share a meal. 2013 was the year that we consumed more calories and traveled more miles than the last 3 years combined. Yes, that's all a good thing! To celebrate the end of 2013 and new beginnings of 2014, we're sharing some scenes from a holiday tapas party shoot that we and West Elm collaborated together with. Thanks to West Elm's beautiful Crafted red dinnerware and gold rimmed stemless glassware, and Lindsay's white platters, we were able to make the tapas feasting table simple, yet beautiful.
So what do we eat to celebrate the New Year? To drink, it's going to be a big batch of these Pomegranate Gin Cocktail from our Bountiful cookbook. To eat, the table spread includes our famous sweet onion crack dip served with grilled bread and vegetables. Also on the munching table are our favorite chicken skewers with homemade teriyaki sauce. All recipes are also from our cookbook and this Pomegranate Gin Cocktail is one of our most popular drink recipes from the book.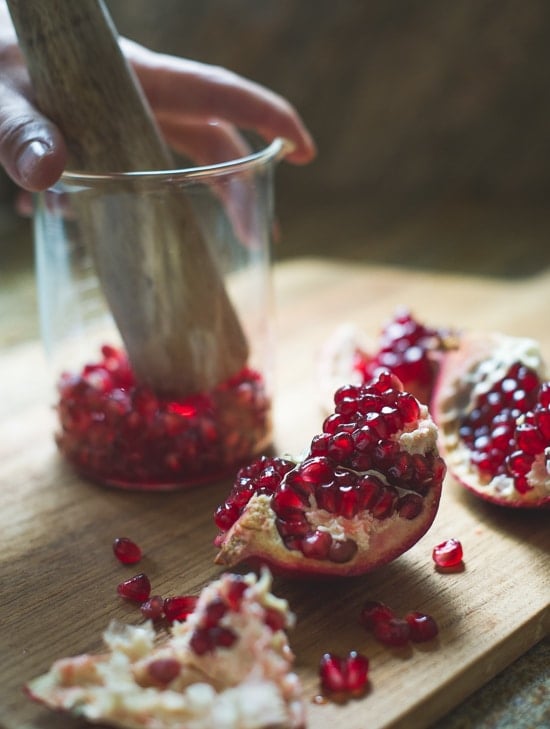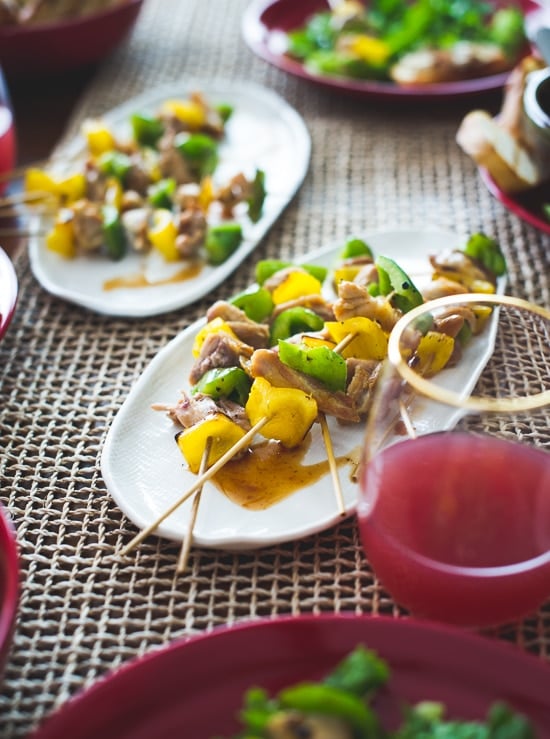 It's going to be a great New Year's Eve. We're excited to end the year with another great gathering and ring in the new year in the same way.
All four of us thank you all tremendously for being here with us and being a part of our lives. We're truly grateful for you all and wish you plenty of more great food, gatherings and love for 2014.
Hugs and love you each and everyone of you!
Todd, Diane, Sierra and Lexi.
Check out our Cocktail Recipes Here and our Complete Whiskey Guide.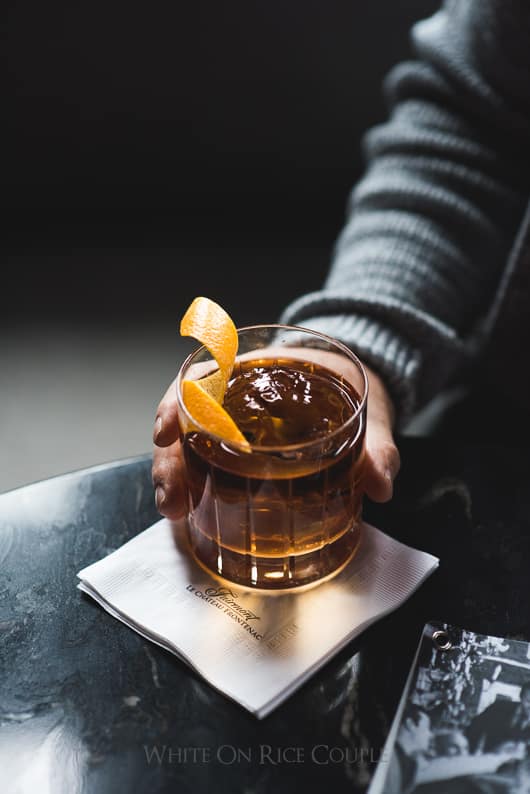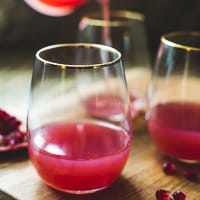 Gin (or Vodka) Cocktail with Pomegranate & Grapefruit
This recipe is from our cookbook Bountiful. Gins will vary quite a bit so feel free to adjust to your household's gin or to your preferred taste. We developed the recipe based off of Hendrick's Gin and that is what we usually make it with. Vodka is another alternative to replace the Gin.
For instructions on seeding a whole pomegranate, see the post and video on our How to Shuck a Pomegranate without Looking like a Murder Scene.
Ingredients
3 tablespoons (45ml) pomegranate seeds
1 1/2 ounces (45ml) fresh grapefruit juice
1 1/2 ounces (45ml) gin (or vodka)
1 ounce (30ml) simple syrup *see note 1
A few dashes orange bitters
Ice
Instructions
Muddle the pomegranate seeds in a cocktail shaker. Add the grapefruit juice, gin, simple syrup, bitters, and ice.

Shake vigorously for 15 to 20 seconds. Strain into a chilled cocktail glass.
Notes
Note 1:
To make simple syrup combine an equal amount of sugar and water. Heat to dissolve. It keeps for over a month in the fridge, so feel free to make a large batch to always have on hand.
Nutrition Information per Serving
Calories: 231kcal, Carbohydrates: 34g, Protein: 1g, Fat: 1g, Saturated Fat: 1g, Sodium: 19mg, Potassium: 192mg, Fiber: 2g, Sugar: 31g, Vitamin A: 3IU, Vitamin C: 16mg, Calcium: 12mg, Iron: 1mg
We are a participant in the Amazon Services LLC Associates Program, an affiliate advertising program designed to provide a means for us to earn fees by linking to Amazon.com and affiliated sites.