Bonded by a cookbook- Spinach salad w/toasted almonds, apples & Vermouth vinaigrette
Since we first published this spinach salad recipe in 2009, it's been a reader favorite. The flavor of the vinaigrette is wonderful.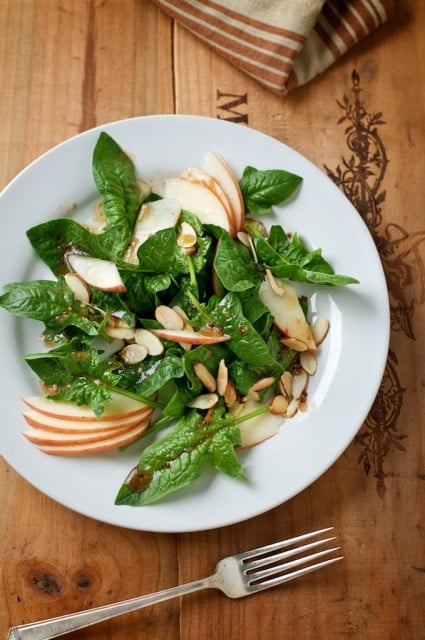 Sometimes the simplest of things can end up blossoming to be the most beautiful and sophisticated creations. As cliche as it may sound, it's so true that simplicity is often the best and most gratifying approach to cooking. It took a while for me to apply this same philosophy to finding recipes from cookbooks because I've always had a big heart and open pocketbook (Visa credit line) for big, extensive, beautifully-photographed books. As our library of big, bold, complicated cookbooks filled our shelves, I always turn to a humble little bound book amongst the mass of books written by high profiled chefs.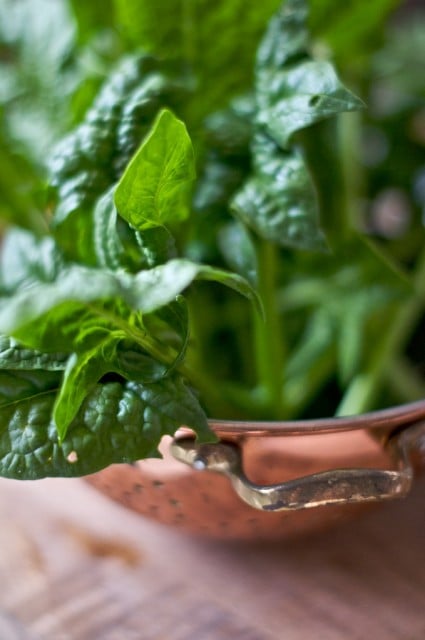 Wonderful and Easy Spinach Salad Recipe
This wonderful little book, called Private Collections, was written by The Junior League of Palo Alto. I just adore this simple little book that belonged to Todd's grandmother, Alta.
When Todd and I first met, we were both immediately bonded by our love of the outdoors, nature, the arts, food and cooking. To meet a guy that loved food, cooked food, and obsessed over food as much as I did was someone worth passing on my phone number to. As we got to know each other more, we spent a lot of time talking about anything and everything related to food, including cookbooks. He shared with me a cookbook that was immediately apparent it was one of his grandmother's favorite cookbooks, being that she repeatedly marked her personal notes and frequently ranked recipes her highest rating, 4 stars.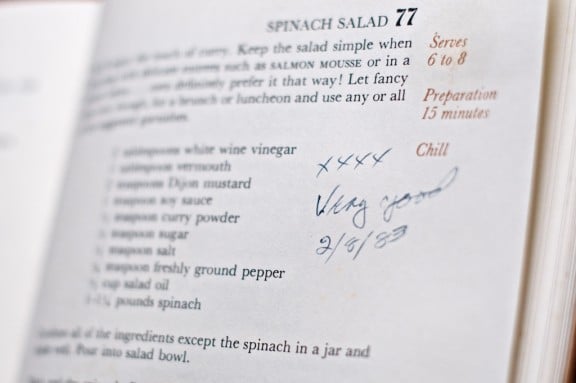 Best Spinach Salad Recipe
This amazing little 110 page cookbook that belonged to Alta has lovely, simple recipes that have never, ever been disappointing. It's one of those books that might not have the big visual appeals of most other cookbooks, but the honest, home-style (yet sophisticated) recipes in this book, that were contributed by members of The Junior League of Palo Alto, are what give this book character and sincerity.
There are no photographs in the book, only occasional, simple, exquisite sketches of flowers and butterflies. I immediately fell in love with this book for the pure reason that Alta had personally recommended particular recipes herself, with her inscriptions of star ratings, date she first cooked it and her thoughts on the dish. If she loved the dish, she would give it a few X's, her delicious signs of approval.
I felt that she was speaking to me through this cookbook with her personal hand written thoughts. I trust her insights on recipes because from the stories that Todd told me about Alta, she was an amazing grandmother and a wonderful cook.
Alta's gentle writing highlighted her approval on a large number of recipes in this cookbook, but a spinach salad recipe with four X's and a "very good" comment on it had me smitten. If it was good enough for Alta, it was exceptional for me. With our additions of oil droppings marked on the page and bits of curry powder dust settling on the inside bindings, this recipe has seen it's time between two generations.
I can't rave enough about how much I just love this spinach salad recipe with it's Vermouth based vinaigrette. It is by far, my favorite vinaigrette of all time. The dash of soy sauce for savory depth, the touch of curry powder for spice and the bit of Vermouth for a touch of sweetness, all harmonize perfectly in the oil for this spinach salad.
With our garden bursting with fresh spinach growing in our whiskey barrels, I can finally have this salad again with the freshest spinach available. I've been counting the days and spinach leaves until the first crop was ready for this salad. Today, I was able to collect enough tender leaves for two big servings of salad.
It's so simple, sophisticated, lovely and most importantly, eaten up. All gone!
It's an amazing recipe that has been passed on to us by Alta, someone I have never met, but now feel so bonded to by this one cookbook that she left behind for both Todd and I. I hope you enjoy this amazing salad as much as Todd and I do, and Alta did.
-Diane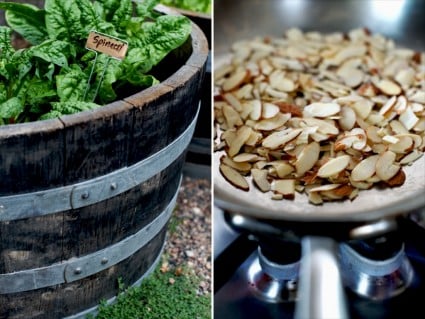 I adapted the recipe a bit this time around by using whole grain mustard instead of dijon mustard. I wanted to add a bit of new texture to the vermouth vinaigrette and the tiny mustard seeds added a great pop of tangy flavor. For the assembly, I simply replaced the spanish peanuts with toasted almonds and the final addition was adding some sliced apples. That's all there was to today's spinach salad: almonds, apples and the wonderful vermouth vinaigrette.
Previously I have followed Alta's denoted recommendation of the sesame seeds (check mark!) and this variation was equally outstanding.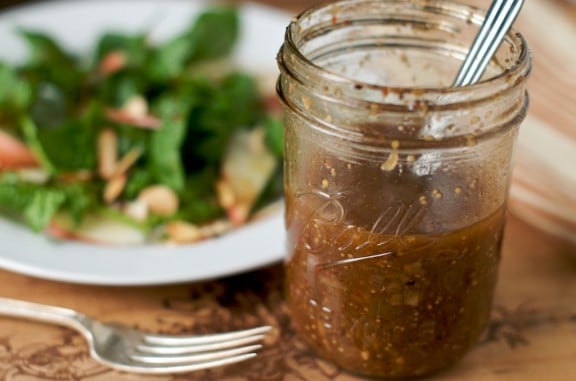 Whole grain mustard gently speckling the dressing and salad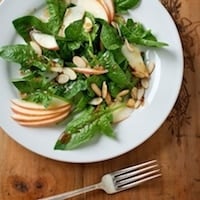 Spinach Salad Recipe
Adapted from Private Collection, from the Junior League of Palo Alto. Note: There are two cookbooks, Private Collections and Private Collections 2. This recipe is inspired from the first book, Private Collections.
Ingredients
1 1/2 pound spinach leaves
Optional Additional Salad ingredients
1 apple , diced
1/3 cup roasted peanuts
1/4 cup golden raisins
1 bunch green onions , sliced
1 Tablespoon toasted sesame seeds
Dressing Ingredients
2 Tablespoons white wine vinegar
1 Tablespoon dry vermouth
2 teaspoons Dijon mustard
1 teaspoon soy sauce
1/2 teaspoon curry powder
1/2 teaspoon sugar
1/2 teaspoon salt , or to taste
fresh cracked black pepper , to taste
1/3 cup grape seed oil , or other clean tasting oil
Instructions
Make the dressing: Combine all of the dressing ingredients (white wine vinegar, dry vermouth, dijon mustard, soy sauce, curry powder, sugar, salt, and pepper).

Wash and pat dry the spinach. Remove any tough stems, and then tear into bite sized pieces. Keep covered and chilled until ready to serve.

Just before serving, combine with other chosen optional salad ingredients. Toss well with the dressing and serve immediately. Enjoy!
Nutrition Information per Serving
Calories: 230kcal, Carbohydrates: 16g, Protein: 6g, Fat: 17g, Saturated Fat: 2g, Sodium: 396mg, Potassium: 800mg, Fiber: 5g, Sugar: 8g, Vitamin A: 10693IU, Vitamin C: 34mg, Calcium: 144mg, Iron: 4mg
We are a participant in the Amazon Services LLC Associates Program, an affiliate advertising program designed to provide a means for us to earn fees by linking to Amazon.com and affiliated sites.