Avocado Massaged Kale Salad with Parmesan

Easy Recipe for Avocado Massaged Kale Salad
Another great rain season has nurtured our garden this year. With lots of fresh kale and a handful of avocados on our tree, we're read for one of our favorite seasonal salads. Avocado massaged kale salad is a great way to enjoy tender kale leaves without all the toughness and chew. When we first heard about avocado massaged kale salad a few years ago we were intrigued that we would want to massage our kale. Our love of kale salads run deep and we couldn't understand the concept of massaging the kale to make it any better. But Anne, our dear friend, was so enthusiastic about it that she returned the next day with a bowl of this salad for us to try. We were blown away at how soft and perfectly tender the kale leaves were! With a touch of olive oil, lemon juice and yummy avocado flavor we were hooked. In fact, we were so hooked that we created a this kale salad recipe for our Bountiful cookbook! If you don't already have the book, you can certainly order one here!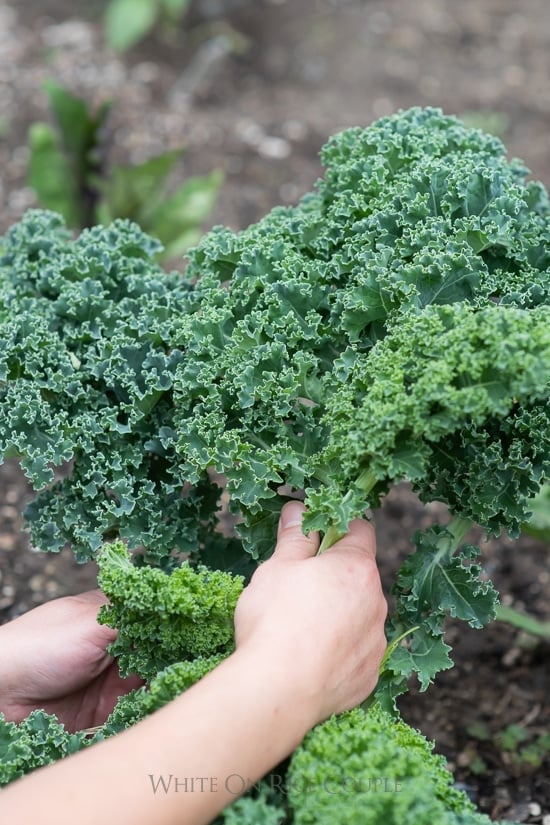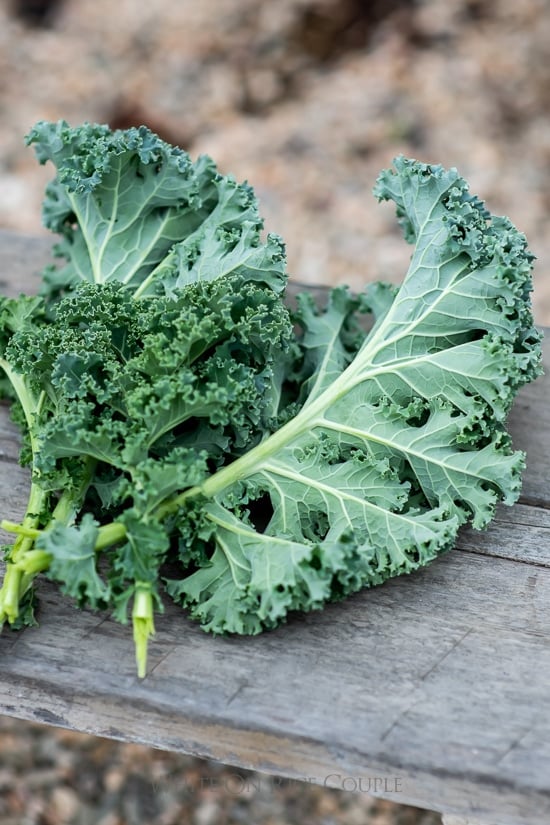 Watch our Avocado Massaged Kale Salad Video:
Since then, we've been enjoying the benefits of avocado and kale in our big bowls of salads. Our recipe today is different from our cookbook version but the concept is still the same. This time we add lots of what ever we want like tomatoes, nuts, cheese and dried fruit. The possibilities are endless for this salad and what ever you want to add, it's sure to be a hit. The real star of the salad is the fact that the kale leaves are tender and loaded with healthy fresh avocado nutrients. Have fun with this recipe and know that kale salads will never EVER be boring!
enjoy,
diane and todd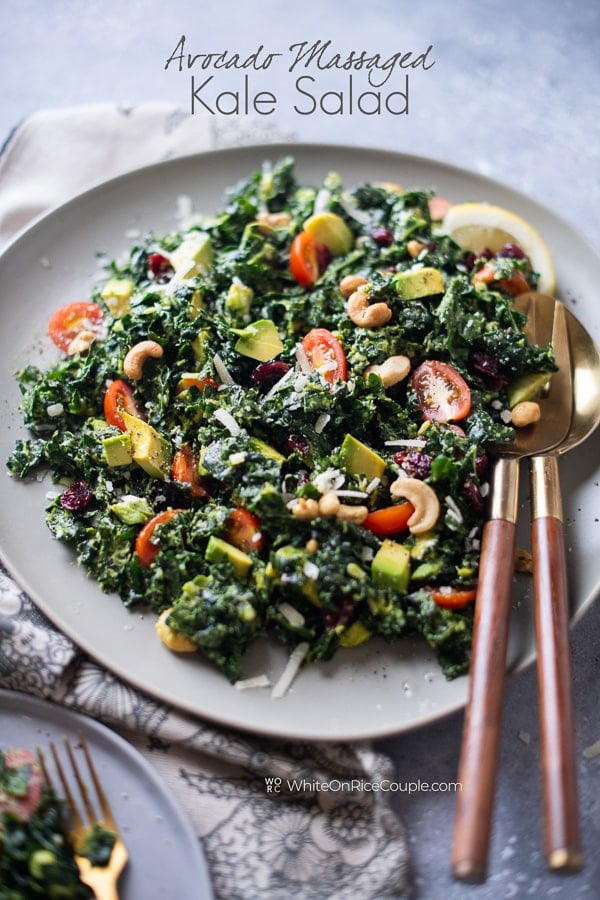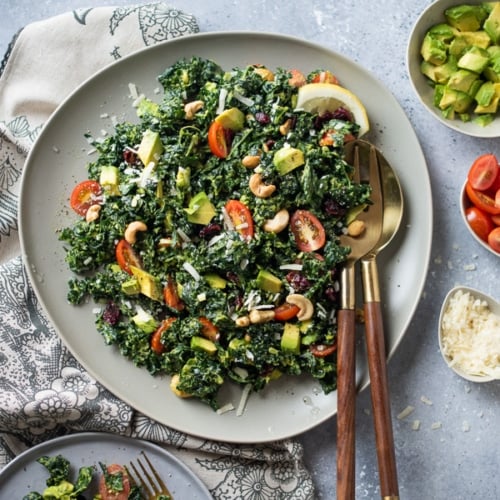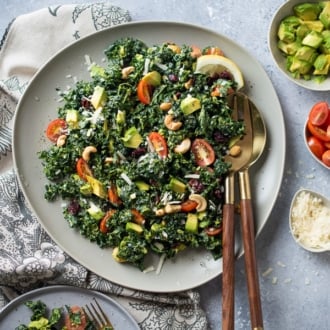 Avocado Massaged Kale Salad w/ Parmesan
Giving a delicate rub and some loving avocado touch to the leaves makes them very easy to eat, and the flavor of the avocado still comes through. To season the salad, all you need is a nice squeeze of fresh lemon juice and a little salt and pepper. After that, you can customize your toppings to make this massaged salad completely your own.
Ingredients
1 bunch kale (about 1/2 pound / 225g), ribs and tough stems removed
2 avocados : 1 mashed & 1 chopped
zest of 1 lemon
2 Tablespoons fresh lemon juice , plus more to taste
Kosher salt (or your favorite finishing salt), to taste
freshly cracked black pepper , to taste
1/2 cup cherry tomatoes , halved
1/4 cup toasted chopped or sliced nuts
1/4 cup freshly grated parmesan cheese
Instructions
Cut the kale leaves into thin strips. In a large bowl, combine the kale and the mashed avocado. Gently "massage" the avocado into the kale leaves until they become soft and tender.

Add the lemon zest and 2 tablespoons of lemon juice. Toss lightly.

Season to taste with salt and pepper. Add additional lemon juice, if desired.

Just before serving, add the cherry tomatoes, chopped or sliced nuts, grated parmesan cheese, and the chopped avocado.
Nutrition Information per Serving
Calories: 246kcal, Carbohydrates: 12g, Protein: 6g, Fat: 21g, Saturated Fat: 4g, Cholesterol: 6mg, Sodium: 106mg, Potassium: 582mg, Fiber: 8g, Sugar: 1g, Vitamin A: 292IU, Vitamin C: 17mg, Calcium: 88mg, Iron: 1mg
Here's more of our salad recipes for you to enjoy.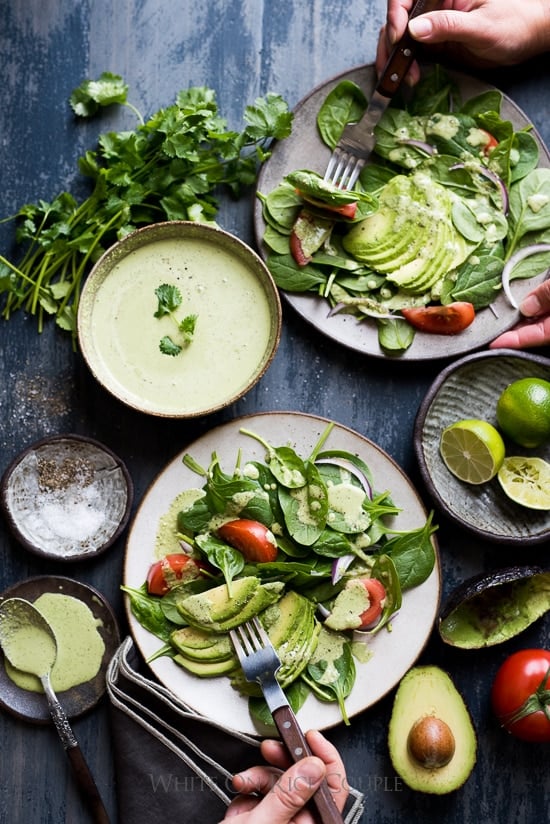 Some more fun salad recipes around the web.
We are a participant in the Amazon Services LLC Associates Program, an affiliate advertising program designed to provide a means for us to earn fees by linking to Amazon.com and affiliated sites.