Bourbon Dark Chocolate Crack Cookies Recipe
Want to learn more about Whisky? Here's our Whisky Guide. These chocolate crack cookies are bad-ass cookies. Ones that are nearly impossible to mindlessly eat.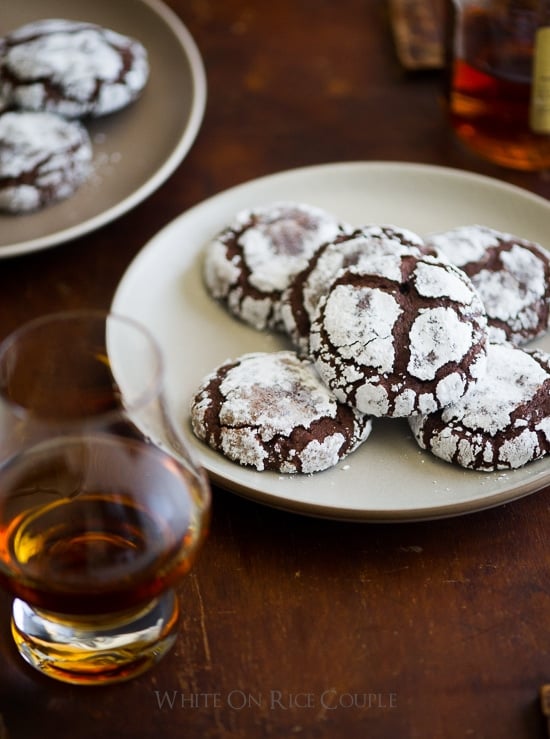 Chocolate Crack Cookies
After the first bite, they stop you and make you take a look at what it was you just sunk your teeth into. These are one of those. A deliciously, rich chocolate and bourbon rifted cookie. Chocolate crack cookies with a little swagger. This little bad boy is originally inspired by a cookie from David Lebovitz's amazing Ready for Dessert. As with most recipes that our hearts are fond of, we'll tinker and tweak to suit our moods or particular cravings. Those who know us will attest to our love of bourbon. For me in particular, I'd have to say it ranks number one amongst my favorite spirits. Give or take a day or two when a smooth rum or feisty tequila catches my tongue. The age of bourbon has never been so extraordinary, with so many exceptional craft distillers creating such a range of great bourbons to enjoy.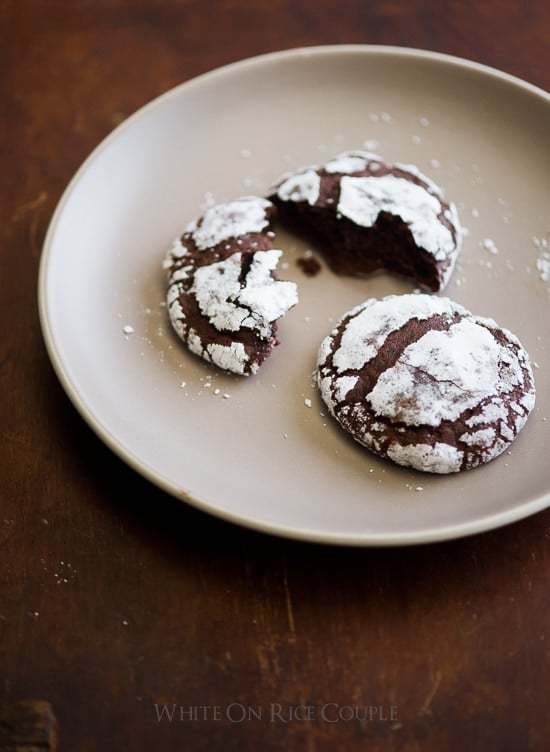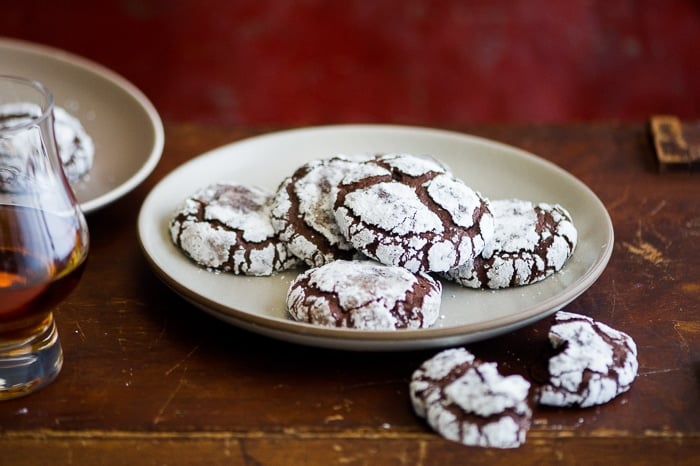 Bourbon and Chocolate Together
"Why not extend the smokey, subtly sweet pleasure of bourbon in chocolate crack cookies?" I think to myself one day. Well, I didn't think it in so many words, it was more like, "Bourbon… Chocolate… must have!" and soon this cookie was devised.
So for all of you bourbon lovers out there (BTW if you are in NYC in the flatiron district, there is a great bourbon bar on 26th called Maysville – tons of bourbons and good food – thanks Rachel for the recommendation- you rock!)… Sorry, "squirrel" moment. So for all of you bourbon lovers out there, please share your favorites. It is always a pleasure to find another great bourbon.
My favorite go-to for cocktails & cooking (not too shabby for sipping either) is Buffalo Trace or Bulleit. Both have great character, smooth, goes great in cocktails, nice straight up, and is an incredible price for the quality.
I'd love to hear your favorites.
-Todd
BTW – For those of interest in whisk(e)y – we wrote up a little Guide to Types of Whisk(e)y to share a bit of what we've come to know.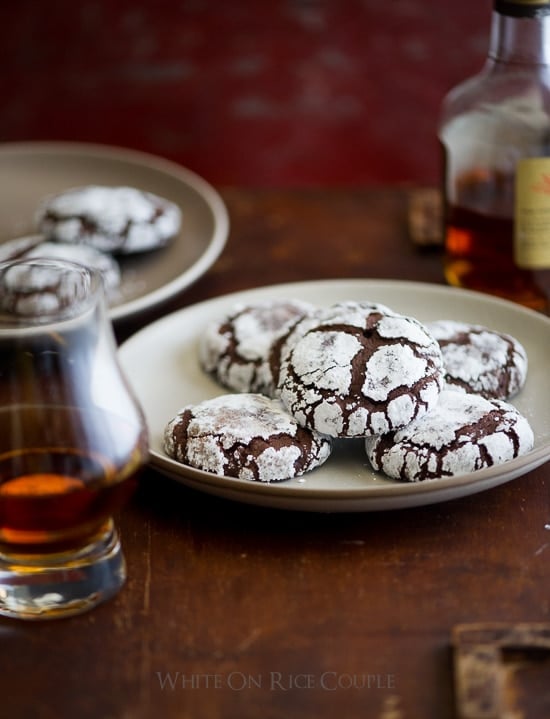 This was originally published in 2013 and was updated in 2019.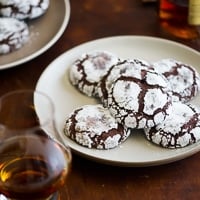 Dark Chocolate Bourbon Crack Cookies
Adapted from Ready for Dessert by David Lebovitz. We will often freeze the chocolate dough balls after they've been coated with the regular sugar, and when ready to use, thaw for about 30 minutes, coat in confectioners sugar and bake. The dough can be refrigerated for up to 5 days or frozen for up to 1 month. These chocolate cookies are best eaten while still warm (aren't most cookies) or at least the same day.
Ingredients
3/4 cup (100g) all-purpose Flour
1/2 teaspoon (3g) Baking Powder
1/4 teaspoon (1g) Kosher or Sea Salt
8 ounces (225g) Dark Chocolate, chopped
3 Tablespoons (45g) unsalted Butter
2 Tablespoons Bourbon
2 large Eggs , room temp.
1/3 cup (65g) Sugar (+ extra for coating cookies)
Confectioners Sugar (for coating cookies)
Instructions
In a bowl, whisk together the flour, baking powder and salt until well combined. Set aside.

Combine the dark chocolate, butter, and bourbon in a medium bowl over a pot of simmering water. Gently melt the chocolate and butter, stirring frequently. Remove the bowl from the simmering water.

Whisk together the eggs and sugar on high until the mixture forms a well-defined ribbon when the whisk attachment is lifted out, about 5 minutes. By hand, gently stir in the melted chocolate mixture until combined.

Again by hand, stir in the flour mixture until just combined. Cover and refrigerate until firm (1-2 hours).

Preheat oven to 325°F. Line a couple baking pans with parchment paper.

Pour the granulated sugar and confectioners sugar into two separate small bowls. Form the chocolate cookies into 1 1/2-inch balls. Roll the balls in the regular sugar, and then roll in the confectioners sugar to coat. Place on the baking sheets spaced about 1-inch apart.

Bake for 8 minutes then rotate the cookies sheets and bake for another 6-8 minutes. Cookies should still be slightly firm on the edges and fairly soft in the centers. Don't overbake them.

Let the cookies cool on the sheet pan until firm enough to handle then transfer to a cooling rack.
Nutrition Information per Serving
Calories: 123kcal, Carbohydrates: 12g, Protein: 2g, Fat: 7g, Saturated Fat: 4g, Cholesterol: 21mg, Sodium: 38mg, Potassium: 102mg, Fiber: 1g, Sugar: 6g, Vitamin A: 81IU, Calcium: 16mg, Iron: 2mg
We are a participant in the Amazon Services LLC Associates Program, an affiliate advertising program designed to provide a means for us to earn fees by linking to Amazon.com and affiliated sites.