Quite Possibily "The World's Smallest Carrot Dish" Spring Carrots with Mint and Quinoa
This quinoa carrot salad post was one of our first recipe posts back in 2008. It's fun to see how our photography and garden has changed over the years!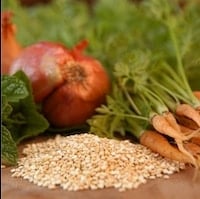 Simple quinoa carrot salad
Ahhhh, the beauty of having an edible garden is both joyous and priceless. To feel the dampness of natures earth at our fingertips as we sowed 5 varieties of carrots seeds was gratifying. We watched and listened to this year's momentous rains, as it nurtured and hydrated the soil that protected the seeds. Visions of sugar carrot ferries danced in our heads during the following weeks at each new sight of green sprig pushing up to greet our garden from beneath the soil. The warm of the following sun caressed both our skin and the tender, feathery leaves of the carrots. We were ecstatic at the up coming, bountiful harvest.
Well, that was waaaay back in December 2007! We've been plucking carrots out of the ground for the past 3 weeks now, hoping to find plump orange, red, and purple carrots bulbs. What do we get? Practically nothing but a light orange "root"! Occasionally we'll find a nice root about half the size of our pinky finger. But where the heck are the carrots? We've been waiting way too long for some tender, home grown carrots damn it! The seed package said harvest within "60 days" and it's been over "90" days. We did everything the package told us to do: sow, water, sunshine, love, more water, caress, kiss and whisper sweet nothings. Liars! As our weather starts to warm, our overcrowded herb seedlings are crying out to have their garden plot back and it'll be time to kick out the carrots. Hurry carrots, hurry!! The herbs want their growing space back! Unfortunately, we're having to harvest and eat our tiny baby carrots now…well, what there is of it.
Fresh garden carrots
The perfectly warm and beautiful weather over the last 2 days have been singing Spring melodies in the garden. Knowing this glorious weather was to come, our plan was to enter our first home grown carrot dish, "Spring Carrots with Quinoa and Mint", into Kalyn's Kitchen Weekend Herb Blogging Event. Oh, we had grand illusions of submitting a dish with plump, sweet "purple haze" carrots, served alongside a bed of quinoa and freshly chopped mint. Quinoa grains (not really a true grain, but seeds from the Goosefoot plant) are the perfect nutty, slightly crunchy, high protein and gluten free accompaniment to our ambitiously healthy, but simple dish.
Well, we're still forging ahead with what ever carrots are given to us from mother earth, along with our garden mint to participate in Kalyn's great event. These itsy, bitsy, teeny weeny carrots might even be a candidate for the world's smallest carrot dish, ever! So here it is, our submission to this weeks edition of Weekend Herb Blogging Event, which is hosted by Kel of Green Olive Tree.
Hope you enjoy our quinoa carrot salad recipe! Here's our vegetarian recipes another collection of great vegetable recipes.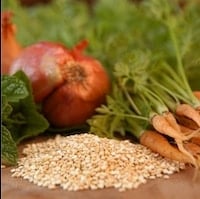 Spring Carrots with Mint & Quinoa
The slightly crunchy and chewy texture of gluten free quinoa grains make this dish fun to eat. You can also substitute your herb (dried or fresh) of choice if mint is not available. Of course, use any size carrots you'd like.
Ingredients
2 Tablespoons butter or oil , divided
3 cloves garlic , crushed or minced
3 tablespoons minced shallots
1/2 cup chopped carrots
1 cup quinoa
2 cups vegetable or chicken broth
1/4 teaspoon salt , or to taste
1/2 teaspoon fresh cracked black pepper
Fresh chopped mint or herbs
1/4 cup freshly grated parmesan cheese , optional
Instructions
Heat pan, add 1 Tablespoon of the oil or butter. Add shallots and garlic. Cook till fragrant and soft. Then add quinoa, broth, salt and pepper, then bring to boil. Turn down to low heat, cover, and cook for about 5 minutes, then fluff quinoa. Cover again and cook for remaining 10 minutes, or until quinoa is tender. Fluff one last time.

In separate sauce pan add remaining butter or oil on medium and quickly cook carrots until desired tenderness, about 10 minutes. Remove from heat.

In separate bowl toss together quinoa, mint and carrots. Add parmesan cheese if you love it. Season with additional salt and pepper, to taste. Serve warm but it's also delicious cold.
Nutrition Information
Calories: 267kcal, Carbohydrates: 33g, Protein: 9g, Fat: 11g, Saturated Fat: 2g, Trans Fat: 1g, Cholesterol: 6mg, Sodium: 725mg, Potassium: 336mg, Fiber: 4g, Sugar: 2g, Vitamin A: 2985IU, Vitamin C: 2mg, Calcium: 103mg, Iron: 2mg
We are a participant in the Amazon Services LLC Associates Program, an affiliate advertising program designed to provide a means for us to earn fees by linking to Amazon.com and affiliated sites.