Best Buttermilk Syrup & Thermador New Steam Convection Oven
Feasting your eyes on this amazing buttermilk pancake syrup just isn't enough. You have to taste it to believe that it really is the best buttermilk syrup recipe around. We were completely won over after the first bite and once we licked the plate clean of the clingy decadence, we were convinced that it really is a rock-star buttermilk syrup recipe. Breakfast will never be the same!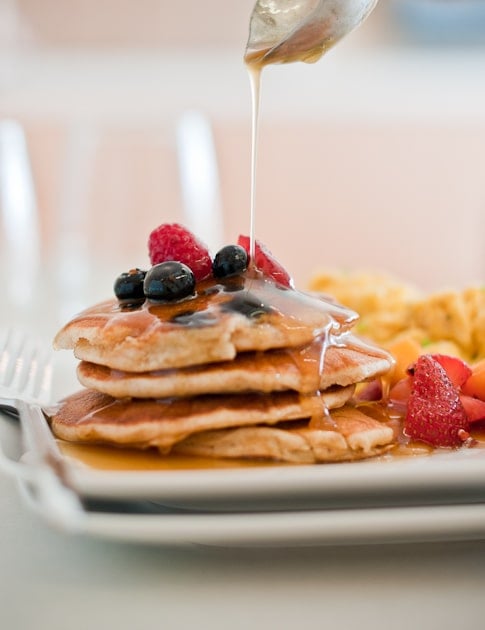 Easy Buttermilk Syrup Recipe
Thanks to Thermador for inviting us out to their showroom in Scottsdale, AZ, we were able to feast on their prize winning pancakes and buttermilk syrup. Along with a fabulous group of other food writers, photographers and bloggers, Thermador invited us all to see the debut of their new Thermador Steam Convection Oven.
Chef Kyle sears a beef tenderloin then slowly cooked it in the Thermador Steam Convection oven
Our kitchen is no stranger to the prized quality and performance of Thermador products. Six years ago we remodeled our kitchen and immediately chose Thermador appliances for their design and performance . To this day, after intensive use and serious party-after-party beatings, they still perform like the day we installed them. Trust us, after running our home kitchen like an industrial kitchen at times, our Thermador appliances help up to almost every cooking feat imaginable.
Thermador's legacy began in the 1900's when they were the first to introduce the cook-top, the double oven and the first stainless steel ranges. Today, they remain committed to innovative design and professional performance.
Thermador has launched their newest product to continue on with their tradition and commitment to producing high-quality, professional performance appliances. Welcome, the new steam convection oven, a brilliant application to a consumer based appliance that is sure to shake the home cooking world.
Jane poaches an egg on Thermador's low-simmer feature on stove and also in steam convection oven
Steam ovens aren't new to industrial kitchens, but having a steam oven in a home appliance is a rarity. Not only did Thermador develop a steam application to a home oven, but also the same oven continues to still have the features of a traditional convection oven.
The benefits of the Theramdor's steam convection ovenare to quickly prepare healthy meals such as steamed fish, poached eggs, asparagus and almost an other cooking application that requires very little oil. The food remains fresh, flavorful, moist and as healthy as you want it to be.
The steam convection oven can produce fantastic crusty breads, without having to induce steam through traditional methods like spraying water in the oven or pouring water onto a hot sheet pan. The oven does it all. And better yet, the steam feature can bake bagels and pretzels without the pre-boiling the dough and the oven can even steam yogurt to set! No more bain marie needed.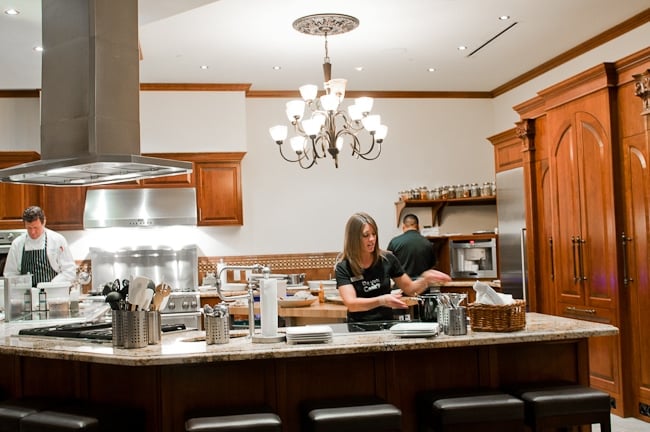 Thermador showroom kitchen. Gorgeous.
But make sure you have extra room in your kitchen to add this addition steam oven appliance and that your wallet can fit the bill. And oh, although the steam oven can produce some mighty moist chicken breast and turkey, the size limitation of the oven can hold maybe a 12 pound turkey. You might want to keep your tradition oven for your Thanksgiving turkey feasts.
Regardless, the steam features to the convection oven is genius and sure to change the way we cook in our home kitchens. We can't till they come out with a bigger double steam convection oven cause we can cook up our huge turkey to perfect moistness and still have 4 pies going on at once! Hear that Thermador? hint, hint. Can't wait!
Re-cap of the Thermador trip:
The Thermador showroom in Scottsdale Arizona has been won architectural awards for design. The award is definitely well deserved.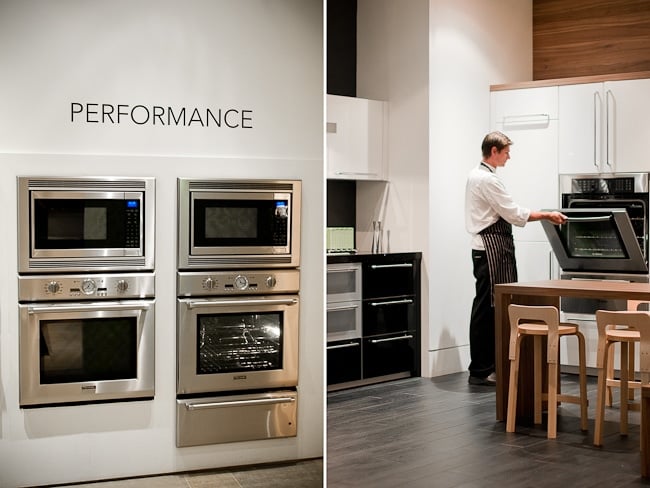 We participated in cooking activities in their gorgeous Thermador demo kitchen, as well as watched some demos on their steam oven, gas cooktop ranges and induction cooktops.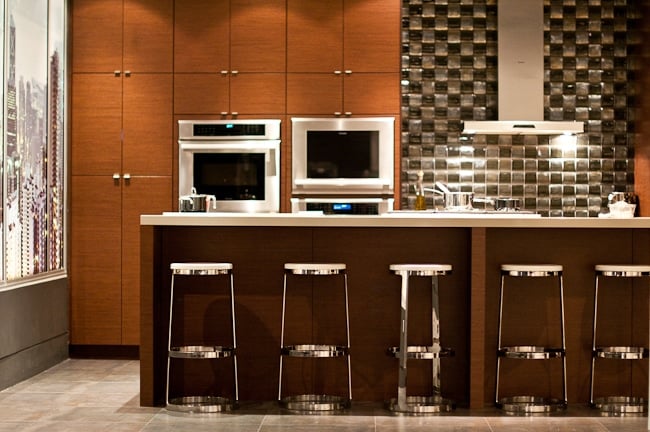 Fun Breakfast with Thermador
Chef Kyle and his fantastic culinary team prepared a great breakfast and lunch for the group that was full of wonderful whole grains, fresh salads and stellar fish and meats. There was so much food, the whole group almost passed out in a food coma. But all the food was so fresh and healthy, we would have all died in good health.
In fact, all of Thermador's recipes highlight fresh, healthy and easily prepared meals for your family.
Maria from Two Peas And Their Pod blog and fresh, hot whole grain rolls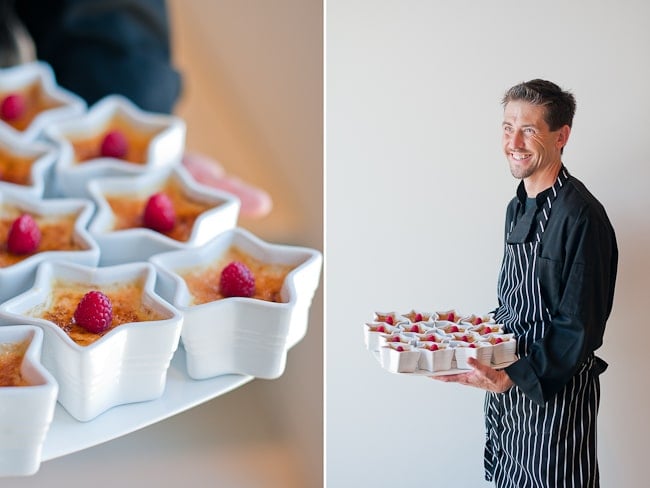 Jeremy shares wonderful creme brulee with the group

Jenna from Eat Live Run blog poses with the Orzo Salad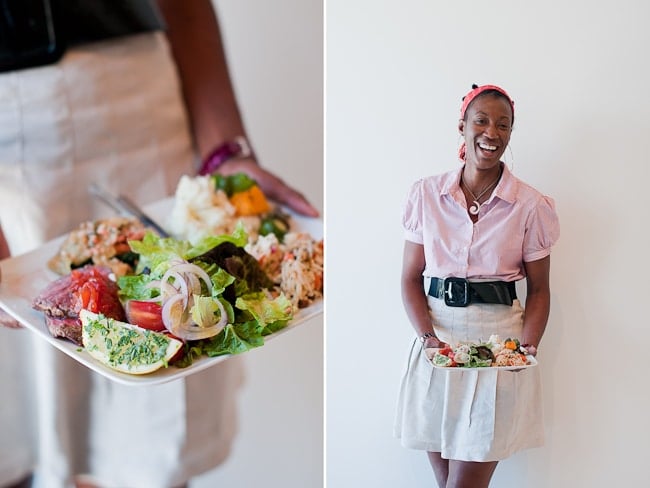 fashionable Tanya from i eat a pie blog and her lunch plate
Chef Kyle drizzles icing on cinnamon rolls made in the steam convection oven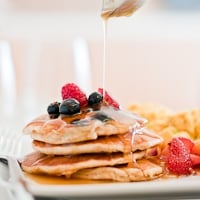 Buttermilk Syrup Recipe
Recipe provided by the wonderful people at Thermador. As they mention, don't let the use of buttermilk give you preconceived notions. It completely metamorphoses during the recipe. Use anytime in replacement of maple syrup, such as on pancakes and waffles, to top french toast, or drizzled on ice cream.
Ingredients
1 1/2 cups (340 g) Butter
1 1/2 cups (355 ml) Buttermilk
3 cups (575 g) Sugar
1 teaspoon (5 ml) Vanilla
1 Tablespoon (15ml) Baking Soda
Instructions
In large saucepan (make sure it is big enough to accommodate the syrup foaming when the baking soda is added), combine butter, buttermilk, and sugar. Bring to a boil, stirring regularly.

Remove from heat and whisk in vanilla and baking soda (it will foam up at this point.) It is now ready to serve.

Keeps for at least a couple weeks if you can manage to not use it all up quicker.
Nutrition Information per Serving
Calories: 208kcal, Carbohydrates: 26g, Protein: 1g, Fat: 12g, Saturated Fat: 8g, Trans Fat: 1g, Cholesterol: 32mg, Sodium: 254mg, Potassium: 24mg, Sugar: 26g, Vitamin A: 379IU, Calcium: 21mg, Iron: 1mg
Try our chai zucchini pancakes with this syrup.
We are a participant in the Amazon Services LLC Associates Program, an affiliate advertising program designed to provide a means for us to earn fees by linking to Amazon.com and affiliated sites.