Finally, the mornings are cooler. We've been waiting for mornings like these all Summer. When this "sweater weather" feeling arrives, our appetites crave a warm breakfast. A craving for warm foods in the morning that's hearty, satisfying and stick-to-your-ribs comforting. We haven't had this urge in so long especially with the long hot Summer. Drought does that to you. All of us in Southern California are craving a bit of rain and fingers crossed all the anticipated El Nino rain this winter will help hydrate all of our parched landscapes.
Our appetites are wanting the warm flavors of chai and last year we started making these chai zucchini pancakes. Who doesn't love a good pancake? And an Autumn inspired pancake is always on our mind. When we were working on our zucchini recipes last Summer, we were in Fall-mode and combined the  flavors of a zucchini bread, chai tea all in a fluffy pancake. The warmth of the spices, moistness of zucchini made perfect pancakes for breakfast or brunch.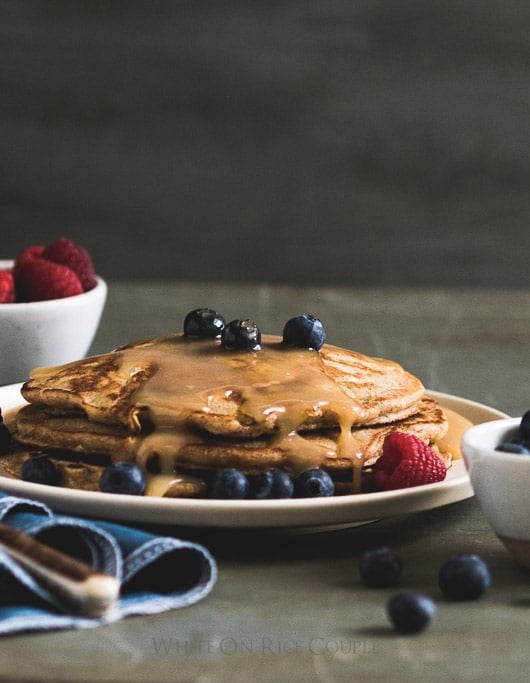 With the cool weather triggering the urge to really enjoy and explore Autumn, we're on a road trip now seeking out all the Fall colors in our mountains. We've been stalking CaliforniaFallColors.com for a few weeks now, hoping to make time in our schedule to escape for a few days.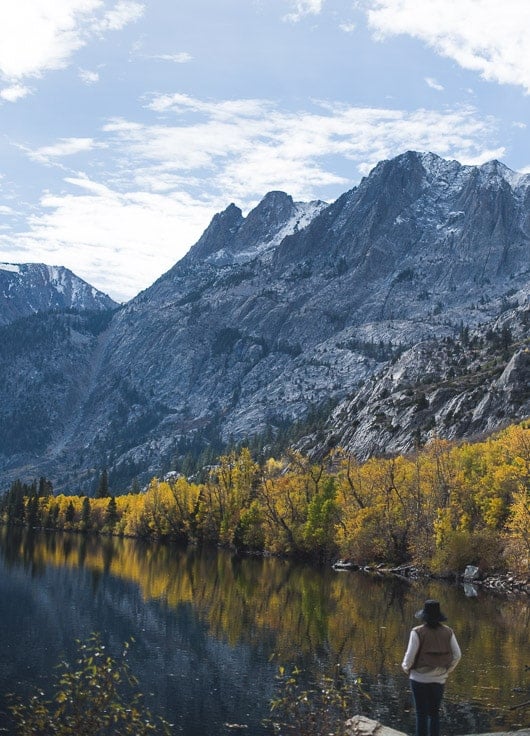 It's a good thing we decided to take-off this last weekend because we caught the peak of so many gorgeous Aspen trees and other color changing trees in the Eastern Sierras.
Aspen trees everywhere on June Lake Loop, CA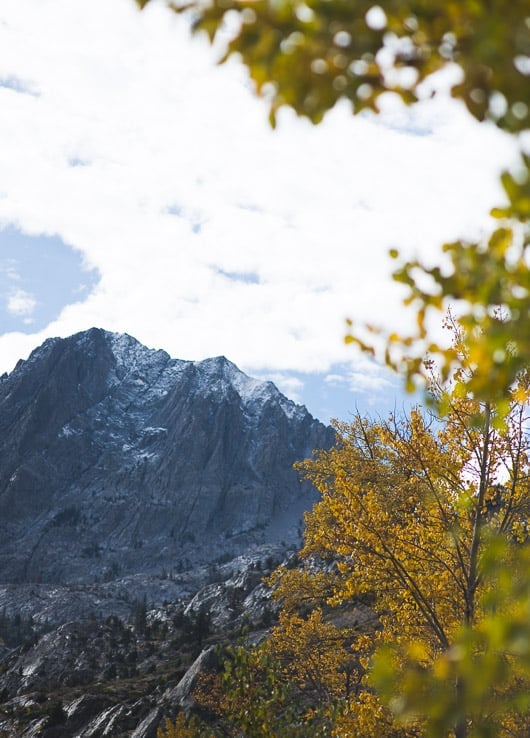 Let's make the most of this season, eat chai pancakes and enjoy all the Fall colors while they're still here.
Happy Autumn,
diane and todd
Chai Zucchini Pancakes
Yield: Serves 4-6
Total Time: 20 min
Warm, fragrant, fluffy and perfect to use leftover zucchini, these chai pancakes are a great way to making breakfast special. Think chai tea with zucchini bread, drizzled with maple syrup and what you end up with is going to be one of your favorite ways to use up zucchini. The syrup in the photos above is a homemade buttermilk syrup. You can find the recipe for the syrup here.
Ingredients:
2 cups (250g) all-purpose flour
1/2 cup (100g) sugar
1 tablespoon (14g) baking powder
2 teaspoons ground cinnamon
1 1/2 teaspoons ground cardamom
1/2 teaspoon ground clove
1/2 teaspoon ground ginger
1/2 teaspoon kosher or sea salt
1/2 teaspoon fresh cracked black pepper
1 1/4 cups (300ml) milk
1/2 cup (113g) unsalted butter, melted
2 large eggs
1 teaspoon vanilla extract
1/2 pound (226g) zucchini, grated (about 1 1/2 cups)
extra butter for the skillet
optional buttermilk syrup
optional berries for topping
Directions:
In a large bowl, whisk together the flour, sugar, baking powder, cinnamon, cardamom, clove, ginger, salt, and pepper. Set aside.
Beat together the milk, butter, eggs, and vanilla extract. Stir this milk mixture into the flour mixture until just combined. Fold in the zucchini.
Heat a large skillet over medium heat, and lightly butter the pan. Ladle the batter onto the skillet, and cook until bubbles appear on the surface. Flip with a spatula, and cook until browned on the other side.
Serve with buttermilk syrup and/or berries if desired.
Hello! All images & content are copyright protected. Please do not use our images without prior permission and do not re-publish this recipe. Simply link back to this post for the recipe. Thank you.
Recipe Note for Salt: All recipes containing salt are based on kosher or sea salt amounts, not table salt. If using table salt, reduce the amount used to taste.
[ad]