Our "Bountiful" Cookbook Preview & Roasted Strawberry Scone Recipe
Bountiful Cookbook is here! We did it. We made it. And haven't killed each other over which recipes were going to make the cut.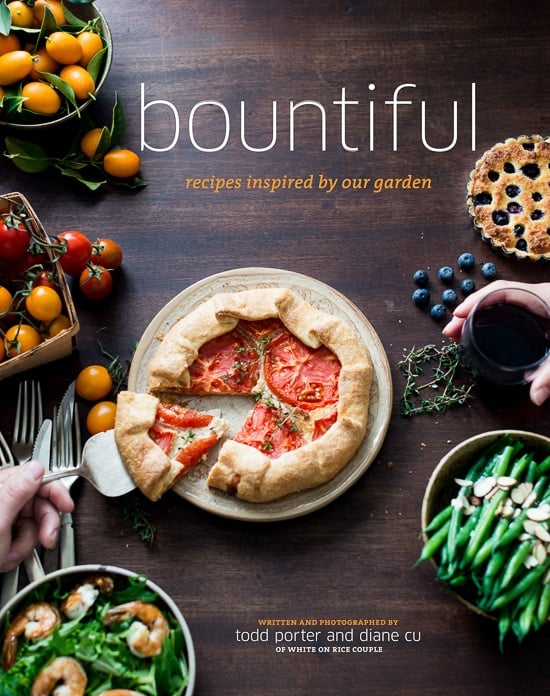 Though we both have less hair than when we first announced last year, we did figure out how to make our small kitchen more efficient and whose turn it was to use the big burner. It was all about working together side-by-side (literally) and compromise because "someone" wanted to have more cocktail recipes where-as "someone" wanted to have more kale recipes. Can you guess who? Cocktails and kale. The second story of our ambitious lives will be all for you to read in Bountiful Cookbook.
After a ga-billion dirty dishes later, two-very well fed dogs (leftovers!) and hours of editing, sorting, writing and late night wine-comfort, Bountiful is finished!! We can finally share with you all our final cover for Bountiful. What do you think?
Hope you all love it as much as we do and it's also available to order on Amazon if you love it just as much.
We poured every effort we could into this book because it's not just a book of over 100 recipes, it's laced with stories and images of our lives in our garden and kitchen. As you all know, we're hyper-addicted to growing fruits and vegetables and our collection of over 40 fruit trees is a testament to why we needed to make this cookbook. Our love of food, cooking and gardening made sense to share fresh vegetable and fruit recipes that we adore so much. And though there are meat dishes in the recipes, all are adaptable to be made vegetarian, gluten free, paleo or what ever your eating lifestyle is.
Our Bountiful Cookbook is organized into two main sections: Vegetable Recipes and Fruit Recipes. Within each of those sections, recipes are laid out under types of fruit and vegetables so it's easy for you to find recipes for specific produce that you might have found at the farmers market or leftover in your fridge. Either way, there's something fresh and wholesome for everyone in this cookbook.
Thank you all for your continued support. We couldn't have done this without you. Love you all.
-diane and todd
Extra Photographs that didn't make the cut:
We photographed way more images than our book could hold. Though these photos didn't make the final print, we wanted to share them with you, along with a recipe from the cookbook, Roasted Strawberry Scones.
Shooting the outdoor gathering scenes were fun. We just invited a bunch of friends over for various dinner parties, flew by the seat of our pants with two cameras and tried to capture everything that was happening around us.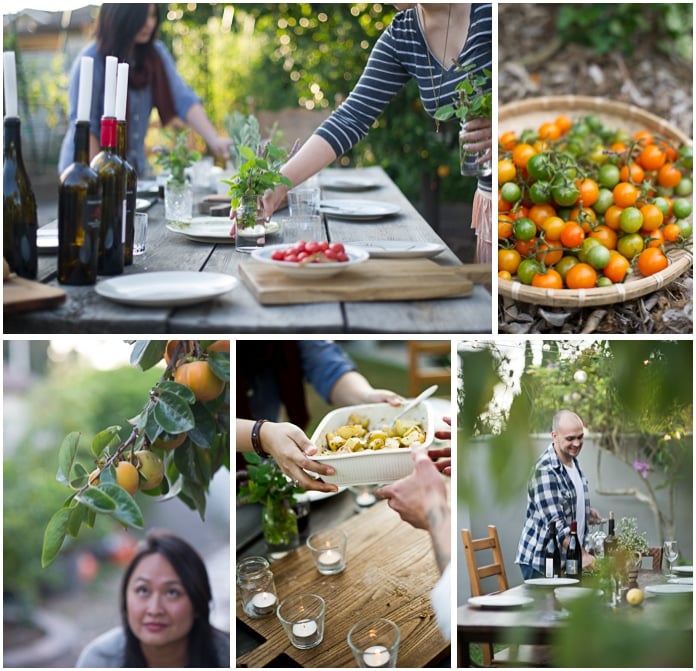 You'll find plenty of fresh recipes where the vegetable or fruit is the hero. And you'll also find plenty of Sierra and Puppy Lexi pictures romping through the garden or hoping that something would fall off the tables for an extra treat.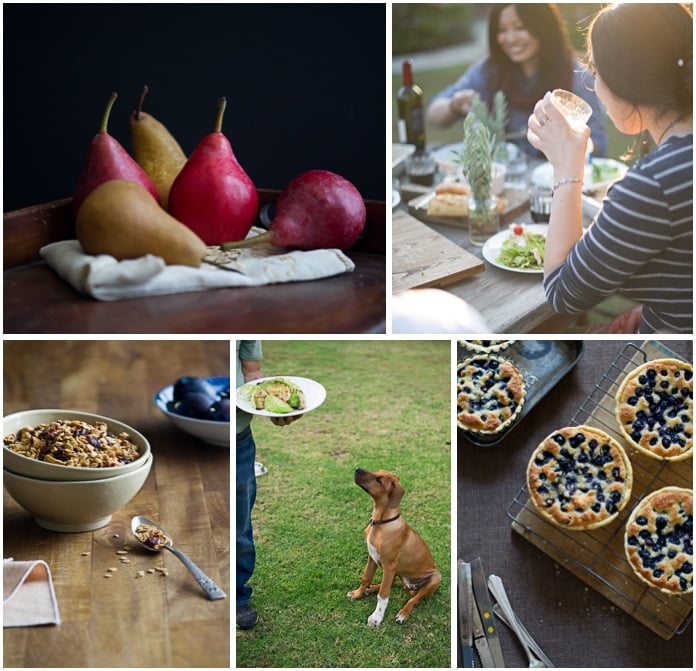 Diane was super happy and laughing during this gathering. Not sure what she ate. Or sipped. Or drank. (for you photo enthusiasts, all the images with both Todd and Diane in them were photographed by Todd and Diane. How? We'll share the behind-the-scenes stuff from Bountiful Cookbook in a later post.)
After long days, where we cooked, styled and photographed all the food and scenes, we get delirious and make crazy faces…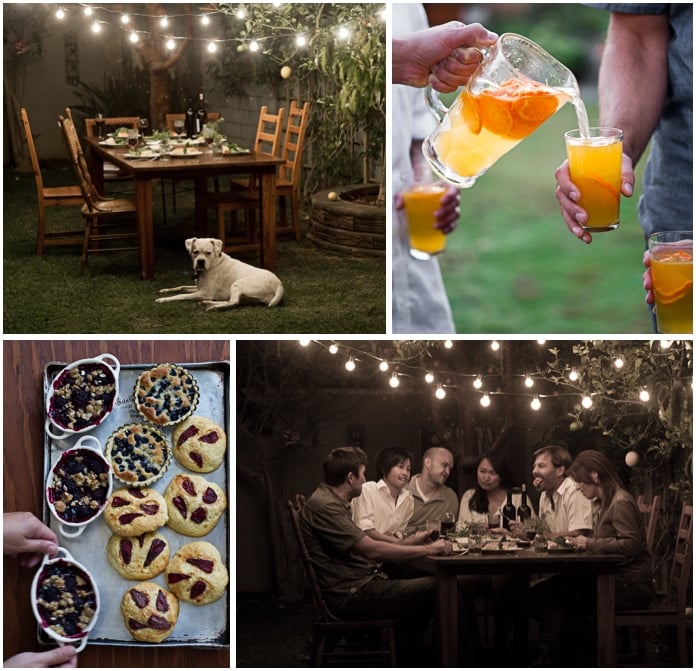 Our Motto: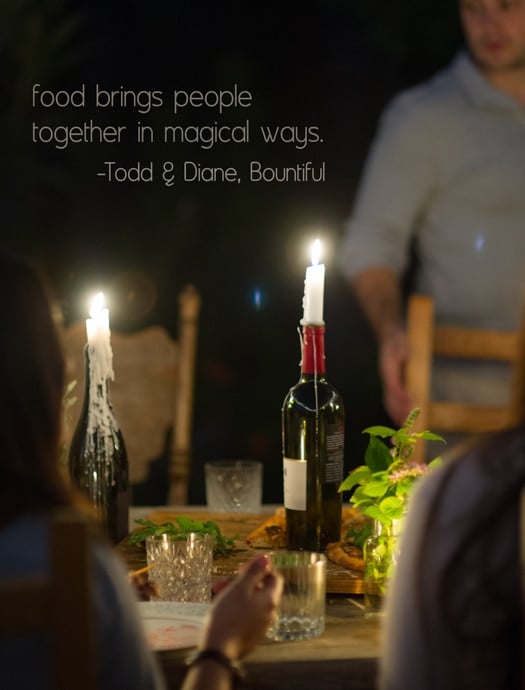 Roasted Strawberry Scones – recipe below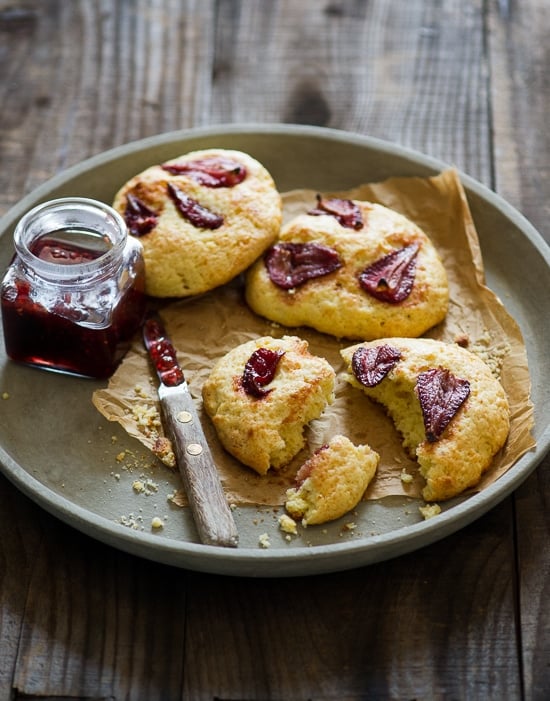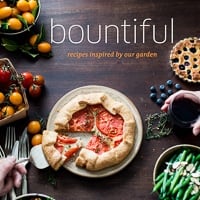 Roasted Strawberry Scones
Ingredients
½ pound (225g) strawberries , hulled and cut into halves and quarters
1 Tablespoon brown sugar
¼ teaspoon freshly cracked black pepper
2½ cups (310g) flour
½ cup (100g) sugar
1 Tablespoon baking powder
Finely grated zest of 1 medium lemon
½ teaspoon kosher or sea salt
6 Tablespoons (¾ stick / 90g) cold unsalted butter , cut into ½-inch (12-mm) pieces
1 egg
1 egg yolk
¾ cup (180ml) heavy cream
Preserves , for serving
Instructions
Preheat the oven to 375°F (190°C). Line three sheet pans with parchment paper.

In a bowl, combine the strawberries, brown sugar, and pepper and toss to coat. Spread the mixture out over one of the lined sheet pans.

Roast for 30 minutes. Remove from the oven and set aside to cool. Keep the oven on.

In a large bowl, whisk together the flour, sugar, baking powder, lemon zest, and salt for at least 20 seconds. Using your fingertips, pinch the butter into the flour mixture until most of the big chunks are broken down.

In a separate bowl, whisk together the egg, egg yolk, and cream. Make a well in the middle of the flour, and pour the cream mixture into the well. Incorporate the cream into the flour by stirring from the inside of the well and slowly working outward until the flour is just combined (do not overmix).

Gently form the batter into disks 2 1/2 inches (6 cm) in diameter and 1 inch (2.5 cm) high. With your fingertips, make four or five indentations on the top of each scone and place a roasted strawberry in each. Place the scones about 1 inch (2.5 cm) apart on the two remaining lined sheet pans. Bake for 20 to 25 minutes, or until light golden.

Serve with preserves.
Nutrition Information per Serving
Calories: 299kcal, Carbohydrates: 38g, Protein: 5g, Fat: 15g, Saturated Fat: 9g, Trans Fat: 1g, Cholesterol: 78mg, Sodium: 133mg, Potassium: 215mg, Fiber: 1g, Sugar: 12g, Vitamin A: 525IU, Vitamin C: 13mg, Calcium: 80mg, Iron: 2mg
Here's more
vegetarian recipes
to enjoy.
We are a participant in the Amazon Services LLC Associates Program, an affiliate advertising program designed to provide a means for us to earn fees by linking to Amazon.com and affiliated sites.