Meyer Lemon Crinkle Cookies
Lemon Crinkle Cookies are soft, tender and slightly crisp on the outside. Perfect or anyone who love lemon infused cookies.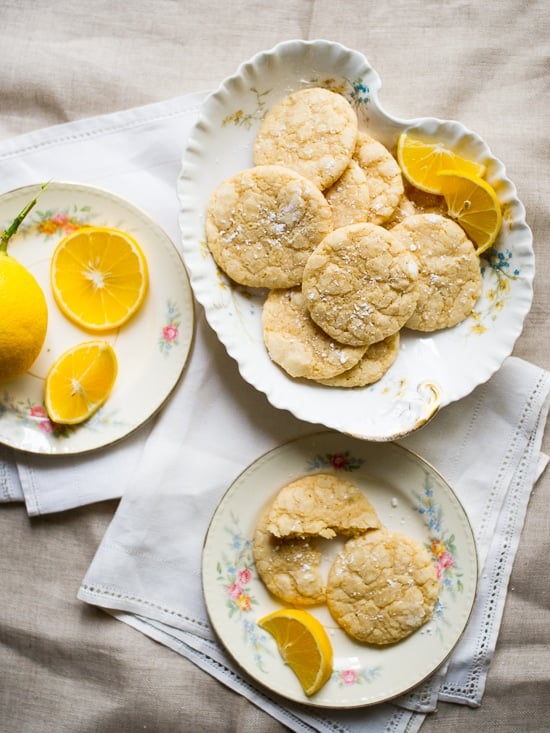 Easy Lemon Crinkle Cookies
I love a really good cookie. Though I don't have much of a sweet tooth, I appreciate and savor every bite of dessert that my palate can tolerate. And though I'm not capable of eating too much, I'm always searching for a great recipe that can satisfy my two to three bites of sweet joy.
And what do I mean by a really good cookie? I know everyone has their criteria on what they expect out of a cookie, so having an open discussion here is always fun to see what you expect in your next warm batch. I don't consider myself a cookie-snob, though I'm known to be very frustrated if I pay $3.50 for a mediocre cookie in a bakery!
What I love out of cookies are great texture, chew and flavor. We've previously written about one of our favorite granola cookies and now I found this on recipe on Pinterest and I'm so blown away by it's flavor because I love meyer lemon and the flavor really shines in this cookie. It's so excellent that I actually inhaled 4 cookies in one sitting. And for me, that's an eating feat.
I found this popular lemon crinkle cookie recipe on Pinterst and it was made by Lauren of the lovely Lauren's Latest blog. Thanks to Pinterest, I've been finding some really fabulous recipes, including my last magic custard cake and when I found Lauren's cookie recipe few months ago, I've been equally obsessed over it.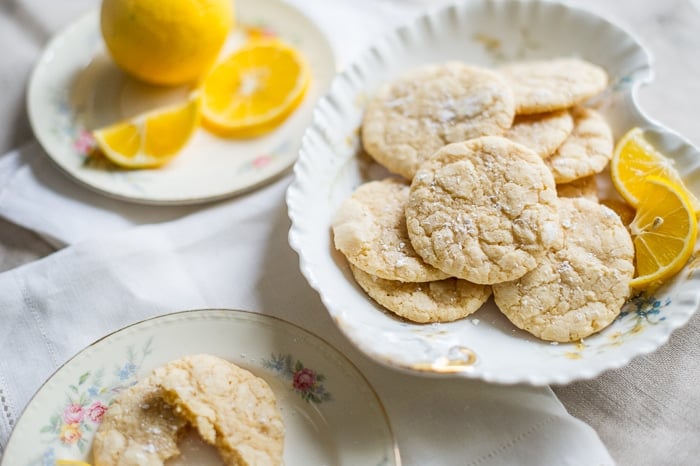 Finally, I reminded Todd about it and he immediately dived into the kitchen to bake up a batch with our garden meyer lemons. He's a great guy and why I cherish him so much is that he loves to bake cookies. I'm good at finding the recipe and eating them, so we're we're a perfect match!
The verdict is nothing but applause for Lauren's recipe. I'm sending you all a big word of caution because if you love lemon cookies, if you love meyer lemons and if you're a lover of snickerdoodles, you will find yourself stuffing yourself silly with these lovely cookies. They're soft and chewy, similar to the texture of a snickerdoodle, but with the bright flavors of meyer lemon and delicate aroma of powdered sugar. We've adapted it a bit to suit our taste and our meyer lemons. But you can refer to her original recipe or use our version with the meyer lemons.
I'm confident this recipe will be making it's appearance at our Summer dinner parties because they're that good!
Enjoy,
diane
Our cookbook, Bountiful, is available to order on Amazon! & we shared a post about it here.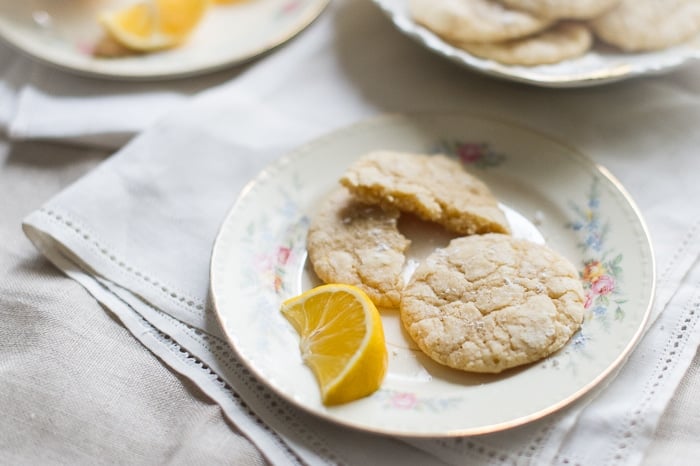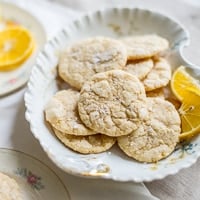 Meyer Lemon Crinkle Cookies
These cookies have a soft interior texture with a slightly crisp exterior given to it by rolling the cookies in confectioners sugar before baking. Their texture reminds us of one of our favorite cookies, our Snickerdoodles, but with a lemon flavor. Feel frees to make adjustments to suite your taste of sweetness and add a little more sure if you aren't using meyer lemons.
Ingredients
1 1/2 cups (190g) Flour
1/2 teaspoon Kosher Salt
1/4 teaspoon Baking Powder
1/8 teaspoons Baking Soda
1/2 cup (113g) unsalted Butter , softened
1/2 cup (110g) packed Brown Sugar
1/2 cup (100g) Sugar
½ teaspoon (3ml) Vanilla Extract
1 Egg
1 teaspoon (5ml) Meyer Lemon Zest (@ 1 meyer lemon's worth)
2 Tablespoons (30ml) fresh Meyer Lemon Juice
1/4 cup (30g) Confectioners Sugar
Instructions
Preheat an oven to 350°F. Line a couple sheet pans with parchment paper.

In a medium bowl, whisk or sift together the flour, salt, baking powder, and baking soda (whisk for at about 20 seconds to make sure it is well combined). Set aside.

In mixer, beat together the butter, brown sugar, and sugar until light and fluffy. Beat in the vanilla extract, egg, meyer lemon zest, and meyer lemon juice until well combined. Scrape down the sides of the bowl and mix again to make sure everything is incorporated.

Stir in the flour mixture until just combined, making sure to scrape the bottom of the bowl to get all of the flour.

Sift the confectioners sugar onto a large plate. Form the dough into 1 inch sized balls (a medium cookie scoop works perfectly to help make balls). Roll the balls in the confectioners sugar then place 2 inches apart on the lined sheet pans.

Bake for 10-14 minutes or until the bottoms of the cookies just begin to turn light golden and the tops of the cookies look matte (no longer shiny or wet looking). Remove from the oven and allow to cool for a few minutes before transferring to a wire rack to finish cooling.
Nutrition Information per Serving
Calories: 104kcal, Carbohydrates: 16g, Protein: 1g, Fat: 4g, Saturated Fat: 2g, Trans Fat: 1g, Cholesterol: 17mg, Sodium: 59mg, Potassium: 24mg, Fiber: 1g, Sugar: 10g, Vitamin A: 128IU, Vitamin C: 1mg, Calcium: 9mg, Iron: 1mg
We are a participant in the Amazon Services LLC Associates Program, an affiliate advertising program designed to provide a means for us to earn fees by linking to Amazon.com and affiliated sites.