How We Shot Our Bountiful Cookbook Cover & Outtakes
The last few weeks have been quite adventurous. Between our work shoots and trip to Orlando's Disneyworld for Food Blog Forum we've braved Space Mountain and shooting highly reflective glassware in the same week. If you've ever experienced either one of those, you'll know that they both pose their own set of challenges.
More on our Food Blog Forum Disney World adventures on a later post, but we wanted to share some slides with you all here on the blog that we shared on our photography presentation at the conference. Part of our talk was showing behind the scenes from other photographers and how they were able to achieve their beautiful food photographs. The audience really loved seeing these blogger's behind the scenes and it was super helpful to see how others capture their images in their home set up.
For our portion, we shared how we were able to get our blog photo's including how we captured our Bountiful cookbook cover! It was so much fun to show our messy home and studio set ups.
We wanted to show the audience that it doesn't take a bunch of expensive gear or tools to get a decent photo.
So we're sharing part of that presentation for you today along with some never-before-seen outtakes! Well, except for at the conference. How about, never-been-posted-online-before outtakes!
Though our cookbook is vegetable and fruit focused, we wanted to show the diversity of the recipes: from seafood/meat-based, to whole grains and desserts. So we wanted to makes sure the cover conveyed those elements. But we also wanted the cover to feel real and make the viewer feel that they were at the table with us. That's why we didn't want a perfectly manicured/styled scene. A little crumb and mess was ok. It was important to us to show the cover as a shared eating experience, rather than a perfectly staged scene.
We shot the cover in our studio, with natural light from a roll-up warehouse door. There was so much light, so we had lots of black panels to block out the excess light.
See the table-top we used? We found it on our neighbors sidewalk with a "free" sign on it. Score!
Here's a closer look at the set. The wood board with the clamps on it was used for a straight on shot from a different angle.
We shot several variations and these were the two that we sent to our Abrams publisher team and book designer for approval. Everyone loved the one on the left and thankfully, they loved having our hands in the shot! So Amy our designer finished off the final design. Ta Da!
For the hand shot, we forgot our remote trigger at home, so we used the timer in the camera to set the timer, then jumped back down to the table and held our breath, hoping that our hands were in the right position. We did this on several shots. It worked, but only took about %$# times. But we did it.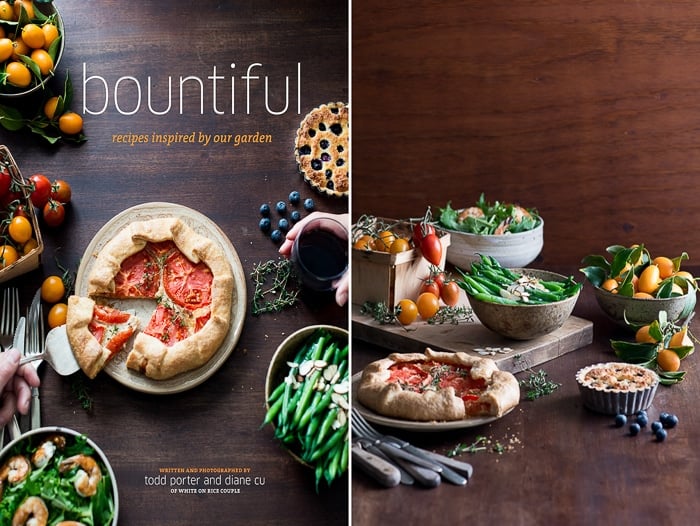 For all the communal, gathering and dinner scenes from the cookbook. We photographed them in our kitchen (messy!) and our garden.
We had different groups of friends come over on several occasions to eat and we had their hands in some of the shots. Here's the famous "free" table-top again that we used. We shot the indoor table scenes in our tiny dining room. You can see how small our house is based on our dining room. The ceiling are low too, so all our tall friends can easily reach the ceiling. We're the short people with the cameras. 🙂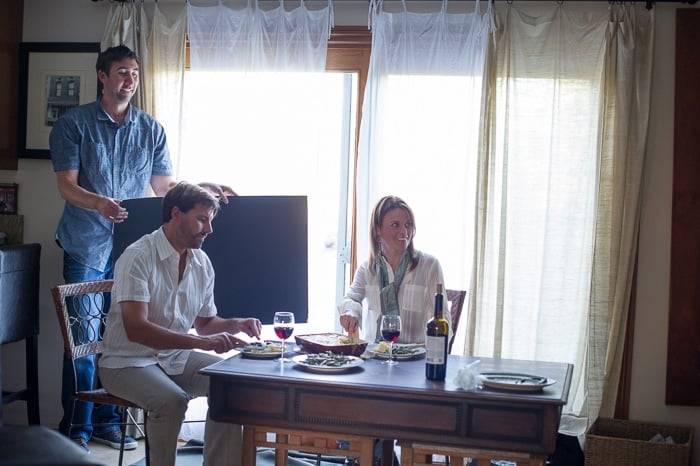 For the recipe shots that we shot in our kitchen, we set up a folding table in our little dining room and used the natural light coming through our sliding glass patio doors. Inexpensive Ikea panels were used to diffuse the light.
Here's a shot of the pears. But it never made the final cut of the cookbook. Instead, we used a different pear photo.
Out-takes with our crazy cast of characters.
Alex couldn't figure out how to start the lighter for the candles. Jennie thinks we need lighter fluid. And Geri says "Alex is this much taller than us!" .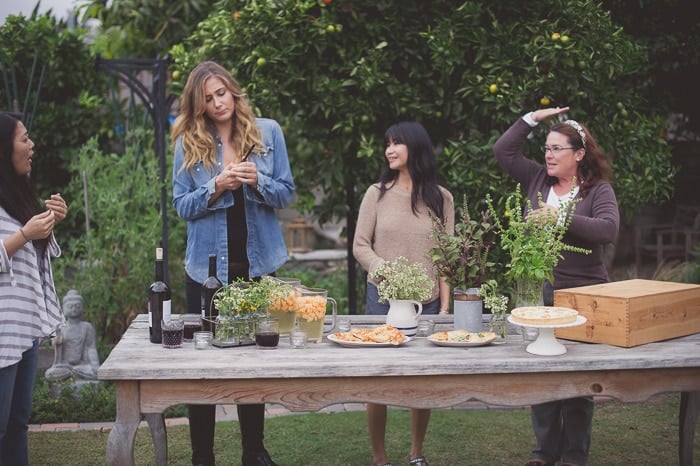 Now, Alex stoops low so she can be everyone's same height. Julie is loving "shorty-Alex". These two are having their own comedy scene on their end of the table. Jen and Geri try not to spit out their wine and ignore Alex and Julie.
Happy and beautiful Julie. We made sure her wine glass was always full.
The pups always somehow managed their way into the shots, hoping to get a bite of the feast. Sierra loved to nap, while Lexi enjoyed harassing our guests.
Why were Sierra and Lexi nose-touching?! hmmm….. And Lexi managed her way on Alex's lap, hoping to get a piece of the berry pie! It didn't happen.
We attempted a table scene with these even crazier group of friends. This photo felt way too staged, fake and we were trying not to laugh too hard….
So we told everyone to "act natural! be yourselves!". And we got this. Thank goodness none of these made the cut!
So there you have it, some behind the scene shots of our cookbook adventure! You can order Bountiful on Amazon here !
And here's our previous cover announcement post with more images that didn't make the cut.
hugs,
diane and todd
[ad]
We are a participant in the Amazon Services LLC Associates Program, an affiliate advertising program designed to provide a means for us to earn fees by linking to Amazon.com and affiliated sites.