Chocolate Cake with Butterscotch & Cream Cheese Frosting
Easy Chocolate Cake Recipe
Pinterest gets me in trouble, and it isn't even from me browsing. Diane will be lying on the couch at the end of the day, scrolling along while I catch up to the sports world on ESPN. Then suddenly she'll pipe up "I want that", thrusting her phone towards me. What am I supposed to do, say "No"? Well, I could but between you and me, I like to bake. I don't mind at all when she discovers these little sweet cravings.
We've had some great finds, as well as a few others that looked really cool, but in the end I wasn't crazy about the taste or texture. Sometimes if they are interesting enough the "no-go's" will get shuffled into a drawer and every once in a while I'll work on adjustments to see if I can make something I'm happy with.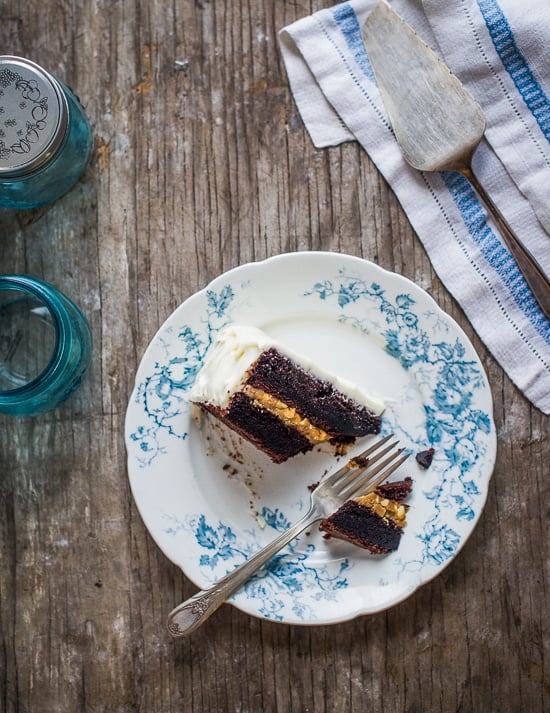 The Black Magic Cake had no worries of being shuffled off into the "let's work on this" drawer. With a few personal adjustments on the fly, it was awesome first time off the paper.
Diane's been bugging me about this one for a while. The black magic cake recipe is just for the cake alone, and it took me a bit to think up of how I wanted to finish it. Finally this concoction of butterscotch, roasted peanuts, and a cream cheese frosting popped into my head, so I cranked up the mixer and went to work.
The cake came out marvelous. Straight out of the oven the cakes had beautiful domed tops which to my temporary dismay fell flat while cooling. With the top now settled even with the sides, the lazy cook on my shoulder whispered, "But now you won't have to cut the top level!" Good point I said back to myself.
With the butterscotch already done ahead of time, and after whipping up frosting once the cakes had cooled, I assembled the cake and waited for it to chill so we could get a pretty slice out for the photos. It was a long, hard wait. After an agonizing couple hours (my sweet tooth was kicking in), we sliced, shot, and sampled the cake. "Would it be share worthy?" "Would we have to do-over?" "Could it painfully be a fail?"
Yes. No. And definitely No. The cake was awesome. Super moist, just the right amount of fluff to not be dense. The peanuts, butterscotch, and frosting played off the chocolate cake to remind me of one of my favorite candy bars, Snickers. Awesome!
So here you are. Hope everyone who get a chance to make it loves this chocolate cake recipe as much as we do.
-Todd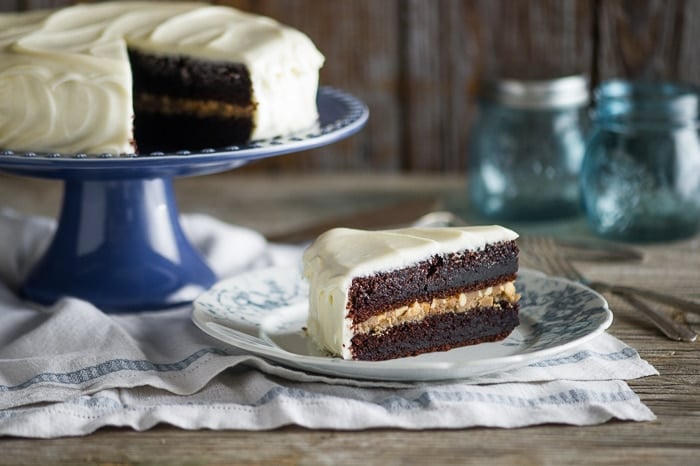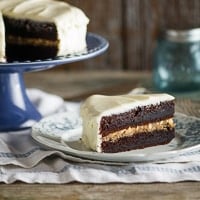 "Black Magic Cake" with Butterscotch & Cream Cheese Frosting
The cake layers are adapted from Hershey's Black Magic Cake. It is a great base chocolate cake. For the butterscotch, you can control the thickness by how long you boil it. If you find it is too runny after it cools, simmer for another minute or so. The time factor in the recipe works perfect on our cooktop, but everyone's heat will vary. We used bourbon in this sauce, but you could always us the traditional scotch of just leave it out completely and reduce cook time by a minute.
Make one 9-inch two-layer cake.
Ingredients
butterscotch ingredients
1/4 cup unsalted Butter (60 g)
1 cup Brown Sugar (220 g) , tightly packed
1/2 cup Heavy Whipping Cream (120 ml)
1 teaspoon Vanilla Extract (5 ml)
1 1/2 Tablespoons Bourbon (22 ml)
Sea Salt to taste (@ 1 teaspoon (5 g))
chocolate cake ingredients
2 cups Sugar (400g)
1-3/4 cups Flour (220g)
3/4 cup unsweetened cocoa powder (65g)
2 teaspoons Baking Soda (10g)
1 teaspoon Baking Powder (5g)
1 teaspoon Kosher Salt or Sea Salt (5g)
2 large Eggs
1 cup Buttermilk (240ml) *see note 1 for alternate
1 cup Espresso or Strong Coffee (240ml)
1/2 cup Vegetable Oil (120ml)
2 teaspoons Vanilla Extract (10ml)
cream cheese frosting ingredients
1/2 cup unsalted Butter (115 g) , room temp.
16 ounces Cream Cheese (455g), room temp.
1 teaspoon Vanilla Extract (5 ml)
4 cups Confectioners Sugar (455 g)
few dashes Orange Bitters (optional)
additional ingredients
1/2 cup Roasted Peanuts (65g) , roughly chopped
Instructions
butterscotch directions
In a saucepan, melt the butter over low-medium heat. Just before butter is completely melted, add the brown sugar, stirring to completely moisten the sugar.

Gently cook, stirring occasionally, until the mixture caramelizes and transforms from its initial graininess to a smooth "molten lava". Make sure to get the corners of the pot and watch closely because the texture will change quickly, 3-5 min of total cook time.

Whisk in all of the cream at once, and continue whisking until the the liquid is homogenous. Cook for another 7 minutes, whisking every few minutes.

Turn off the heat and let cool for 15 minutes. Add half of vanilla extract, bourbon, and sea salt, then taste for flavor. Add more of each until the flavor is perfect to your palate. Allow to cool for at least 45 minutes to determine texture. You may want to slightly re-warm the butterscotch when pouring it between the cake layers.
cake directions
Heat oven to 350°F (175°C). Grease and flour two 9-inch round baking pans. Line the pan with a parchment circle. If making buttermilk substitute *see note 1, make that now.

Sift then whisk together sugar, flour, cocoa, baking soda, baking powder and salt in mixer bowl for at least 20 seconds. Beat in eggs, buttermilk, espresso or coffee, oil, and vanilla extract until well combined. Make sure to stop and scrape the bottom of the bowl once or twice to get everything well mixed.

Divide batter evenly between the two prepared cake pans.

Bake 30-35 minutes or until a toothpick comes out clean when inserted into the middle of the cakes. Allow to cool for 10 minutes, then release cakes from pans onto wire racks to cool completely. While the cakes cool, make the frosting.
cream cheese frosting directions
In a mixer, beat the butter until light and fluffy. Add cream cheese and beat until light and fluffy.

Stir in confectioners sugar, vanilla extract, and bitters then slowly increase speed and beat until incorporated. Set aside until ready to frost cake.
final assembly
Put a dab of frosting in the middle of a cake circle or plate (the frosting helps keep the cake from sliding around). Place the first cake layer on a cake circle or plate. Line several strips of wax paper around base of cake to help keep circle or plate clean.

Put about 3/4 cup of frosting in the middle of the cake and spread the frosting working from the center out, leaving a slight built up edge on the outer rim. When finished, you should have nice thin layer of frosting over most of the top surface of the cake, with a little wall on the outer rim that will help hold in the butterscotch.

Pour butterscotch over the thin frosting layer, spreading it evenly over the bottom cake layer. Sprinkle the roasted peanuts over the butterscotch. Take the second cake and place on top of the peanut layer.

Spread a thin layer of frosting over entire cake as a crumb coat. Place in the freezer to chill for about 10 minutes, then add the rest of the frosting and evenly spread across and on the edges of the cake. Remove strips of wax paper at base of cakes. Serve immediately or refrigerate for up to 3 days. Bring to room temperature before serving if possible.
Nutrition Information per Serving
Calories: 789kcal, Carbohydrates: 101g, Protein: 7g, Fat: 42g, Saturated Fat: 26g, Trans Fat: 1g, Cholesterol: 119mg, Sodium: 573mg, Potassium: 318mg, Fiber: 2g, Sugar: 93g, Vitamin A: 1086IU, Vitamin C: 1mg, Calcium: 119mg, Iron: 2mg
Here's more chocolate dessert recipes
We are a participant in the Amazon Services LLC Associates Program, an affiliate advertising program designed to provide a means for us to earn fees by linking to Amazon.com and affiliated sites.