Best Garlic Chili Hot Sauce
This is the best hot sauce recipe with garlic that's easy to make and perfect for spicy food lovers. You can customize this chili garlic hot sauce to your personal liking.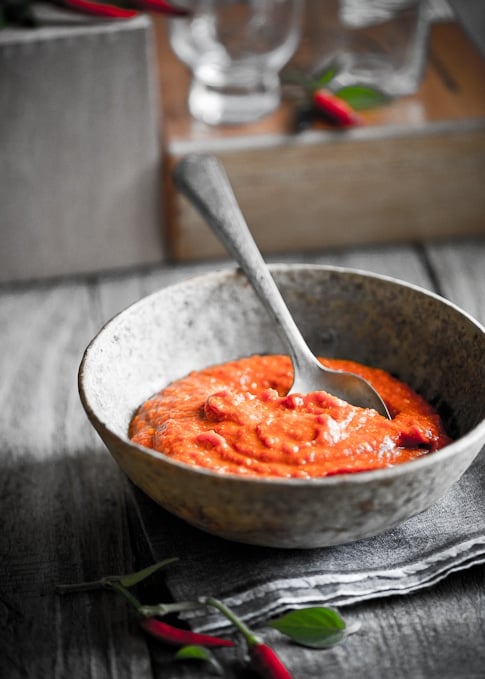 Best Hot Sauce Recipe
We've been quite unconventional over the last few years when it comes to gift giving. When the holidays roll around, tis the season to fire up the ovens and gift out baked goods and sweets till everyone can't eat another cookie. Granted, we have our traditional fudge that we'll make for family who are out of state, but fudge is really the only sweet gift we pass on with a red bow attached.

Gifts of Hot Sauce
Our more unconventional holiday gift is giving our homemade sriracha hot sauce and kim chi. Chili and spice is everything nice for all our food friends. They always welcome our little spice packed jars with open arms and we're always thrilled to be the different kids on the block, passing out something other than sweets. This year, we decided to make an extra garlicky chili hot sauce because we have a small contingent of food friends who crave flavor, heat and spice more than we do. And that's saying alot! It's the easiest and best hot sauce recipe ever.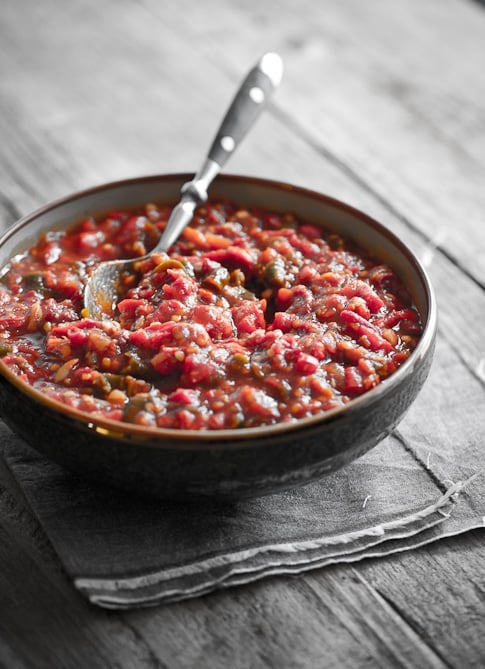 UN-BLENDED: for a rougher chili texture with more bite, don't blend the sauce
Easy Chili Garlic Hot Sauce Recipe
Seasonally, making our chili hot sauces is always on perfect timing. During the end of fall, our chilies are all ripe and poised to be stewed with a whole lot of garlic. It's an exciting season to be harvesting fresh chilies and canning them for the holiday gift giving season.
Homemade chili garlic hot sauce is always so wonderful because the bright, fresh pop of spice can't be duplicated from a store bought bottle. Once you make your own garlic chili hot sauce at home, it's an addicting habit that's hard to give up. The vibrant, off-the-vine taste is undeniably terrific.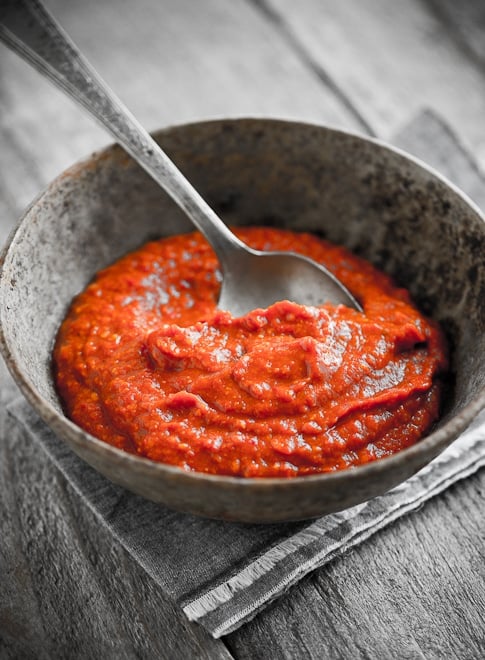 SMOOTH TEXTURE: after the blender for smother texture
This best hot sauce recipe is adapted from our previous homemade sriracha hot sauce recipe. All we did was add more fried garlic to take the flavor level up 5 knotches. But if you're a garlic fiend and want to add more pop to the hot sauce, just add as much garlic as you want to handle.
We went a little overboard and made it a little TOO SPICY. Whew! It did hurt a bit, but the burn was good. You can adapt it to your spice tolerance level!
– Diane and Todd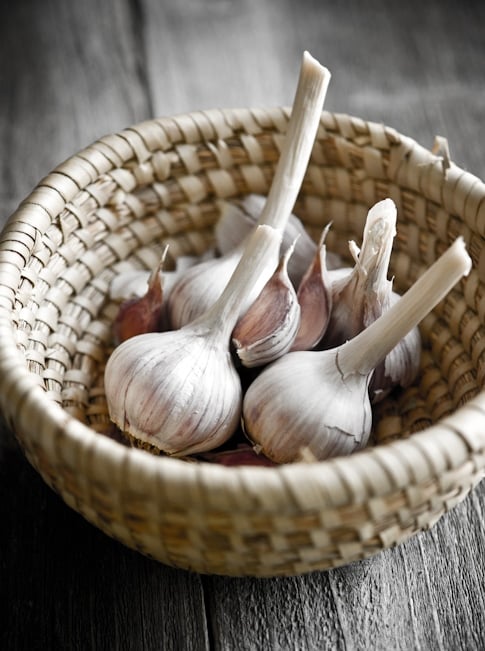 generous amounts of fragrant garlic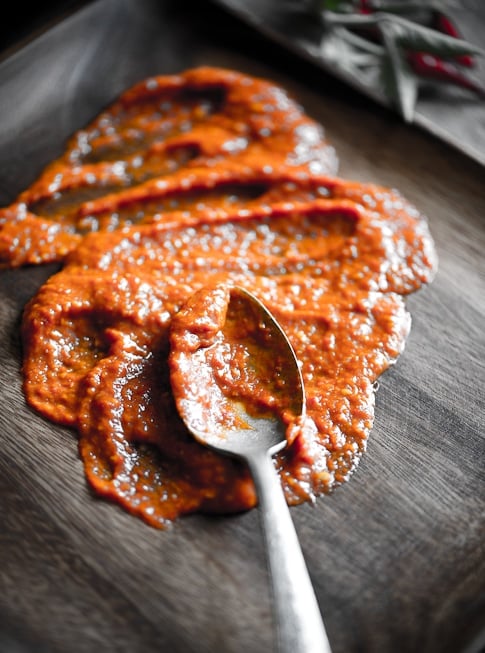 voila! the best hot sauce recipe. can you feel the burn?
More Asian Recipes: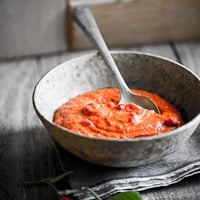 Garlic Chili Hot Sauce
Adapted from our homemade sriracha recipe, this version has the wonderful aroma of fried garlic. The combination of spice and warm fragrant garlic is addicting. Like with any hot sauce, adjust this recipe to your heat and garlic tolerance.
Makes about 1 cup
Ingredients
1 cup chopped Chili Peppers (about 100 grams). *for a more mild hot sauce, start with less chilies
3 Tablespoons Vegetable Oil
2 heads Garlic (crushed or minced)
3 Shallots , medium size (minced)
15 ounces Tomato Sauce
1/4 cup Rice Vinegar
3 Tablespoons Sugar
1 Tablespoon Fish Sauce (this is a vital ingredient for wonderful flavor, please don't skip it)
Instructions
Rinse, clean and remove stems of the chiles. Blot dry with paper towel.

Wearing rubber gloves, mince chili peppers. The smaller the cut, the smoother your final sauce will be. Or you can just leave them minced small for a more spicy bite and bigger texture.

In medium sauce pan, heat oil then add minced garlic and shallots. Over medium heat saute garlic and shallots for a about 1 minute or until light brown and fragrant. Fry the garlic and shallots enough so that they become crispy, but not burnt. (don't burn your garlic!)

Add tomato sauce and minced chili peppers. Let the sauce come to a simmer then lower heat to keep at a low simmer. Add fish sauce, vinegar, and sugar. Mix well.

Continue simmering the garlic hot sauce for about 5 minutes. This will break down the chili peppers and soften them to create the smooth consistency.Remove hot sauce from heat and allow to cool completely.

Transfer hot sauce sauce to blender and blend until smooth or until most of the chili pepper skin and seeds break down- preferably on the "liquefy" mode.Taste the hot sauce to further customize the hot sauce to your liking.

Add more sugar, vinegar or water. Blend one last time till smooth. Pour into clean, air tight jar and refrigerate and use within about 1 week. Or pour into sterilized jars and use safe canning techniques to store for longer.
Nutrition Information per Serving
Calories: 55kcal, Carbohydrates: 7g, Protein: 1g, Fat: 3g, Saturated Fat: 2g, Sodium: 231mg, Potassium: 164mg, Fiber: 1g, Sugar: 5g, Vitamin A: 728IU, Vitamin C: 4mg, Calcium: 13mg, Iron: 1mg
We are a participant in the Amazon Services LLC Associates Program, an affiliate advertising program designed to provide a means for us to earn fees by linking to Amazon.com and affiliated sites.