S'mores on a Stick – Marshmallow Pops!
These S'mores On a Stick Marshmallow pops are fun. Everyone has been giggling over Sunday's adorable Chocolate Peppermint Marshmallow Pops.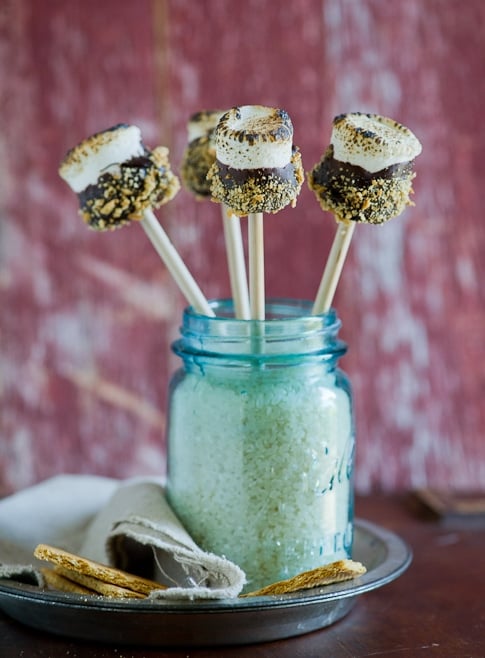 S'mores on a Stick
Even as a kid, I was never a big marshmallow fan. At least in it's normal solid state. Marshmallows in the big colorful boxes of sugar, I mean cereal… Pass the cheerios, please. Rocky Road ice cream… Meh. But marshmallows which had been made molten under the flame or from bathing in mug hot chocolate, those made me giddy.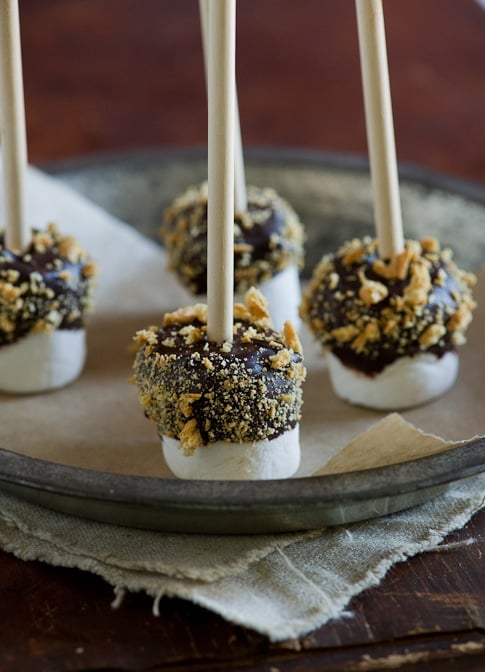 ready to go, before the marshmallow torch!
So when we were talking about making the chocolate dipped marshmallows, my thoughts went to making a live-action S'mores On a Stick Marshmallow pops. Not just the prerequisite of marshmallow, chocolate, and graham cracker, but of leaving half the marshmallow exposed and torching the little bugger.
When Diane had the festive idea of coating the chocolate marshmallows with crushed candy canes, and we considered putting the fraternal pairs in the same post together.
But we had limited time Sunday morning before running out the door for the day, and after Diane rocked my scissor, Sunday's post was decided to be candy caned.
The live-action s'more pops were still too good not to share, so we finally managed to squeeze in a photo session for them this morning. Marshmallow half coated in dark chocolate, sprinkled with graham cracker crumbs, then softened and charred with a torch. "Flash!" And I'm giddy like a little kid.
Thanks for tolerating the back-to-back marshmallow pop posts. Have fun with these S'mores On a Stick Marshmallow pops.
-Todd
Before: marshmallow s'mores pops before the torch
Torch the marshmallows to make them soft and warm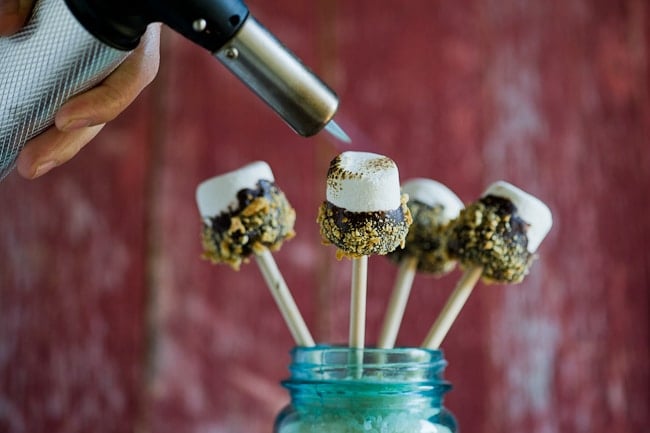 serve them warm, gooey and perfect!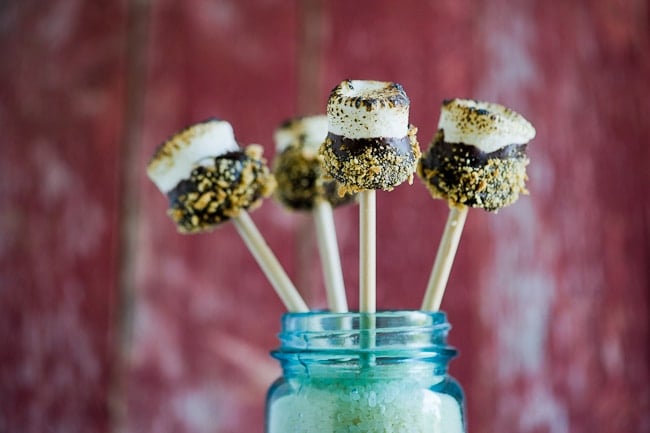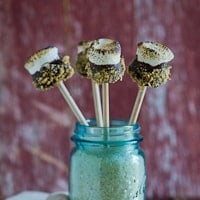 S'mores Marshmallow Pops
Once again we are tempering the chocolate using the seeding method. When torching the marshmallows, use the lowest flame setting you can, not letting the flame stay on one spot on the marshmallows (they'll catch on fire quickly) and be ready to quickly blow out the inevitable flare up on the marshmallows. Just like over the campfire, there is a gentle art to perfectly singeing the marshmallows.
Ingredients
1/2 pound Dark Chocolate , finely chopped (or about 1 1/2 cups dark chocolate chips)
12 regular Marshmallows
2-3 Graham Crackers , crushed
Instructions
Temper the chocolate. Weigh out a large portion of the chopped chocolate. Weigh out another portion which is 25% the weight of the first. Add larger amount to a pan in a bain marie and gently heat the chocolate until it reaches 120°F. Remove from heat.

Add the second portion of chocolate and stir until the temperature drops to 85°F (should take about 10-15 min.) Test the chocolate's temper-Dip one side of a small strip of parchment into the chocolate, then set aside to cool and harden. After about 5 minutes you'll be able to tell if the chocolate is properly tempered or if there is a grittiness or bloom (looks streaky).

Keep chocolate at a good working temp., between 85°F and not exceeding 89°F by occasionally placing chocolate on bain marie to gently raise temperature for a minute or so.

Have crushed graham crackers set aside in a bowl.

By hand, dip the marshmallows halfway into the tempered chocolate. Pull it out of the chocolate, letting the excess drip off, then skewer the marshmallow from the chocolate end, leaving the bare part of the marshmallow exposed at the top. Sprinkle with graham cracker crumbs, then set topside down to allow the chocolate to set.

When ready to pass out the s'mores, light your torch and set it to its lowest setting. Gently torch the exposed marshmallow by waving the flame across the surface. Quickly blow out any flare-ups on the marshmallows. Serve immediately.
Nutrition Information per Serving
Calories: 101kcal, Carbohydrates: 13g, Protein: 1g, Fat: 5g, Saturated Fat: 3g, Trans Fat: 1g, Cholesterol: 1mg, Sodium: 23mg, Potassium: 86mg, Fiber: 1g, Sugar: 7g, Vitamin A: 4IU, Calcium: 10mg, Iron: 1mg
Here's morefun s'mores recipes for you. Have fun because these are perfect for Summer time.
We are a participant in the Amazon Services LLC Associates Program, an affiliate advertising program designed to provide a means for us to earn fees by linking to Amazon.com and affiliated sites.