BBQ Grilled-Party Grilled Cheese Sandwiches with 3-Cheeses, Salami, Ham
National Grilled Cheese Month is here and oh, our beloved gooey, cheesy grilled cheese sandwich parties are always a popular favorite when this time of year rolls around. Rarely do we ever serve up grilled cheeses to friends without receiving an enthusiastic "heck yes!". On occasion it's the no-carb, no-fat, non-dairy friend-of-a-friend who shows up without much enthusiasm for our sandwiches and ends up eating salad. It doesn't matter because they were never really directly invited in the first place. But for the rest of the 99.999999 percent of all our friends, we're truly obsessed with grilled cheese sandwiches in all forms, shapes, sizes and filling options.
La Brea Bakery has been a photography client of ours for some time now and meeting on average twice a month to photograph bread, bread and more amazing bread at our photography studio has us very familiar with all of their grilled cheese sandwich potential. When they asked us to help celebrate National Grilled Cheese Month, it was a no-brainer to party with them. In fact, years ago we used to go to Campanile's famous Thursday night grilled cheese nights and see Nancy Silverton grill the sandwiches for the masses.
This tradition of grilled cheese nights is still alive, thriving and celebrating at La Brea Bakery and you can buy tickets for this awesome event. If you're in Los Angeles, it's the best food event to go to on Thursday night in April. We're celebrating with our interpretation of how to make a grilled cheese the right way. Well, at least "Todd and Diane's" way when feeding a hungry-obsessed-grilled cheese-crowd.
Seriously, if you're going make a "grilled cheese sandwich", how about trying it really-truly-absolutely on a bbq grill? We're tackling some issues we've come across over the years at our grilled cheese parties and here's some solutions we've been able to achieve.
Thus, four reasons why you should make grilled cheese sandwiches Todd & Diane-Style.
Reason #1: The bread. Good bread. We're obsessive about having not just great bread, but something unique and different. That's why we're in-love with La Brea Bakery's Pain Rustique flat loaves. These artisan loaves are incredibly crispy, tender and delicious for a grilled cheese sandwich. The touch of extra virgin olive oil makes the inside texture moist and the crust is rich and full of flavor.
Reason #2: Be a good host/hostess. You're having a crowd come over and they're hungry. These folks are the type to kill 2 sandwiches in one evening. So rather than hover over the stove top grilling individual sandwiches all night and not be able to socialize with everyone, you make one big-ass grilled cheese that serves at least 4-6 mondo portions. The pain rustique loaves serves at least 4-5 and what better way to serve a crowd then to grill one-big-grilled-cheese to serve them all? Better yet, it gives you time to socialize, drink and snap more selfies if that's your hosting-thing.
Pre-grill the interior of the bread before filling with cheese/meats to get a great melt. The residual heat kick starts the cheese melt.
Try to layer the cheese towards the center of the bread because eventually the cheese will spread to the edges. The last thing you want to do is to clean up burnt melted cheese all over your bbq.
Reason #3: Flavor and Texture. Food always tastes better on the bbq grill and that includes grilled cheese sandwiches. Folks, this is a game-changer if you're going to add to your grilled-cheese-aficianado status. The bbq smoky flavor and char is something you can't achieve on a cast iron pan. Don't get us wrong, we absolutely love our cast iron grilled cheeses, but when we want to take a little more time and treat ourselves to something extraordinary, we're going to truly grill these cheesy babies.
Reason #4: Enjoy Al Fresco. The weather is warming up and you're finally tired of cooking inside all season. Now is the perfect time to enjoy the outdoors and start grilling season with your hungry pals. Then best way to celebrate grilled cheese is doing it al fresco and fill the afternoon with great friends and conversation.
Let's make this month amazing and indulge in our favorite grilled cheeses. Remember, if you're in Los Angeles and you're feeling just a little lazy about making your own, head on over to La Brea Bakery grilled cheese nights. That's the way to party on a Thursday night. Maybe we'll run into each other and toast with a glass of wine!
Happy National Grilled Cheese Month friends!
-diane and todd
This is post is in partnership and sponsored by La Brea Bakery Breads. As always, all opinions are our own and every obsession we have for grilled cheese sandwiches is real. A food-lovers truth.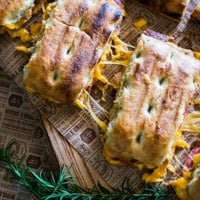 BBQ Grilled - Party Grilled Cheese Sandwiches
The key to not burning your precious sandwiches is to cook these on low, low heat. You don't want to burn the bread and have the cheese interior un-melted. Burnt bread and cold cheese interior sucks. So take your time, patience is virtue here and don't walk away from the grill. If desired, once the cheese starts to really ooze and melt, you can crank up the heat and get the charred outer crust to your liking. Start by heating up the interior of the bread first, then laying the cheese and other ingredients so that the cheese gets a head start in melting by the residual heat from the bread. Try to layer the cheese towards the center of the bread because eventually the cheese will spread to the edges. The last thing you want to do is to clean up burnt melted cheese all over your bbq. You'll need two large tongs or at least a set of tongs and a large spatula to turn the long loaves when grilling. And one last suggestion, have the cheese at room temperature before grilling.
Ingredients
La Brea Bakery pain rustique loaf , sliced lengthwise (like a hamburger bun), don't cut too close to the air holes
about 1/2 cup (113g or one stick) butter, melted
choose your 3 cheeses: cheddar , American, gruyere, swiss, fontina or any good melting cheeses
salami , ham or any of your favorite meat fillings
(optional) sliced tomato, onions, pickles, etc
Instructions
Heat the grill on low heat. Brush the inside and outside of the loaf halves with the melted butter.

Place the loaf halves cut side down on the grill. Grill interior of loaf until it just begins to become light golden.

Remove the loaf halves from the grill and immediately layer in the cheese and any other fillings desired on the bottom loaf half. Top with the upper loaf half and carefully return to the grill.

Grill both sides until golden and cheese is melted through (it's ok to have a little char on the bread - that's grilling deliciousness).

Remove from the grill and slice into individual portions. Best served warm.
We are a participant in the Amazon Services LLC Associates Program, an affiliate advertising program designed to provide a means for us to earn fees by linking to Amazon.com and affiliated sites.