Spicy Shrimp Ceviche (Aquachile) from MasterChef Claudia's Cocina Cookbook
This spicy shrimp ceviche is super fresh with bright flavors. Thanks Claudia for sharing this recipe with our readers!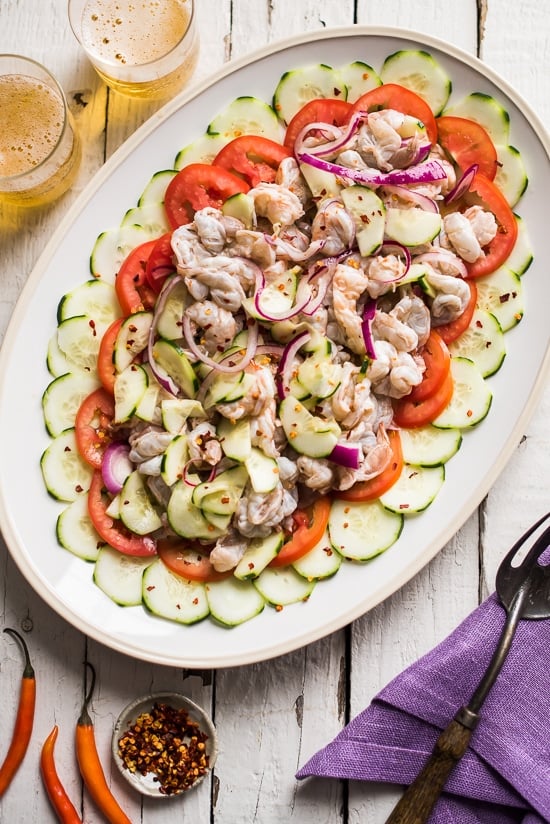 Spicy Shrimp Ceviche Recipe
Hi Friends! Last Summer was a crazy busy season filled with way too much good food, especially with some really awesome Mexican food that we ate for five days straight for one cookbook project. We can finally share the delicious details of this project because it's out today! We were asked by Abrams to photograph and food style their latest cookbook project: the MasterChef Season 6 winner's cookbook.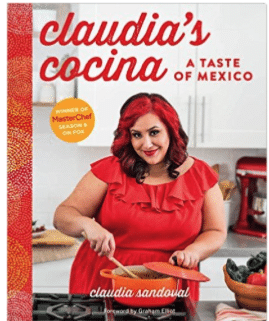 This show on FOX has some seriously intense talent competing for the title of MasterChef. Gordon Ramsey and the other judges don't make it easy for any contestant to make their way to the top. So when Claudia Sandoval was crowned the winner, it was definitely a well deserved pedestal.
Claudia spent a week at our studio cooking up a storm for the cookbook, Claudia's Cocina – A Taste of Mexico, and watching her whip through each dish was like watching her on the show. Seriously, on the cookbook shoot she was always in MasterChef-mode. At one point, we had to tell her to "slow down! you're not competing anymore. We're not Gordon. We're not gonna yell at you. ". Ha. Or something like that was what we kept saying.
Her intense focus, speed, precision and talent had us mesmerized at all the colorful, flavorful and delicious family recipes she churned out on the stove. At one point, she was feeding us so much and we kept feasting because the food was truly so good. It's hard to tell yourself that you're stuffed when each bite excites your tastebuds and craves just another nibble.
Claudias Cocina Cookbook
Sure, we each gained an additional few pounds but it was worth it to be able to work alongside a true talent. Thanks to the publisher, we're able to share one of the recipes with you all today. This spicy shrimp ceviche was outstanding and simple to prepare. It's the perfect dish to share, especially when you're looking for something light, full of flavor and loaded with texture. Best of all, it's on the lighter side so you can have more calorie-room for all the chips, salsa and margaritas.
We photographed and styled the images along with our team and it was a blast to be able to learn so much about Mexican food from Claudia. Seriously, her simple technique for rustic mexican salsa had us hooked. The flavor and texture of her homemade creation has us changed forever. We can't ever make salsa in a blender anymore. It's always going to be in a molcajete.
Here are some more pictures we shot and styled along with some favorite recipes you'll find in Claudia's Cocina cookbook:
All her salsas and sauces have so much flavor. And they're easy to make.
Our favorite was this simple rustic Mexican salsa
Claudia and her Mom making homemade tortillas. She rubbed them with a bit of butter, then dash of salt. Yum!
Clam ceviche in the shell was fabulous. Can you tell we love seafood?
She made the process of making chiles rellenos look so easy. Definitely something we can do ourselves.
The most amazing braised pork cheek tostada stacks with chipotle sour cream and pineapple-mango salsa will rock your world. Our bellies were more than happy to eat a few.
If you're craving homemade authentic Mexican food, grab this book. You'll love the awesome recipes. And if you're a food photography-buff, there's plenty of pictures made by yours truly!
Enjoy,
diane and todd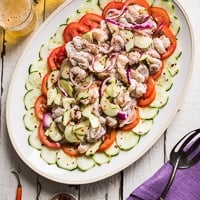 Spicy Shrimp Ceviche (Aquachile)
Ingredients
2 pounds (910 g) medium or large shrimp , peeled
1 teaspoon salt
1 cup (240 ml) fresh lime juice
2 fresh chiles de arbol or 1 to 3 fresh serrano chiles , stemmed
1 red onion , thinly sliced into half moons
1 large cucumber , thinly sliced into half moons
1 Roma tomato , sliced into half moons
Up to 1 teaspoon crushed red pepper flakes (optional)
Instructions
Butterfly the shrimp: On a cutting board, place each shrimp on its side and insert a knife about three-quarters of the way into the outside curve of the shrimp from the head to the tail, making sure not to cut all the way through. Remove the vein with the tip of your knife.

Place the butterflied shrimp in a large nonmetallic bowl, toss with the salt, and refrigerate while you make the sauce.

In a blender, combine the lime juice and whole chiles and blend until the chiles are completely broken down. Add the onion slices and half of the cucumber slices to the shrimp and toss, coating the onion and cucumber with salt.

Line a platter with the remaining cucumber slices and all of the tomato slices. Spread the shrimp mixture into a single layer on the platter using a nonmetallic spoon or spatula and slowly pour the chile-lime sauce over the shrimp (see Notes). Sprinkle with the red pepper flakes, if using. I hope you have a cold drink nearby, because you're going to need it!
Nutrition Information
Calories: 177kcal, Carbohydrates: 7g, Protein: 32g, Fat: 2g, Saturated Fat: 1g, Cholesterol: 381mg, Sodium: 1566mg, Potassium: 286mg, Fiber: 1g, Sugar: 2g, Vitamin A: 184IU, Vitamin C: 23mg, Calcium: 237mg, Iron: 3mg
We are a participant in the Amazon Services LLC Associates Program, an affiliate advertising program designed to provide a means for us to earn fees by linking to Amazon.com and affiliated sites.