Portrait Of A Gourmand – Dan & Jael – French Broad Chocolate Lounge and Strawberry Cheesecake Recipe
Portrait of a Gourmand – A gourmand is simply, someone who takes pleasure in food and eating. This is a continuing photographic series of gourmands, from all walks of life. There are many gourmands that inspire us in profound ways that make us experience and think about food differently. These portraits essays share their amazing stories.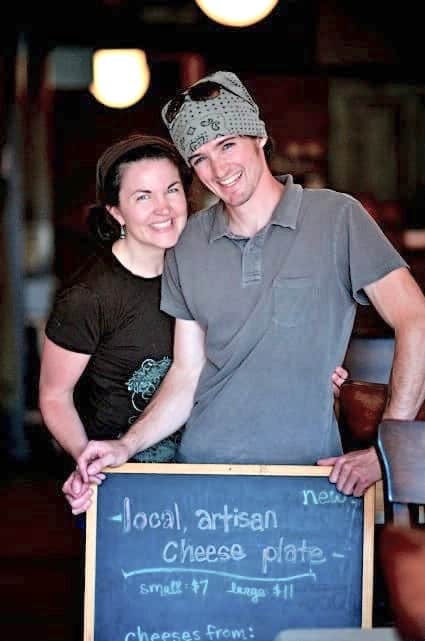 French Broad Chocolate Lounge in Asheville, North Carolina
Today's highlight is actually of two gourmands, the lovely couple, Dan and Jael Rattigan of French Broad Luscious Chocolates, aka The Chocolate Lounge. The only thing sexier than this charming couple is their collection of hand made, artisan chocolates, which are pure chocolate bliss. These are some of the finest that we've had in a long time.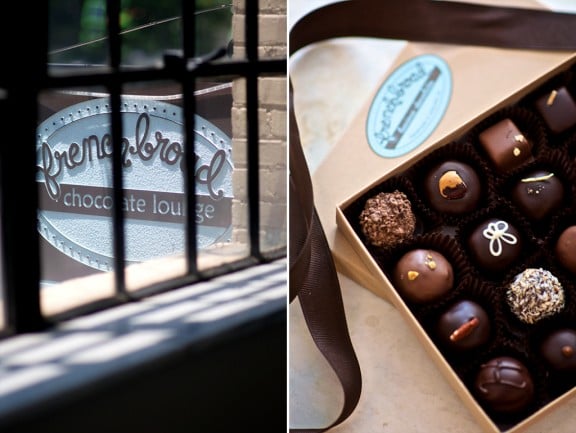 Dan and Jael Rattigan
Their Chocolate Lounge in Asheville, North Carolina was a dream and opportunity that opened up before them. They had the courage to follow it, and now there are thousands who thank the cacao gods that the did. To taste their chocolates is to know rapture. Their lounge serves up fabulous pastries, artisan cheeses and operates as a wine bar as well. It's not just the love of sweets that they share, but they also sell cheeses from many of Asheville's best from local producers . It's the best chocolates, cheese and wine that Asheville has to offer in one warm and inviting setting.
Dan & Jael are also parents of two beautiful boys. How cool is that to have your mommy and daddy make and sell chocolates? Score!
We had the pleasure of meeting them during a blogger trip to Asheville, NC back in July. Their story of how they met, how they bought an old schoolbus and drove it all the way to Costa Rica was inspiring. From there, they opened up a a cafe and started a family. Their amazing drive (literally, to Costa Rica from Minnesota!) to share their love of chocolates led them to Asheville, NC. Dan and Jael's passion is inspiring!
Our upcoming "The Hungry Travelers" show will be featuring Dan and Jael's amazing school bus expedition and chocolate story. So we'll have to keep this short and let the video episode share the rest.
In the meantime, we have the pleasure of introducing you to the most fabulous and gorgeous chocolatiers in the chocolate world, Dan and Jael Rattigan of French Broad Chocolates.

If you could have one big finale meal, what would your final feast be?
Asking us to pick our final meal is tantamount to asking us to pick a favorite truffle from our collection; which, incidentally, happens all the time at the Chocolate Lounge. Our love and appreciation for the world of good food is an integral part of that which defines us. It pervades our lives and our business. The answer inevitably falls upon our whim: with so much food and drink in the world to bring us to our knees (in genuflection, in pure reverence), how could one pick?
Therefore, our menu begins: "In this moment, it would be…"
A formidable task, indeed, to design our last supper. The first thing we must do is set parameters. We're making it ourselves, so we're going to need a few days' notice for ingredient acquisition, and as for preparation, at least two days. (For our wedding, the dessert buffet alone took 4 days to make…) Moreover, we are going to want to invite some family and friends. The constituency of this gathering will have its influence on the menu, in spiciness (kids will have to forego the carrot pickle, at least) and extensiveness (is there someone to stand dutifully over the grill, applying, turning and removing the naan as it puffs and develops black spots?). And for goodness sake, can we pick a certain time of year?! Please let it be right now when the tomatoes are in season….
In this moment, our last meal would be a lavish feast of indian food. One of mine and Jael's most elaborate dinner parties to date was a 12 course indian dinner prepared and served to our friends after hours at Bread and Chocolate, our first restaurant, in the village of Puerto Viejo on the Caribbean shores of Costa Rica. It was magical and unforgettable, but we'll do better with ingredients this time, though perhaps falling short on number of elements.
Beginning the day before, we'll pick up a gallon of fresh, non-pasteurized goat's milk from a local goat dairy. (Mind you, we'll be buying it labeled as "pet milk" because state law prohibits sale of raw milk for human consumption.) With the addition of fresh-squeezed lemon juice, we'll collect and strain curd for the paneer. It will be made into *Saag Paneer*, greens with cubes of lightly fried cheese. We can grab a motley collection of greens from around our house and yard, including what remains of our mustard, chard, and kale, plus the wild super-weed lamb's quarter, which has taken over most of our front yard.
The most unlikely ingredient to find, representing a small hole in the tapestry of Asheville's food society, would be fresh-pressed oil. The next best thing–which Dan eats by the bowl with his morning bread ration–will be Theros Olive Oil, which young Niko Theros presses at his grandfather's olive orchards in Messinia, Greece every year to bottle and sell in Asheville. Amazing oil, though it would be nice to have some mustard oil pressed down the street.
Our favorite nut, *cashews, lightly roasted and tossed with sea salt and homemade garam masala* will be a great appetizer.
Jael always insists that a *Chana dal* (in our interpretation, chick peas with tomatoes) be included in our indian meals, and no better time than tomato season!
From southern India, we love a dish of *chopped string beans with toasted coconut*.
I'd like to try to make *Lamb Biryani.* We've made pretty good vegetable biryanis before, but for the last supper, we'll get some pastured lamb from East Fork Farm to make the traditional indian rice dish.
Whole wheat *chapatis* and lighter yogurt-filled *garlic naan* will be grilled to perfection over charcoal, in absence of a tandoor in our kitchen. We'll spread it with ghee made from Homestead Creamery's southern Virginia butter.
*Raita* is essential. Fresh yogurt (we'll make it ourselves, if we've got time. If not, Seven Stars Farm biodynamic whole milk yogurt will do the trick) with tomato, cucumber, cilantro and fresh roasted cumin.
We should have started a while ago on the spicy *carrot pickle*, so depending on the amount of notice before the finale feast, we might pickle carrots. We'll definitely make time for *green mango chutney, *a sweet accompaniment.
Why indian food? It's a perfect vehicle for combining the best of the local harvest with some exotic accompaniments. A flight of local beers and a couple bottles of wine will be drunk, hopefully not all while we're still in the kitchen…
Dessert? We'll look no further than our own arsenal. Our Indian Kulfi truffle: a milk chocolate & toasted pistachio ganache infused with pink rose petals and crushed cardamom; and Masala Chai: traditional chai spices & darjeeling tea-infused milk chocolate ganache with a dark couverture. There won't likely be room in our bellies for much else.
More on the Portrait of a Gourmand series:
Read our other Asheville, NC stories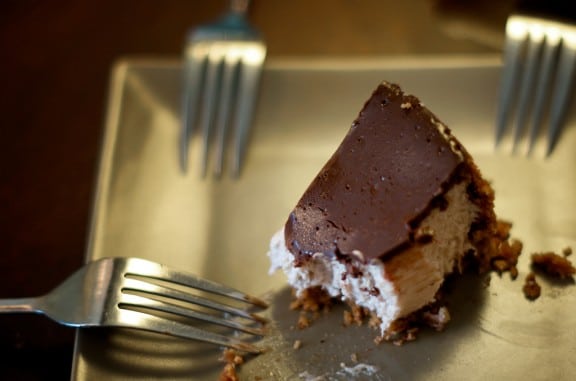 Also…
Check out what Dan & Jael have to say about themselves and find out a bit more on The Chocolate Lounge.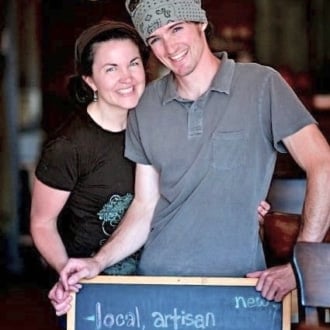 Chocolate Covered Strawberry Cheesecake
This strawberry cheesecake from The French Broad Chocolate Lounge was the best that we've ever had. Everyone in our travelling group just adored the cheesecake! It was so smooth, creamy, light, fluffy and delicious.Recipe by Jael and Dan Rattigan
Ingredients
Strawberry puree:
10 oz. frozen Strawberries
2 Tablespoons sugar
2 teaspoons freshly squeezed Lemon Juice
Almond crust:
2 cups whole Raw Almonds
1/4 cup soft unsalted Butter
3 Tablespoons Sugar
¼ teaspoon Salt
Strawberry cheesecake:
1 lb. Cream Cheese , room temp
1 cup (7.5 oz.) Sugar
3 lrg Eggs , room temp
1 ½ teaspoons pure Vanilla Extract
¼ teaspoon Salt
12 oz Sour Cream , room temp
2/3 cup Strawberry Puree
Ganache topping:
4 oz. Chocolate (50-55% cacao mass is best), finely chopped
4 ½ oz. Cream
½ lrg Egg (beat 1 egg, weigh it, and use half)
Instructions
Prepare the strawberries:
Thaw strawberries and strain out the juice completely (reserve pulp, should be about 5 oz).

Place juice in a small saucepan and, at a simmer, cook down to a third of original volume. (you should start with about 5-6 oz, and end with 2 oz.)

Add sugar to reduction and stir to dissolve. Mix juice and pulp together with lemon juice. Blend in food processor or with immersion blender.
Prepare the crust:
Preheat oven (400º F) Rack in center position.

Pulverize almonds, sugar, and salt in food processor until crumbly. Add butter and pulse to combine. Press into bottom and sides of 9" springform pan (2.5" tall)

Bake 15-20 min, or until deep golden brown. Set aside to cool while you make the cheesecake.
Prepare the cheesecake:
Reduce oven temp to 350°F.

Beat cream cheese and sugar until very smooth (3 min) in a stand mixer at medium speed using the whisk attachment.(yes you read right. It gives the cake that mousse quality). Add eggs, 1 at a time, scraping bowl and beating after each just until smooth.

Add vanilla & salt and beat until incorporated. Beat in sour cream. Beat in strawberry puree. Wrap the pan with the crust in a double layer of aluminum foil.

Pour batter into crust. Place in water bath (hot water) in a larger oven proof pan.

Bake 45-55 min.
5-10 min before cheesecake is done, make ganache topping:
Boil cream. Pour over chocolate and let sit a minute. Whisk gently until chocolate is melted and smooth.

Gently whisk in egg. Spread over hot cheesecake (careful, and don't pour it all in one place as cheesecake is fragile). Smooth out the top.

Bake 12-15 more minutes until ganache is set along the sides. Remove from oven and place on a cooling rack, with a large mixing bowl over the pan (to cool slowly).

When it reaches room temp, refrigerate. Chill 8 hours before unfolding.

To unmold, run a thin blade knife around the cake pan sides. Remove springform. Gently slide cake onto serving plate. Store covered in refrigerator.

It's easier to cut the cake if you heat the knife. Run it under very hot water, then dry it. Slice!
Nutrition Information per Serving
Calories: 552kcal, Carbohydrates: 38g, Protein: 10g, Fat: 42g, Saturated Fat: 19g, Trans Fat: 1g, Cholesterol: 122mg, Sodium: 264mg, Potassium: 370mg, Fiber: 4g, Sugar: 31g, Vitamin A: 1023IU, Vitamin C: 22mg, Calcium: 154mg, Iron: 2mg
We are a participant in the Amazon Services LLC Associates Program, an affiliate advertising program designed to provide a means for us to earn fees by linking to Amazon.com and affiliated sites.