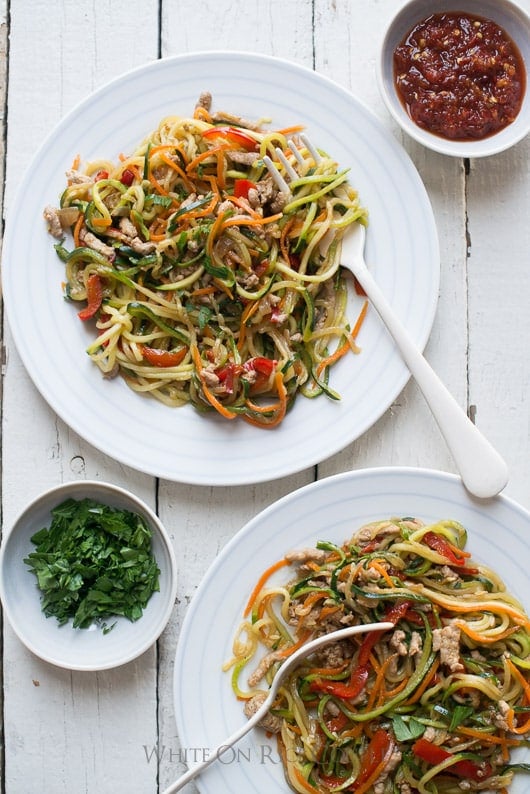 The last two weeks have been so calm. All our deadlines and client campaigns were finished and delivered before Christmas, which always feels so great to click that last "send" button.  We made time over our break to catch up to all things needed: sharing meals with old friends, spending time with family from afar, sleeping-in, and house cleaning. During the holiday time, we truly enjoy being able to just not have to think about anything other than cooking and gathering with friends.
Indeed, cooking for family and friends is so different from cooking at the studio for work. We're free to experiment with recipes, pour glasses of wine and just cook on-the-fly. Wine definitely makes the moment so much for enjoyable. We're now feeling a little more pleasantly-plump, pants are fitting a little more snug and we're not ready to get back on our regular meals without all the holiday decadence.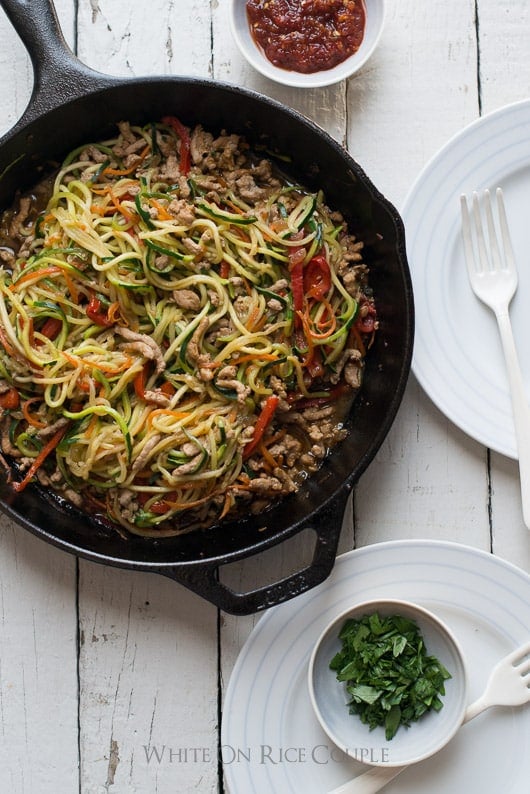 Now that we're back in the full swing of shooting again, we're enjoying our healthier and lighter meals that don't put us in an afternoon food coma. For lunch, we tend to avoid the heavier starches because our bodies want to dive into a deep sleep if we indulge too much in rice, pasta or breads. That's when we pull out our trusted vegetable spiralizer and make zucchini noodles.
Our last pad thai zucchini noodle recipe was such a hit with you all that we're sharing our other lunch-favorite zucchini noodle recipe: Pork chow mein! It's another hit with our crew and as always, satisfies our bellies without filling us with yawns and tired eyes.
This "Zoodle" chow mein recipe will be one of your go-to zucchini noodles recipes, guaranteed. It's so versatile, you can eliminate the pork, add more of your favorite veggies and make a vegetarian version.
In fact, we're so hooked on zucchini right now, it's been our "little" big project for 2015. We mentioned our Bountiful Recipe Quarterly with a photo on Facebook and it's coming along quite nicely. If you're loving zucchini, you definitely would sign up for our recipe updates here so you can be one of the first to find out about our "little" big zucchini project!
Happy New Year,
diane and todd
Zucchini noodles are easily made with the Paderno vegetable spiralizer tool, the julienne peeler or a mandolin.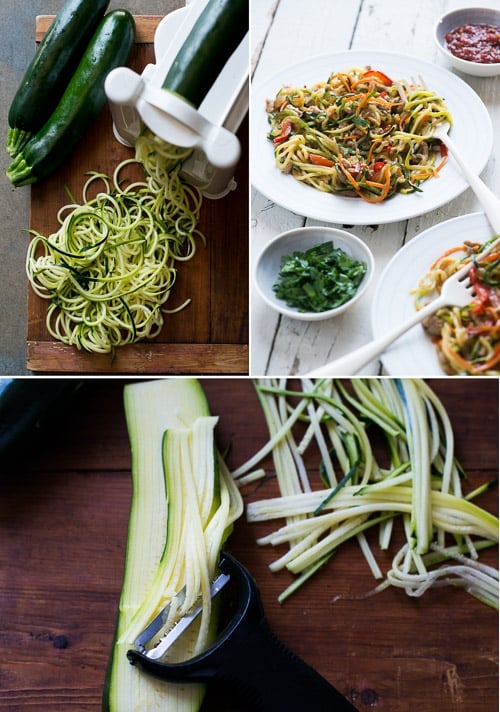 Enjoy our popular Zucchini Noodle Pad Thai with Shrimp Recipe 
Turkey marinara with zucchini noodles hits the spot. Here's the recipe.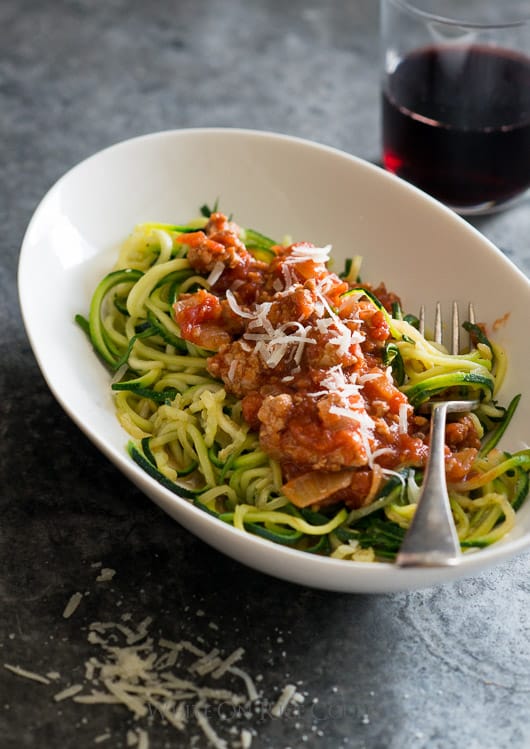 Watch a quick video making the Zucchini Noodle Chow Mein:
Zucchini Noodles Chow Mein Recipe with Ground Pork
Yield: Serves 2
Total Time: 20 min
See post for additional recipe details. We used a Spiralizer to create the zucchini noodles.
Ingredients:
2 medium zucchini
2 tablespoons (30ml) soy sauce (use Tamari for gluten free)
1 teaspoon (5ml) vinegar
2 teaspoons (10ml) oyster sauce
1/2 teaspoon (3ml) sugar
1 tablespoon (15ml) olive oil, grapeseed oil or any cooking oil
1/2 medium onion, diced
2-3 cloves garlic, minced
1/2 pound (225g) ground pork
1 small red bell pepper, thin sliced
1 large carrot, julienned
kosher or sea salt, to taste
fresh cracked black pepper to taste
1/4 cup (60ml) chopped cilantro (optional)
chili garlic sauce, sriracha or hot sauce (optional)
Directions:
Cut zucchini into noodles with spiralizer,  julienne tool or mandolin. Set aside.
Make the sauce: In medium bowl combine soy sauce, vinegar, oyster sauce and sugar. Set aside.
Heat olive oil in a large skillet on medium high heat. Add onions and garlic, cook till soft.
Add pork and cook until brown, about 3-5 minutes. Add red bell pepper and carrot. Cook until vegetables are tender, about 2 minutes.
Add the zucchini noodles and the sauce. Stir everything in the pan until coated and continue cooking until zucchini noodles are tender, about 2-3 minutes.
Garnish with cilantro, serve with hot sauce.
Hello! All images & content are copyright protected. Please do not use our images without prior permission and do not re-publish this recipe. Simply link back to this post for the recipe. Thank you.
Recipe Note for Salt: All recipes containing salt are based on kosher or sea salt amounts, not table salt. If using table salt, reduce the amount used to taste.