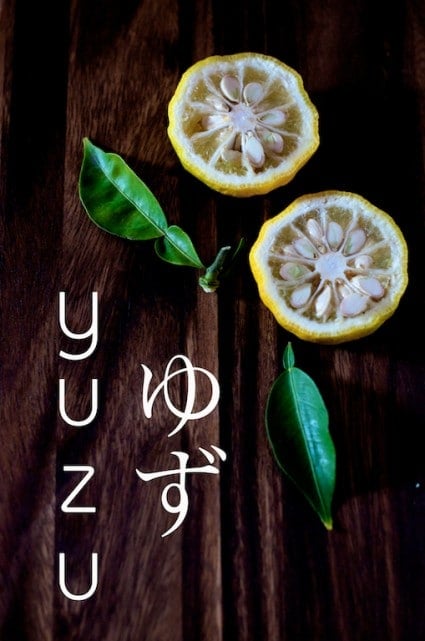 "What is yuzu?" Don't feel bad if you have never heard of this beautiful little citrus, since outside of a few Asian cuisines and particularly in Japanese cultural circles it is seldom grown or used, however we are hear to tell you that yuzu is pure culinary gold.
Yuzu is a sour, tart and very fragrant citrus, slightly smaller than a billiard ball. Yuzu is a citrus that isn't eaten straight, but is used as a souring ingredient through the use of it's juice and zest.  The flavor is reminicent somewhere between a classic Eureka lemon and an oro blanco grapefruit, but still has its own unique fragrance and flavor.  It is a bit more floral and sour and utterly wonderful.  It smells so good the Japanese will use yuzu for perfumes and will ritualistically bath in yuzu during Toji (winter solstice).

There isn't a lot of juice in each little ball of fruit, maybe a teaspoon per yuzu due to much of its mass being occupied by ginormous seeds and a thicker rind. However the juice is one of the very few citrus that can hold up fairly well to cooking without diminishing the flavor.  The zest is packed with delicious oils that allow you to use nearly every part of the yuzu in the kitchen. Yuzu is a integral part to Japanese Ponzu sauce as well as yuzu-kosho, a spicy chili-salt laden with yuzu zest.
The intensity of the aroma is incredible.  When I was making cocktails using only one yuzu, the scent hit Diane from 20 feet away.
For the home gardener, yuzu is one of the most zone diverse citrus, being cold hardy down to 5-10º F. It is a bit stubborn to get to flower and has a few nasty thorns, but it is well worth the time & care to get these beautiful trees to fruit. They are still a bit hard to track down in the United States, but if you have a great nursery nearby, maybe they'll be able to special order you one.
The fruit is ready earlier than most citrus, usually September or October, giving citrus heavy areas like southern California and Florida extra incentive to add a yuzu to their collections. One of the things we love most about our garden is that there is almost always something fruiting all year.  Every season and month has something new to look forward to and it helps ease the grief of another favorite ending for the year.
Diane had requested yuzu recipe ideas from readers and there were several fantastic ideas, however I already knew how I wanted to use our first born yuzu. A cocktail, of course. We kept the ingredients simple so the yuzu could be highlighted and not overwhelmed by the alcohol and since there isn't much juice per yuzu, but the rind is so aromatic, we muddled a whole yuzu in order to get the most out of it.
The result: pure deliciousness.  There will be upcoming recipes featuring the yuzu, but for now we raise our glasses and toast to one of our favorite lumpy garden orbs: Yuzu!
More posts about Japanese Lemons: Yuzu & Kabosu:
What is Yuzu? Why is Yuzu so prized?
What is Kabosu? differences between Kabosu and Yuzu
More Cocktail Recipes
Yuzu Cocktail Recipe
Yield: 1 Cocktail
Total Time: 5 Minutes
Ingredients:
1 whole Yuzu (or @ 1 1/2 teaspoons yuzu juice)
2 ounces (60ml) light Rum
1/2 ounce (15ml) Vodka
1/4 teaspoon Vanilla Extract
1/2 ounce (15ml) Simple Syrup, or to taste
dash of orange bitters
club soda
Directions:
Slice yuzu in half and gently muddle just to release the oils of the yuzu. Add the rum, vodka, vanilla extract, simple syrup, and bitters to the cocktail shaker. Add ice & shake for 15-20 seconds.
Strain into an old-fashion glass, add a few cubes of ice, top with club soda, gently stir & garnish if desired.
Note 1: A basic simple syrup is a 1:1 ratio of sugar dissolved in water. example- One cup sugar dissolved in one cup of water. We usually make larger batches and keep on hand in the refrigerator.
Hello! All images & content are copyright protected. Please do not use our images without prior permission. If you want to republish this recipe, please re-write the recipe in your own words, or simply link back to this post for the recipe. Thank you.
Recipe Note for Salt: All recipes containing salt are based on kosher or sea salt amounts, not table salt. If using table salt, reduce the amount used to taste.