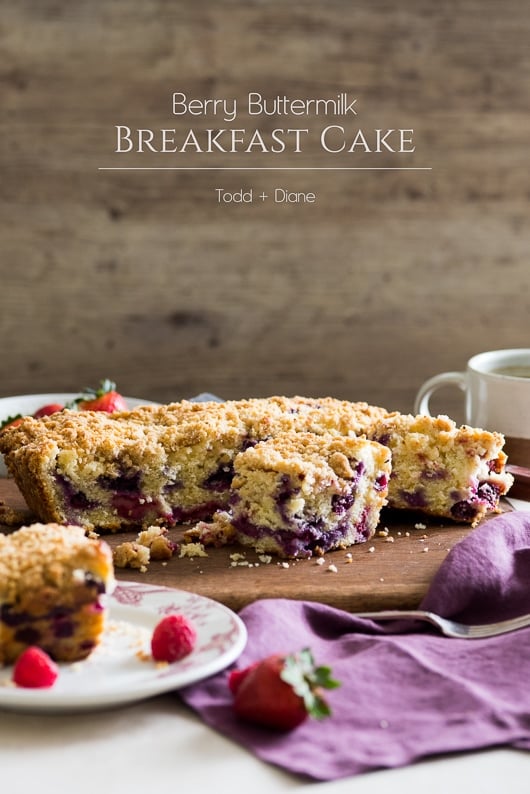 Weekend breakfasts are always a favorite occasion because we can take our time to enjoy the morning. It's also the time of the week that's most leisurely for us with plenty of time to bake in the morning. Settling down with our cappuccino or espresso and some poached eggs is a fantastic breakfast. Sometimes we still crave something sweet with our coffee, but not too sweet. So we created this morning berry buttermilk breakfast cake that fulfills our morning needs.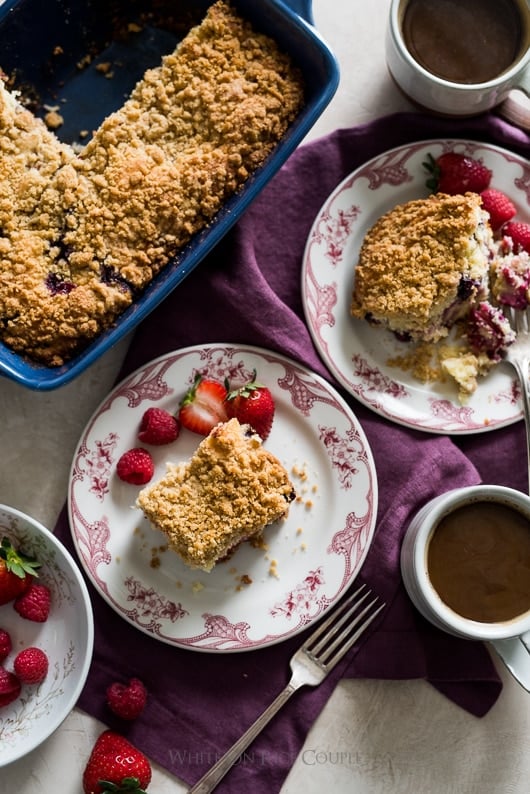 After making it several times, it's hard to not think of it as the perfect brunch cake, especially for Spring. With Easter brunch, family gatherings and celebration gatherings to welcome Spring, berries are starting to sweeten up in our area. Now it is the perfect time to make this cake that is sweetened by the explosion of berry flavors and without all the sugar.
citrus and swiss chard galore
Everything in the garden has been going bonkers now and we're enjoying every minute of it. We have tons and tons of lemons and other citrus. It's crazy to think how two people and two dogs can consume all this fruit. Maybe it's time to start our lemonade stand we used to dream of building as kids. Hey, and maybe sell some of this awesome berry buttermilk breakfast cake? Maybe we'll do that when we grow up one day!
Enjoy and Happy Brunch!
Diane and Todd
super moist and tender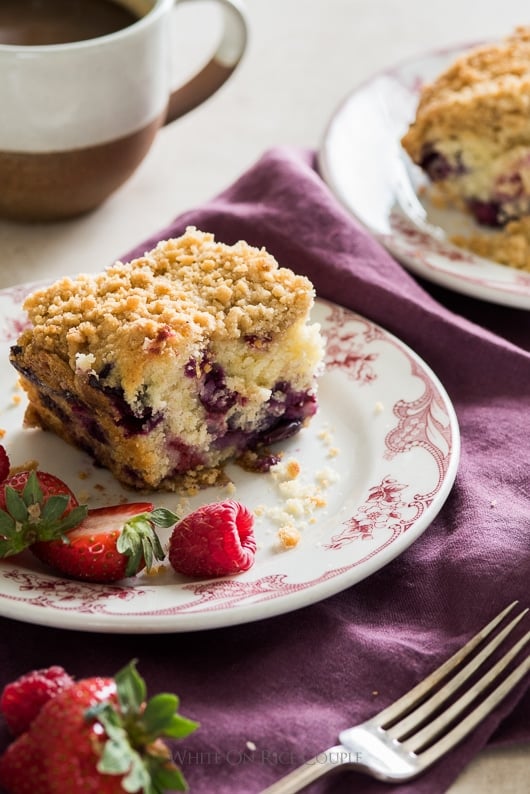 Buttermilk-Berry Breakfast Cake w/ Crumb Topping
Yield: One 9"x9" Cake
Total Time: 1 hour
This can also be made in an 8"x8" pan. It will be a higher breakfast cake and takes a bit longer to bake. For the 8"x8" size, bake for 40-50 minutes.
Ingredients:
For the Breakfast Cake
½ cup (113g or 1 stick) unsalted butter, room temperature
Zest from 1 large lemon
1 Tablespoon (15ml) lemon juice
3/4 cup (150g) granulated sugar
1 large egg
1 teaspoon (5ml) vanilla extract
1 3/4 (250g) cup flour
2 teaspoons (10ml) baking powder
1 teaspoon (5ml) kosher salt
2 cups (12 ounces or 340g) fresh blueberries or combination of different berries
½ cup (120ml) buttermilk
Powdered sugar for sprinkling
Whipped topping or whipped cream
Extra berries for topping (optional)
For the Crumb Topping
1/2 cup (60g) flour
1/4 cup (55g) packed brown sugar
1/4 teaspoon kosher or sea salt, or to taste
1/4 cup (1/2 stick / 57g) cold unsalted butter, cut into 1/2-inch (12-mm) pieces
Directions:
Preheat the oven to 375º F. Grease 9x9 inch square baking pan.
Make the crumb topping: Mix together the flour, brown sugar, and salt in a bowl. Pinch in the butter until the mixture resembles coarse sand. Set aside in the refrigerator to keep cold until ready to top cake.
In large bowl, cream butter, lemon zest, lemon juice and sugar until light and fluffy. Add the egg and vanilla, beat until combined.
In separate bowl whisk flour for breakfast cake, baking powder and salt.
Add the dry flour mixture to the wet egg batter a little at a time, alternating with the buttermilk. Stir mixture until combined, but don't overmix. Fold in the berries.
Spread batter into pan. Top the cake with the crumb topping.
Bake for 35 to 45 minutes, or until a toothpick inserted into the center of the cake comes out clean.
Cool the cake and sprinkle with powdered sugar and dollop of whipped topping or more berries!
Hello! All images & content are copyright protected. Please do not use our images without prior permission and do not re-publish this recipe. Simply link back to this post for the recipe. Thank you.
Recipe Note for Salt: All recipes containing salt are based on kosher or sea salt amounts, not table salt. If using table salt, reduce the amount used to taste.