Zucchini, Lemon and Ricotta Toast/Tartines
These zucchini tartine toasts are a fantastic appetizer to make. The creamy ricotta cheese with savory shaved zucchini is a delicious topping to these small bites to share.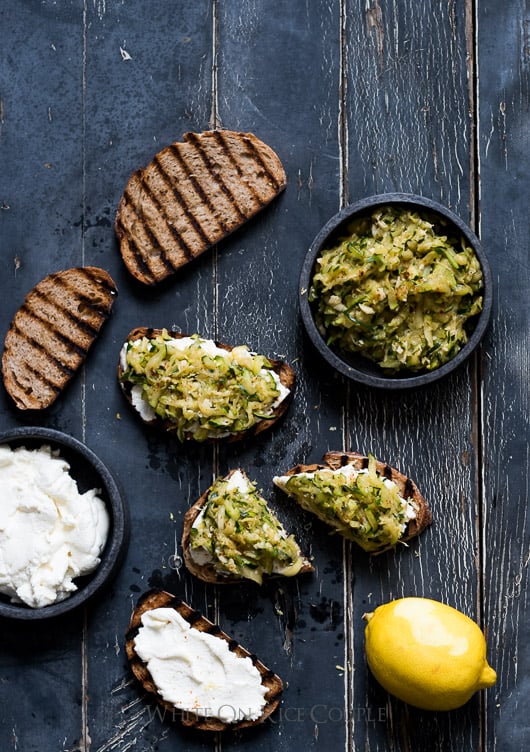 Everyday we pinch ourselves, wondering if Summer really has arrived or what really happened to Spring. Time flying-by is an understatement these days, especially when we're dividing our time between the studio, travel and obsessive gardening. But rather than contemplate the passing of each Summer day, we're reveling in all the wonderful produce, warmth and abundant bottles of Rosé!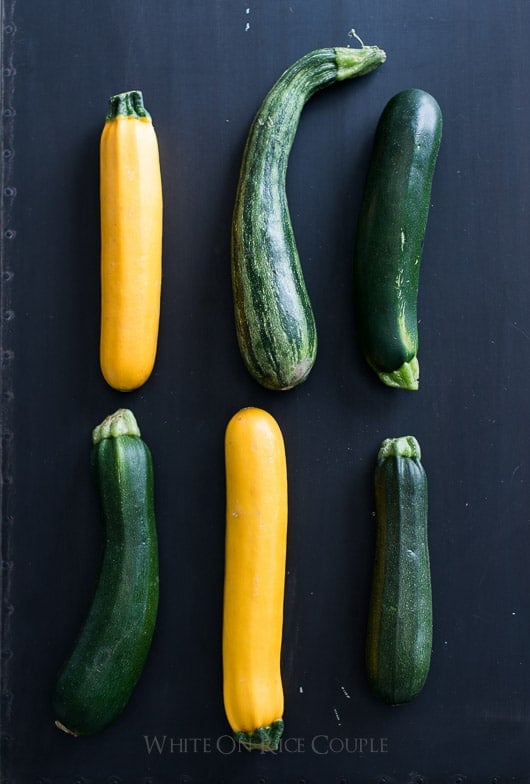 We've been working on a very ambitious recipe print journal project over the last 11 months and it never seems that we've had the time to finally execute the print logistics. Some of the big collections of recipes we've been developing are zucchini-based and rather than wait until our print magazine launches, we wanted to share some of our favorite recipes on the blog before Summer disappears. Before we know it, Christmas will be here and it wouldn't be right to be hoarding all these Zucchini recipes. What good is a recipe when we can't share it?
But don't worry, we're still launching our recipe magazine soon, so subscribe here to get the latest updates and one of the first to receive it in print.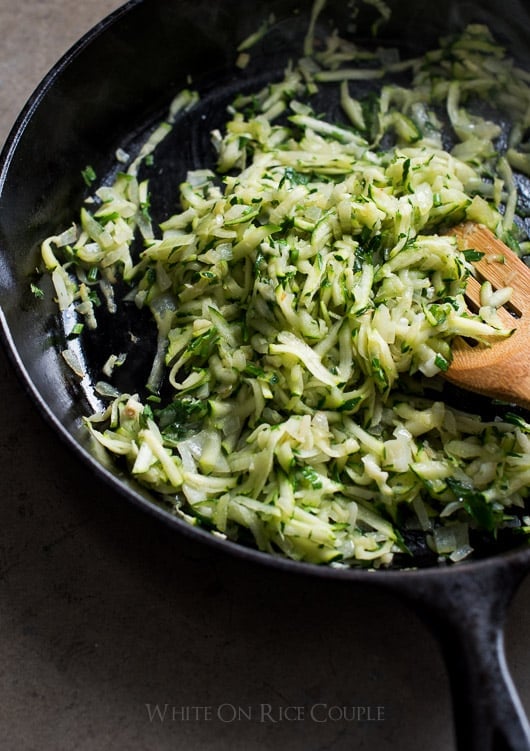 One of our easiest and favorites is this zucchini tartine (toasts) that has filled our bellies on numerous occasions. Let's count the ways that it's a winning recipe: it's vegetarian, fresh, easy, quick and uses up so much of the zucchini bounty in Summer. It's always a favorite vegetarian appetizer or when paired with your favorite wine, it's a satisfying dinner.
All you need is a few glasses of wine, a small salad and it's a instant dinner for two or a munchie to share with your friends al fresco. That's what Summer is about: al-fresco with friends. Let's do this more often.
Hugs and Happy Summer,
diane and todd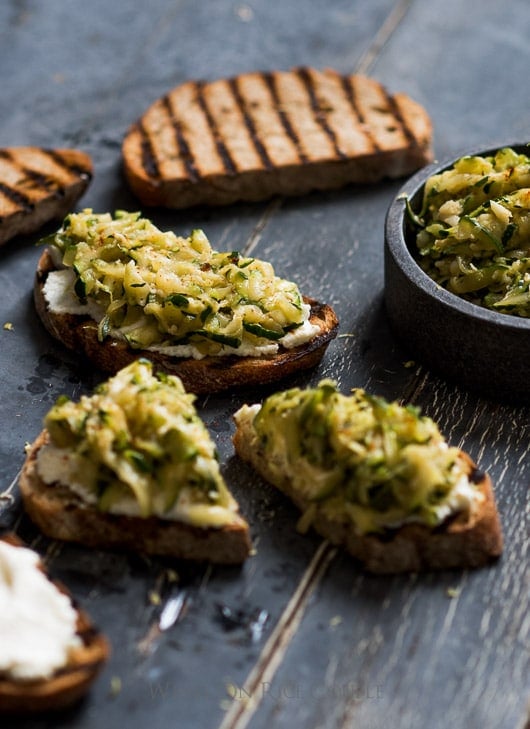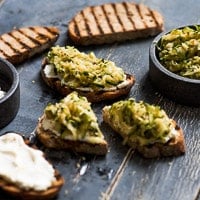 Zucchini, Lemon and Ricotta Tartines
Always a favorite vegetarian appetizer, this tartine topped with sautéed zucchini is satisfying even as a meal. All you need is a glass of wine and a small salad and it's an instant dinner for two, or appetizer for a small group.
Ingredients
1 pound (455g) zucchini , coarsely grated
2 tablespoons (30g) butter
1 clove garlic , minced
3 tablespoons (45ml) minced shallots (about 2 medium shallots)
½ teaspoon smoked paprika
kosher or sea salt , to taste
fresh grated black pepper , to taste
¼ cup (60ml) grated parmesan cheese.
zest of 1 medium lemon
2 teaspoons (10ml) lemon juice
10 oz. (300ml) ricotta cheese about
Slices of crusty bread , grilled (about 1 baguette worth)
Instructions
Lay grated zucchini on paper towels to squeeze out excess moisture.

Heat medium skillet on medium-high heat. Melt butter, and then add garlic and shallots. Cook until translucent, about 30 seconds to 1 minute.Add zucchini. Cook until tender, about 2 minutes.

Add smoked paprika, salt and pepper to taste. Cook for additional 1 minute, and then remove from heat. Allow zucchini to cool and release moisture, about 10 minutes, then drain excess moisture from the zucchini.Stir in parmesan cheese, lemon zest and lemon juice.

Spread ricotta cheese on toast and spoon over zucchini. Sprinkle with paprika or lemon zest for garnish. Serve warm.
Nutrition Information per Serving
Calories: 303kcal, Carbohydrates: 22g, Protein: 15g, Fat: 18g, Saturated Fat: 11g, Trans Fat: 1g, Cholesterol: 57mg, Sodium: 361mg, Potassium: 467mg, Fiber: 3g, Sugar: 5g, Vitamin A: 895IU, Vitamin C: 22mg, Calcium: 279mg, Iron: 2mg
We are a participant in the Amazon Services LLC Associates Program, an affiliate advertising program designed to provide a means for us to earn fees by linking to Amazon.com and affiliated sites.