In the kitchen with Wolfgang Puck and Alain Ducasse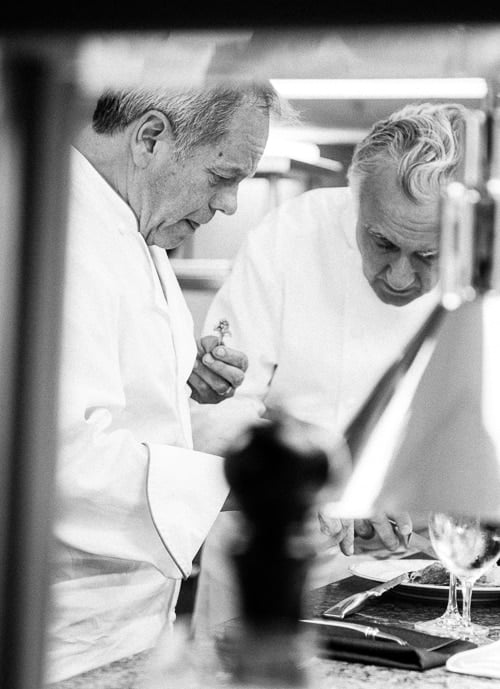 It's been a while since this incredible evening happened, but thanks to a few nudges from you guys, we reached back into our archives for the images. What would we do without you amazing people? You keep us in check and encourage us to post regularly. Thank you for that.
You see, we were asked to photograph a private dinner party at Hotel Bel Air's signature restaurant in Beverly Hills. When the request for a quote came in, we thought it would be a cool evening to shoot under the stars in one of LA's most talked about historic hotels. We've shot all throughout Los Angeles's prized restaurant jewels, so this seemed like one of our typical evenings of photography work.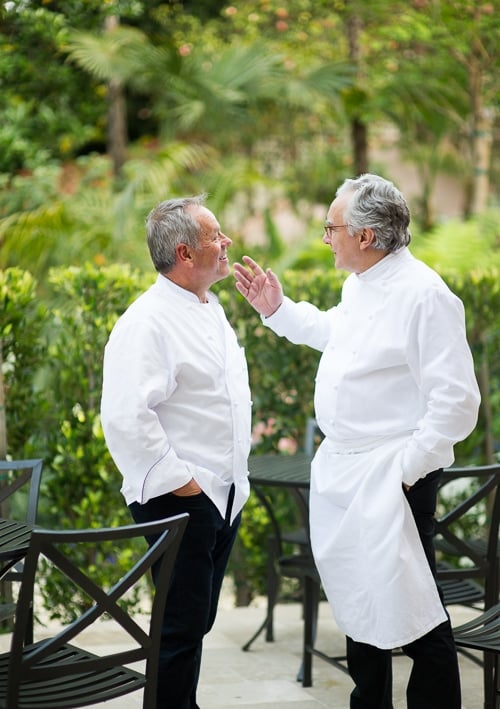 The photo assignment included all the usual requests that an art director and photo editor would need to have. But then when there was the mention for portrait shots of Puck and Ducasse, we did a double take.
Alain Ducasse? Wolfgang Puck? Private Dinner Event. Ok, now this was something really special. That meant having to actually get dressed up (even as photographers), iron some wrinkled clothes, shine our shoes and strap up with our cameras for an incredible evening.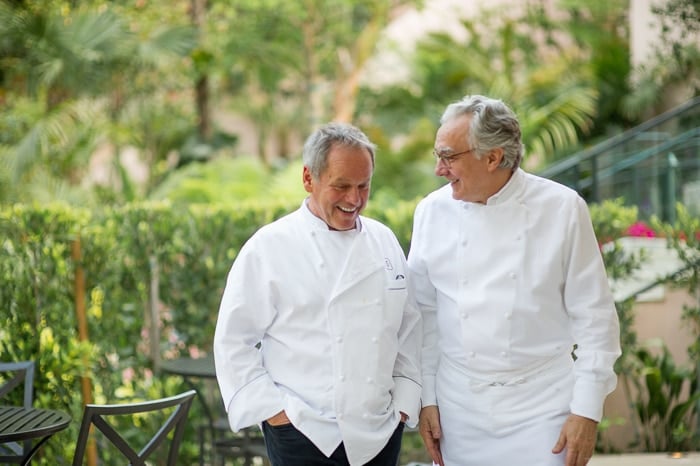 And what an incredible evening it was. Wolfgang Puck's signature restaurant at Hotel Bel Air was having a special dinner event with special guest Chef Alain Ducasse. Both chefs are friends, both are respected in their profession, and both have an incredible sense of humor. All that, along with some fantastic food, wine, company, conversation and photographs made this one our the most fun photographic evenings we've ever been a part of.
Why we love our job so much is that much of our time is shooting in the field and on location. The talent, ranging from home cooks to established chefs, are always such a pleasure to work with. They bring us into their lives and allow us to capture those private, intimate and special moments that few get to experience.
Most importantly, they trust us to share and tell their story. That trust is a huge honor for us and we take our work very seriously.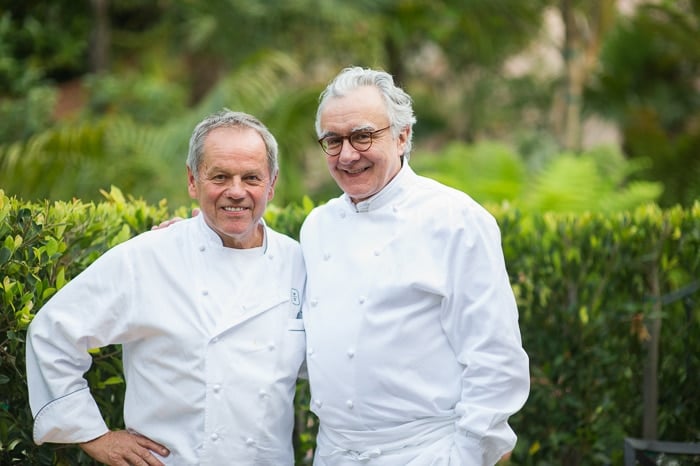 So for this evening, we were requested to shadow both Chef Puck and Chef Ducasse during their time in the kitchen and with guests in the dining area. On top of that, our assignment was to capture food detail, restaurant detail, restaurant activity, motion, emotion, interaction, plating, staff activity, staff beauty shots, guest shots, guest activity………and the list goes on.
How did we do? We tried our best, shot like crazy, ran around property to capture every moment listed and made a lot of new friends. Then we made it home before midnight and passed out into a wonderful deep sleep.
Do we still love our job? Absolutely, positively, yes.
-diane and todd
Chefs Ducasse and Puck busy in the kitchen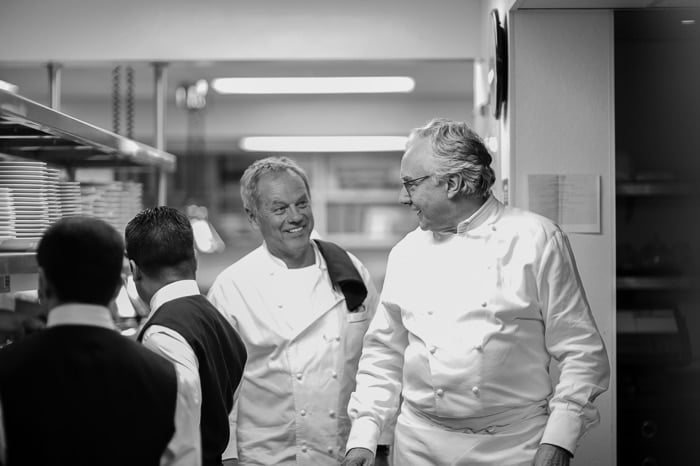 Outdoor seating under the veranda. It was a beautiful afternoon.
Guests have arrived and the evening is in full swing.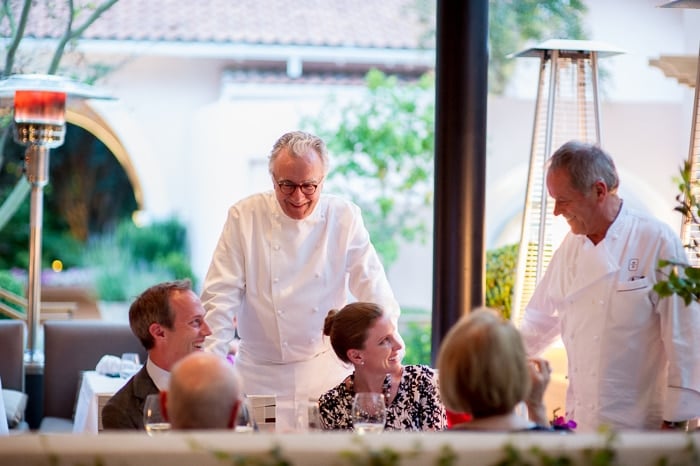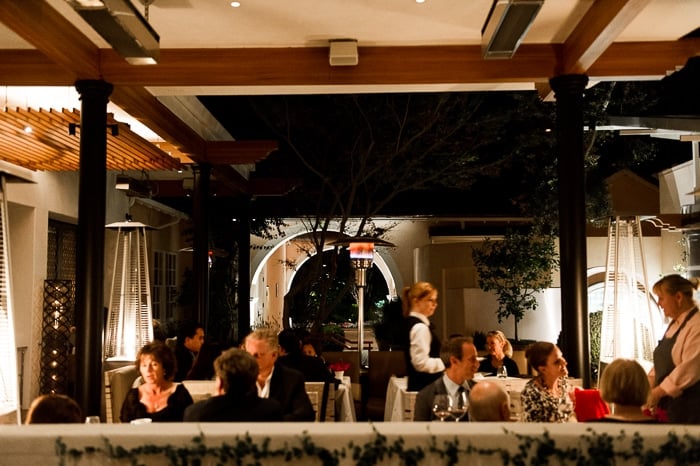 Todd hiding behind the door and Diane backed up against the wall! The End.

More Chef shoots:
[ad]
We are a participant in the Amazon Services LLC Associates Program, an affiliate advertising program designed to provide a means for us to earn fees by linking to Amazon.com and affiliated sites.