Quinoa Salad with Cucumber, Mint and Shallot Vinaigrette
Our simple quinoa salad is always a crowd pleaser with a fantastic shallot vinaigrette. The crunchy cucumbers and mint add a bright freshness that everyone loves.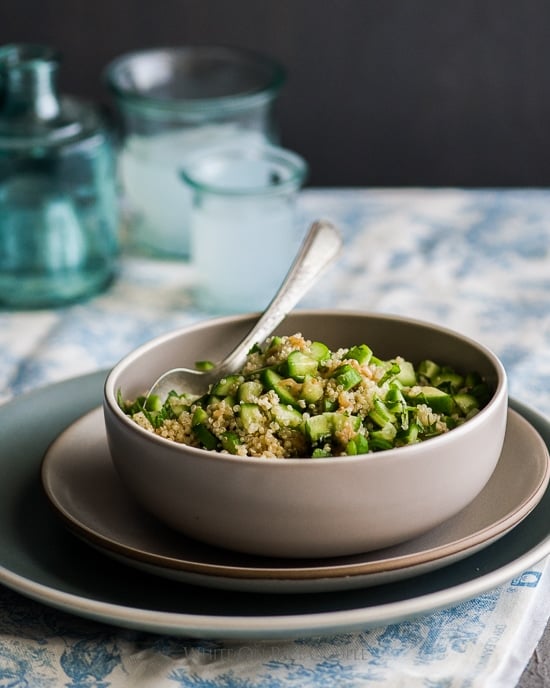 Can this be real? It's 2018 already and we didn't even get a chance to wish you all a proper Happy New Year. Hope you all are geared up for a thrilling New Year being surrounded and sharing moments with people that matter most to you. There's so much to share with you all and when the time is ready, we can gather up the proper pictures, videos and words to give you a glimpse into our insanely busy, productive, painful, back-aching, blistering and happy past 6 months. What have we been up to? Well, we decided to have a second home base up in the mountains. When we're up there, our days are filled with hard physical work trekking through the forest. Yeah, it's only 8.5 hours away from our Southern California home but it's a new happy place and hoping one day to make it a happy place for many. It's always been a dream to build a special retreat like this in the mountains and pretty soon you'll all be able to understand why this little part of our forest matters so much to us.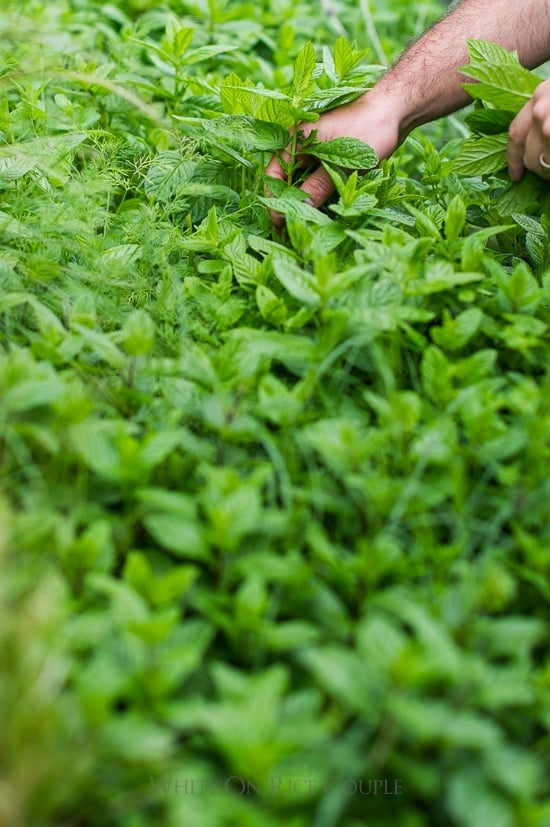 Simple Quinoa Salad Recipe
In the meantime, we haven't stopped cooking and of course, eating. We've worked on so many delicious photography projects over the last few months and it never ceases to amaze us at so much fun it is to be in the kitchen. Our studio time and location shoot days are great too, but to be able to just fiddle around in the kitchen with amazing ingredients and play with food is always super special. Salads have been at the top of our list these past few weeks and we are always reminding ourselves to enjoy a bountiful bowl of salad. It's a great starter and honestly, a great meal-in-itself. Sometimes working with so much fancy food on-set all day at work gets us craving simple, clean and refreshing foods.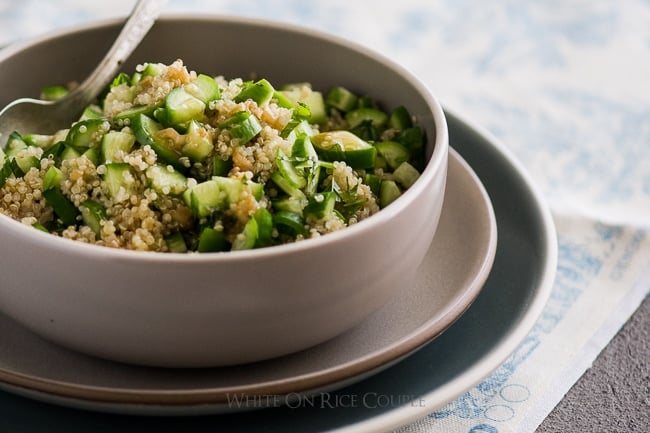 Salad always hits the spot and this quinoa salad is full of crispy, crunchy cucumbers. Add a happy handful of refreshing mint topped with a savory shallot vinaigrette and what you have is truly a great side dish. If you eat a double or triple serving of this, consider it dinner. Honestly, it's so delicious that you just might want to have this for dinner by itself. And remember to not forget to add a nice glass of crisp white wine. It's a perfect pairing!
hugs,
diane and todd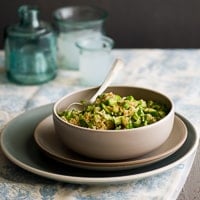 Print Recipe
Cucumber Mint Quinoa Salad with Shallot Vinaigrette
It's salads like this one that really let cucumbers shine and make us crave them even more; it's full of crunchy freshness, and the mint-quinoa combination makes it a perfect summer picnic dish to share with friends.
Recipe from our cookbook: Bountiful.
Servings: 6 servings
Calories: 207kcal
Ingredients
FOR THE SHALLOT DRESSING
1/4 cup (60 ml) olive oil or grapeseed oil
3 large (3 large) shallots , minced
3 cloves (3 cloves) garlic , minced
2 teaspoons (10 ml) sugar
2 tablespoons (30 ml) soy sauce
1 teaspoon (5 ml) sesame oil
1/4 teaspoon (1.25 ml) kosher salt or sea salt
1 tablespoon (15 ml) rice vinegar
1 tablespoon (15 ml) fresh lemon juice
Freshly cracked black pepper
FOR THE SALAD
1 cup (170 g) uncooked quinoa (see Note)
2 cups (480 ml) water
1 cup (135 g) diced cucumber
1/2 cup (40 g) chopped fresh mint leaves , or more to taste
Instructions
Make the shallot dressing: In a saucepan, heat 2 tablespoons of the olive or grapeseed oil over medium-low heat. Add the shallots and garlic and cook until a light golden brown or until fragrant, about 2 minutes. Immediately remove the pan from the heat and add the remaining 2 tablespoons olive or grapeseed oil, the sugar, soy sauce, sesame oil, salt, vinegar, lemon juice, and pepper to taste. Stir until the sugar dissolves and all the ingredients are well combined. Set aside to marinate briefly.

Make the salad: In a saucepan, combine the quinoa with 2 cups (480ml) water. Bring to a simmer, cover, then reduce the heat to low and cook for 15 minutes, or until the water is fully absorbed. Place the cooled quinoa in a large bowl. Add the cucumbers and chopped mint and stir to combine.

Add the shallot dressing and toss well to coat. Serve immediately, or chill in the refrigerator and toss again before serving.
Notes
NOTE: For a warm quinoa dish, toss the cucumbers and herbs with the quinoa while it is still warm. Prepare the dressing as instructed and toss with the warm quinoa mixture. Serve immediately.
Nutrition
Calories: 207kcal | Carbohydrates: 21g | Protein: 5g | Fat: 11g | Saturated Fat: 1g | Sodium: 435mg | Potassium: 229mg | Fiber: 2g | Sugar: 1g | Vitamin A: 175IU | Vitamin C: 3.3mg | Calcium: 28mg | Iron: 1.7mg
We are a participant in the Amazon Services LLC Associates Program, an affiliate advertising program designed to provide a means for us to earn fees by linking to Amazon.com and affiliated sites.