Fresh Vietnamese Spring Rolls with Shrimp and/or Pork
We're back, cooking in our home kitchen again eating Vietnamese Fresh Spring Rolls and it feels nice to be making food that isn't for a shoot. We've had a fulfilling four weeks of back to back shoots and working with some of the coolest and creative people in advertising, but it's always nice to be able to wind down and cook to eat, rather than for the camera. And best of all, we don't always have a sink full of dirty dishes! That's part of our days on shoots, tending to towering piles of dirty dishes.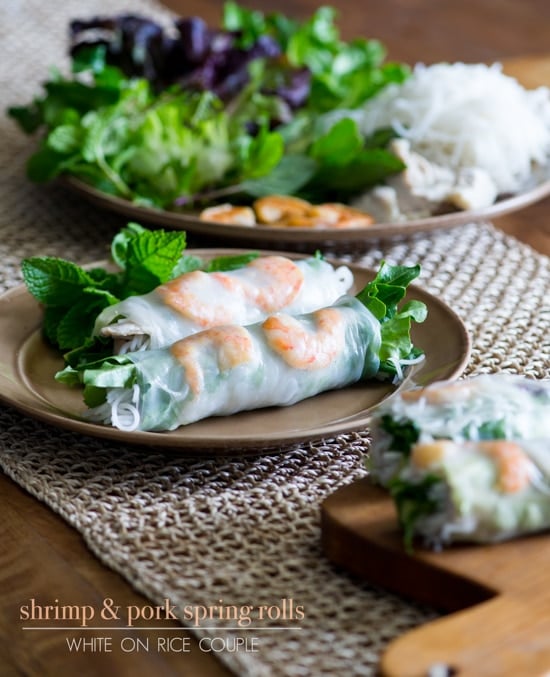 Easy and Fresh Vietnamese Spring Rolls Recipe
The first thing that we missed eating at home were Vietnamese fresh spring rolls. We just can't get enough of these fresh Vietnamese spring rolls. The timing couldn't have been more perfect and inspired because we haven't made our pork and shrimp spring rolls in a while. This is one of those perfect lunches and dinners that is so easy to make, that can feed a hungry family and is both healthy and satisfying. As the weather warms up, we tend to stray away from heavy lunches because our bodies start calling out to take a nap.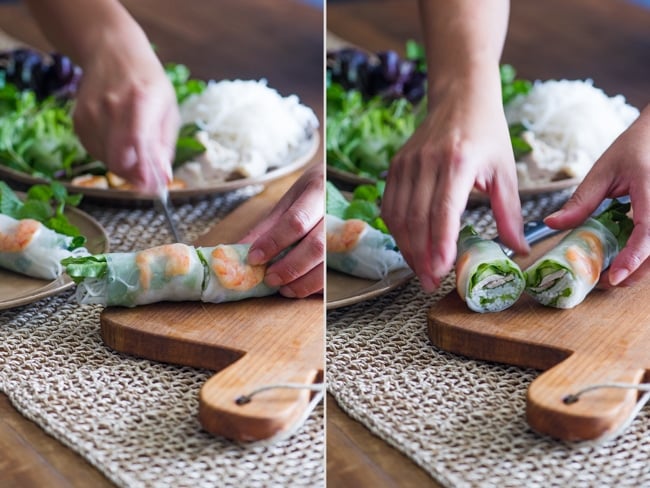 Watch How To Roll Fresh Shrimp Spring Rolls Recipe Video
Video: Basics on How To Roll Fresh Spring Rolls:
Some cooks find it intimidating to work with spring roll wrappers, but once you understand how to work with them, it's really easier than you think to make these Vietnamese Fresh Spring Rolls. The key is making sure you don't over soak your wrappers and having all your ingredients all prepped and ready to go. Mis en place organization is important and once you have all your vegetables and fillings out and ready, rolling and eating the spring rolls is so much for fun. We wrote a tutorial on how we roll our spring rolls. Hopefully it'll be of help to you when you venture into this dish.
Enjoy,
diane and todd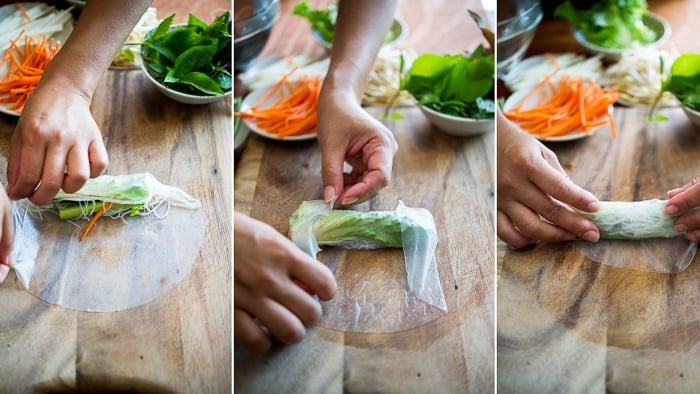 Favorite Spring Roll Ingredients and Tools:
It can sometimes be hard to find good spring roll ingredients and tools. Here's some of the favorites: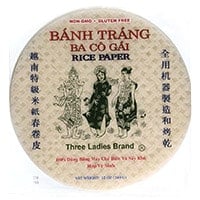 Three Ladies Rice Paper Wrappers – Love these wrappers. Easy to work with. Consistently one of the best wrappers we've found.
Rice Paper Water Bowl – The perfect bowl for dipping the rice paper at the table. These have been life changers when it comes to our spring roll parties. Easy for everyone to dip and takes up so much less table space.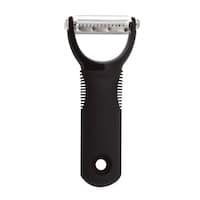 OXO Julienne Tool – This little tool makes julienning the carrots and other ingredients a breeze.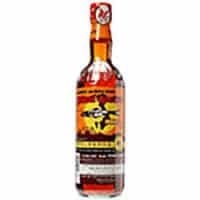 Flying Lion Fish Sauce – This has been our house fish sauce for decades. Great stuff! We'll use it to make our dipping sauces as well as marinades.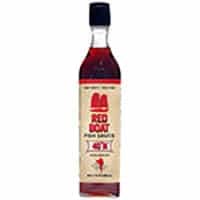 Red Boat Fish Sauce – 100% all natural first press extra virgin Vietnamese fish sauce. A solid craft fish sauce producer.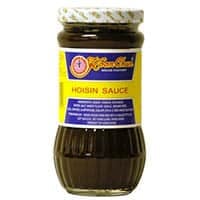 Koon Chun Hoisin Sauce – Our house favorite hoisin sauce. Great flavor. We use it to make a dipping sauce for spring rolls.
finished roll! For open ended rolls, just fold the wrapper in half & let the lettuce peek out the ends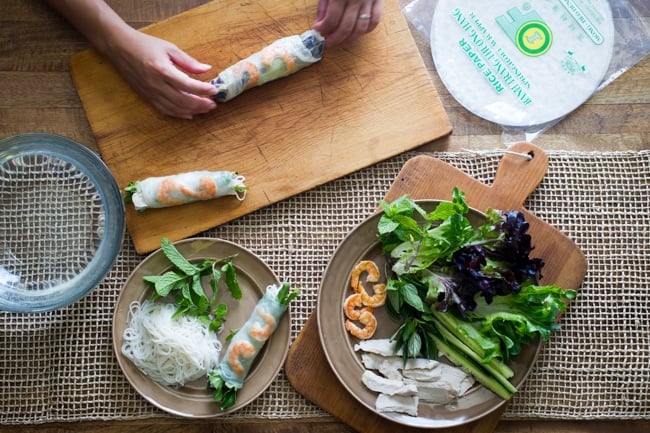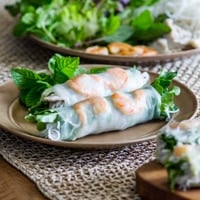 Pork and Shrimp Spring Rolls
You can make these rolls with what ever you want. Just add your favorite ingredients and make them your own! Visit our complete tutorial on how to roll these fresh spring rolls and check out our collection of different spring roll recipes too.
Ingredients
for the pork and shrimp spring rolls:
1/2 lb. (227 g) medium shrimp , peeled and deveined
1 tablespoon (15 ml) vegetable oil
1/2 lb. (227 g) boneless pork loin or pork shoulder
8 oz. (227 g) package dried rice vermicelli noodles or "rice sticks", cooked to package instructions
1 small (1 small) head of lettuce
1 medium (1 medium) cucumber , cut into thin strips
fresh herbs: mint, asian basil, Vietnamese coriander, Vietnamese perilla or cilantro
12 8-inch (12 8-inch) rice paper wrappers or rice paper spring roll wrappers
for hoisin peanut dip:
1/4 cup (70 g) hoisin ( If hoisin dip is too thick, add water to thin out the dip)
2 tablespoons (30 ml) peanut butter , almond butter, or cashew butter.
1 teaspoon (5 ml) rice vinegar
1/2 teaspoon (2.5 ml) sesame oil
1 teaspoon (5 ml) chili garlic sauce , optional
Instructions
For the hoisin peanut dip:
In a bowl, combine all dip ingredients together (hoisin, peanut butter, rice vinegar, sesame oil, and optional chili garlic sauce and optional water, if needed). Use a fork to help blend well.
For the rolls:
Cook the dried rice vermicelli noodles to package instructions. Drain and set aside.

Cook the Pork. Cook using any method you prefer: grill, pan sear, bake, etc… We love to used grilled pork steaks, but traditionally it is commonly boiled. To Boil: Bring medium pot of water to boil and add pork. Boil the pork on medium heat for about 15-25 minutes or until the pork is cooked. Remove from water, allow to cool and slice into thin strips.

Cook the Shrimp: Cook using any method you prefer: grill, pan sear, boil, broil, etc… We prefer to pan sear.To Pan Sear: Heat a medium pan, add vegetable oil. Lay shrimp on pan and sear on both sides until shrimp becomes pink and cooked. Remove shrimp from heat, allow to cool and slice each shrimp lengthwise in half.

Gather all your filling ingredients on plates: noodles, shrimp, pork, lettuce, cucumber, herbs and rice paper wrappers.

Add warm water to a large bowl. Quickly dip each rice paper wrapper in warm water for a few seconds and lay on rolling surface such as a cutting board or plate (they will still be slightly stiff).

Lay your lettuce first on the soft spring roll wrapper, then add the strips lettuce, herbs, cucumber, noodles and pork.

Roll spring roll until you have about 1/3 of rice paper left, then lay about 2-3 pieces of shrimp, cut side up in a row and finish rolling. The shrimp will lay on the outside of the spring roll when you are finished rolling.Serve with the hoisin peanut dip.
Nutrition Information per Serving
Calories: 161kcal, Carbohydrates: 20g, Protein: 10g, Fat: 4g, Saturated Fat: 1g, Cholesterol: 59mg, Sodium: 304mg, Potassium: 176mg, Fiber: 1g, Sugar: 2g, Vitamin A: 150IU, Vitamin C: 2.1mg, Calcium: 42mg, Iron: 0.9mg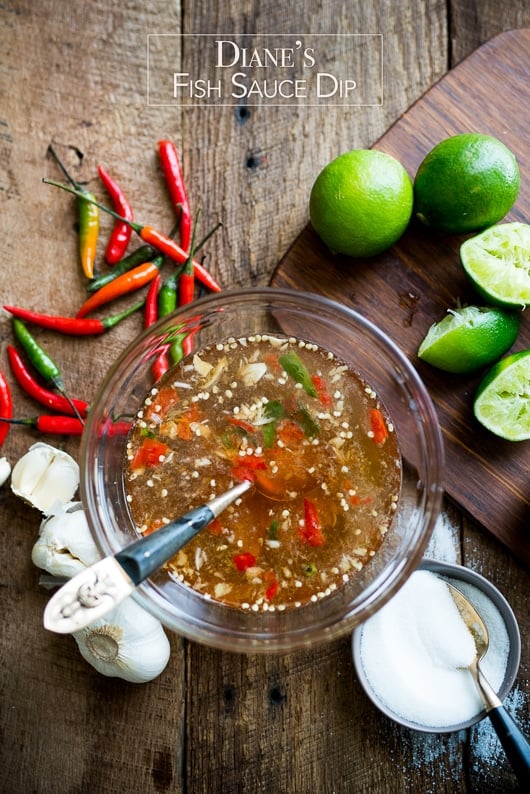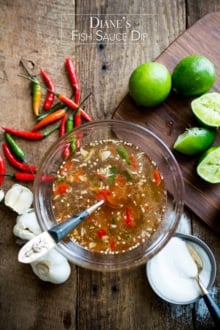 We are a participant in the Amazon Services LLC Associates Program, an affiliate advertising program designed to provide a means for us to earn fees by linking to Amazon.com and affiliated sites.