Strawberry Mojito Recipe
This strawberry mojito cocktail recipe is perfect when you have sweet seasonal strawberries. When it's hot outside, this strawberry mojito recipe is also perfect. It's refreshing, perfectly sweet, fruity and fragrant of the season.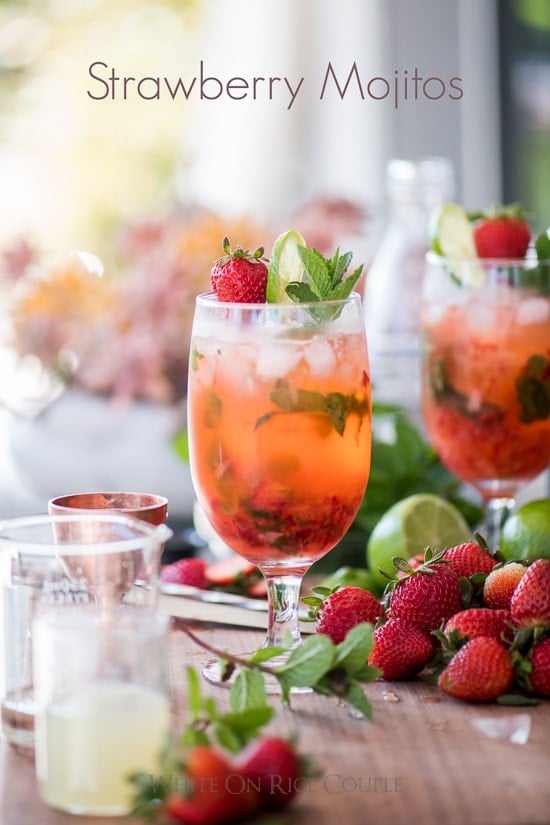 Strawberry Mojito Recipe
How lucky are we to be in mild So Cal weather? Very lucky, but we're not bragging. And hey, we have congestion and smog to add to our heat, so there's always a trade-off with our mild weather! After a long work day when we're in town, we spent quite a bit of time in the backyard pulling weeds, trimming excess branches and building up a hefty thirst. Normally we have quite a collection of ice cold bottles of Rose in the fridge, but mixing it up with summer cocktails keeps us inspired and energized to weed some more. As of late, the mint seeds we sprinkled in the garden is taking off beautifully. An abundance of fresh mint in these strawberry mojito drinks are always a fabulous late Spring and Summer quencher.
Watch this refreshing Strawberry Mojito Drink Video: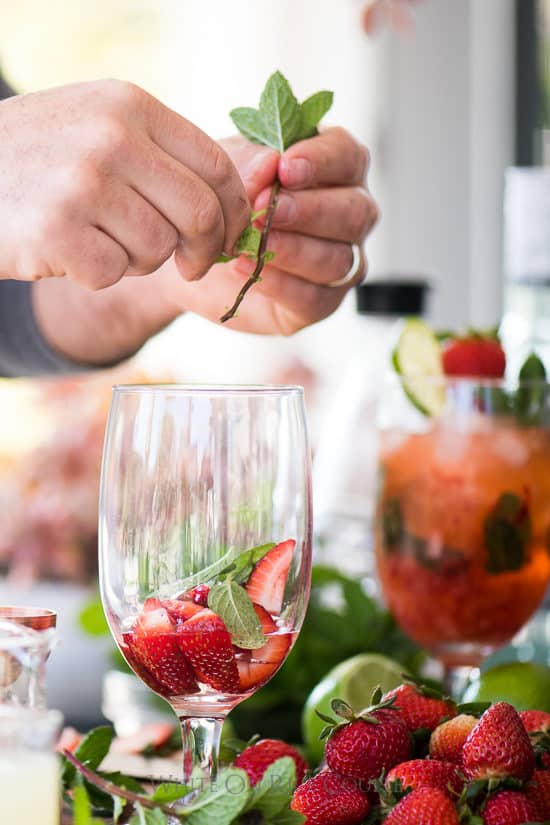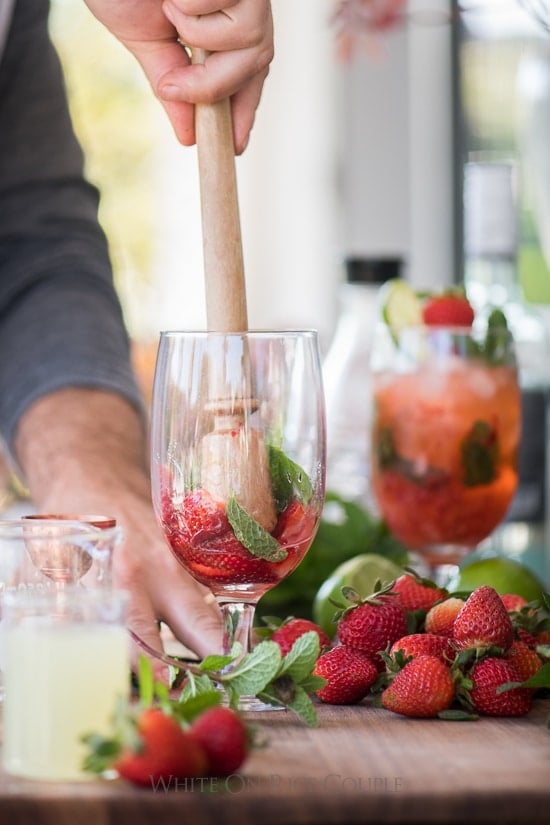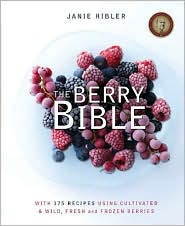 For berry lovers theres a great new reference and recipe book, appropriately called The Berry Bible. Every single page in this thorough book by author Janie Hibler is helpful for anyone wanting to expand their repertoire for berries, particularly to those to worship berries. Thus, The Berry Bible title.
Classic berries such as strawberries, raspberries and blueberries are covered in depth, but extra commentary on unique berries make this book even more fascinating. Buffalo berries, cloud berries and josta berries are just a few examples of unique fruits to school you to a higher level of berry knowledge. The Berry Bible doesn't have any photographs, but rather, the valuable information, fresh recipes and interesting topics make it a worthy reference to have on your bookshelf.
Can You Use Other Berries for Mojitos?
Yes you can substitute different berries for our strawberry mojito cocktail! You can try this with muddled blueberries, blackberries or raspberries. There's lots of possibilities to mix this recipe up with your favorite berries. Or you can do a mixed berry mojito and it will be equally delicious.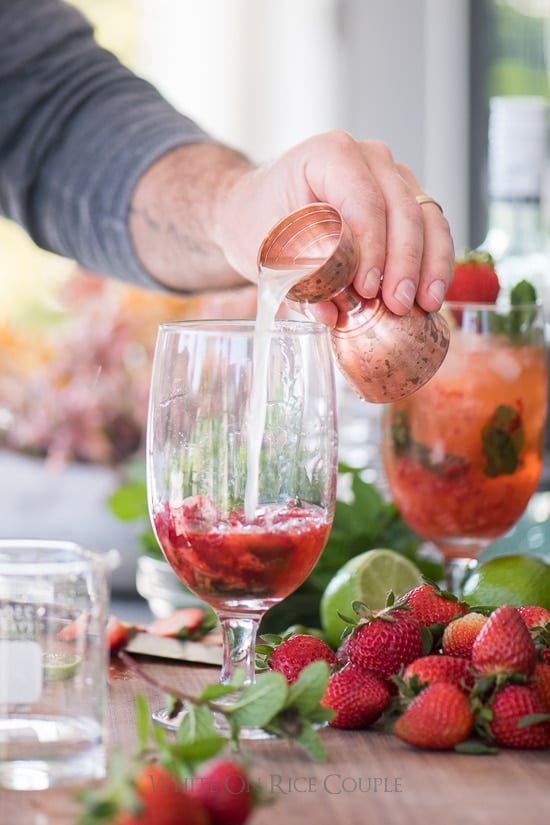 Cocktails & Beyond – Here's some of our favorite finds:
We tend to be a bit obsessive over our cocktail tools. Here's some of our favorites we've collected and put to use over the years: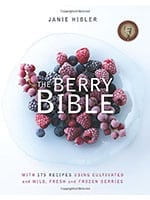 The Berry Bible by Janie Hibler
– A great source of inspiration and recipes for berry deliciousness.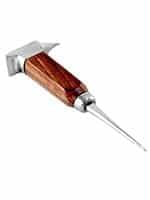 Yamachu Japanese Ice Pick
– My favorite cocktail tool. With swag and great function, it's perfect for us cocktail geeks.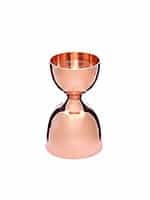 Cocktail Kingdom Leopold Jigger
– We have a dozen jiggers, but this one is my favorite. Love the copper-plating, quickly gives a lived in patina. Love the lines on the inside marking off different measurements.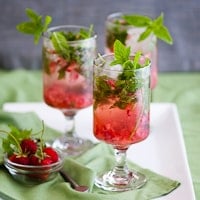 Strawberry Mojito Cocktail Recipe
Adapted from The Berry Bible. The simple syrup recipe in the Notes is for a larger batch of simple syrup to keep on hand. It keeps for months in the fridge if you store it in a clean container. If you don't want to make the simple syrup (although it always great to have on hand) you can muddle in about 1 tablespoon (or to taste) of sugar instead.
Ingredients
1 ounce (30 ml) simple syrup , or to taste
3 (3) fresh strawberries (approximiately)
2-3 (4) fresh spearmint sprigs (chopped if you prefer smaller mint pieces in your cocktail)
1 ounce (30 ml) fresh lime juice
2 ounces (60 ml) light rum
3-4 ounces (90-120 ml) soda water
Instructions
In a chilled highball glass (about 10-12 ounces), muddle the simple syrup, strawberries and mint leaves together with the back of a spoon or muddler. Crush the strawberries and mint leaves well.

Stir in the lime juice and rum. Fill the glass with ice and top off with soda water. Gently stir.

Garnish with mint sprigs or strawberry slices.
Notes
Note 1: A basic simple syrup is a 1:1 ratio of sugar dissolved in water. Example- One cup sugar dissolved in one cup of water. We usually make larger batches and keep on hand in the refrigerator. If possible, make ahead of time and use cooled or preferably chilled when making the cocktails.
Nutrition Information per Serving
Calories: 228kcal, Carbohydrates: 26g, Sodium: 37mg, Potassium: 55mg, Fiber: 1g, Sugar: 22g, Vitamin A: 170IU, Vitamin C: 30.9mg, Iron: 1.2mg
Check out our Cocktail Recipes Here and our Complete Whiskey Guide.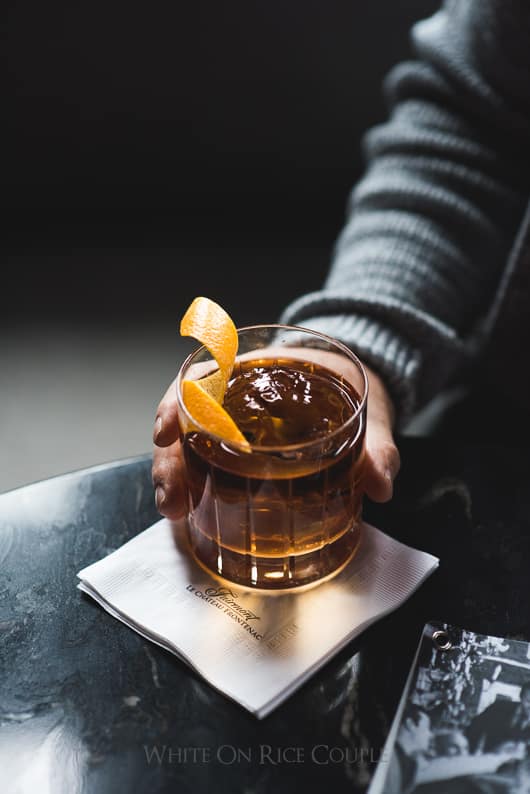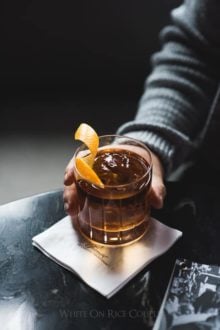 This post was originally published in 2010 and re-published in 2018 with new step-by-step photos!
We are a participant in the Amazon Services LLC Associates Program, an affiliate advertising program designed to provide a means for us to earn fees by linking to Amazon.com and affiliated sites.