Thomas Keller's Red Beet Ice Cream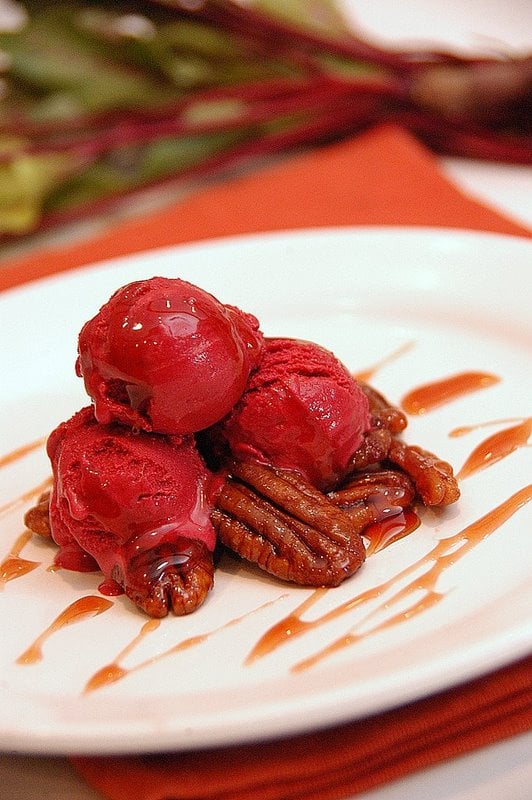 This post was one of our first recipe posts back in 2008. It's fun to see how our photography and garden has changed over the years!
Quiz–How many of our garden baby beets does it take to make a batch of Thomas Keller's red beet ice cream?
Answer-A whole heck of a lot! How about just making half a batch? Still, a whole heck of a lot! Four packages of beet seeds, a garden plot of newly conditioned soil, consistent water, love and sunshine has still only produced finger sized beet roots after 5 months of growth. Like our world smallest carrots, harvesting these beets while they're still cute with baby roots could also qualify them to be another potential "worlds smallest" dish. We're not trying to break "worlds smallest vegetable" records here, nor are we that impatient of gardeners who are unwilling to see our veggies to full maturity. But a shortage of garden space, lots of warm sunshine and over-crowded herb seedlings screaming out to be transplanted are forcing us to harvest half our root vegetables while they're still baby small. Besides, these midget beets do make for some adorable photography!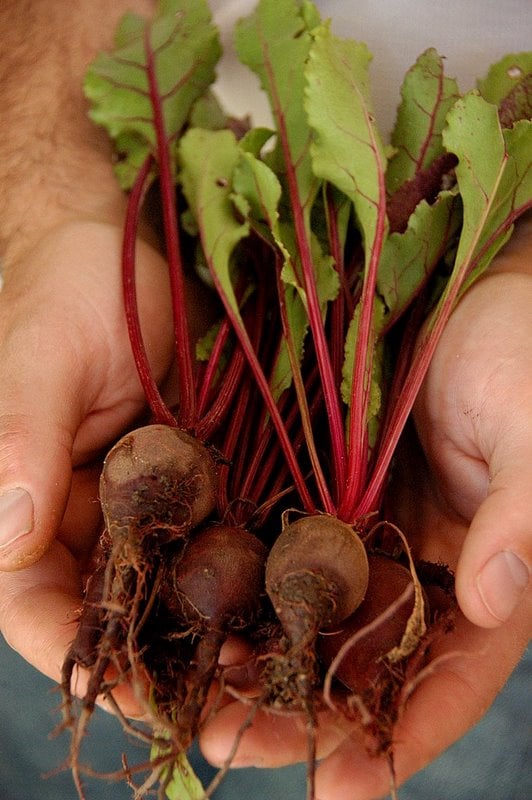 We attacked our beet root plot today to make a Spring batch of red beet ice cream. In Thomas Keller's, The French Laundry Cookbook, he discusses a chocolate cake his mother used to make for him in which she added grated beets to it. The result was a unique cake with a deep, dark, beet red color. When he created this red beet ice cream, he knew that he wanted to serve it with the same kind of chocolate cake. We didn't make the chocolate cake that was included in the recipe because we figured the ice cream was a nice enough treat for this weekends warm weather. Besides, we just made two birthday cakes for the twin brothers' birthday yesterday- we're kinda caked out right now. Keller's chocolate cake will be on our cooking agenda later on.
The recipe requires extracting the juice of raw beets with a juicer. We don't have a juicer and opted for liquefying the quartered beets in our blender, with the addition of a little water. It worked quite nicely and we continued on to strain the beet liquid and reserved the required beet pulp for use further on in the recipe. He also tops this ice cream with candied walnuts and a walnut syrup, but we only had pecans in the pantry so the pecans replaced the walnuts.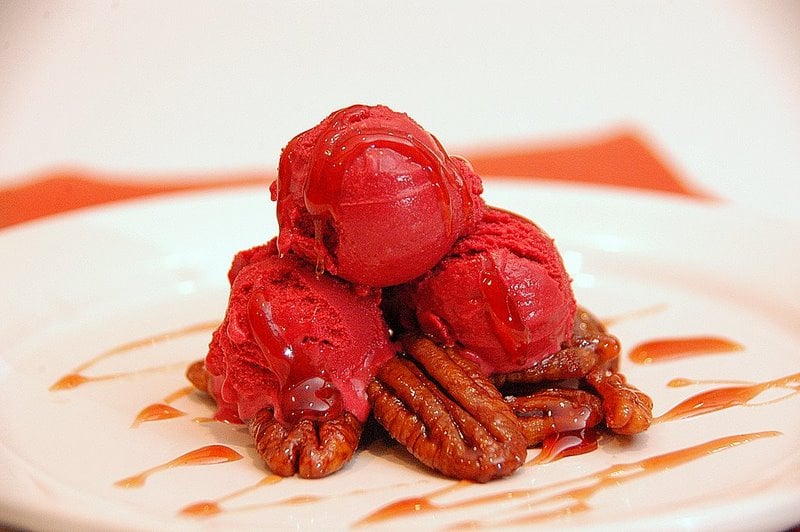 The red beet ice cream is so delicious!! Not really knowing how the beet flavors would transcend to an ice cream, we were both curious and cautious. But the creamy, smooth and full, sweet beet flavors in this dessert were so beautiful! One word of caution: this recipe follows the fate of the beet root in many steps- whole, peel, cut, pulp, juice, strain, reduce, strain (Keller loves to strain), temper and strain some more. You'll be seeing red stains everywhere from your hands to the kitchen. Just don't wear your favorite Spring white shirt for this concoction! Oh, BTW- did we mention that you'll be straining a lot in this recipe?
P.S. (Update) We had some leftover chocolate sauce which we just tried on the beet ice cream with the candied pecans. That put it over the top with and incredible layering of flavors. Damn Tasty!s!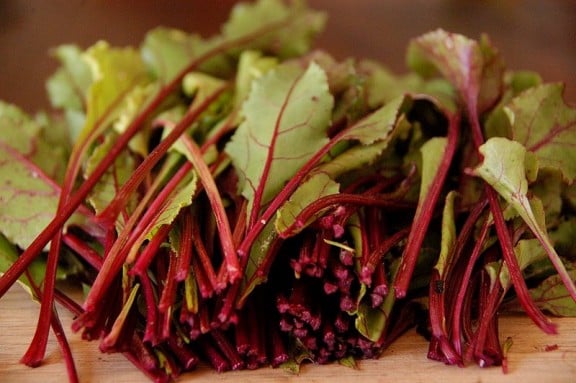 The left over baby beet greens were so tender and perfect, their fate became a delicious sauteed beet green salad. Since we couldn't let the greens go to waste, we created a this salad with what available ingredients we were able to find in our kitchen. This simple saute of shallots, black pepper, soy sauce, beet greens, and feta cheese, all topped with the candied pecans was delicious too! The soft, slightly melting feta cheese went so perfectly with the greens, that we don't feel guilty at all harvesting the beets early just for their leaves!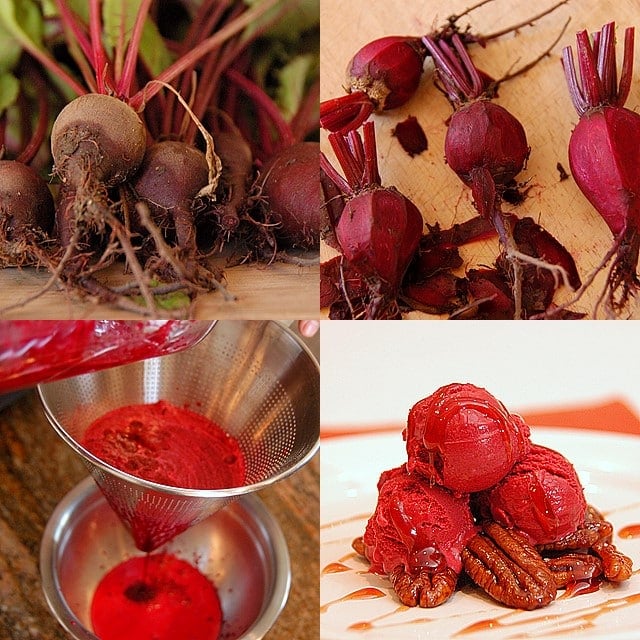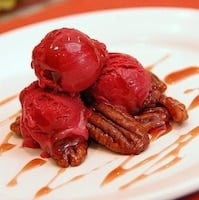 Red Beet Ice Cream Recipe
This recipe is also from Thomas Keller's "The French Laundry Cookbook". He tops the ice cream with the candied walnuts which have been cooked in a poaching liquid. The poaching liquid mise en place works great for most any poached fruit dessert.
Ingredients
Beet Ice Cream Ingredients
2 lbs (910 g) Red Beets, peeled & quartered
2 cups (475 ml) Heavy Cream
2 cups (475 ml) Milk
3/4 cup (150 g) Sugar
8 lrg. Egg Yolks
Candied Walnuts Ingredients
2 cups (475 ml) Poaching Liquid (see recipe below)
8 oz (225 g) Walnut Halves, toasted and skins rubbed off
1/2 teaspoons (3 g) Kosher salt
Poaching Liquid Ingredients
750 ml Dry White Wine ((like a sauvignon blanc)
3 cups (710 ml) Water
1 cup (200 g) Sugar
Juice of 1 Lemon
Instructions
Beet Ice Cream Directions
For the red beet ice cream. Put the beets through a vegetable juicer, reserving the pulp; you should have about 2 c of juice. (If you are lacking the fancy machinery of a juicer, do the following: Puree the beets in a blender, adding just enough water to allow the beets to liquefy. Strain the beets thoroughly. Don't forget to reserve the pulp.) Place the juice in a saucepan and reduce over low heat, skimming as necessary, to about 1/4 c. Strain the liquid into a container, cover, and place in the fridge.

In a saucepan, combine the reserved beet pulp with the cream and milk. Bring to a simmer, cover, and remove from the heat for about 30 min.

Strain the liquid and measure out 3 c (discard any extra.) Return it to the saucepan, add half the sugar and bring to a simmer, stirring to dissolve the sugar.

Meanwhile, in a bowl, whisk the egg yolks with the remaining sugar until they have thickened slightly and lightened in color. Gradually whisk about 1/3 of the hot liquid into the yolks to temper them. Return the mixture to the saucepan and heat, stirring with a wooden spoon, until the custard has thickened and coats the back of a spoon. Pour the custard into a bowl set in an ice-water bath and let cool.

Strain the cooled custard into a container, cover, and refrigerate for a few hours, until cold, or overnight (for the creamiest texture).

Stir the reduced beet juice into the custard and freeze in an ice cream machine. Remove the ice cream to a covered container and store in the freezer for at least 2 hours, or up to 2 days.
Candied Walnuts Directions
For the Walnut Syrup and Candied Walnuts. In a saucepan, bring the poaching liquid to a boil, then add the walnuts. Reduce the heat and simmer until the liquid is reduced to 2/3 c.

Preheat oven to 250ºF. Line a baking sheet with parchment paper.

Strain the syrup into a container, cover and refrigerate. Spread the walnuts onto the baking sheet, sprinkle with salt, and put in the oven for about 30 min. To test, remove a walnut from the oven, allow to cool, and taste. It should be crunchy. If not, continue baking for a little longer. Let walnuts cool on baking sheet. Store in an airtight container at room temperature, or a plastic bag in the freezer.
Poaching Liquid Directions
For the Poaching Liquid bring the wine to a boil in a saucepan. Skim any foam from the top.

Add water and sugar, then heat until sugar is dissolved. Remove from heat and add lemon juice. Store covered in a refrigerator for up to several weeks.
We are a participant in the Amazon Services LLC Associates Program, an affiliate advertising program designed to provide a means for us to earn fees by linking to Amazon.com and affiliated sites.