Homemade flax seed dog biscuits
These homemade flax seed dog biscuits are just one of the ways we can give a little of the love back to our pups, who fill our hearts so. They love us more than we deserve and if there is a healthy way to spoil them, then we are all in.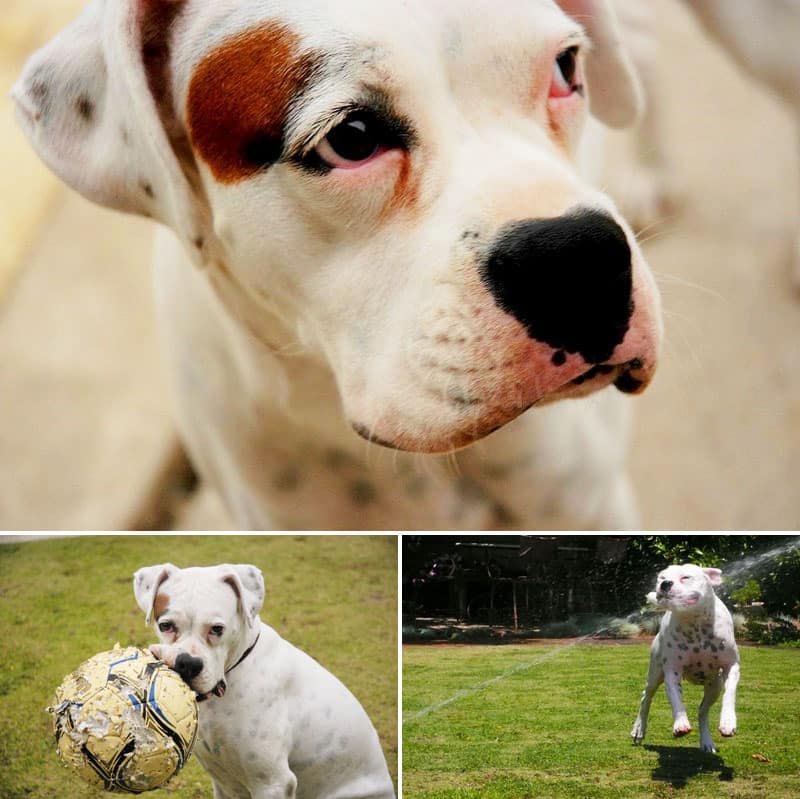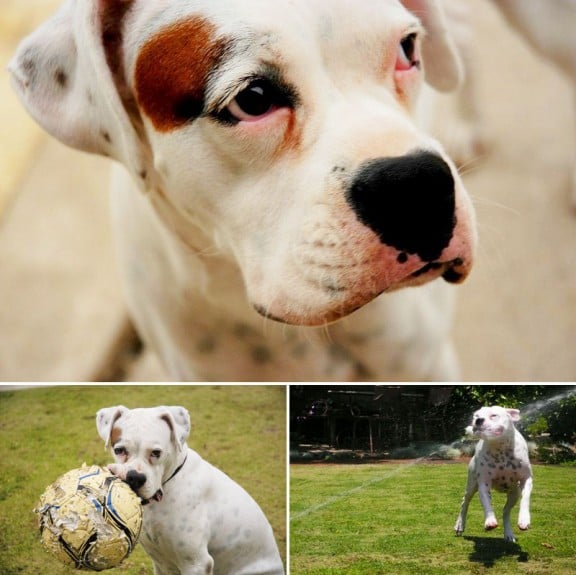 When we saw her 3 years ago, her gentle puppy demeanor, her adorable little brown "pirate patch" over her eye, her lovable licks and her warm, sweet gaze deceived us into believing that she was going to be the perfect puppy.
She tricked us into thinking that with proper, firm training, she would do no harm. Can you call us two big SUCKERS?!! Not only has she killed and pulled up many plants from our garden, those that she has not killed, she's eaten. We finally gave up on the idea of growing rhubarb because she eats the stalks even before the snails get to them. What's left of the plant is a tiny base stalk with a dog paw print as evidence left behind. She loves strawberries too. Every other morning, it's a race to our little strawberry patch to beat her to the ripened berries.
If we're a little late, she'll be found licking her mug free of the super duper sweet chandler strawberry juice. It's SO wrong to see two humans (us) salivating and staring down at a dog (her) who just beat her guardians to their prized strawberries. Can you call us JEALOUS?!! But she is a great soccer player, loves to play in dirt and her love of the sprinklers keep us entertained and forgiving of her destructive ways!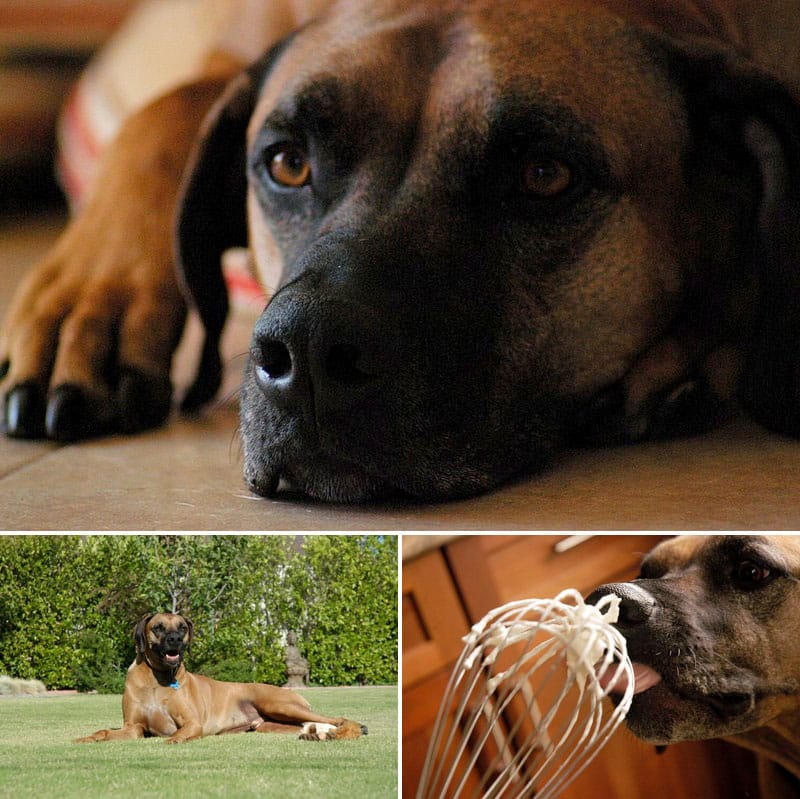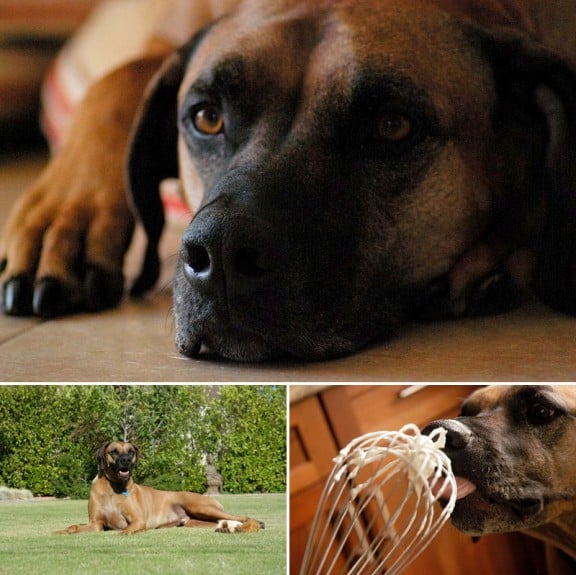 He's big, he's lazy and he's a princess. He is named Dante, inspired during our trip to Rome, after the famed poet Dante Alighieri. We really should have named him "princepesa". Dante is supposed to be the big, strong, noble, athletic and fearless Rhodesian Ridgeback hunter that we also got suckered into loving. Is it too late to get a refund? Isn't there an 8 year dog ownership statue of limitations?!
What we ended up getting was a dog who HATES water, doesn't like to get his paws dirty, screams bloody murder when getting his nails trimmed or when about to get a shot at the vet and sleeps about 20 hours a day. And worse yet, he will not chase balls. Nope, none of this "fetch, Fido, fetch" playtime with Dante. He looks at a tossed ball like it's an insult to his character, giving us that "you really don't expect me to chase that, do you?" look. But wait, those are his GOOD traits.
Their Favorite Dog Biscuits
If there's one significant description to singularly identify this dog amongst others, it's is his love of FOOD. Yes, of course, mostly all dogs love food and love to be fed. But our "great red hope" of a canine is so infatuated with food that if there was a plate of leftovers on the counter sitting over night, he will sit and stare at it ALL NIGHT. True! When we wake up in the morning, we'll find this hound sitting in the kitchen, half asleep, hoping the food will miraculously fall to the floor for him to ingest. But he is part hound and does have great smelling and hunting skills. He can run trails with Mom & Dad like no other, and if one of us gets lost, we're certain that he'll be able to find us by smell. We suppose that's a good thing!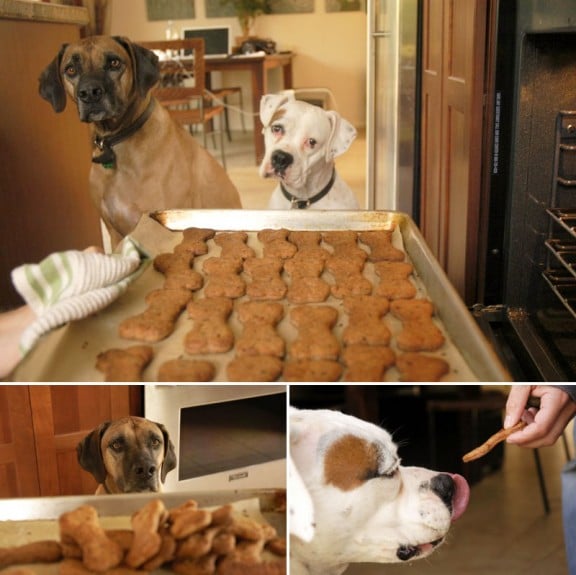 Homemade Flax Seed Dog Biscuits
But they are loved! Aside from our rant, they do get treated quite nicely (we remind them of their fulfilling life). They get plenty of couch cuddles, ear rubs, new toys , daily walks, frequent hikes, beach visits and road trips. In return, they give us unconditional love and loyalty, despite our faults. To show them that they are really, truly and deeply loved, we make them homemade flax seed dog biscuits. Can you call them SPOILED?! Yes, they get homemade dog biscuits made from all natural ingredients. Our highly loved and tattered bible, "The Professional Pastry Chef" by Bo Frieberg, is the ultimate, extensive book that is full of wickedly amazing dessert recipes. But Bo Frieberg's very first recipe in this monstrous book for human consumption is a recipe for dog biscuits, in which he dedicated to his dogs. This recipe has been in the White On Rice Couple's household for 8 years now and along with the addition of flax seeds, it's a culinary tradition will continue to be fully executed for as long as we have four legged monsters in the house. Here's reasons why flax seed is good for dogs.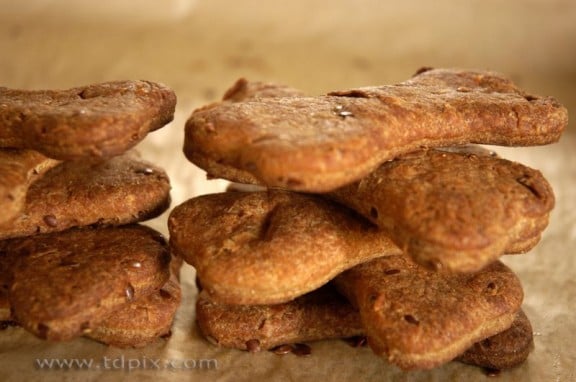 Dog Biscuit Cutter Sets
Here's our favorite cutter sets. Obviously they have many uses beyond puppy treats, but ours tend to see a lot of action in that department. We love how all of these sets store, 'cause nothing drives us nuts more than messy kitchen drawers: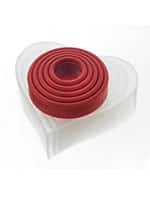 Cuisipro Heart Cutter Set
– Set of 5. Snap together for easy storage Nice heart shape and easy to handle and press.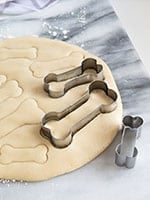 Fox Run Bone Cutter Set
– These are the bone shaped cutters we currently use (a little smaller than the ones used in this post's photos). Fun shape! Set of 3, comes in a handy storage tin.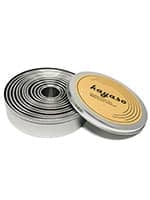 Kayaso Round Cutter Set
– This is our favorite round cutter set. Great selection of sizes. We'll use the smallest for slightly larger than kibble sized training treats.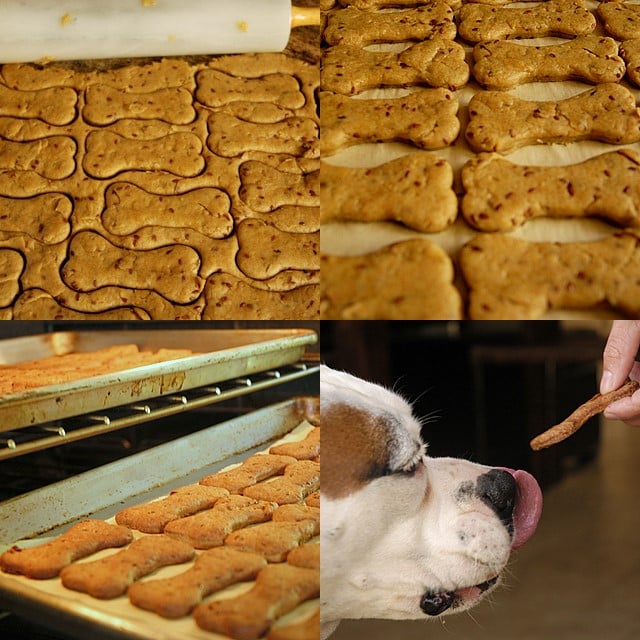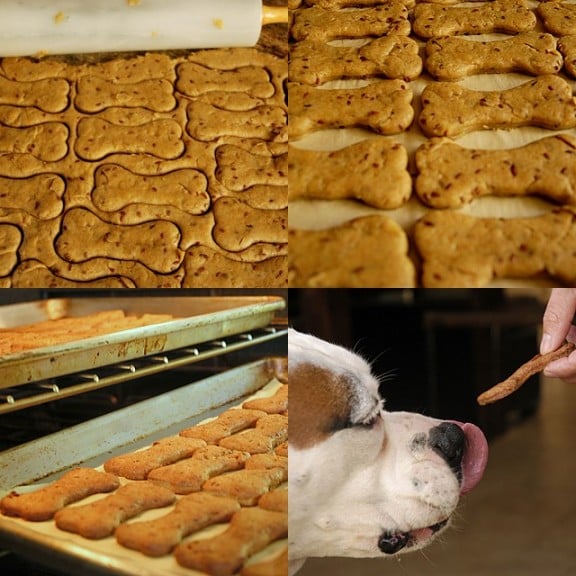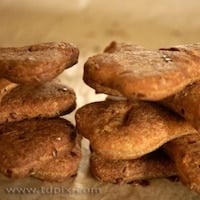 Homemade Flax Seed Dog Biscuit Recipe
Based on the dog treat recipe in "The Professional Pastry Chef" by Bo Frieberg. This is form the heart of a pastry chef to his beloved dogs.
Ingredients
2 3/4 cups (340g) whole wheat flour
2 3/4 cups (340g) bread flour
1/2 cup (40g) wheat germ
1 teaspoon (5g) salt
2 Tablespoons (30g) brown sugar
3-4 Tablespoons Flax Seed (optional)
3 eggs
1 cup (240ml) vegetable oil
2/3 cup (85g) powdered dry milk
1 cup (240ml) water
Instructions
Combine wheat flour, bread flour, wheat germ, salt, and brown sugar, and flax seed in mixing bowl. Stir in eggs and vegetable oil.

Dissolve dry milk in water then incorporate the mixture.

Mix to form a very firm dough that is smooth and workable. Adjust by adding a little extra flour or water as required.

Cover the dough and set aside to relax for 15-20 min.

Roll the dough out to 1/2″ (1.2cm) thick. Cut out biscuits using a bone-shaped cutter 3″x1.5″ (7.5×3.7cm). Place the biscuits on sheet pans lined with baking paper.

Bake at 375°F (190°C) for approx. 40 minutes or until biscuits are brown and, more importantly, rock-hard. Let biscuits cool, then store in a covered container five to six feet off the flour. Use as needed to reward your four-legged friends.)
Nutrition Information per Serving
Calories: 53kcal, Carbohydrates: 6g, Protein: 1g, Fat: 3g, Saturated Fat: 2g, Trans Fat: 1g, Cholesterol: 6mg, Sodium: 29mg, Potassium: 36mg, Fiber: 1g, Sugar: 1g, Vitamin A: 15IU, Vitamin C: 1mg, Calcium: 11mg, Iron: 1mg
We are a participant in the Amazon Services LLC Associates Program, an affiliate advertising program designed to provide a means for us to earn fees by linking to Amazon.com and affiliated sites.