Baked Sweet Onion Dip Recipe and Bountiful Cookbook Dinner
Our popular sweet onion dip recipe is so addicting, it's been dubbed as the sweet onion "crack dip". This recipe was originally published in 2008 and made with Walla Walla sweet onions, inspired by a trip back to Northeast Oregon. You can read the original story and recipe inspiration here. Enjoy!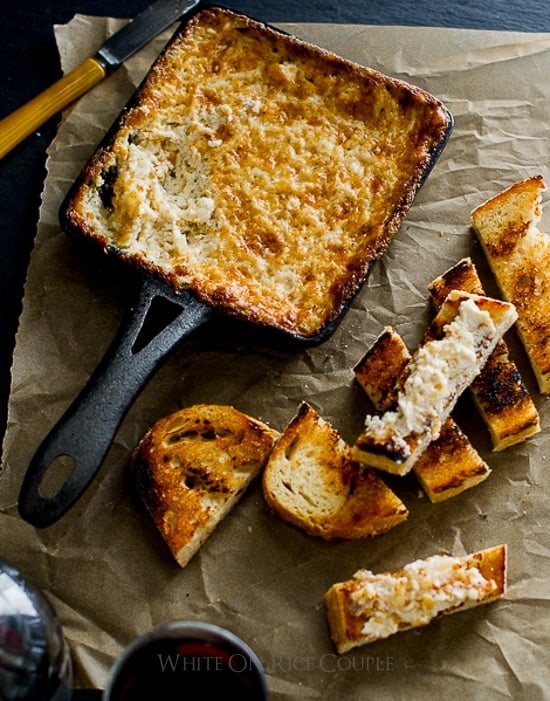 Sweet Onion "Crack Dip" Recipe
Stop everything and make this sweet onion dip recipe. Though the recipe is our creation, we can't take credit for the nickname. It belongs to a little gathering of friends always labels it as "crack dip". So when it came time to sharing it again in our cookbook, Bountiful, we lovingly added the new name to the final draft. Thankfully, our editor was open-minded enough to let us coin this term in print because the nickname really is fitting. And delicious.
Our sweet onion dip recipe is easy for even the newest cooks to make and for you over-achievers, this dip will still make you look good, like you slaved over the stove for hours. Be prepared for the applause that follows when everyone has a few bites.
Friends Jacques & Hasty Torres came to celebrate & they "thumbs-up" the book.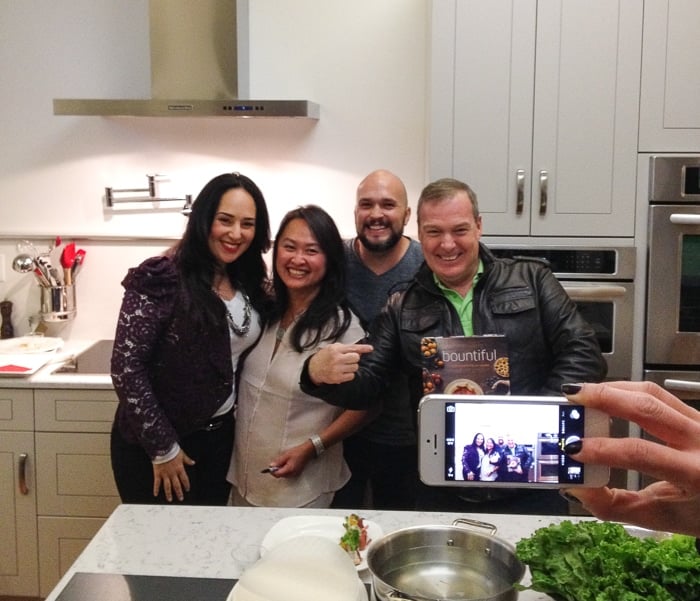 This sweet onion dip recipe is a mish-mash of many things devilish, fattening and wonderful. Once in a while, you have to indulge and spoil yourself rotten with something warm, cheesy and comforting. You deserve it. We all deserve it and without these little moments of cheesy-joy, eating and cooking wouldn't be half as fun or adventurous. And when all is said and done, you can fun a few miles around the track, sweat off a few pounds and start all over again.
Video: Sweet Onion Dip Recipe
Because this dip is so special to us, we wanted to make it in huge batches for our Bountiful cookbook signing with wonderful KitchenAid last week in the beautiful New York City, The Daily Meal kitchen.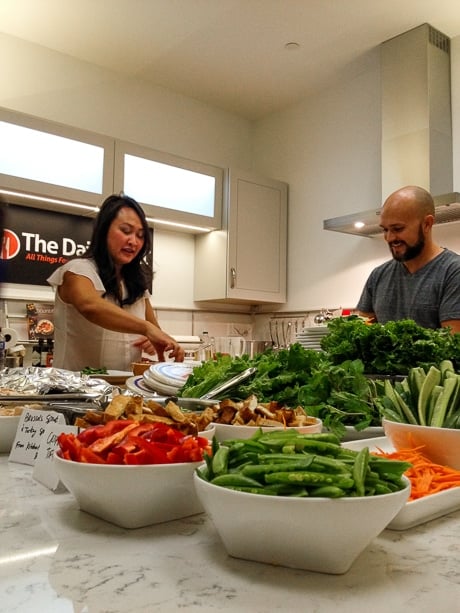 We taught how to roll the perfect spring roll. No floppies or burrito-sized here.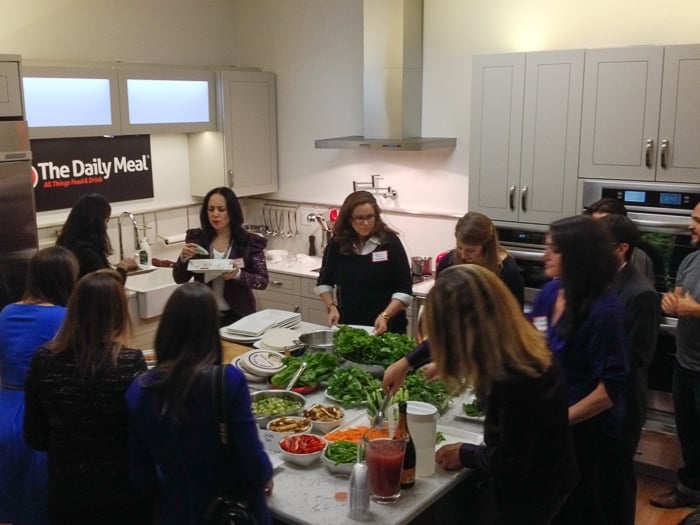 iphone view of the whole party eating together. It was so great to finally meet so many of our editors & NYC colleagues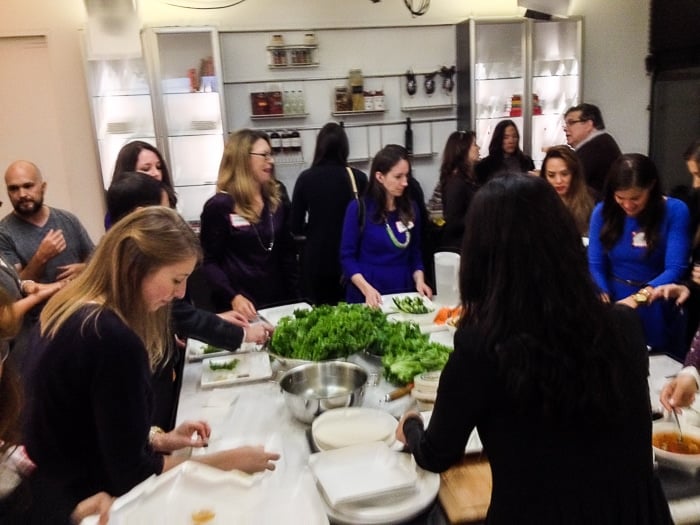 We were able to have a beautiful New York City venue to hold a little dinner for our fellow editors, colleagues and handful of bloggers. At the dinner, we shared all made spring rolls together, poured proseco thanks to Mionetto and ate crack-dip till we dropped.
thanks to amazing beauties who helped organize : Rachel, Jill and Katie-Lee (love you!) iphone Photo credit: Dervla Kelly Best Party Dip Recipe
We arrived at The Daily Meal kitchen with two suitcases full of groceries. In fact, these New York City locals kinda giggled at us for rolling up two full-sized suit cases to the fourth floor kitchen. How else are two tourists supposed to bring up about 3 shopping carts full of groceries to feed a party of 40? Indeed, it was the most efficient way to arrive, ready to cook, with about 100 pounds of groceries. You New York City locals should try it!
After about three hours of prepping vegetables and fillings in the incredible KitchenAid equipped kitchen (the KitchenAid ice maker is to-die-for), we were ready to feed 40 guests. And no White On Rice Couple party is ever complete without cocktails. So Todd made a few pitchers of our pomegranate grapefruit gin cocktail. Done. This Bountiful dinner was already ready.
apparently we said something funny . They were laughing at us. ooops. bloopers. iphone Photo credit: Dervla Kelly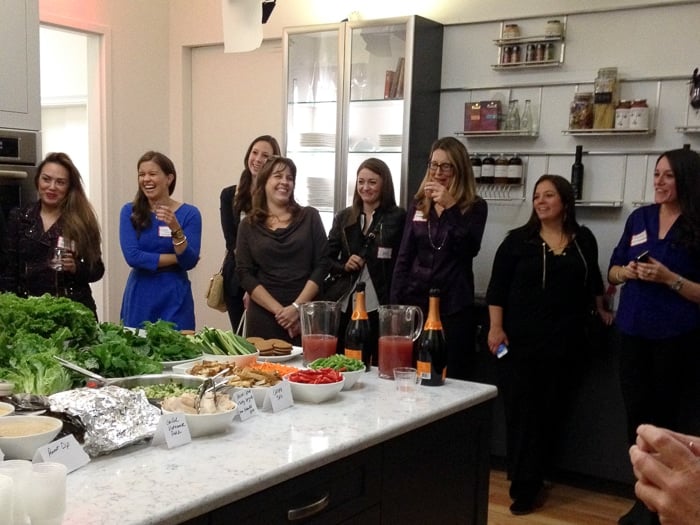 Rachel and her team made sure everyone had beverages and crack-dip topped off. We made sure everyone rolled perfectly tight and plump spring rolls. Everyone seemed to behave and best of all, their rolls like amazing. The guests are now ready to pass on these spring rolling skills at their next dinner party. Some even might open up their own spring roll restaurant. Their skills are that crazy good.
Thanks to everyone at KitchenAid and The Daily Meal for hosting our Bountiful dinner! We're so grateful for your support.
And to the rest of you, enjoy the sweet onion crack-dip! Warning— it's addicting.
love,
diane and todd
some of the good-eaters before the feast iphone Photo credit: Deb Puchalla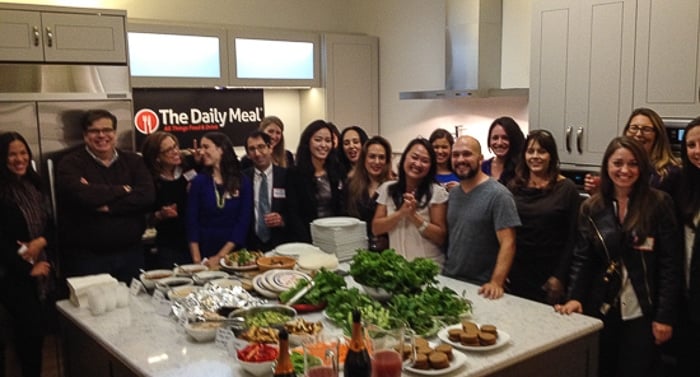 our cookbook editor at Abrams and photographer of the evening… Dervla!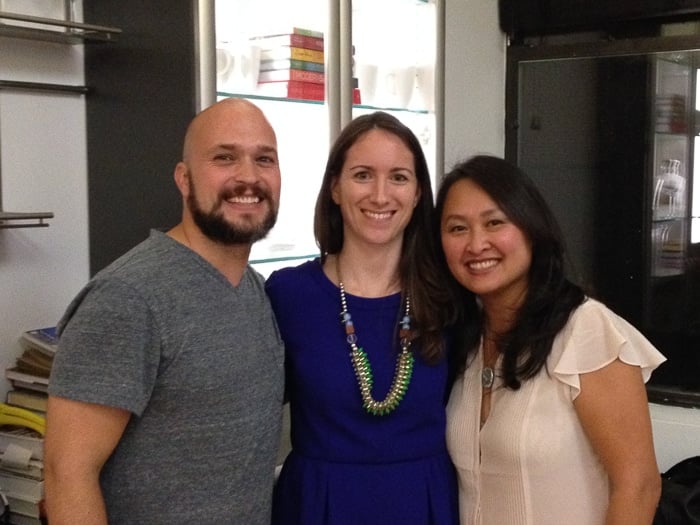 Jacques and Hasty Torres zoom off in their motorcyle and Bountiful.
Where to buy Bountiful online? Here's also a list of some great independent bookstores in your area. Please support them! For most of the independent bookstores, our book is available to order online was well as at the store and many have signed copies available.
Amazon
Indiebound
Book Larder, Seattle
Book Soup and Vromans, Los Angeles
Kings English, Salt Lake City, Utah
Powells Books, Portland, Oregon
Barnes and Nobles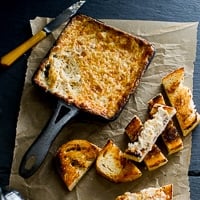 Sweet Onion Dip - aka "Crack Dip"
We first shared this recipe in 2008 and it's so popular that we wanted to also share it again in our cookbook, Bountiful. This dip was dubbed "crack dip" by friends who were over for an evening feast due to it's addictive nature. The name stuck and we've been calling that ever since. We've traditionally have served the dip with crackers or charred sliced of bread, however, with several friends needing gluten-free options, we've started serving it with crunchy vegetables such as radishes, jicama, celery, and carrots instead. We actually like the way the veggies help balance the richness of the dip better than that of the crackers or bread. It is also great to serve with heirloom tomatoes in the summertime. We'll also often make big batches, and then just dish out the un-baked dip into baking containers and then bake it whenever we need to serve it over a week or two span.
Mayo Substitution NOTE #1: Greek Yogurt is not a good substitution for mayo. There is a huge fat content difference between yogurt and mayo. Greek yogurt makes the dip dry. This dip is decadent and not meant to be healthy, so only possible substitution for mayo we can think of that might work is sour cream.
Oily Dip? Note #2: Each brand of mayo is different and some may result in an oily dip. We use Best Foods Brand, also similar to Hellmann's Mayo. Also, do not use more than 1 cup of mayo and don't pack it in the cup when measuring. Loosely fill the cup so you don't end up with too much. If you pack the mayo tightly in the measuring cup, it will be too much. Another reason for oily dip is because you're using the powdered parmesan cheese product in the green containers. Treat yourself to good freshly grated parmesean from the parmesan wedge and you will definitely taste a difference.
Ingredients
8 ounces (225g) cream cheese (at room temperature)
1 cup (240ml) mayonnaise (preferably Best Foods brand)
1 cup (100g) freshly grated Parmesan cheese (not the powdered cheese stuff in the green containers)
1 cup (160g) diced sweet onion (sometimes we like to add extra 1/2 cup for more flavor and texture)
2 teaspoons freshly cracked black pepper
Instructions
Preheat the oven to 350°F (175°C).

In a bowl, mix together the cream cheese, mayonnaise, Parmesan, onion, and black pepper and until everything is thoroughly combined. Pour the mixture into a 6-inch (15-cm) baking dish or any oven-safe dish.

Bake for 50 minutes to one hour, or until everything is melted together & the crust is a deep golden brown. When the top crust is brown and almost burnt-looking, the dip is ready. The darker brown the crust becomes, the better the flavors are.

Serve with your favorite crusty bread, crackers, slices of tomatoes, or crunchy vegetables such as radishes, jicama, carrots, and celery.
Nutrition Information
Calories: 465kcal, Carbohydrates: 5g, Protein: 9g, Fat: 46g, Saturated Fat: 15g, Trans Fat: 1g, Cholesterol: 72mg, Sodium: 616mg, Potassium: 121mg, Fiber: 1g, Sugar: 3g, Vitamin A: 680IU, Vitamin C: 1mg, Calcium: 233mg, Iron: 1mg
More Easy Recipes: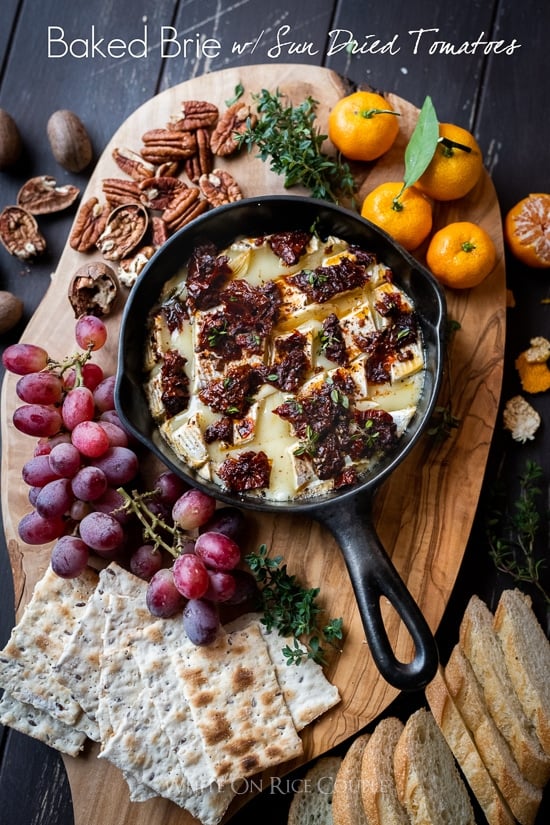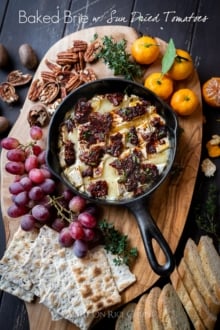 We are a participant in the Amazon Services LLC Associates Program, an affiliate advertising program designed to provide a means for us to earn fees by linking to Amazon.com and affiliated sites.