Studio Update: Walls came down & fresh paint is up
carpet & ceilings are being removed
So many of you have asked us about our new studio and when we'll be having our first event. Thank you all so much for the support and enthusiasm!
After closing down our two previous studio locations, we immediately started to scout out a new location. This new space is not only closer to home, but it's a big open space where we can finally pursue our creative dreams with abandon.
This is our third studio build-out, but it's our true dream space where we can finally have gatherings with our artful friends, have art showing to showcase the talent of these amazing people and bring our local art community to our creative playground.
Our new studio would not be complete without a kitchen. So we found a large warehouse space that had plenty of natural light and an area where we can build a brand new studio kitchen for all of our food photography and video work. Within the studio kitchen we have plenty of fabulous cooking demonstrations and food events planned as well. And there's plenty of space for us to continue pursuing our studio portrait work. The sky is the limit.
We're also working on a new live, online visual series. This project is 16.758713 % finished. When we reach the half way point, we'll share more.
This is all a dream come true for us to finally have a large open space, to let our imaginations run wild and bring together all the amazing people that inspire us.
Stay tuned and we'll be sharing updates as they progress.
Thank you all for joining us on building out our dream creative space!
xoxo,
diane and todd
half the warehouse is office space, so we most of the walls torn down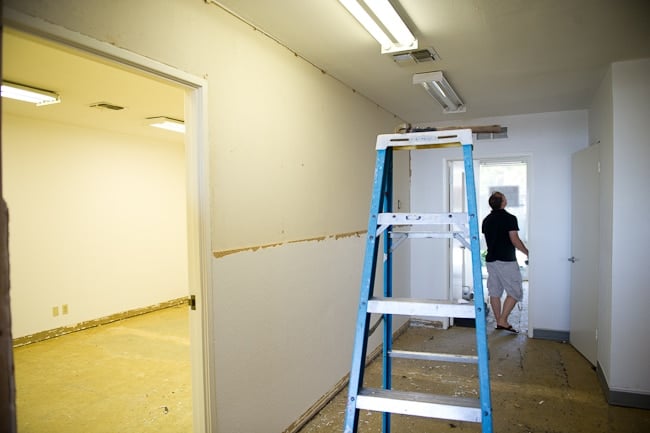 all the low ceilings were demolished too. We love high ceilings
view looking out to the shooting area. Plenty of gorgeous natural light
[ad]
We are a participant in the Amazon Services LLC Associates Program, an affiliate advertising program designed to provide a means for us to earn fees by linking to Amazon.com and affiliated sites.