Chocolate Peppermint Marshmallow Pops – Holiday Happiness on a Stick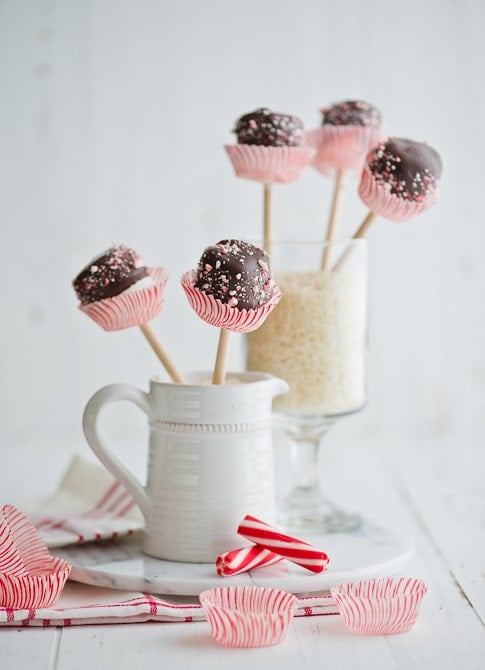 There's an obvious cult happening all over the internet and home kitchens. All the wonderful and cute blame goes to adorable Angie at Bakerella. Honestly (and unfortunately) we didn't discover the world of Bakerella and Cake Pops until we met Angie at our last Food Blog Forum seminar in Atlanta. There was an energetic buzz around Angie and her fans were clasping to her new book, Cake Pops, like it was the hottest new toy in the food world.
After having the pleasure of meeting Angie and seeing all the wonderful excitement over her Cake Pops, we're happy to finally understand all the exciting buzz and thrilled for Angie's success. Cake pops (and Angie) are so cute. cute. cute.
Her little cake pops always leave a permanent smile on our faces. It's so amazing to see how much personality can exist on a stick. And best of all, it all looks so much fun.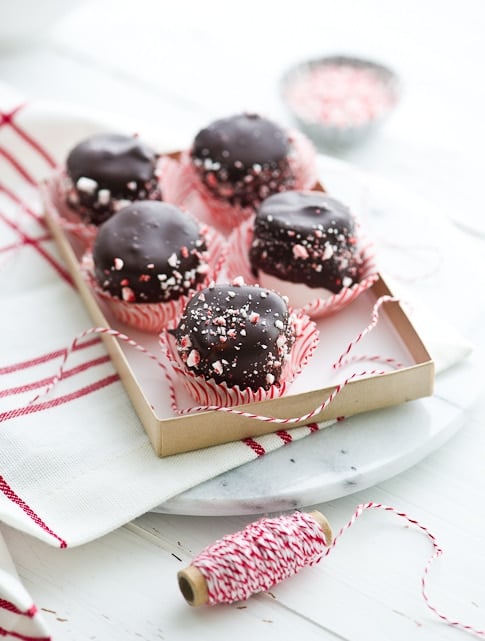 easy gift idea for your marshmallow pops
With bags of marshmallows purchased for holiday fudge and a bunch of chocolate left over from our last cookbook shoot, we immediately thought of Angie and her cake pops.
These marshmallow pops aren't made of cake, but the inspired and amazing idea of Angies little cake pops and the spirit of sweets on a stick had us playing around with what ingredients we had in the kitchen. So chocolate mallow pops started appearing everywhere in the kitchen!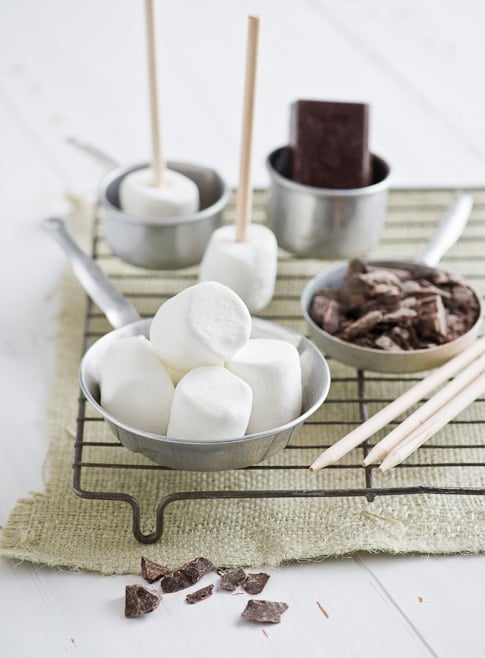 These are so easy and fun to make. It's hard to stop because the possibilities for these pops are so versatile. Anyone who like marshmallows, chocolate and candy will have a new sweet toy to eat and pass out to all their friends.
An added bonus to these marshmallow pops is that they make great gifts. Wrap them in cellophane or stuff them in a gift box, these chocolate dipped marshmallow pops will make everyone feel like a kid again!
– Todd and Diane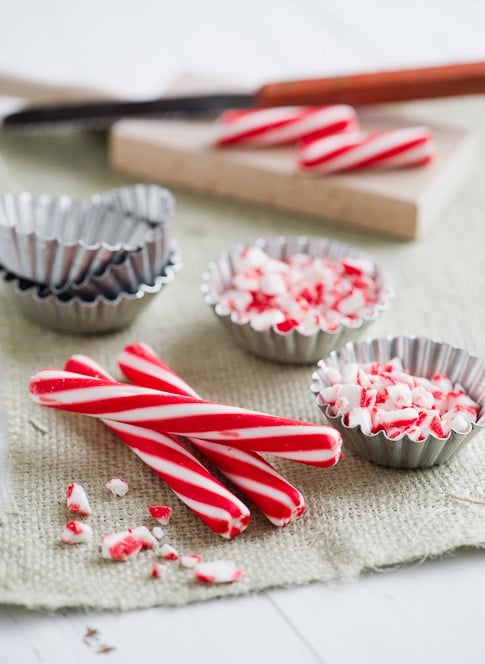 crushed candy canes, maybe try green ones for more color!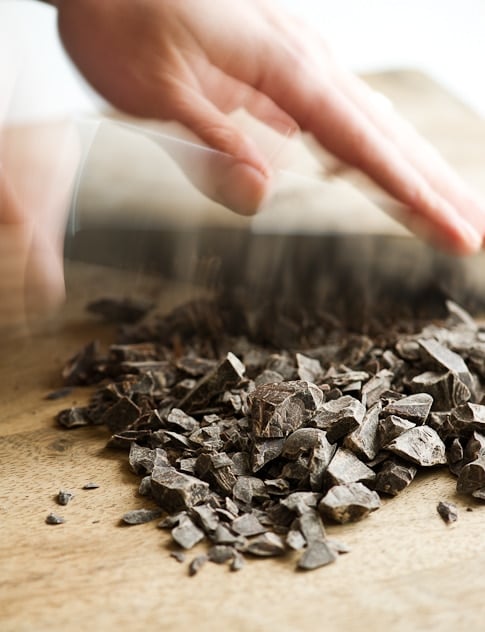 chop chop chop your chocolate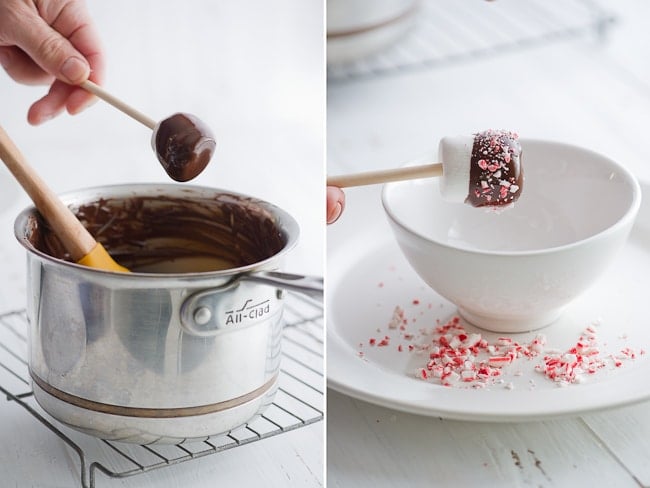 quickly dip then sprinkle w/ crushed peppermint candy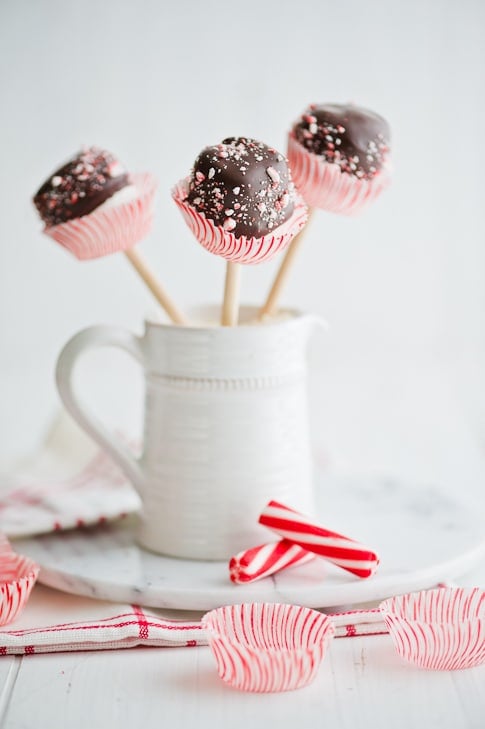 finished! decorate w/mini cupcake paper from Sur La Table!
More Chocolate Marshmallow Recipes: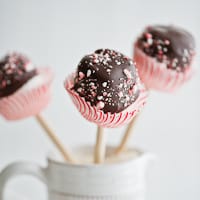 Print Recipe
Marshmallow Pops with Chocolate & Candy Canes
There as several ways to temper chocolate, but seeding is super easy and our preferred method at home. You can always buy and melt coating chocolate if you don't want to deal with tempering, but it isn't difficult once you try it a few times. Go for the pro! Temperatures for tempering are for dark chocolate. If we did milk chocolate I may be disowned by my dark chocolate loving mother ;0. If you must use milk chocolate or white chocolate, the initial melting temp point is 110°F and drop a few degrees off of the other temperatures.
Ingredients
Dark Chocolate , finely chopped
Marshmallows
Candy Canes , crushed
Other things needed:
Scale
Bain Marie
Thermometer
Sticks for pops
Instructions
Temper the chocolate. Weigh out a large portion of the chopped chocolate. Weigh out another portion which is 25% the weight of the first. Add larger amount to a pan in a bain marie and gently heat the chocolate until it reaches 120°F. Remove from heat.

Add the second portion of chocolate and stir until the temperature drops to 85°F (should take about 10-15 min.) Test the chocolate's temper-Dip one side of a small strip of parchment into the chocolate, then set aside to cool and harden. After about 5 minutes you'll be able to tell if the chocolate is properly tempered or if there is a grittiness or bloom (looks streaky).

Keep chocolate at a good working temp., between 85°F and not exceeding 89°F by occasionally placing chocolate on bain marie to gently raise temperature for a minute or so.

Have crushed candy canes set aside in a bowl. Set aside a container with uncooked rice or beans to hold dipped marshmallow sticks after you are done dipping.

Skewer and dip the marshmallows into the chocolate covering the marshmallow as much as you like (we like the 3/4 dip the best) then before the chocolate hardens, sprinkle crushed candy canes onto the pops. Set aside in your rice or bean filled container to set.
We are a participant in the Amazon Services LLC Associates Program, an affiliate advertising program designed to provide a means for us to earn fees by linking to Amazon.com and affiliated sites.