Shrimp Stir Fry with Sugar Snap Peas – Garden Monster
The best part of growing home grown peas is snapping them right off the vine, with their fresh, sweet crunch as music in the mouth. Oh the joy of eating fresh pea pods with this shrimp stir fry recipe!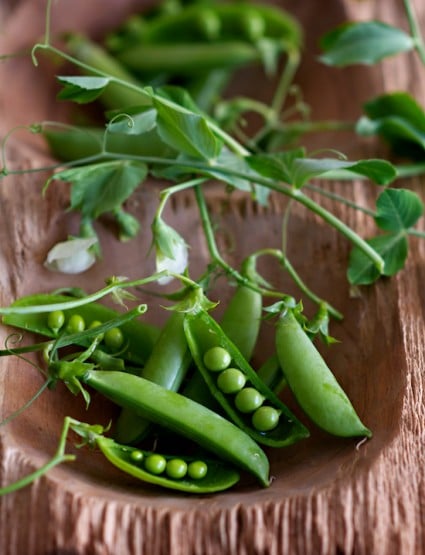 There's an uncontrollable beast on the North end of the garden and it actually comes in two forms: sugar snap peas and snow peas. Our spring peas are like serpants, clinging to everything they can get their tendrils on. Once they latch on, pea flowers shoot out and within 3-4 days, we have fresh peas to munch on. As a matter of fact, the warm sun is encouraging way more pea growth than we can ever imagine so it's snow pea and sweet pea recipe overload!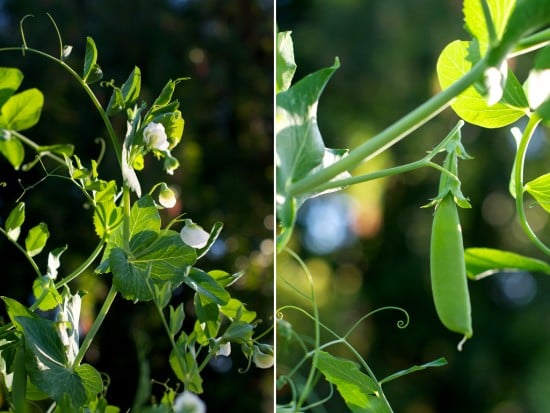 Pea tendrils, flowers and pods bathing in the early morning light
Shrimp Stir Fry Recipe with Sugar Snap Peas
Since we implemented new garden boxes, our mizuna mustard, broccoli, brussels sprouts and peas have found soil heaven and they're growing faster than weeds. Unlike weeds, these new vegetables are celebrations of Spring's arrival and everything else that makes eating in Springtime so wonderful. These sugar snap peas are so easy to please even the most pickiest of vegetable eaters. We've YET to find any sweet pea haters.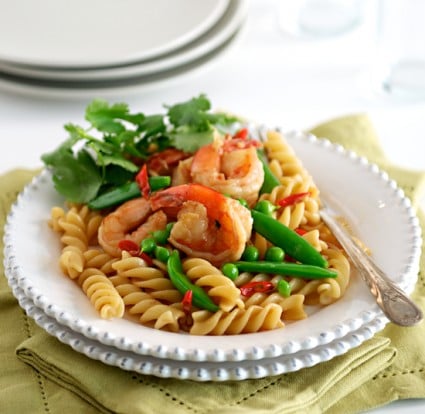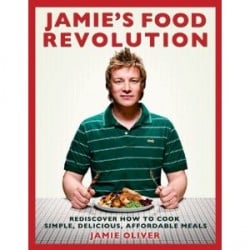 What to do with so many pea pods? Eat them raw till we drop, then add them to a healthy shrimp stir fry recipe! That's exactly what we've been doing lately with other garden vegetables and today's addition of shrimp and pasta made a fabulous hearty Spring time meal inspired by Jamie Oliver's Food Revolution cookbook.
The premise of this beautifully photographed cook says it all, "Rediscover how to cook simple, delicious, affordable meals". Everything about this visually engaging cookbook is an ode to fresh food, simply prepared without sacrifice on flavor. Flipping through the pages of every single fresh recipe is a reminder of the joys of cooking at home and feeding family and friends.
The many candid and step by step shots of how the recipe is prepared and the stories of home cooks makes Jamie's book feel real, grassroots and gives us so many things that we can relate to. This lovely shrimp stir fry with sugar snap peas recipe is just one example of the fresh vibe to Jamie's book.
Sierra guarding the snow and sugar peas from the squirrels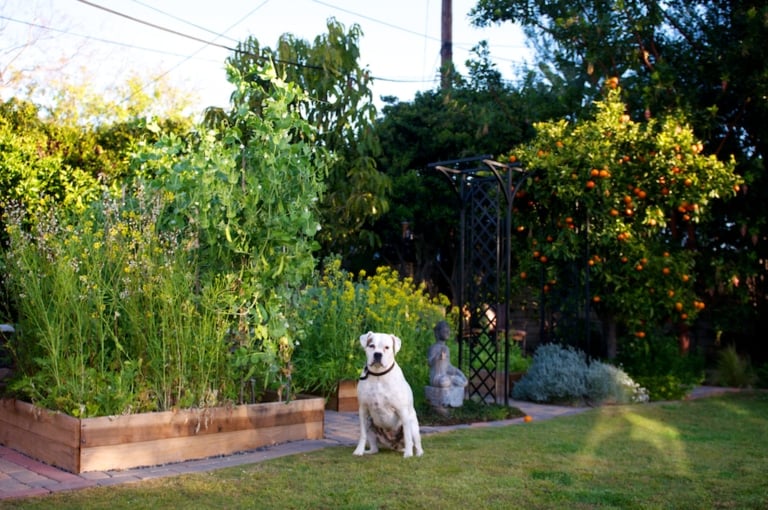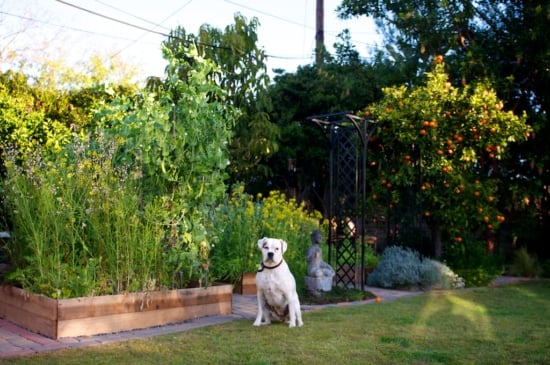 all the peas, mizuna mustard and arugula flowers are taller than Sierra!
Sierra Protecting the Pea Plants
In the mornings, Sierra always strolls through the garden to investigate any evidence of night thievery by the squirrels and possums. She finds plenty of tangerine peels left behind from those darned pests, but luckily, all the delicate peas are untouched!
She'll nuzzle the dangling peas a bit with her cold nose, wondering if they're ready to eat yet. But Sierra is really a good girl and won't take any off the vine unless we pick one and hand feed her! When we do, she leaves a mess of small peas an tendrils all over the garden. It's the cutest things to see in the mornings epecially now because the peas have outgrown her by 5 feet! Hell, they've even outgrown us.
With the explosion of spring peas, the hardest part is keeping up with picking them because they grow so fast. Any suggestions on snow pea or sugar snap recipes that you have would be much appreciated!
Happy Spring to everyone and hope you enjoy this shrimp stir fry recipe with peas!
diane and todd
Here's more of our vegetable recipes.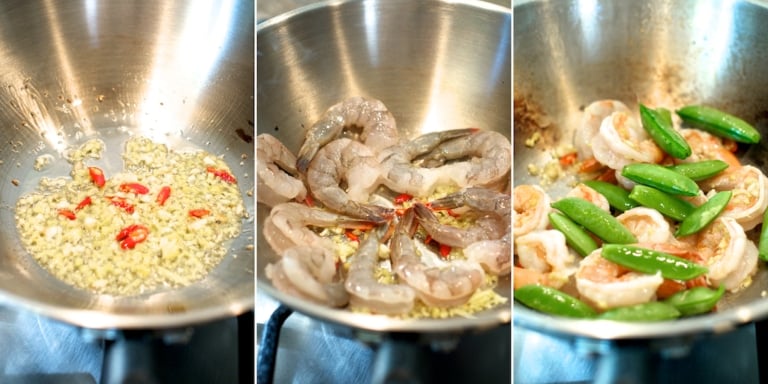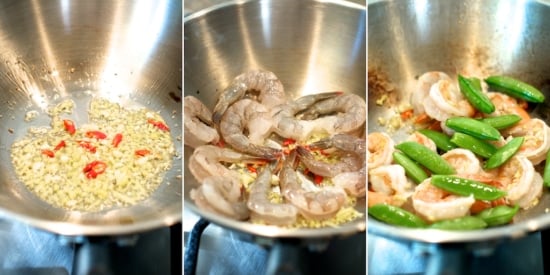 above: add ginger, garlic, chiles. Then add shrimp & peas, cook quickly
below: fresh squeeze of lime juice, honey and pasta to finish off the dish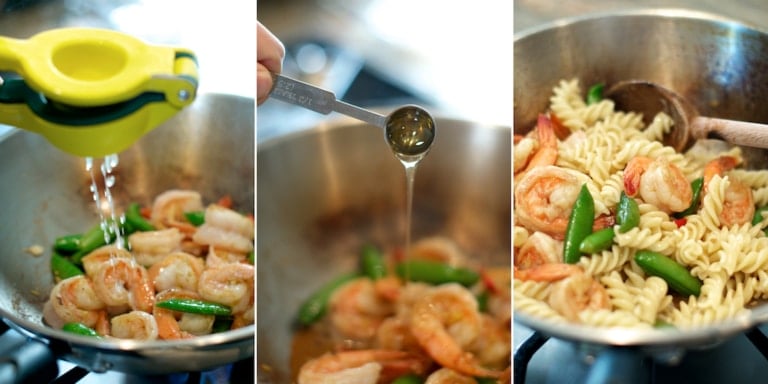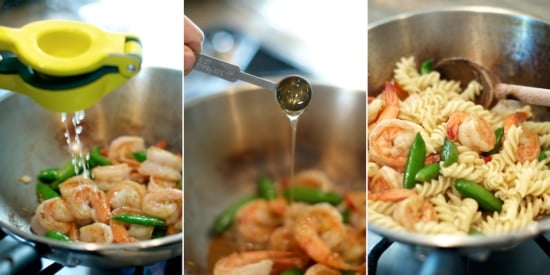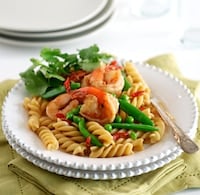 Shrimp and Snow Pea or Sugar Snap Pea Stir Fry Recipe
This is an adaption from Jamie's Food Revolution by Jamie Oliver.
This easy and fast shrimp snow pea recipe is very versatile. We used sugar snap peas in place of the snow peas and it turned out wonderfully. Add this great shrimp and sugar snap pea stir fry with your choice of noodles, rice or pasta.
Ingredients
1 -inch fresh Ginger , peeled & crushed or finely diced
2 cloves Garlic , crushed or finely diced
1 fresh Chile , sliced (chose the type based on your heat preference)
Kosher Salt , to taste
Peanut Oil , or other high-flash point oil (grape seed, canola, etc...)
1/2 lb. Lrg Shrimp , shelled & deveined
1 cup Sugar Snap Peas or snow peas
2 Tablespoons Soy Sauce
1 Tablespoon fresh Lime Juice
1/2 teaspoon Honey
1 teaspoon Sesame Oil
1/2 lb Pasta , cooked al dente
small bunch fresh Cilantro , torn or cut in 1-2" sections.
Instructions
Bring a large pot of water to boil for the pasta while your slice and dice the ginger, garlic, and chiles. When water comes to a boil, salt it well, then toss in pasta.

Stir after it comes back up to a boil. Boil vigorously until it has your preferred bite. Drain and rinse under cool water. Set aside.

Heat a pan or wok over high heat (you can start this part while the pasta boils if you are good at multi-tasking.) Swirl in some peanut oil and add garlic, ginger, and chiles. Saute for a minute or so, then add shrimp and cook for another couple minutes or until shrimp is almost cooked through.

Add sugar snaps, soy sauce, lime juice, honey, and sesame oil. Saute for a bit until everything is hot (@ 1 min.) then toss in pasta. Toss over heat until pasta is well coated, then serve with the cilantro.
Nutrition Information per Serving
Calories: 298kcal, Carbohydrates: 46g, Protein: 21g, Fat: 3g, Saturated Fat: 1g, Cholesterol: 143mg, Sodium: 948mg, Potassium: 253mg, Fiber: 3g, Sugar: 3g, Vitamin A: 268IU, Vitamin C: 19mg, Calcium: 110mg, Iron: 3mg
We are a participant in the Amazon Services LLC Associates Program, an affiliate advertising program designed to provide a means for us to earn fees by linking to Amazon.com and affiliated sites.