Baked Scotch Eggs – Low Carb

Low Carb Scotch Eggs Recipe
Scotch eggs have been around for quite a while, yet when we make this for clients and friends, it's new to everyone. These delicious scotch egg have an interesting history you can read about the culinary history of scotch eggs here. What are scotch eggs? They're basically hard boiled eggs that are wrapped in sausage and then deep fried. There's so many variations of scotch eggs from coating them with bread crumbs and even baking them. The ones we show in the photo are low carb with crushed pork rinds as the coating. We prefer the baked scotch egg version because they're just as delicious without all the deep fried calories.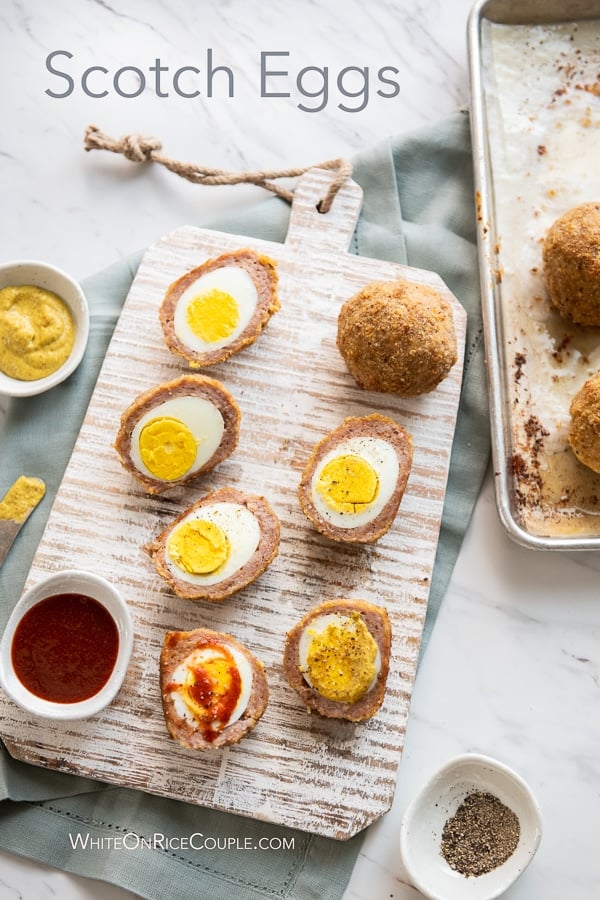 Video: Baked Scotch Eggs Recipe
Eat them for Breakfast, Brunch, Snack or Anytime
We've been obsessed with scotch eggs because they're not only easy to make, but super easy to eat. Serve a platter of these fabulous eggs for breakfast or brunch and everyone will be happy. Pop one or two in your lunch bag and you have a great low carb lunch. It's protein packed and super easy to eat as a snack throughout the day when you're wanting extra protein without the carbs. If you're on the paleo, low carb or keto diet, these eggs are perfect too. Make sure to add a swipe of mustard and hot sauce because those two condiments takes these eggs over the top delicious!
Enjoy!
Diane and Todd
How to Make Low Carb Baked Scotch Eggs
Start by wrapping sausage around hard boiled eggs that are peeled.
For low carb versions, you can skip any type of coating or use crushed pork rinds or almond flour.
If you don't care about carbs, you can use regular bread crumbs.
Lightly spray outside of sausage and bake (skip the spraying if using pork rinds otherwise it will be a little too greasy). Recipe details are in the recipe box below that you can print out.
If the sausage outside the scotch eggs split during cooking, it's because you used a high fat sausage that shrinks or you didn't wrap with enough sausage evenly. But it still taste great regardless if the sausage splits during cooking or not.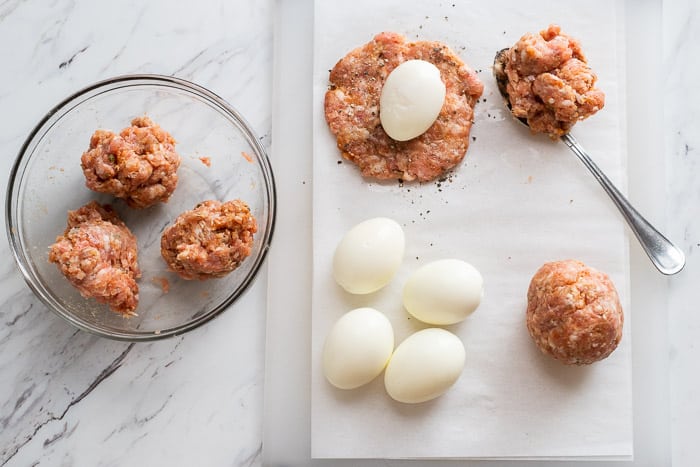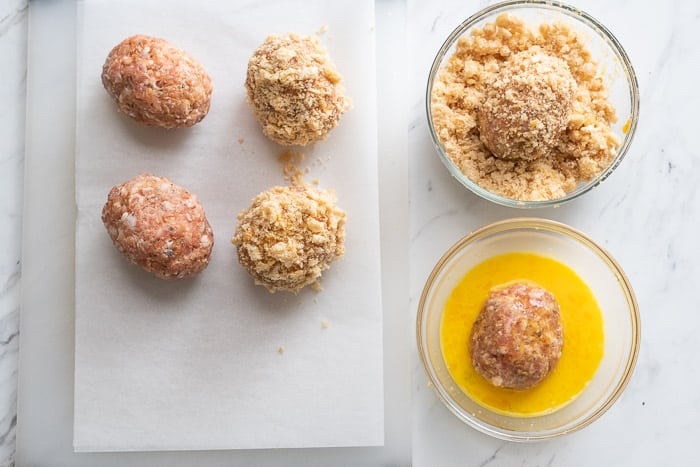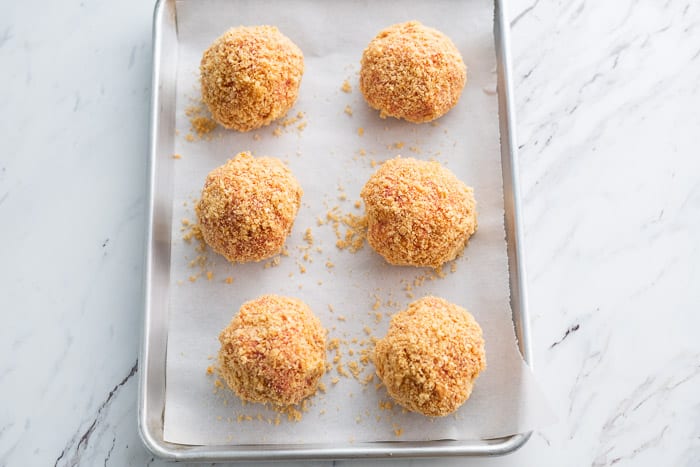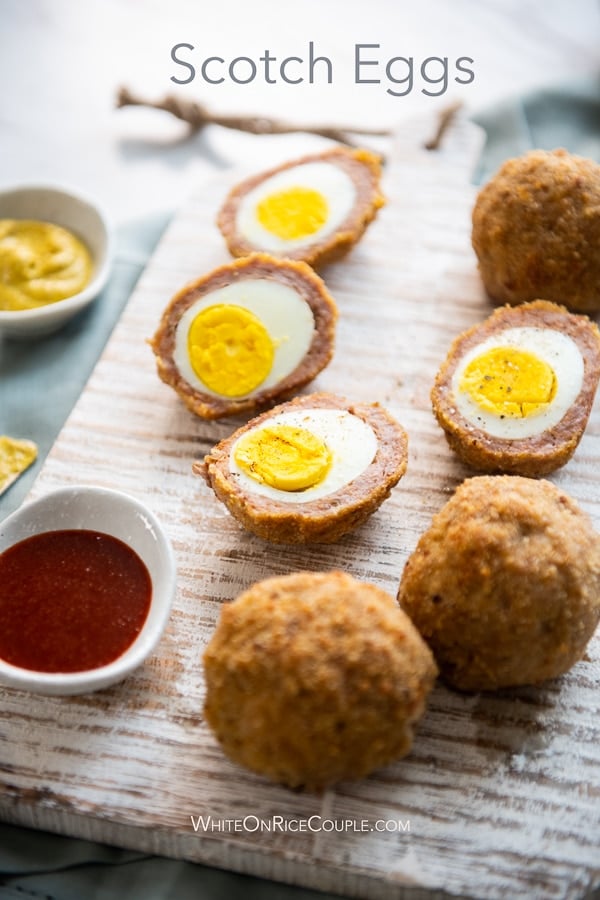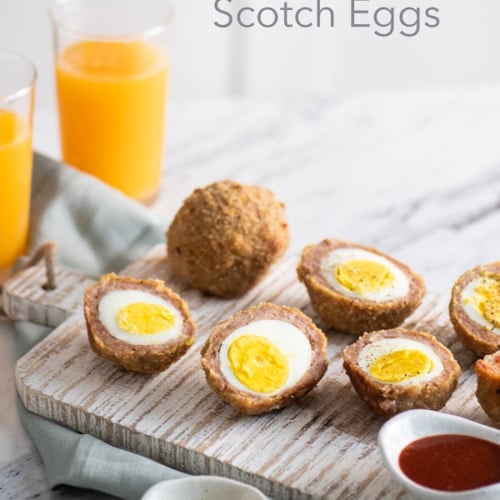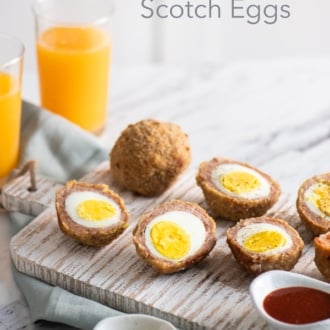 Low Carb Baked Scotch Eggs
Scotch eggs are the perfect breakfast and brunch dish. Use any type of sausage you prefer: Sweet Italian, Breakfast Sausage, Chicken Apple, etc. Or make your own sausage to make it extra amazing. You can always skip the coating of the beaten egg and breading. Or if you aren't concerned with a few extra carbs, feel free to use breadcrumbs for the breading. For the beaten raw egg, we'll usually start with one egg, and have a second on hand just incase it is needed.
Ingredients
1 pound (454 g) uncooked bulk sausage
5-6 hard boiled eggs , peeled
1-2 large raw eggs , beaten
3/4 cup (180 ml) breading , or more if needed (crushed pork rinds, almond flour or coconut flour for low carb)
oil spray , for coating
Instructions
Preheat oven to 400°F/205°C . Line a baking sheet pan with parchment paper.

Divide the sausage into 5 or 6 equal parts, depending on how thick you want the sausage to wrap around the egg.

Flatten each portion into a thin patty about 4" wide. Lay boiled egg in center and wrap sausage around the whole egg. Repeat for all eggs.

Dip the sausage-wrapped eggs in the beaten raw egg(s), then in breading *see headnote. If using almond or coconut flour or aren't using any coating at all, spray outside of wrapped eggs evenly with oil spray. You don't need to spray the eggs if using pork rinds for the coating.

Bake at 400°F/205°C for about 25-30 minutes, or until sausage is fully cooked. The thicker the sausage layer, the longer it takes to cook.

Cut in half and serve with mustard swipe on top of yolk. Add hot sauce, too, if you want. YUM!
Notes
TIP:
You can add additional flavor to your sausage by mixing it with some Worcestershire, fresh parsley and other spices. If not, simple bulk sausage still tastes great!
For fewer calories, you can omit the coatings (beaten egg & breading).
Nutrition Information per Serving
Calories: 318kcal, Carbohydrates: 1g, Protein: 19g, Fat: 26g, Saturated Fat: 8g, Cholesterol: 240mg, Sodium: 589mg, Potassium: 250mg, Sugar: 1g, Vitamin A: 313IU, Vitamin C: 1mg, Calcium: 32mg, Iron: 1mg
Here's an Air Fried Scotch Egg Recipe for your Air Fryer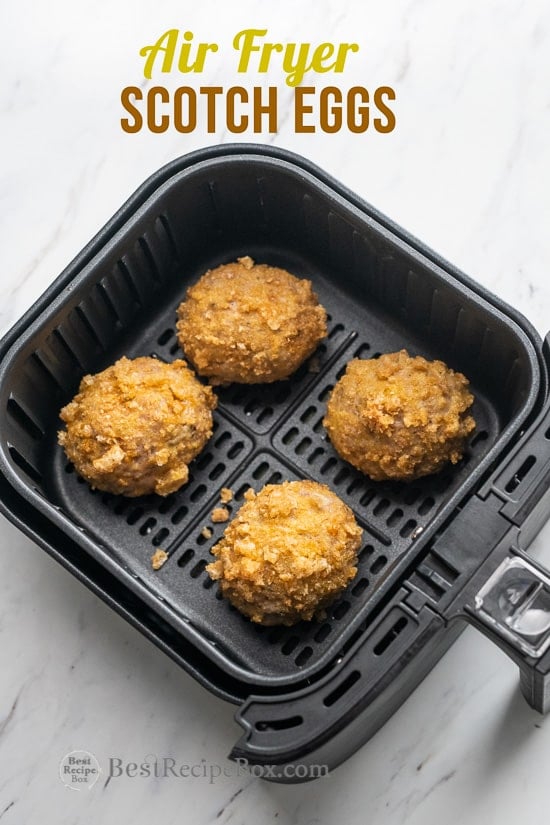 Here's more of our awesome breakfast/Brunch recipes and another great low carb cloud eggs recipe.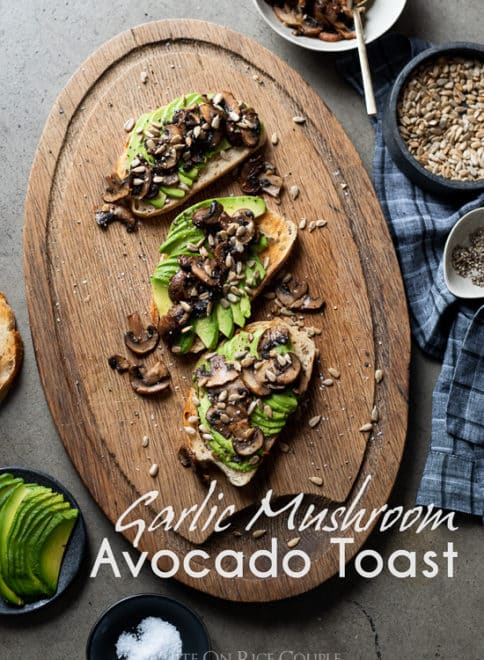 We are a participant in the Amazon Services LLC Associates Program, an affiliate advertising program designed to provide a means for us to earn fees by linking to Amazon.com and affiliated sites.