Wood Burning Oven Bakers in Asheville – Roasted beets, chevre, rosemary pastry recipe
[donotprint]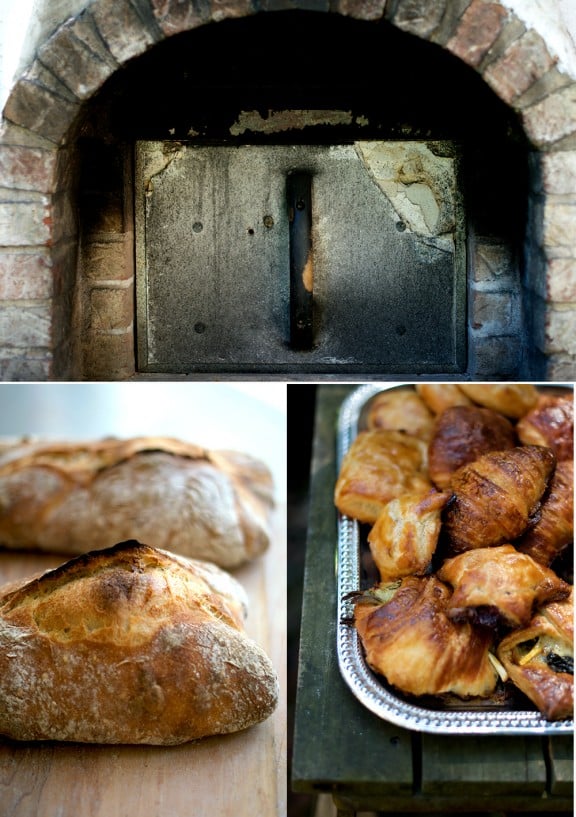 Hidden amongst the the fertile farmlands of Asheville, NC are some amazing wood fired craft bakeries that are producing some of the best breads and pastries that we've ever had.
Maybe 30 minutes outside of town, we found ourselves on a small gravel road nestled in the green and fertile hills of Western North Carolina. The van was too tall to pass through the driveway's trees unscathed, so we walked the beautiful 5-10 minutes to Wake Robin Farm Breads.
After snagging some wild black raspberries along the driveway, we rounded the final bend to discover a charming home surrounded by a beautiful garden. We followed the flagstone steps around to the back of the house, and soon found someone infinitely even more charming than this fairytale setting, Steve Bardwell and his wood burning oven.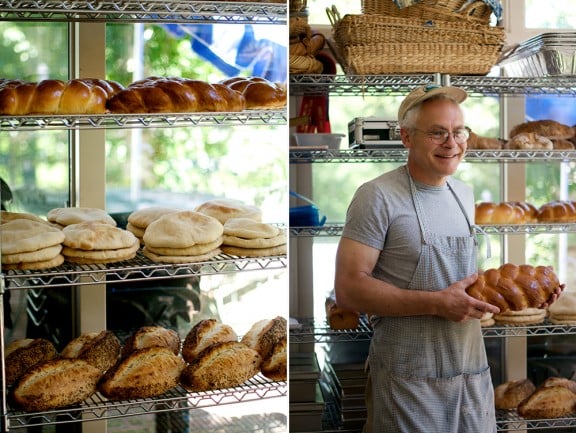 Steve Bardwell of Wake Robin Farm Breads
Some say he is a retired laser scientist. Others say that he can make a woman's knees buckle with the puff of his pipe and a glimmer of his eye. All we know for sure is that he makes divine breads out of a wood-fired oven using timeless techniques and suave skill. His European style bread has that sublime balance between the loaves' perfectly crusty shells and their exquisite, soft centers. As if that wasn't tasty enough, his character is as charming as his breads. He speaks with such a slow, rhythmic grace, combined with his intelligence and a glimmering sense of humor, that one easily falls into a schoolkid trance, clinging to his every word.
Does it sound like we are infatuated? We are. Diane hopes I'll be like him when I grow up and I pray for the same.
While we were visiting this mythic bread maker, a white van ambled up the drive and another bohemian soul emerged from it's confines to greet us. David Bauer from Farm & Sparrow had arrived and he brought gorgeous and delicious treats from his bakery. Dave is another wood-fired brick oven baking maestro in Marshall, NC. Don't think a wood-fired oven is merely limited to bread.
Dave shared his pastry panache with a few treats for us. He slid out a full-sized sheet pan laden with pastries that were flaky, light, and eye-rolling good. Some sweet, some savory, but all were incredible. Whether it was a special quality give to the pastries by the oven, or whether it was due to Dave's skill in making them, we don't know, but they were truly magical. Both of these men obviously knew their way around a wood fired oven.
Dave Bauer of Farm & Sparrow
Meeting the bakers, and sampling their craft was undeniably inspiring. Their passion, knowledge, and skill, combined with their throwback approach to baking created some of the best breads and pastries we've had. From the daily grinding of their own flours, to the rustic wood-fired brick ovens, to the camaraderie and sharing of knowledge that they exhibited, both Steve and Dave reminded us of how good things can be when one loves their craft and follows their passion.
Both Diane and I have always been inspired by our friends wood burning ovens and are now even more excited because of these two mythic bakers. For years I had been obsessed and fixated on bread making, but that flame had waned a bit as further culinary interests popped up and I began to learn and explore other types of cooking. Now that flame had been fanned and is burning hot. We've always been wanting for the longest time to build a wood burning oven of our own. Now it is the time to do just that. We'd love to hear from any and all who have experience in such matters as making or cooking in a wood-fired oven.
Thank you again to Dodie, Sherida, Steve, Dave and Jaden for this wonderful blogger trip!
Read our other Asheville stories
-Todd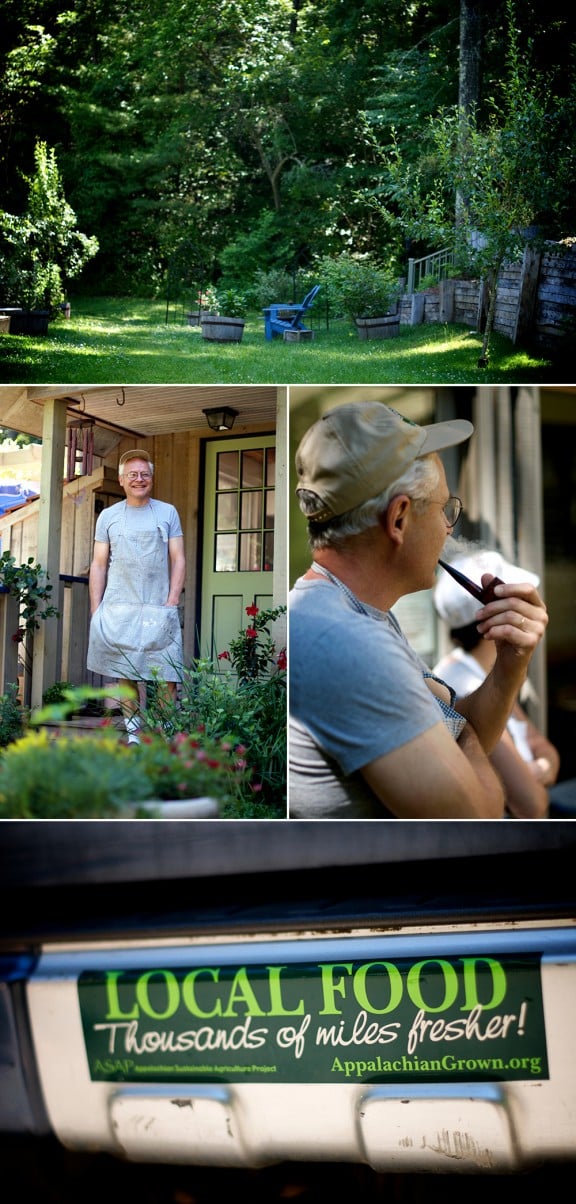 [/donotprint]
[print_link]
Roasted Beets, Rosemary & Chevre Pastry Recipe
Dave from Farm&Sparrow was gracious enough to share the filling and assembly recipe for one of his delectable pastries. Many may be used to pastries being sweet, but puff pastry lends itself so well to savor fare, as well. These Roasted Beet Rosemary Chevre Pastries were incredible. You don't have to have a wood-fired oven to make them, because everything will cook just fine in a regular oven. Thank you, Dave, for these fabulous pastries.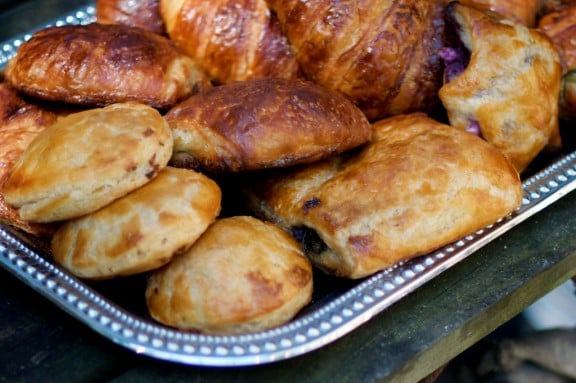 Rosemary: Begin with 2-3 sprigs. Strip them off the stem and save both.
Beets: Toss Beets with Olive Oil, salt, pepper, and rosemary stems. Roast in an oven (preferably in a heavy dutch oven) until you can insert a knife through it easily. Pull from oven and let cool. Once cooled, peel the skins and slice beets into 1/4″ slices.
Assembly:
Roll out puff pastry to approximately 1/4″ thickness. Using round and star shaped cookie cutters, cut into equal numbers of each. Arrange the circle pastry sections on a sheet pan. Brush with egg white.
Place a Tablespoon of fresh chevre on each pastry section. Followed by 2 slices of beet. Garnish with a few rosemary leaves, sea salt, and black pepper. Enclose from above with the star sections, pinching at the seams.
Brush with egg wash and bake for approximately 15-20 minutes in a 450 degree oven. (We use a wood-fired brick oven. If you are using a home oven, you may want to watch the pastries and reduce heat to 425degrees if pastries brown to quickly.)
Remove, eat.
[ad]
We are a participant in the Amazon Services LLC Associates Program, an affiliate advertising program designed to provide a means for us to earn fees by linking to Amazon.com and affiliated sites.