Fresh Peas & Mint- Signs of Spring & Garden changes
Tis the season for this Sautéed Peas Recipe. What were once green, sprawling serpents have now reached the peak of their pod-producing craze. The sugar-snap and snow peas have slowed down considerably and finally, we were able to keep up with them. Every morning for the past 2 months we had an espresso in one hand and went out to breakfast on the pea pods. We felt like grasshoppers grazing on all the pea tendrils and vines.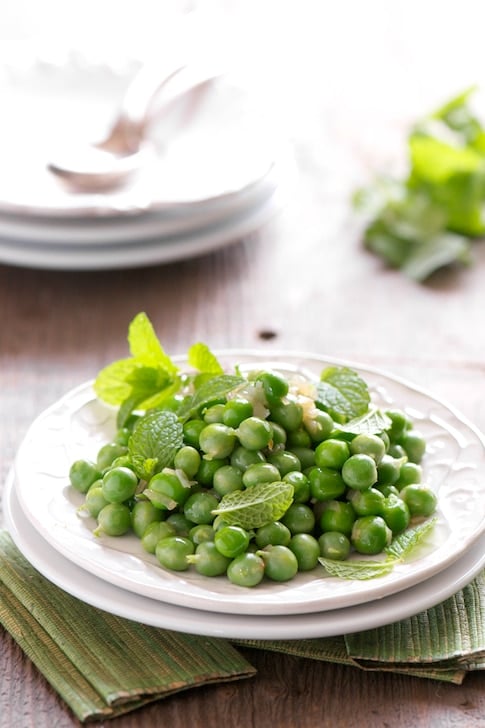 Sautéed Peas Recipe with Mint
The fresh crunch and sweetness of all the pea pods was great, but after 2 months of chewing on green pods, we're ready to plant our tomatoes!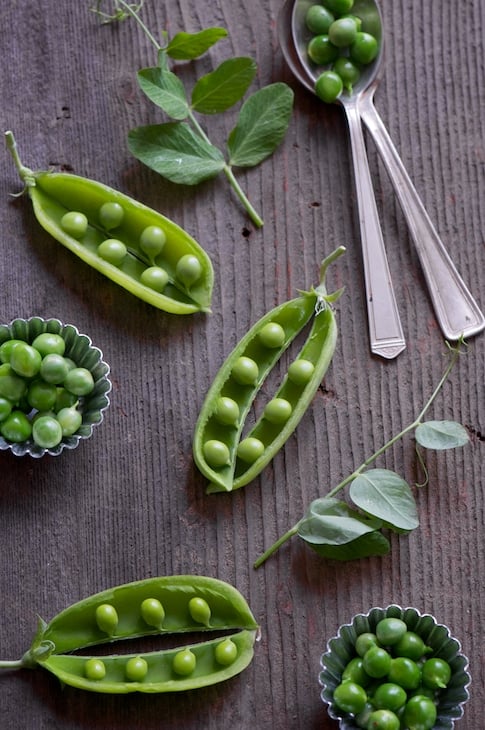 The weather is just gorgeous now in Southern California. Spring has arrived, birds are chirping familiar tunes and new leafy life is bursting on our stone-fruit trees. A trip to our local nursery had us lugging back over 20 heirloom tomatoes, a new compost bin and a bigger collection of seeds to add to our already bulging shoe box. It's time to start planting again!
Today was an overly productive day, considering we haven't been able to do much in the garden until after all of the recent rains let up. All the hedges received a nice hair cut and they're quite handsome again with their new trims. Thanks to Todd, one big hedge trimmer and a tall ladder, he wacked the hedges down to a manageable size. I stayed on the ground floor, gathered all the fallen branches to a pile while dodging the rest of the leaves raining down on me.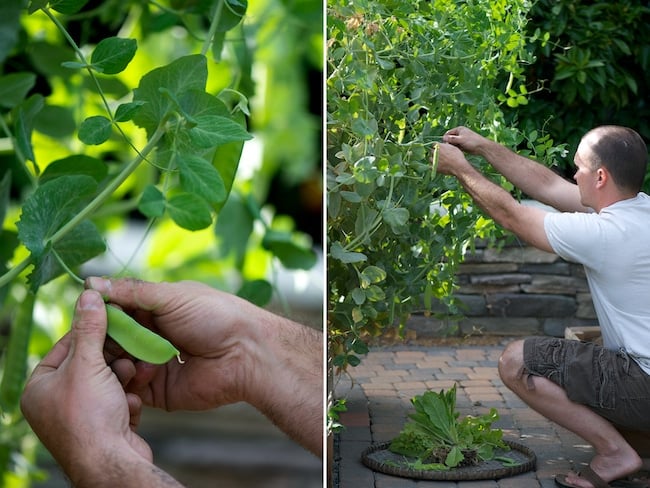 Harvesting peas, carrots, lettuce. (above left)- dried seeds to sow for next year ( right) fresh peas to eat now!
The neighbors are thrilled too that we finally trimmed our leafy monsters. They actually called back to us from the other side of the fence to remind us where the trimming needed it most. And we yelled back, "you're welcome!".
All the gathered leaves were turned into mulch and spread across all the vegetable boxes and beneath the fruit trees. The twice a year ritual of hedge trimming provides plenty of soft leaves and mulch for the garden. One of the benefits of excess foliage and composting is having great mulch that is so beneficial for the garden.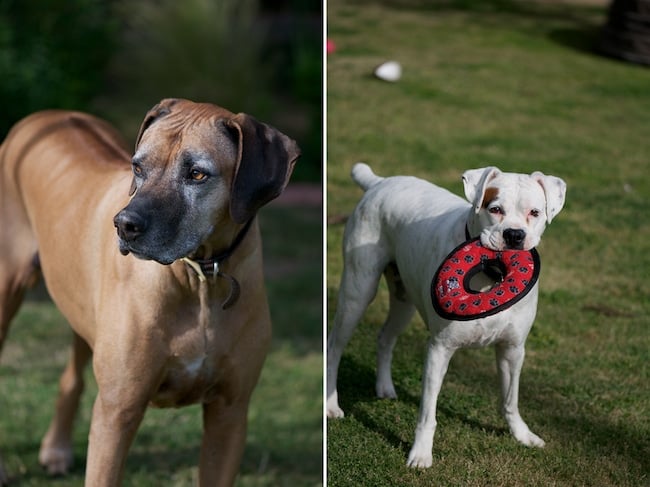 Someone wants to play, but gardening first. Playtime later.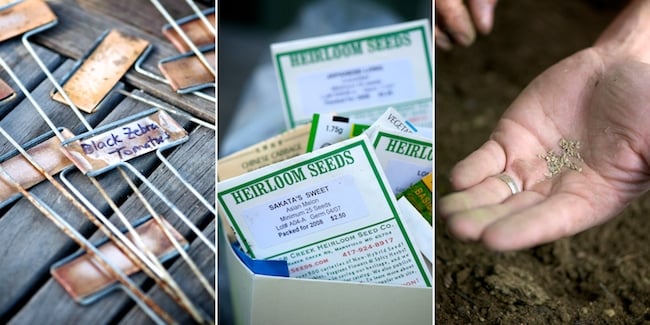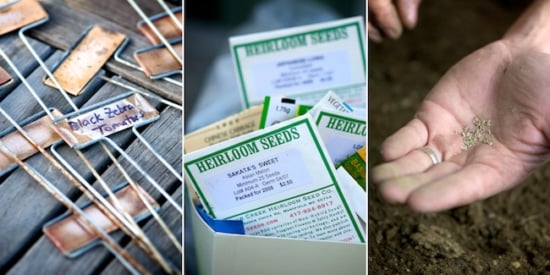 Sierra and Dante weren't any help at all today. They sniffed the fresh soil and compost and went back to playing on the lawn. What a dogs life.
Growing and Prepping Peas
The peas were pulled up and we gathered a final huge basket full of peas, most of which were bulging with plump peas inside. The tender pods were saved for more stir fries during the week and the older, tougher pods were gutted of their sweet peas and tossed with some fresh mint. Shelling the fresh pods are the most time consuming part of this dish, but it's worth every effort. Fresh peas, stir fried with a touch of olive oil and then tossed with a handful of fresh mint is a dish that epitomizes Spring and respecfully bids farewell to Winter.
Happy Spring and Hope You enjoy our Sautéed Peas Recipe .
diane and todd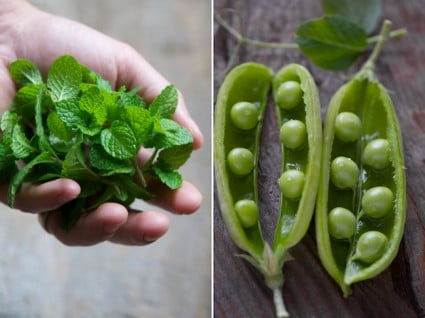 garden fresh ingredients: mint and peas
More Spring-y Peas and Mint Recipes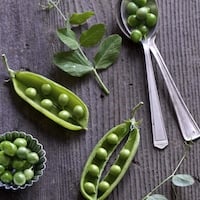 Sautéed Peas with Mint
A quick, simple & delicous side veggie. It is amazing with fresh spring peas.
Ingredients
Instructions
Heat a saute pan over medium-high heat, and then add olive oil and shallots. Cook for about 1 minute or until shallots are soft and fragrant.

Add peas, cook for about 1 minute or until peas are tender. Add soy sauce. Cook for about another 30 seconds. Remove from heat.

Pour peas into serving bowl and toss with fresh minced mint leaves.
Nutrition Information per Serving
Calories: 94kcal, Carbohydrates: 11g, Protein: 4g, Fat: 4g, Saturated Fat: 1g, Sodium: 88mg, Potassium: 197mg, Fiber: 4g, Sugar: 5g, Vitamin A: 555IU, Vitamin C: 29mg, Calcium: 20mg, Iron: 1mg
We are a participant in the Amazon Services LLC Associates Program, an affiliate advertising program designed to provide a means for us to earn fees by linking to Amazon.com and affiliated sites.