Sausage Potatoes au Gratin
Sausage potatoes au gratin is another way we celebrate the cold weather season and Holiday feasting. Every year, two big batches of our famous potatoes au gratin makes it way to our Holiday table. It's one of those dishes that the whole family is hopelessly in love with. All these eaters ask about the potatoes au gratin first, before anyone ever asks about the turkey or desserts.

Watch Video: Delicious Sausage Potatoes au Grain Recipe:
Regardless of how much decadent, calorie-laden, decadent goodness hides behind every serving, there's rarely ever much left over. It's occasions like these that when it comes to calorie-conversation, we all say, "who cares?" That's right, who cares. When the holidays roll around, what's most important is that were enjoying good food with great people. We're going to make this beloved dish a little extra special and savory by adding sausage. Yes, sausage in potatoes au gratin sounds like a great plan and pretty much, a whole meal in itself. Especially delicious when we add in a homemade sausage which is insanely good. Well, maybe add some brussels sprouts and our meal is finally complete.
It's incredibly rewarding dishes like these ring in the holidays in the most delicious way possible. Comforting foods, especially those baked with love in the oven, are what makes our cold days warmer and our souls a little more satisfied.
Always a favorite Sausage Potatoes au Grain
If you're already a fan of potatoes au gratin and sausage is already a star on your favorites-list, then definitely try these potatoes. And if you're a purist and don't like anything interfering with your creamy au gratin? Then make it without the sausage and use the original au gratin recipe we posted a few years ago. Either way, you'll be pleased to know that what ever you cook, there's something for everyone. Even the vegetarians!
And for many of you who often ask about the difference between a potatoes au gratin and scalloped potatoes? There's many varying answers, but traditionally potatoes au gratin (or gratin dauphinoise ) is a French dish where the potatoes are cooked in cream or creme fraiche. No Cheese. Though there are many variations of potatoes au gratin using cheese, most will call potatoes cooked in cheese as scalloped potatoes. Either way, how ever you cook your potatoes, make it your own and share it with those you love.
Eat more potatoes,
-todd and diane
Photos How to Make Sausage Potatoes au Gratin
Step-by-Step Pictorial for Classic Potatoes Au Gratin Recipe but you can use this as a guide for the sausage version. It's all about "breaking the crust" to keep the potatoes wonderfully moist and creamy, without drying out.

slice the potatoes nice & thin

use fresh nutmeg, fresh cracked black pepper & sea salt for best taste

layer in all the potatoes @ 1 1/2″ high (doesn't have to be too precise) & pour in cream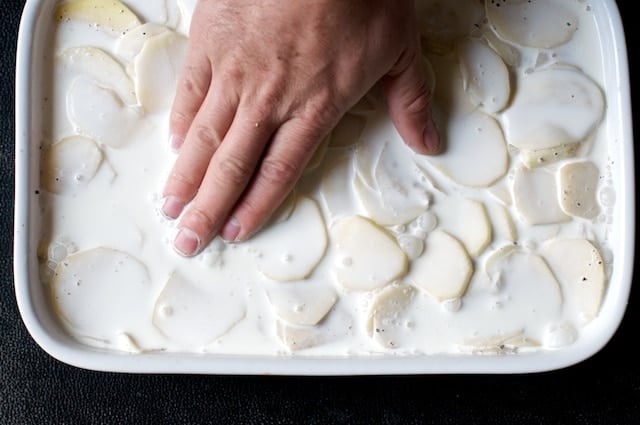 check the cream level by pressing on the potatoes
How to "Break The Crust" – keeping potatoes moist & creamy

(above)- 1st crust break (about 20-25 min cook time) ~ the cream is just starting to form a crust

(above) 2nd crust break (about 40-50 min cook time)
the cream crust is starting to show some color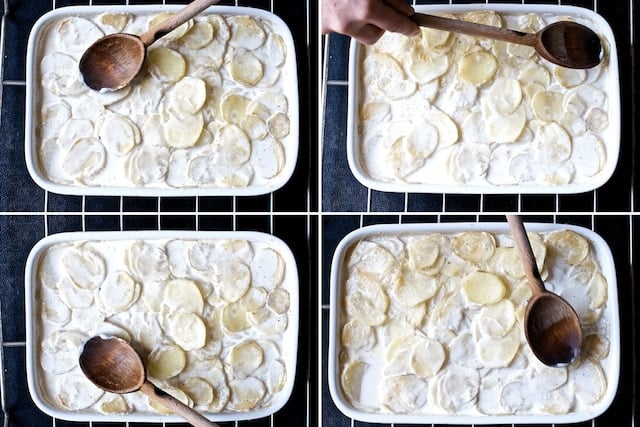 2nd crust break -gently swirl & break up crust on sides & center to moisten all the top potatoes

3rd crust break (over 1 hour cook time) – the crust is starting to brown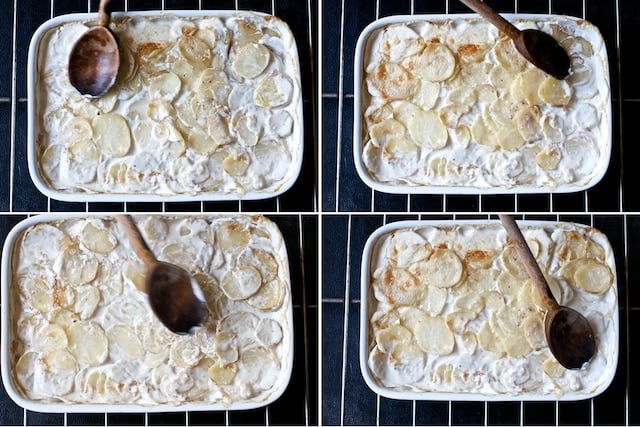 3rd crust break – last crust break, same 2nd break, swirl & re-moisten top. Now time to bake for final crust.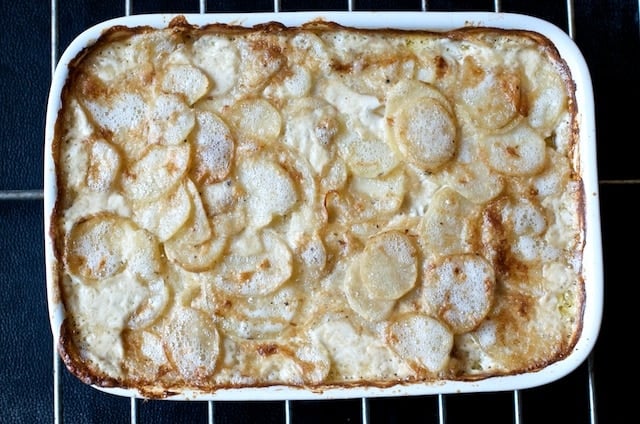 (about 1 1/2 hr cook time) – Finale!! Perfect crust & oh so creamy good inside
This recipe was originally published in 2013 and re-published in 2018 with a new delicious video.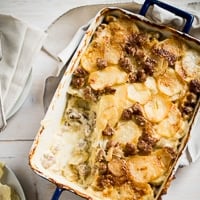 Sausage Potatoes au Gratin
This is an adaptation from our classic potatoes au gratin which is also in our cookbook, Bountiful. It is an all-time favorite for our families and friends.
Breaking the cream crust several times while baking is the secret technique to greatness. Refer to text and photos above recipe on this site for more info. All ingredients are approximations. If you can cook the recipe by feel and taste, it becomes easy to make smaller or larger dishes to suit the occasion.
Ingredients
1 1/2 pounds (680g) uncooked sausage
1 tablespoon extra-virgin olive oil
4 pounds (1.8kg) Yukon Gold Potatoes , or similar potato
1 Tablespoon Kosher Salt , or to taste
2 teaspoons fresh cracked coarse Black Pepper
3/4 teaspoon freshly grated Nutmeg
3 1/2 cups (840ml) Heavy Cream , about
Instructions
Preheat oven to 350°F. Set aside a 9.5x11-inch baking dish.

Heat a large skillet over medium high and then add the olive oil. Stir in the sausage and cook for 3-5 minutes, or until browned.

Peel and slice the potatoes about 1/8" thick. Put the sliced potatoes into a large bowl.

Season the potatoes with sea salt, black pepper, and nutmeg. Toss the slices to coat evenly. Slap a potato slice against your tongue to test for seasoning. It should be noticeably seasoned but not overpoweringly so.

Layer the potatoes and sausage into the baking dish, pressing down on the top so everything is fairly level. Pour the cream over potatoes just to the point where you can press down on the top layer and the top potato slices disappear under the cream. Give a couple presses down on the potatoes and then taste cream for seasoning. You should just marginally taste the salt. Add a sprinkle more if needed.

Put in the oven and bake for a total of about 1 1/2 hours (larger batches will take longer). Every 20 minutes or so, open the oven and with the back of a large spoon, break the crust the cream is starting to form and turn over any of the top sausage pieces that may be beginning to brown. (On the final "crust breaking" the consistency of the cream should noticeably thicker and have absorbed into the potatoes a decent amount). For the final 20-30 minutes, leave everything untouched to form a golden top. Cream should be nearly all broke down and absorbed with just a bit of creamy, buttery-ness between the potato slices.

Remove from oven allow to cool a bit before serving. It will retain an intense heat for at least 10-15 minutes.
Notes
Prep Tips: If you are doing a large batch, put the peeled potatoes in a bowl of water to keep them from browning.
Nutrition Information
Calories: 540kcal, Carbohydrates: 29g, Protein: 13g, Fat: 42g, Saturated Fat: 21g, Trans Fat: 1g, Cholesterol: 136mg, Sodium: 978mg, Potassium: 834mg, Fiber: 3g, Sugar: 1g, Vitamin A: 1068IU, Vitamin C: 31mg, Calcium: 70mg, Iron: 2mg
We are a participant in the Amazon Services LLC Associates Program, an affiliate advertising program designed to provide a means for us to earn fees by linking to Amazon.com and affiliated sites.