Rustic Red Velvet Cake Layered with Berries
We love loading our red velvet cake recipe with fresh berries. But it can also be served as a traditional layered cake without the berry-fuss. Enjoy!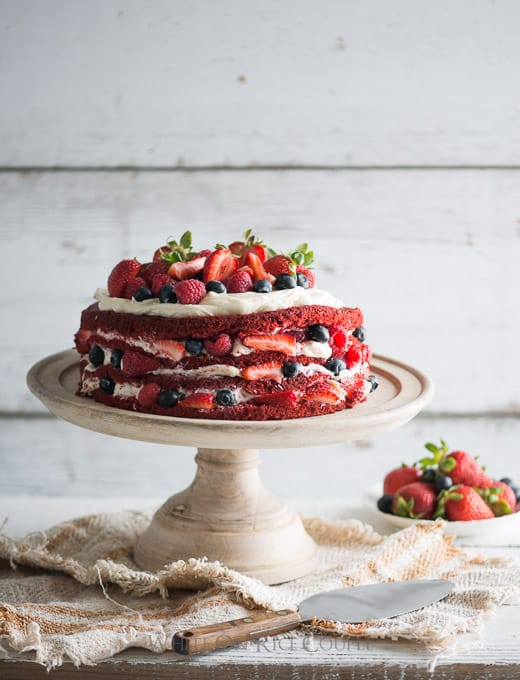 Red Velvet Cake Recipe
Way back in 2003 when Todd was managing Zinc Cafe , we would often have staff parties at the house. It was always a blast because everyone was able to wind down, relax and be able to be fed food instead of having the role of feeding others all day long. Todd and I would spend a few days prepping, cooking and be in party-planning-mode, which is where we always loved to be.
Gatherings over at our house were actually an escape for us, to explore, cook and get creative in the kitchen. It never felt like work. Well, let's take that back. It only felt like work when we had to wash all the wine glasses.
What made these staff parties a true success was because of a staff member named Nicole. She's my baking hero and I'll never, ever forget the impact she made on me when it came to baking cakes.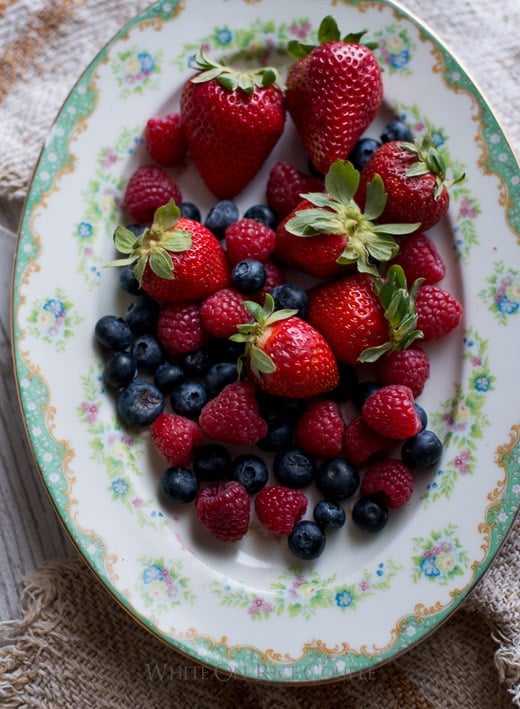 Nicole would arrive, bearing in her arms, with big bags of homemade candy, truffles, sweets and most importantly, at least 2-3 glorious cakes. She was a culinary student specializing in pastry, desserts and everything sweet. What she also specialized in was inspiring me to mind-blowing proportions. Quite frankly, she was just beyond talented. And I was always in a state of "uber-inspired".
Her cakes were not only beautifully simple and elegant, but they were also delicious. Every cake was just as delicious tasting on the inside as it was beautiful looking on the outside. Her cakes weren't too sweet, they were always tender and moist on the inside and the flavors of each ingredient came through wonderfully.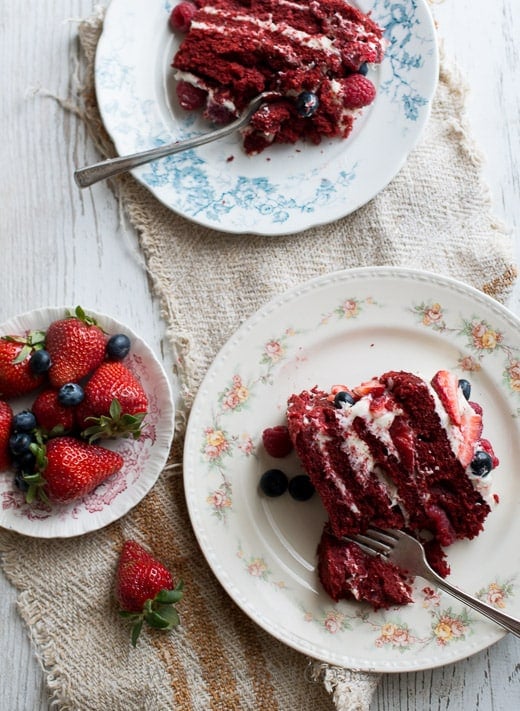 I've often found myself mesmerized by a beautiful looking cake, yet when it came time to tasting it, the look of the cake wasn't on the level of the flavor. It always feel like a waste of calories and an un-inspired visit to the gym when I eat bad cake. But Nicole never left me in that state of disappointment. I was always on cloud 9 with great cake everywhere.
Because of Nicole, I soon started making my own cakes on a weekly basis. Because of her, my love of cake baking ignited months worth of baking, testing and eating. All of our parties afterwards had a homemade cake (or two) to share with all our friends.
Sadly, as that phase in our lives became the past instead of the present, I became so wrapped up in work that I stopped baking my bakes. But not any more.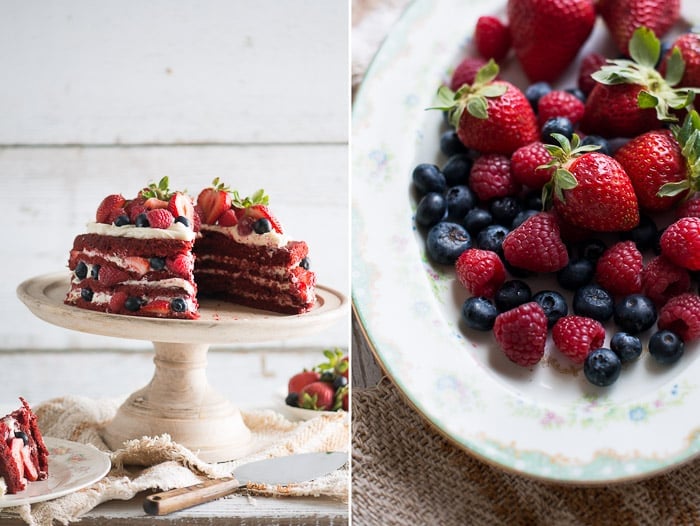 I'm back to working on my love of cake baking and am starting with our favorite red velvet cake recipe. It's a tested, tried and true recipe. Our bulging bellies are proof that we've eaten way too many red velvet cakes and it's time for the gym.
Next cake on my list? To duplicate my favorite cake that Nicole made: a pistachio and almond cake that was to die for. Wish me luck! I'll share it when it's finished and after I've eaten a few cakes all for my self. Well, maybe more like a slice from several cakes. ha!
enjoy,
diane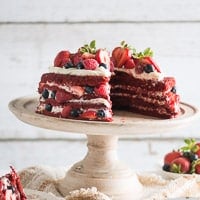 Red Velvet Cake Recipe
This is our go-to recipe for red velvet cake that has a great chocolate-ty flavor. For the red color, we used Americolor #119 Red Red Gel (yes, that's 2 red's in a row. Not a typo). We've also tested this recipe for cupcakes and it comes out great every time! Also, if you love cream cheese frosting, you can always make extra frosting!Makes one 9-inch cake
Ingredients
Cake Ingredients:
2 cups (275g) cake flour
1/4 cup (22g) unsweetened cocoa powder
1 teaspoon baking powder
1 teaspoon baking soda
1/2 teaspoon kosher salt
1 cup (240ml) buttermilk
1/4 cup (60ml) vegetable oil
2 Tablespoons (30ml) liquid red food coloring or about 1 Tablespoon (15ml) Americolor #119 Red Red color Gel
1 teaspoon white vinegar or apple cider vinegar
2 teaspoons vanilla
1 1/2 cups (300g) sugar
1/2 cup (1 stick or 113g) unsalted butter , at room temperature
2 large eggs
Frosting and Finishing Ingredients:
16 oz. (454g) cream cheese , softened
1/2 cup (1 stick or 113g) unsalted butter , at room temperature
2 1/4 cups (270g) powdered sugar
2 teaspoons vanilla extract
1.5 pounds (680g) Mix of fresh berries (about) If you're using strawberries, slice them.
Instructions
For Baking the Cake:
Pre-heat oven to 350°F. Grease or butter and flour two 9-inch cake pans (or line the bottom with parchment paper).

Sift or whisk together flour, cocoa powder, baking powder, baking soda and salt in a large bowl. Set aside.

Whisk together buttermilk, vegetable oil, red food coloring, vinegar and vanilla in a medium bowl until well blended. Set aside.

In a stand mixer bowl (if using a hand electric mixer use a large bowl) beat together sugar and butter in until combined well. Then add one egg at a time into the butter/sugar mixture until everything is well blended.

Beat in 1/2 of the dry flour mixture and 1/2 of the wet buttermilk mixture until smooth. Repeat with remaining dry and wet mixtures until batter is smooth.

Pour the batter divided into the two 9-inch cake pans. Scrape the bowl using a rubber spatula to ensure all the batter is used.

Bake the cakes for about 25-30 minutes or until cake is baked through. Insert a toothpick tester into the center of the cake. If it comes out clean, it's cooked.

Cool the cakes, then gently turn them over and release them onto cooling racks. Allow cakes to cool completely before frosting.
For Frosting and Finishing the Cake:
In large bowl, add cream cheese, butter, powdered sugar and vanilla. Cream together all the ingredients until smooth and creamy.

Gently cut each cake in half horizontally to make 4 layers of cake. Then spread about one-fourth of the cream cheese frosting over 1 layer of cake. Layer about 1/4 of the berries over the frosting. Repeat the same steps over the remaining cake layers. Top the final layer with berries.
Nutrition Information per Serving
Calories: 468kcal, Carbohydrates: 55g, Protein: 5g, Fat: 26g, Saturated Fat: 16g, Trans Fat: 1g, Cholesterol: 84mg, Sodium: 259mg, Potassium: 157mg, Fiber: 2g, Sugar: 41g, Vitamin A: 810IU, Vitamin C: 1mg, Calcium: 70mg, Iron: 1mg
We are a participant in the Amazon Services LLC Associates Program, an affiliate advertising program designed to provide a means for us to earn fees by linking to Amazon.com and affiliated sites.