Air Fryer Thanksgiving & Christmas e-Cookbooks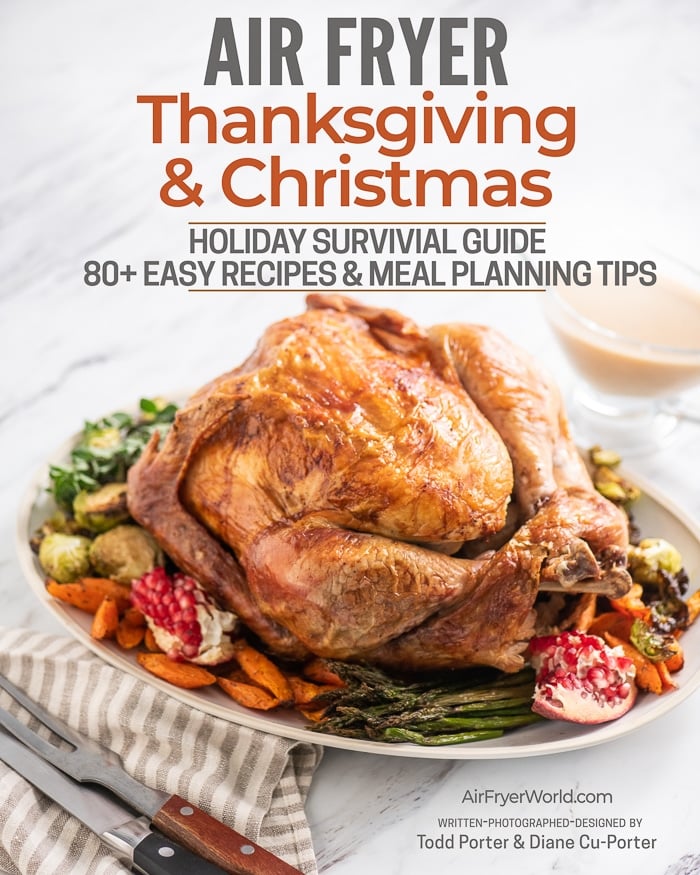 Air Fryer Thanksgiving e-cookbook Recipes
Hi Friends! We've been staying busy over the last few years have some exciting news! We've now written 3 air frying e-books and the latest e-book is for THANKSGIVING and CHRISTMAS recipes! It's the ULTIMATE HOLIDAY SURVIVAL GUIDE for air frying your favorite dishes with 80+ Recipes. Whole turkey with gravy, prime rib, lamb chops, roasts and side dishes are easy! We'll show you how to air fry desserts like pumpkin pie and cheesecakes.
All the details to get you started is here–> Air Fryer Thanksgiving & Christmas e-books
We're a little obsessed so check out our new site dedicated to everything Air Fryer at –> Air Fryer World
Enjoy these 80+ easy Thanksgiving & Christmas air fryer recipes in the ebook:
All the details to get you started is here–> Air Fryer Thanksgiving & Christmas e-books
Mains
Halogen Air Fryer Whole Turkey
Oil-less Propane Deep Air Fryer Whole Turkey
Stuffed Turkey Breast with Bacon, Spinach/Kale, & Parmesan
Simple Herbed Turkey Breast
Secret Ingredient Turkey Avocado Burgers
Herbed Cornish Game Hens
Crispy-Skin Whole Chicken with Herbs and Lemon Pepper
Prime Rib Roast
Ribeye Steak w/ Blue Cheese Butter
Rosemary Garlic Lamb Chops
Rack of Lamb with Crispy Parmesan Crust
Lamb Loin Chops with Chimichurri Sauce
Spiral Glazed Ham with Honey & Brown Sugar
Pork Tenderloin with Carrots, Potatoes & Onion Gravy
Tender Glazed Pork Ribs
Maple Glazed Pork Chops
Smothered Pork Chops in Mushroom gravy
Easy Garlic Herb Salmon with Crispy Broccoli
White Fish with Asparagus & Lemon Pepper Cream Sauce
Sesame Shrimp "Stir Fry"
Holiday Leftovers & Breakfast
Grilled Leftover Turkey Melt
Leftover Turkey Quesadillas
Hash Brown & Bacon Breakfast Casserole
Tater Tot Breakfast Bake with Kielbasa Sausage
Scotch Eggs
Hard "Boiled" Eggs
Baked Eggs with Spinach & Cheese
Loaded Frittata or Egg Muffin Cups
Perfect Bacon
Ham & Cheese Pinwheels
Crispy Breakfast Wrap
Frozen Breakfast Pastries & Turnovers
Vegetables & Sides
Cheesy Green Bean Casserole w/ Toasted Fried Onions
Sausage Apple Stuffing for Oven-Style Air Fryer
Cheesy Scalloped Potatoes
Potatoes Au Gratin Dauphinoise
Candied Yams
Maple-Butter Glazed Sweet Potatoes
Acorn Squash with Brown Sugar, Nuts, Pomegranates
Parmesan Asparagus
Quick & Easy Butternut Squash Bites
Garlic Parmesan Brussels Sprouts
Crispy Balsamic Brussels Sprouts
Crispy Broccoli w/ Cheese
Herbed Carrots
Fresh Corn On The Cob
Healthy "Roasted" Cauliflower
Garlic Mushrooms
Crispy Garlic Potato Bites
Garlic Zucchini
Breads
Homemade Corn Bread for Oven-Style Air Fryer
Homemade Corn Bread for Bucket-Style Air Fryer
Jiffy Corn Bread "Corn Muffin Mix"
No-Yeast Greek Yogurt Rolls
Sweet Potato Rolls
Garlic Knots with Canned Crescent Dough Sheets
Homemade Garlic-Cheddar Drop Biscuits
Canned Refrigerated Biscuits
Homemade Garlic-Parmesan Toasts
Frozen Garlic Bread/Texas Toast
Crescent Rolls from Canned Dough
Desserts
8-inch Pumpkin Pie
Mini Pumpkin Pies
8-inch Apple Pie
Apple Hand Pies
New York Style Cheesecake
8-inch Pumpkin Cheesecake
Mini Pumpkin Cheesecakes
Cinnamon Rolls in 15 Minutes
15-Minute Donuts
Appetizers & Dips
Creamy Spinach Dip
Parmesan Onion Dip
Garlic Butter "Baked" Brie
Hot Crab Dip
Coconut Shrimp with Orange-Soy Dipping Sauce
Shrimp Cocktail
Bacon Jalapeño Poppers
Greek Turkey Feta Meatballs with Tzatziki Dip
Bacon Wrapped Asparagus
Stuffed Mushrooms
Homemade Sweet Potato Fries
Bacon Wrapped Zucchini
Super Tasty Deviled Eggs – 3 ways
Party Snack Mix – "Nuts & Bolts"
Happy Holidays and here's some great holiday cocktail recipes for you to enjoy with this Air Fryer Thanksgiving cookbook!
We are a participant in the Amazon Services LLC Associates Program, an affiliate advertising program designed to provide a means for us to earn fees by linking to Amazon.com and affiliated sites.