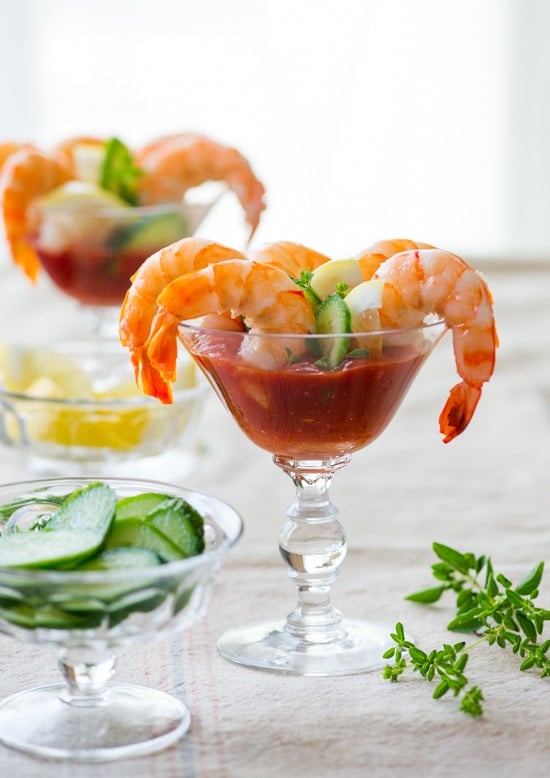 Mom always loves making me lunch. But it's not just for me, but for all her six kids and all our friends. Though I don't live with her, I visit her enough to make her heart and feeding frenzy habits happy. And get this, she even has tons of little bags and disposable containers for all of us to take food home in. That way, she doesn't have to keep track of who has all of her tupperware containers. All of my brothers' friends are fed so well that it's become a daily ritual to come for dinner four to five nights a week. Aside from leaving with a full stomach, they leave with their "to-go" bags too so everyone is happy, full, and well stocked up!
Today's "mom lunch" was very shrimp inspired and I can tell that there was going to be some of her famous noodles in my bag as well because when there's shrimp, there's a serving of her rice noodles. Everything I expected was in my bag but the big plus was an additional pound of  huge and super fresh shrimp. Score! I haven't had so much shrimp before in one lunch bag, such a treat!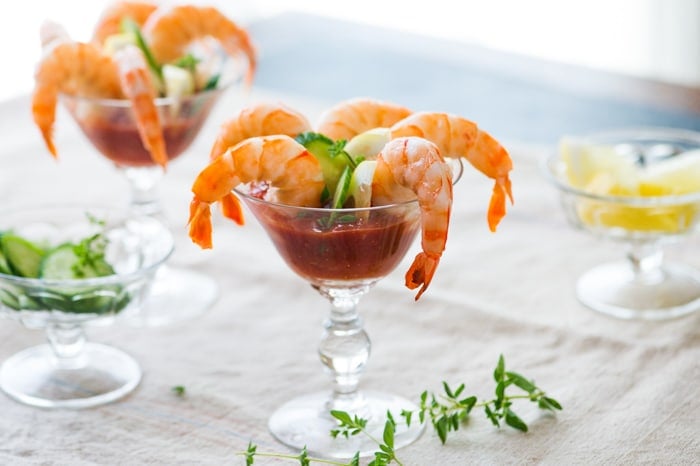 Rather than save the shrimp for my second-lunch, I was craving a Summery dish that could be paired with a nice glass of sparking rose. For Summer, rose is on top of our drinks list along with a super refreshing panache.
First thing that comes to mind was grilling the shrimp, but I was wanting something easier and cold. Something refreshing that I can easily snack on for dinner if our appetites couldn't handle all the shrimp in one sitting.
Rather than grilling, the second idea that came to mind was a refreshing shrimp cocktail. And how about some sriracha? Anyone here love sriracha hot sauce like I do? I'm sure there are many, but do you love it as much to make it homemade? I must confess, I'm a hot sauce addict and have a cache of homemade jars of sriracha in our pantry. That's what you call homemade obsession.
This cocktail sauce was so easy to make, I can't believe I didn't make this more often. And how does it pair to sparking rose? Perfect!
hugs,
diane
If you love recipes with Sriracha Hot Sauce, visit our Sriracha Recipes here.
Sriracha Shrimp Cocktail Recipe
Yield: Serves 4-6
Total Time: 10 min
Ingredients:
1 pound of cooked shrimp, deviened and shells removed
1/2 cup ketchup
2 Tablespoons sriracha or hot sauce, or more to taste
1 teaspoon soy sauce, or to taste (use Tamari Soy Sauce for Gluten Free)
1/4 teaspoon celery seeds
1 teaspoon prepared horseradish
1 teaspoon fresh lemon juice
black pepper to taste
fresh lemon slices
1 small cucumber, sliced (optional)
fresh herbs for garnish (optional)
Directions:
In medium bowl, combine ketchup, hot sauce, soy sauce, celery seeds, horseradish, fresh lemon juice and black pepper. Stir and combine well.
Serve with cooked shrimp and slices of fresh lemon and cucumbers. Garnish with fresh herbs.
Hello! All images & content are copyright protected. Please do not use our images without prior permission and do not re-publish this recipe. Simply link back to this post for the recipe. Thank you.
Recipe Note for Salt: All recipes containing salt are based on kosher or sea salt amounts, not table salt. If using table salt, reduce the amount used to taste.
[ad]