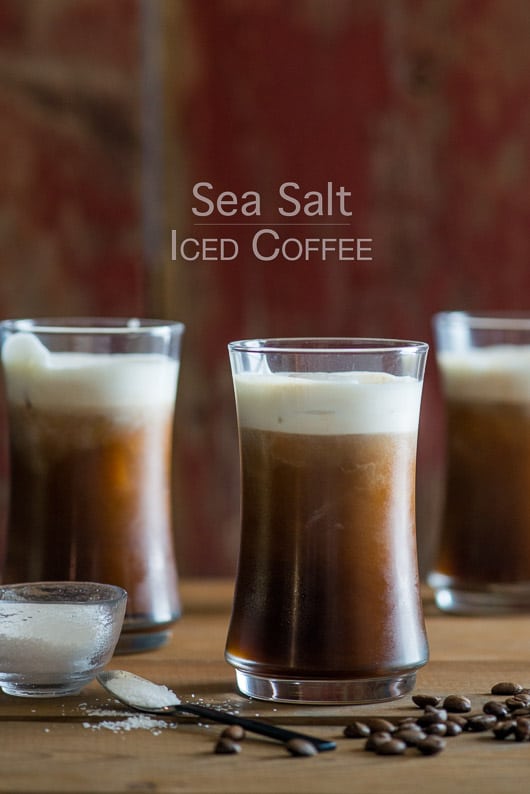 Curiosity. That is what best describes what I was thinking after initially seeing a Sea Salt Coffee on a menu board. We were in an  85°C Bakery locally here in SoCal and with so many items different from what I'm used to seeing I took a little more time to scope out  the menu.
After coming across the Sea Salt coffee I knew I had to try it.  Crazy for coffee, love "salted" sweets, like Salted Caramels, or Dark Chocolate with Sea Salt. Not to mention the Vietnamese Salted Limeades. We brine our own limes just to make sure we have them readily available.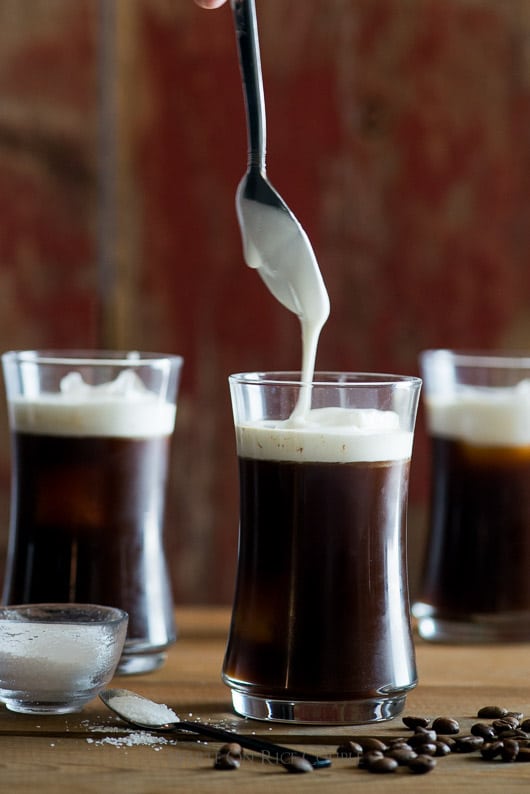 drizzle a couple of spoonfuls of the sea salt cream, then give it a stir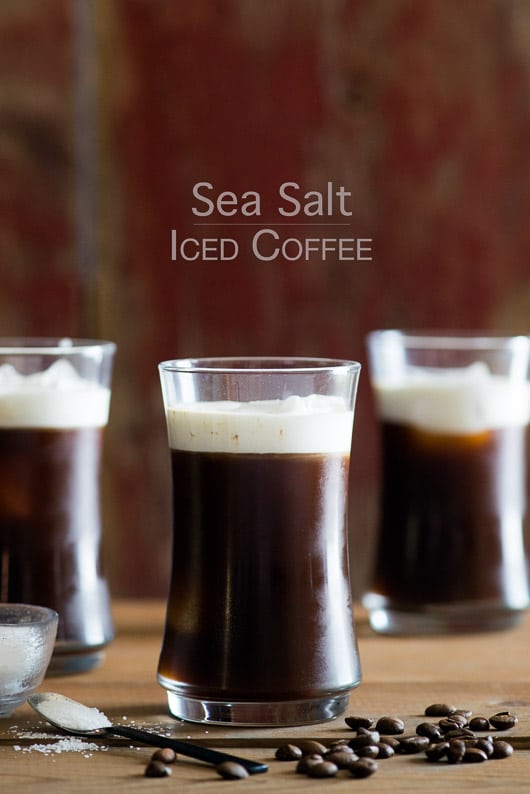 I wasn't sure how I'd like the Sea Salt Coffee, but I knew I had to try it. Turns out I love it. You get so many different level of taste going on. From the bitter coffee which has been slightly sweetened. To the smooth cream which has been salted just enough to highlight the other flavors. Amazing little ingredient that little white salt is. Or pink, or gray or whatever color of salt you like best.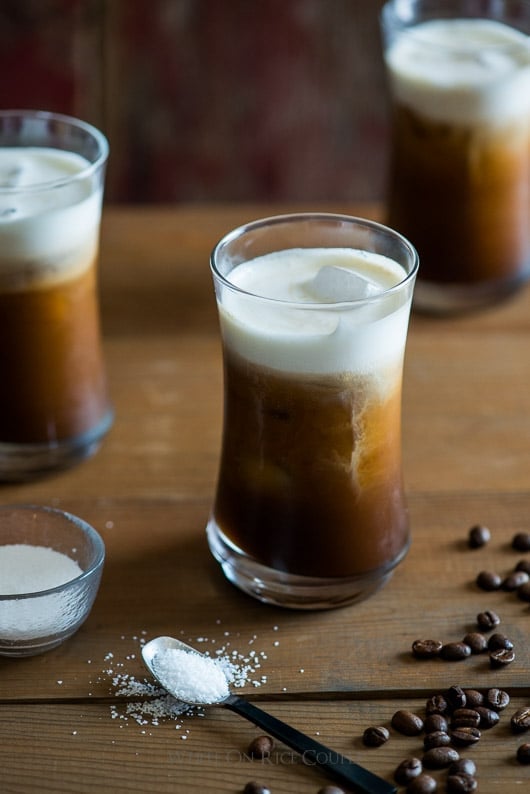 Speaking of which, my latest salt infatuation has been with the Murray River Pink Sea Salt. We've had some in our cupboard for a while, but after going to Australia and seeing with area where it come from I started paying a little more attention to it. So good. The perfect sized flakes and texture, great clean taste. We now always have a jar of "finishing salt" on the counter filled with the tasty Murray River salt.
Back to the coffee… the flavors together may at first be strange to the un-initiated. I know for me, the Vietnamese salted limeades it seemed so strange the first time I drank it. But after a bit you may find yourself drawn in and addicted to the flavors. As much as I love coffee, the Sea Salted Cream Iced Coffees spur those cravings. It isn't something I want everyday, but once every  week or two is perfect to get that fix.
Enjoy.
Todd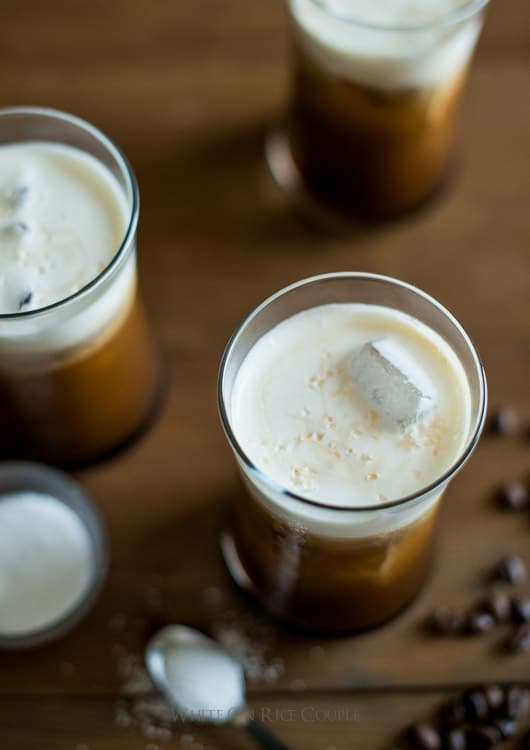 Sea Salt Cream Iced Coffee
Yield: About 4 servings
Total Time: 15 minutes
There are a bunch of ways to get nice, cold coffee. There are an abundance of cold brew methods and devices out there now. Many of them will produce some of the tastiest cold coffee. However it will work just fine to save your leftover hot coffee and let it cool off completely before icing (otherwise you'll get watered down coffee). Of if you need a quick fix, make some hot coffee and punch it up with a few shots of espresso to compensate for the melting ice. We love to use simple syrup to sweeten our chilled drinks, and it is something easy to have on hand. Just heat and dissolve together an equal amount of sugar and water. Allow to cool and store in the fridge until ready to use. However with enough stirring (or if you add the sugar while the coffee is hot) you can always just use regular sugar for this recipe.
Ingredients:
1 cup (240ml) whipping cream
1/2 teaspoon sea salt or kosher salt
4 cups (960ml) strong coffee, cooled
6-8 tablespoons (75-100g) sugar, or to taste
Or
3/4-1 cup (180-20ml) simple syrup
Directions:
Whip the cream until slightly thickened and no large bubbles remain in the cream (don't whip it all the way to the soft peak stage). Stir in the salt and set aside.
Sweeten the cooled coffee to taste using either sugar or simple syrup. It should be just sweet enough to balance the saltiness of the cream.
Pour the coffee into glasses over ice and spoon a couple large spoonfuls of the salted cream on top. Serve and stir.
Note 1: A basic simple syrup is a 1:1 ratio of sugar dissolved in water. example- One cup sugar dissolved in one cup of water. We usually make larger batches and keep on hand in the refrigerator.
Hello! All images & content are copyright protected. Please do not use our images without prior permission and do not re-publish this recipe. Simply link back to this post for the recipe. Thank you.
Recipe Note for Salt: All recipes containing salt are based on kosher or sea salt amounts, not table salt. If using table salt, reduce the amount used to taste.
[ad]