Broccoli Mac and Cheese Recipe- A not so skinny version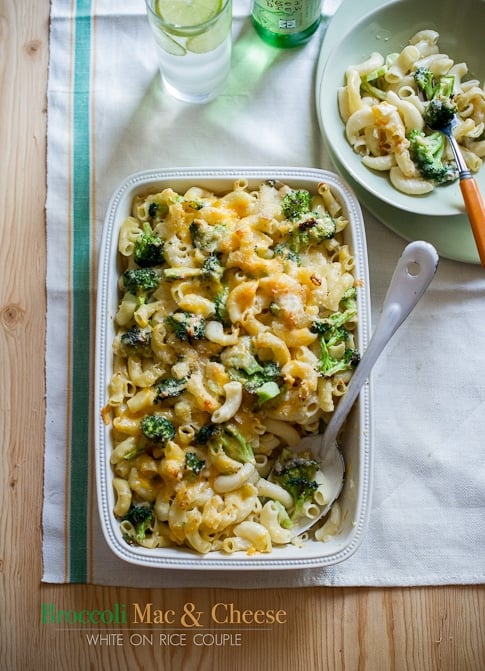 This recipe was originally published in 2012 and was updated & republished in 2020 with a new video.
Aside from a bowl of hot, brothy noodles, no other dish comforts me more than a bowl of mac and cheese. Since I developed my one pot stove top mac and cheese recipe, I've made it easier to stuff my face silly with cheesy-happiness. But to alleviate some of the calorie guilt of inhaling 3 bowls, I think of greens.
Oh yes, broccoli-greens-healthier-better-eat more. This sounds like a rational formula to eating Mac and cheese a few times a week. I love giving myself excuses for eating more by adding something, anything and always green. favorite colors as a kid so all this makes sense. Feeling so inspired, I googled to find a broccoli mac and cheese recipe. Lo and behold, I found this one by Gina.
Video : Skinny Broccoli Mac and Cheese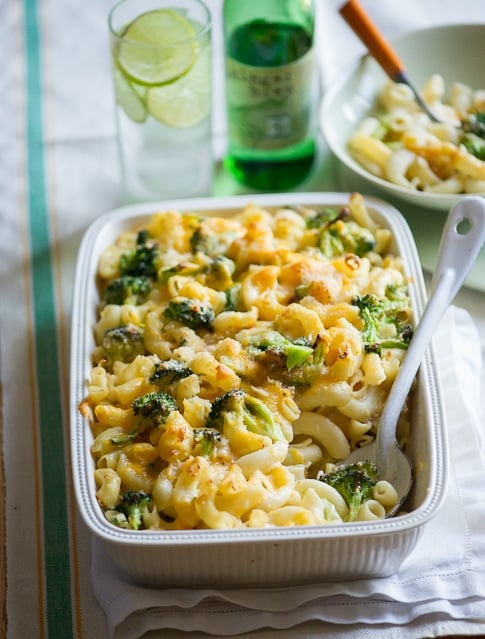 Light Mac and Cheese Recipe with Broccoli
A skinny mac and cheese recipe by a skinny girl? Oh yes, I'm all for it. I feel healthier already. Gina's recipe looked amazing with the chicken broth for less fat and lots of flavor. Off I go into my kitchen make an inspired skinny mac an cheese. As I assemble my ingredients I notice I already lost the skinny battle. Per Gina's recipe, I don't have any fat free chicken broth. Ok, so my version will be a little less skinny.
Oh wait, I don't have skim milk. Maybe my version won't be so skinny. And I used more Parmesan cheese cause my brain doesn't comprehend anything below one cup of Parmesan cheese. Now, let's just forget the skinny. Fine, alright, ok. My version isn't so skinny anymore but it's darn delicious and it's got extra broccoli in it! Gina's recipe is wonderful and for those of you who have a healthier stocked kitchen than I do, then her version is for you.
For the rest of you, here's my Not So Skinny broccoli Mac and cheese recipe.
Broccoli power,
diane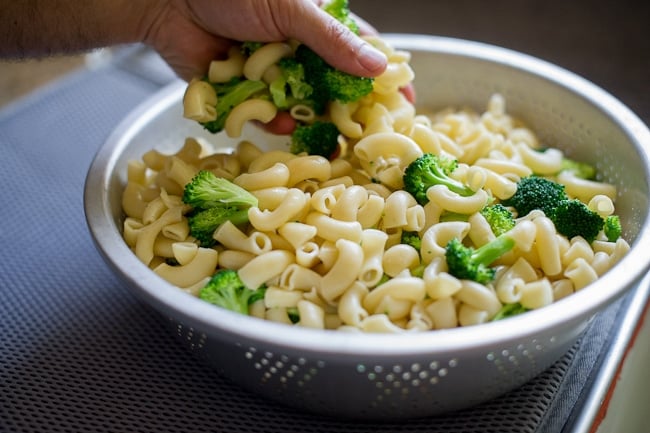 cook mac pasta a little firm, al dente so that after baking, the texture is perfect
This was originally published in 2012 and was updated & republished in 2020.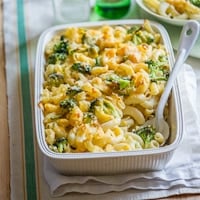 Broccoli Mac and Cheese Recipe
Slightly adapted from Gina's Skinny Broccoli Mac and Cheese. I used more parmesan cheese because I just love it to death. Try cooking the pasta a little al dente (firm) so that after baking in the oven, the pasta becomes the perfect bite and texture. If you wanted to add more richness or flavor, just add more cheese.
Ingredients
16 oz (453 g) dried elbow macaroni , cooked to pkg. instructions, but leaving them a little firm
2 medium (2 medium) heads fresh broccoli (14-16oz), but in small bite size pieces
2 Tablespoons (30 ml) butter , or olive oil
1/4 cup (30 g) flour
1 (1) small onion , minced
3 cloves (3 cloves) garlic , minced (optional)
2 cups (480 ml) whole milk
1 1/2 cups (360 ml) chicken or vegetable broth , or stock
2 cups (226 g) shredded sharp cheddar cheese
1 cup (100 g) grated Parmesan cheese
about 1/2 cup of extra cheese for topping
1/4 cup (27 g) bread crumbs
3/4 teaspoon (3.7 ml) kosher salt and black pepper , or to taste
Instructions
Preheat oven to 375°F. Grease a large 9 x 12 baking dish.

In large pot, boil water and cook pasta to instructions, but leaving pasta a little al dente. About 3 minutes before draining pasta, add broccoli to cook in water alongside pasta. I like my broccoli a little firm, so that it doesn't end up mushy after the bake. You can decide how cooked you want your broccoli by adding it in sooner.


While pasta is cooking prepare the cheese and milk mixture. In large pot on medium heat, add butter/oil, onions and garlic. Cook until soft, then add flour. Stir flour quickly to combine the flour and onion rue mixture. Add milk and broth/stock.

Allow mixture to come to a boil and sauce will thicken. Remove from heat and add cheddar cheese and Parmesan cheese. Add salt and pepper to taste.

Drain your cooked pasta and broccoli and add to cheese mixture. Gently mix together and pour into baking dish. Add extra cheese and bread crumbs on top.

Bake for about 20-25 minutes or until cheese is melted with a nice crust.
Nutrition Information per Serving
Calories: 415kcal, Carbohydrates: 63g, Protein: 20g, Fat: 10g, Saturated Fat: 5g, Cholesterol: 25mg, Sodium: 498mg, Potassium: 734mg, Fiber: 6g, Sugar: 8g, Vitamin A: 1335IU, Vitamin C: 137mg, Calcium: 302mg, Iron: 2mg
We are a participant in the Amazon Services LLC Associates Program, an affiliate advertising program designed to provide a means for us to earn fees by linking to Amazon.com and affiliated sites.